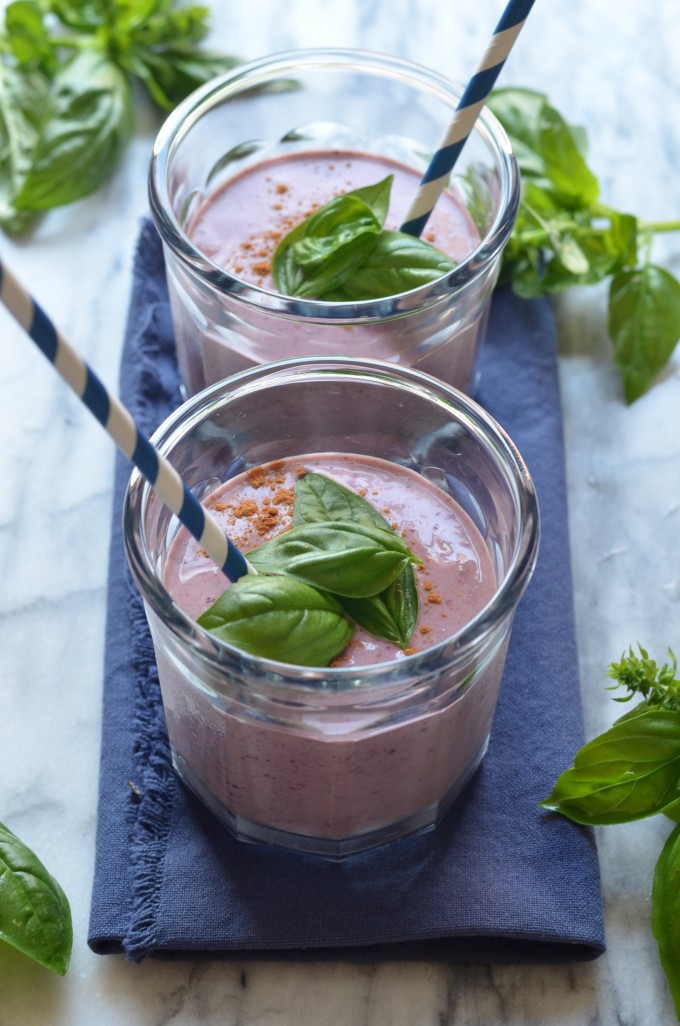 It's been a while since we talked about smoothies on this here blog. To be honest, we never got out of the oatmeal habit this summer. Our AC has been blasting, we've been obsessed with almond butter and bananas, and I've been wayyy too lazy to wash out the food processor… and yes, I make our smoothies in the food processor! It's more powerful than our blender, so it wins every time.
So, no smoothies for breakfast (or the blog) recently. But we have had smoothies after long runs on the weekend – second breakfast, I guess you could call it. That was the case with this recipe, which I whipped up after bringing home the equivalent of about $80 in fresh basil from my friends' garden. Right after making two batches of pesto, and right before making pesto bean dip :) All the basil!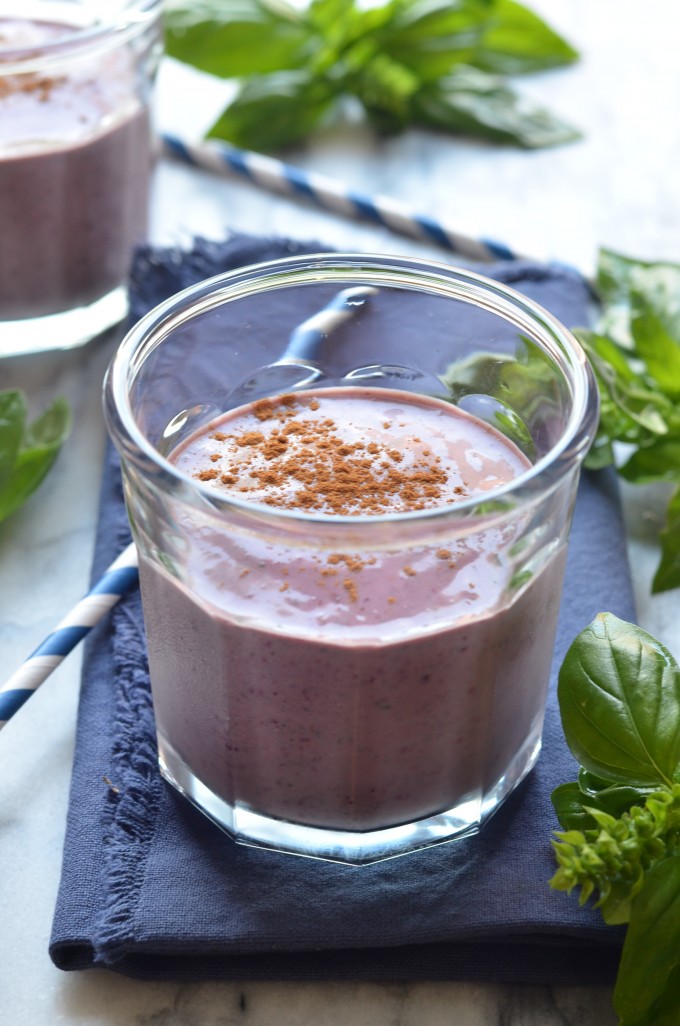 I usually opt for spinach in smoothies, mostly because it's so easy to grab a handful of, but the bulging bag of basil in my fridge necessitated some creativity. Not gonna lie, if I'd had to pay for that basil, this smoothie wouldn't have happened. And by no means would I recommend buying $6 of basil to make it! That just sounds silly (and if you have to spend $6 on basil, it should totally be for pesto.) But if you happen to have basil in abundance, you know what needs to be done.
I chose blackberries because the combination just sounded good, but you KNOW this would be equally delicious with blueberries, strawberries, or a combination of one or all of those things. Basil tastes good with prettttty much everything, and the more berries the merrier! Isn't that always the case?! Just be aware that if not using a high speed blender, very seedy berries (like blackberries) will have a rather gritty texture. It didn't bother us, but come to think of it, that may be why bags of mixed frozen berries are so popular.
In other news, I have been all about the backlit photos recently. I'm often totally unsatisfied with a photo setup until I turn it sideways and step across from the window. Then it's like the heavens open up and everything just clicks! Well, maybe not everything… but if I take some sidelit photos and some backlit, I end up using the backlit ones 9 times out of 10. That's precisely what happened with these smoothies! #backlitisbetter
What's been your favorite smoothie combination lately? All that basil provided some great inspiration, but I'm wanting to get back into the smoothie swing of things and want to know what you all are blending up!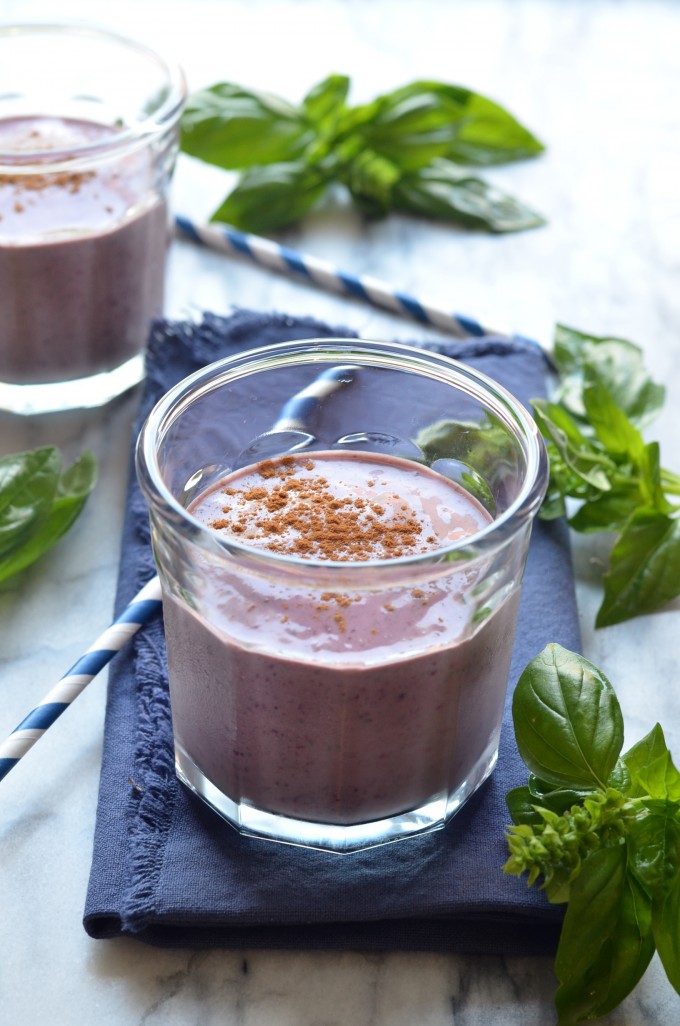 Blackberry Basil Smoothies
Yields:
2 small smoothies
Ingredients
3 dates, pitted and chopped (and soaked in water for 10-20 minutes if not using a high-speed blender)
1/2 cup packed fresh basil leaves
1 cup frozen blackberries
1 frozen banana, sliced
1 cup plain Greek yogurt
1/2 cup plain unsweetened almond milk (or milk of choice)
2 Tbsp almond butter
1 Tbsp ground flaxseed
sprinkle of cinnamon
dash of vanilla extract (optional)
Instructions
Blend all ingredients until smooth. Enjoy!