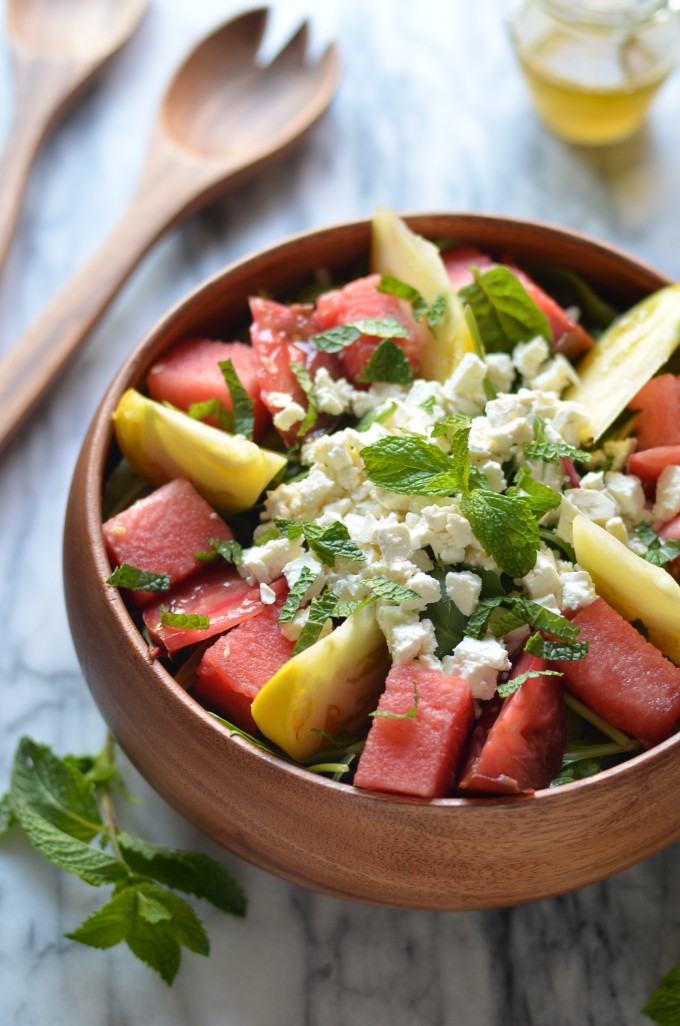 Oh guys, I am beyond predictable. I go on vacation for a week, then I come back and make you salads. Well, I come back and make me salads. And therefore you all get salads, too! So does Nate. Oops.
We just got back on Sunday night from a week on Martha's Vineyard with my family. I'm usually ready to come back from vacations, but let me tell you, the Vineyard is one place I'll never be ready to leave. I'm currently in the depths of the post-vacation blues and scheming up ways to retire early… any suggestions?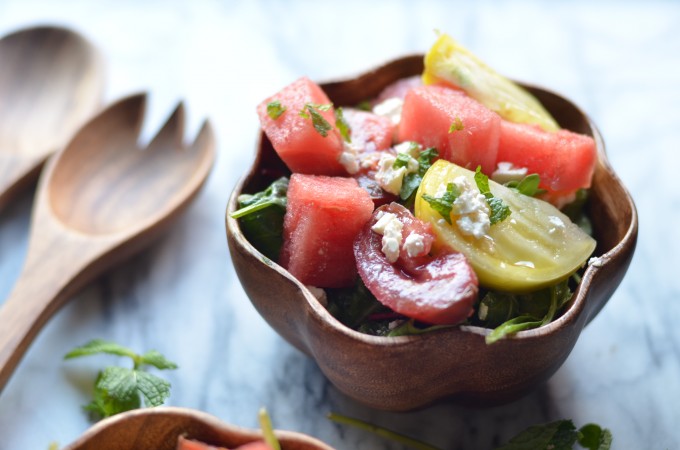 I guess I'll have to go to work and eat salads while I figure that one out.
I say "eat salads" like it's torture or something, but really, I love a delicious summer salad. And this is the best kind – one with fruit, cheese, and honey! Yessss please.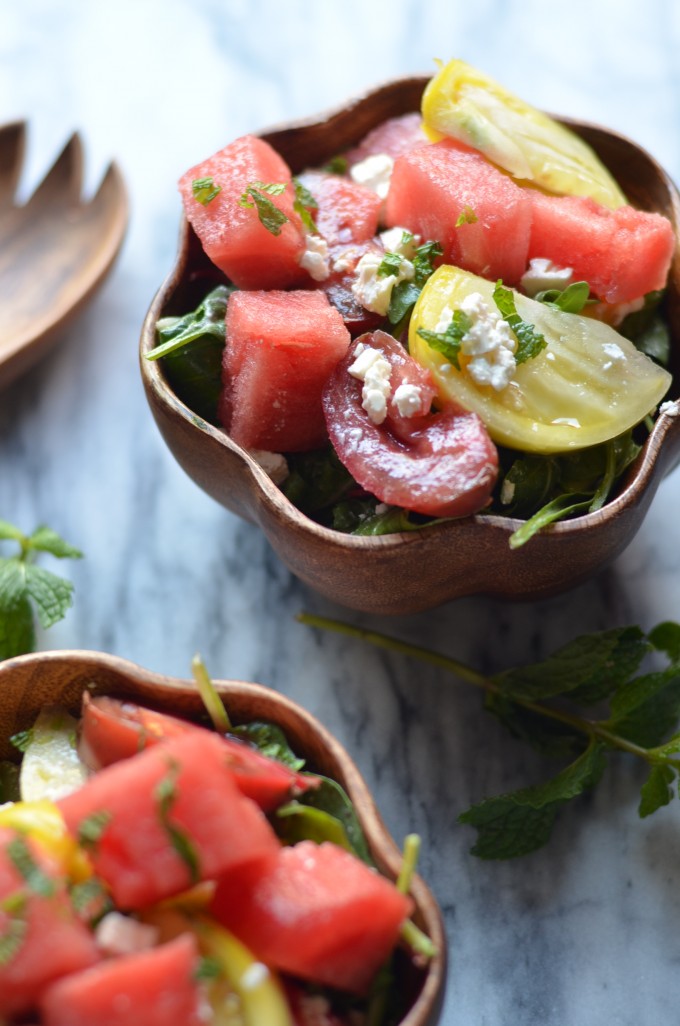 I ordered this salad for lunch on vacation last week, and I knew immediately I had to recreate it for you. Ordering a salad at a restaurant I've never been to always seems like a gamble – what if it shows up all wimpy and wilted? But it was worth rolling the dice on this one – I was pretty excited when an enormous, colorful bowl of watermelon, tomato and feta was placed in front of me.
One bite confirmed that it was the perfect summer salad – super simple, but so many juicy summer flavors in every bite. First of all, it's hard to go wrong with watermelon, feta and mint. Second of all, tomatoes make any salad better… just personal opinion. Last of all, the more colors the better. Am I right? Tossed with a honey lemon dressing, it's hard to imagine anything tasting fresher.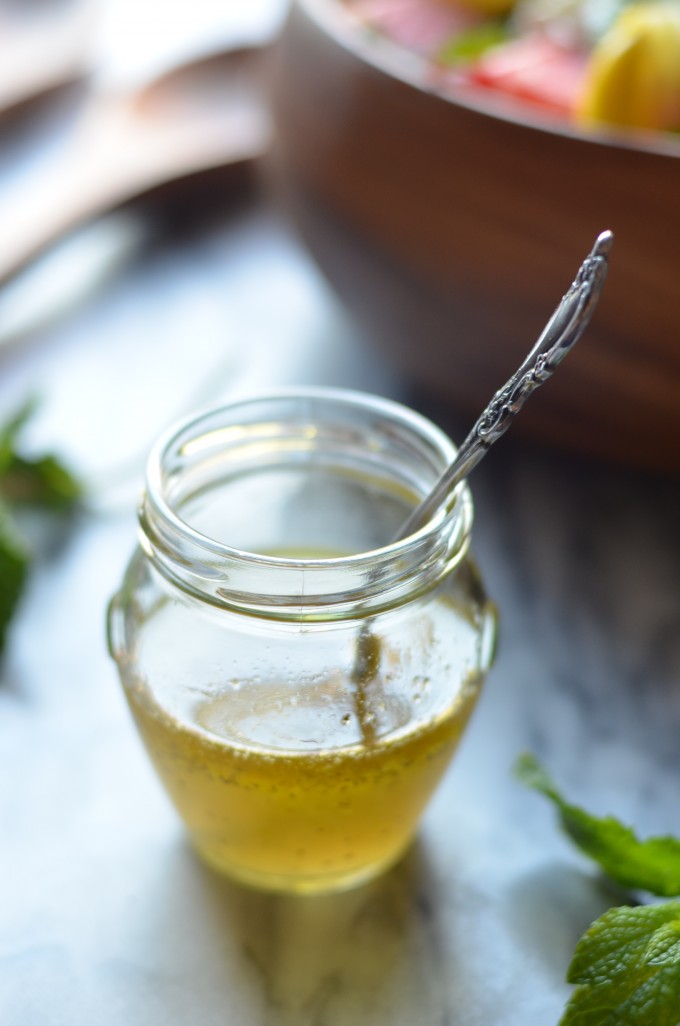 Vacations are so great for recipe inspiration, or just for pushing me to finally make a recipe I've had on my list for ages. I use the term "recipe" veeery loosely on this one, though – this is really just a list of ingredients. Use whatever proportions you'd like. After all, throwing together a salad in the summer should never be an exact science.
Eating this salad for dinner on a weeknight is one thing, but eating it for lunch on vacation – now that is summer. Can I make it happen again if I click my heels three times?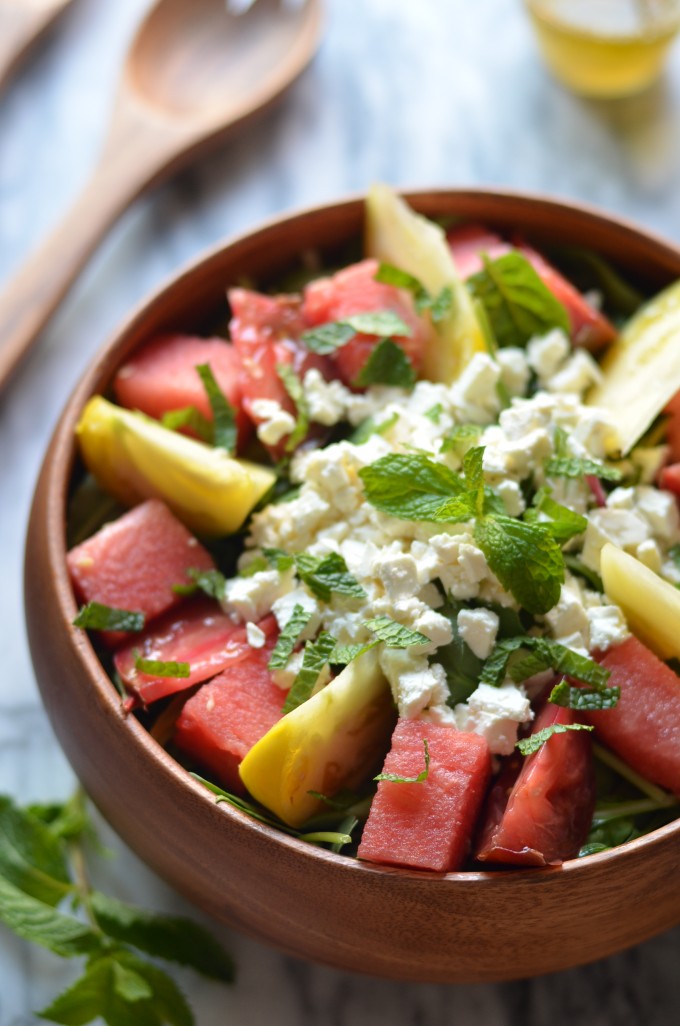 Heirloom Tomato and Watermelon Salad
Ingredients
For the dressing:
juice of 1/2 lemon
2 Tbsp olive oil
1/2 Tbsp honey
sprinkle of salt and pepper
For the salad:
4 cups mixed greens
2 -3 heirloom tomatoes (depending on size), sliced
2 cups chopped watermelon
1/2 cup crumbled feta cheese
1/4 cup sliced fresh mint leaves
Instructions
Whisk together dressing ingredients.
Toss dressing with mixed greens. Arrange tomatoes, watermelon, feta, and mint on top. Serve and enjoy!