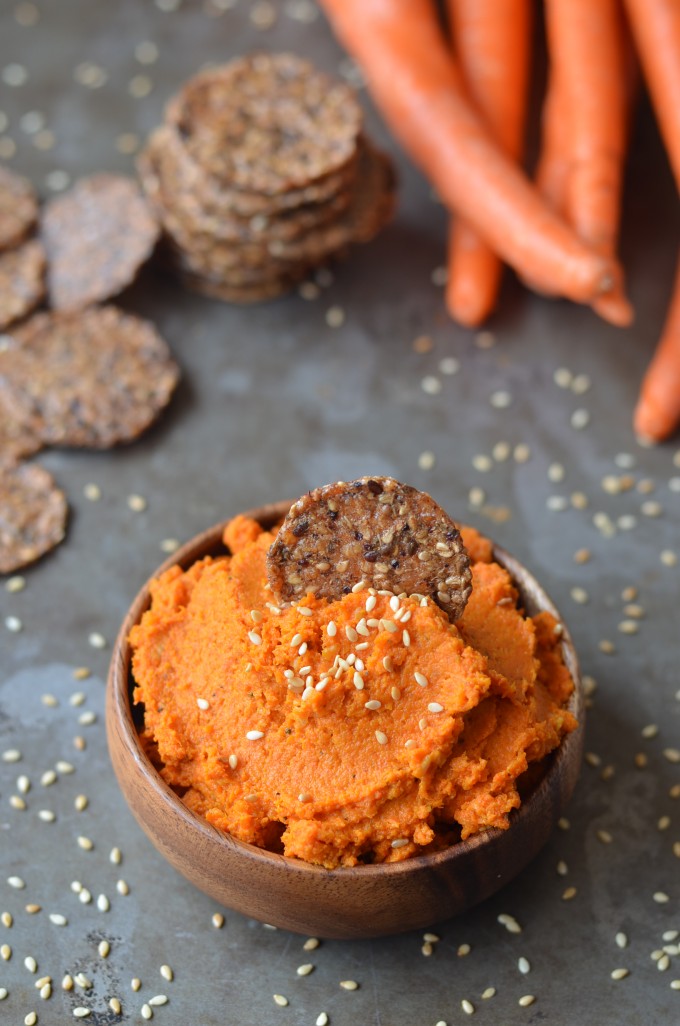 So I've finally made the acquaintance of harissa. For the last year, I've seen other bloggers making delicious spicy recipes with this spice blend I'd never heard of. I kept vowing to try it… then returning to my lazy, familiar ways. But a little tub of it caught my eye at the farmer's market on Martha's Vineyard, and I knew I'd regret it if I procrastinated further. Plus, who doesn't like to come home with some foodie souvenirs from their travels?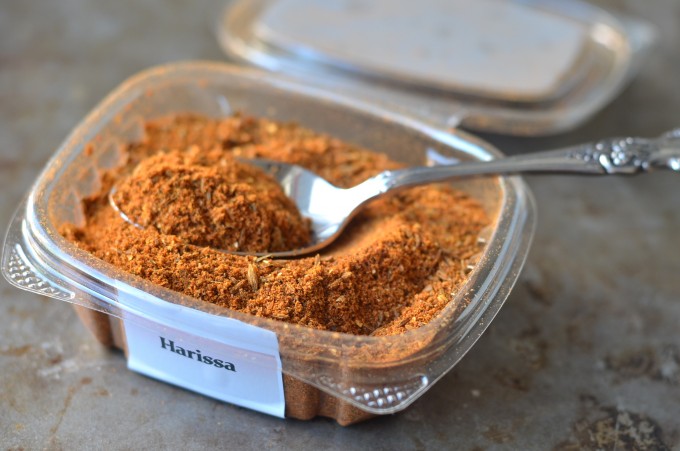 As it turns out, I probably should have left the harissa, because I spent my last cash on it. When Nate and I went to apply for our marriage license minutes later, neither of us had the $4 that it cost, thanks to his farmer's market coffee and my harissa purchase. We actually had to ask my dad for $5 to apply for the license! Now there's a story for our kids – Mommy and Daddy were so poor they couldn't even afford to get married for $4. It's kind of romantic, right? (We can leave out the part that Mommy had just paid more than that for a gourmet spice blend and Daddy was feeding his expensive latte habit.) That'll teach me to walk past the ATM on my way out of the airport…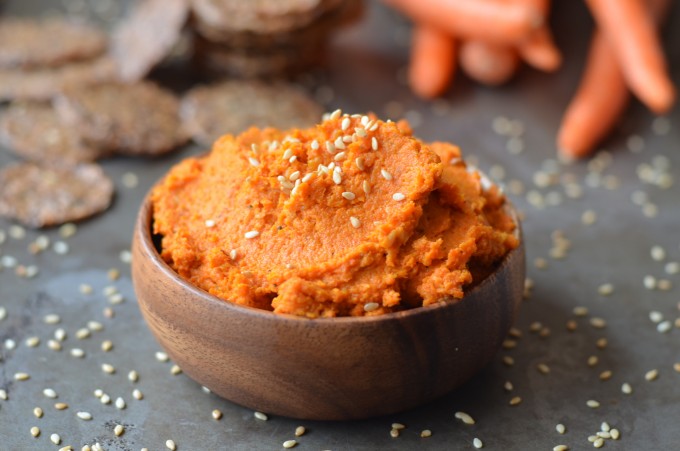 It was the harissa dip I sampled at the farmer's market stand that put me over the edge towards buying it. That dip, made with yogurt and cream cheese, was nothing like this one, but I wanted to try out the harissa and carrot combination I'd seen all over the blogosphere. Also, Nate read The China Study while we were on the Vineyard, and he's convinced me we should try to be a liiittle more vegan again. (Although I probably had you fooled with Monday's recipe, which contained three types of dairy and an egg.) In any case, a carrot dip seemed like a good place to start with making a dent in my new tub of harissa.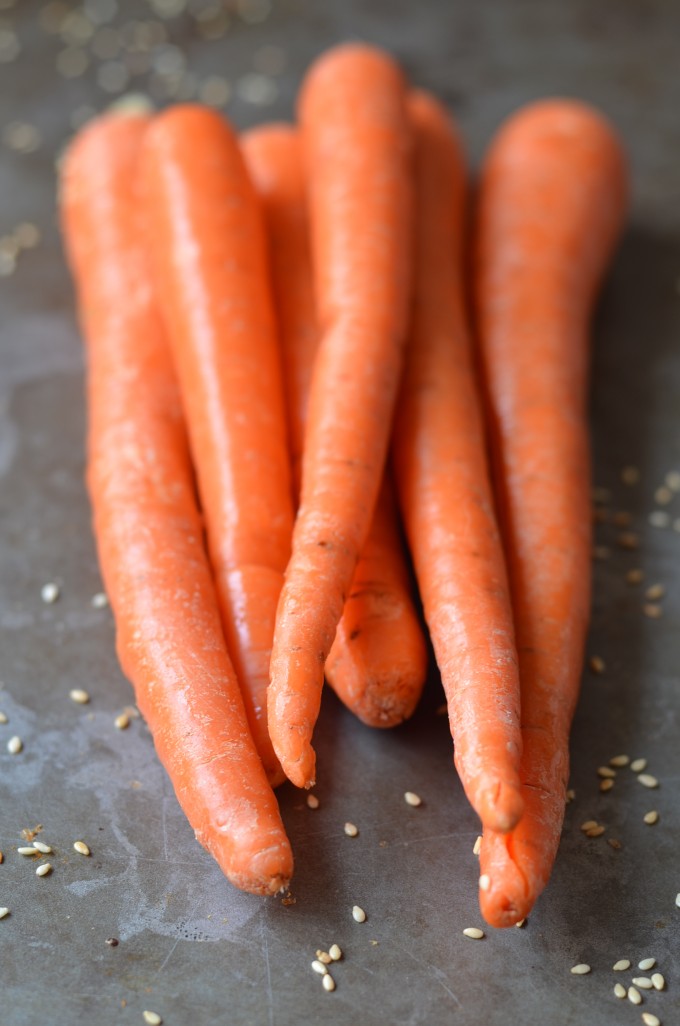 So what is harissa? It's a spice blend often used in Moroccan cooking. The mixture can vary quite a bit, but it commonly includes ground chilies, paprika, and other spices like cumin. It can be sold as a paste (mixed with olive oil) or as a dry spice blend, which is what I bought. My little tub says it's a mixture of chilies, sumac salt, garlic, cumin, coriander, and caraway (and it's heavy on the cumin). You can make it at home, too! The Kitchn has a recipe for harissa paste, but for those of us who are Lazy with a capital L, buying the blend is the way to go.
My first experience cooking with harissa was very pleasant indeed. The spice added a nice little kick to this dip and was perfect with the tahini. It adds some earthiness, as well. I don't know quite how to describe it, so you'll have to try it for yourself! You're especially guaranteed to love it if you're a chili fan. Your harissa may be milder or spicier than mine, so feel free to adjust the amount in the recipe to suit your tastes! With the blend I used, I'd still call this dip mild. Maybe medium if you're weak :)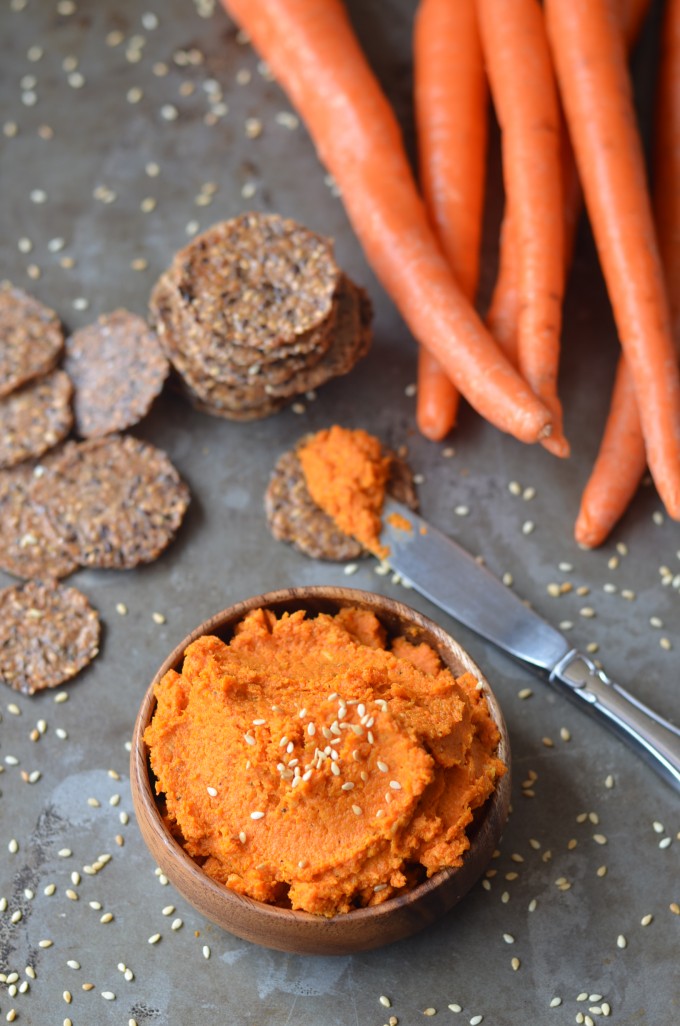 I also have to take a moment to call your attention to the deliciousness that is these crackers…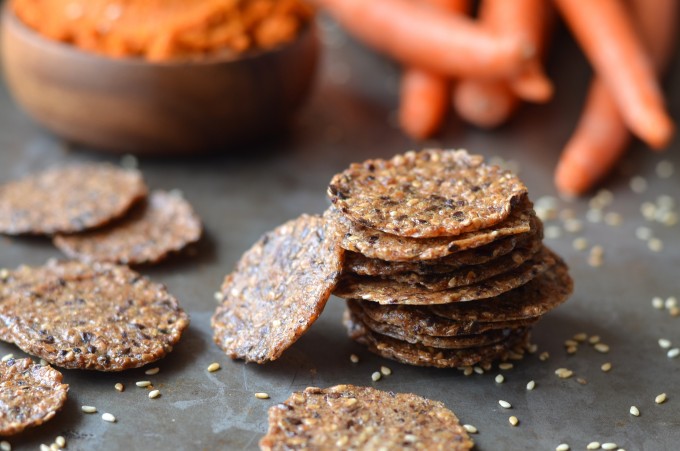 Mary's Gone Crackers: another thing I've been watching the blog world gush over for about a year before I finally tried them. I've picked them up in the store before, but put them down, because let's face it – they're not cheap. This time I tossed them in my cart because I knew they'd be the perfect thing for my harissa dip. And now Nate and I are both hooked. They are crazy good with this carrot concoction (not to mention with hummus!) and I love that you can taste every ingredient. They're real food! Which I feel like so many crackers aren't. They're gonna be a staple around here! And I'm just plugging them cause they're good… not a brand I work with :)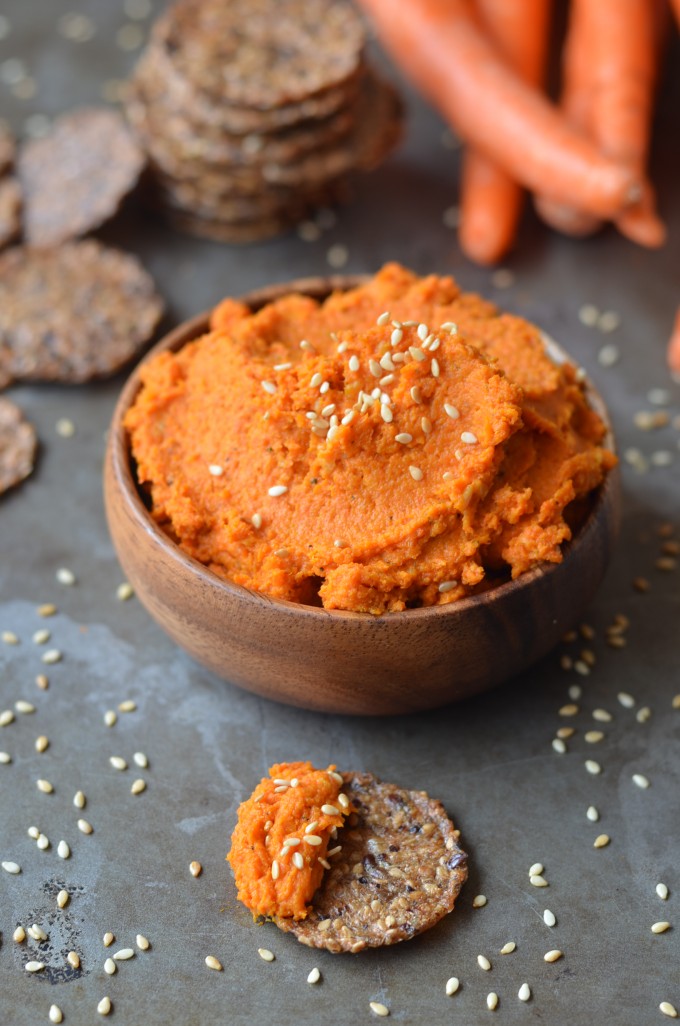 So rush out and buy some harissa! Or, if you're a step ahead of me, good for you. Here are a few more harissa recipes to whet your appetite:
Sweet Corn Soup with Harissa from Naturally Ella
Crispy Eggplant and Harissa Flatbread with Greens from The First Mess
Black Bean Harissa Burgers from Making Thyme for Health
Moroccan Carrot Soup with Spiced Chickpea Croutons from Dishing up the Dirt
Cauliflower Steaks with Caramelized Fennel and Harissa Millet from What's Cooking Good Looking
OK, I'm on the verge of going overboard and doubling the length of this post just with new harissa recipes for you to try. My mouth is literally watering looking at them ! That flatbread? Eek, so good. Anyway, the whole purpose of that was to inspire you to not be as lazy as me. Do as I say, not as I do! Except… make this carrot dip. Do do that.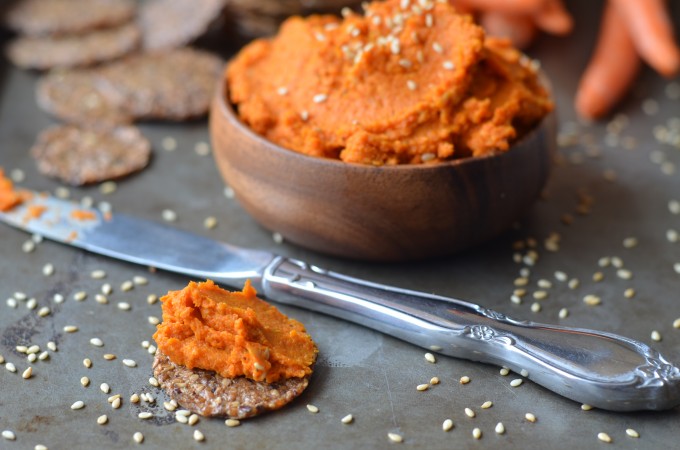 Moroccan-Spiced Roasted Carrot Dip
Ingredients
2 lbs carrots, peeled and chopped
6 cloves garlic, peeled
2 Tbsp olive oil
salt and pepper
2 Tbsp tahini
juice of 1 lemon
1 tsp ground harissa (plus additional to taste)
crackers or chips for serving
Instructions
Preheat oven to 425. On a baking sheet, toss chopped carrots and whole garlic cloves with olive oil and a generous sprinkle of salt and pepper. Spread in an even layer and roast until tender and starting to brown, about 30 minutes, flipping once or twice. Remove from oven and allow to cool.
Once carrots and garlic have cooled to room temperature, add them to the bowl of a food processor with the remaining ingredients. Process until smooth. Taste and adjust spices as necessary. If you like yours a bit hotter, add more harissa! Serve with crackers or chips. Enjoy!