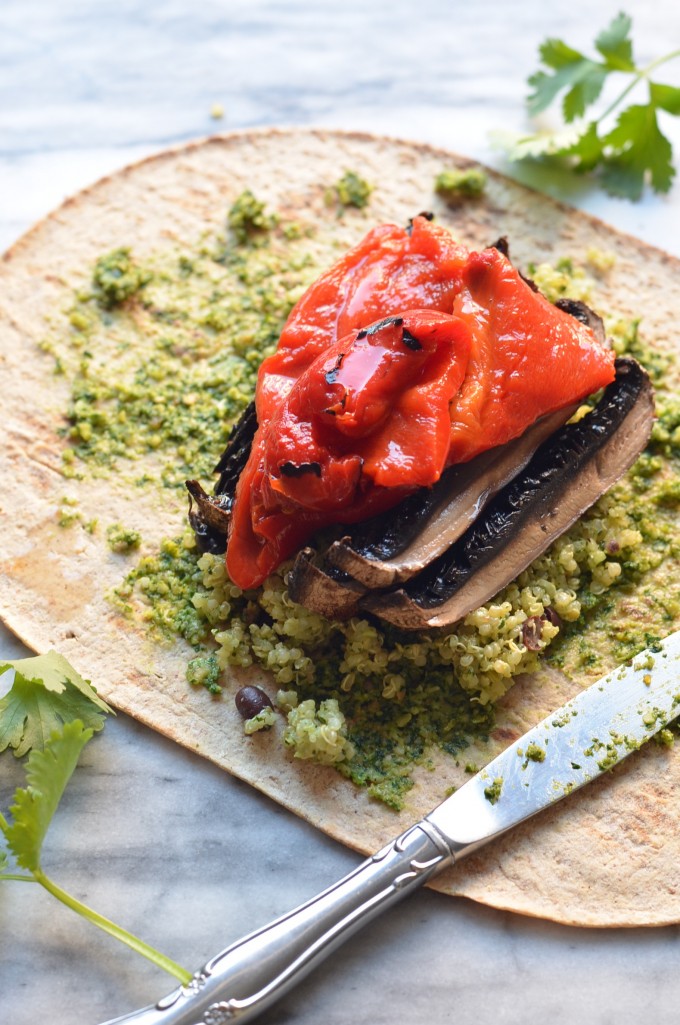 This weekend I:
1) Went on a hike
2) Was lucky Nate didn't leave me on the mountain
3) Had my second wedding dress fitting
4) Realized our wedding is NEXT MONTH
5) Spent an absurd amount on groomsmen's ties
6) Cried laughing looking at the Instagram hashtag #swolebrahamlincoln (mostly that it exists and has 1200+ posts – WHAT)
7) Cooked all the food
8) OD'ed on pesto
9) Ate more pesto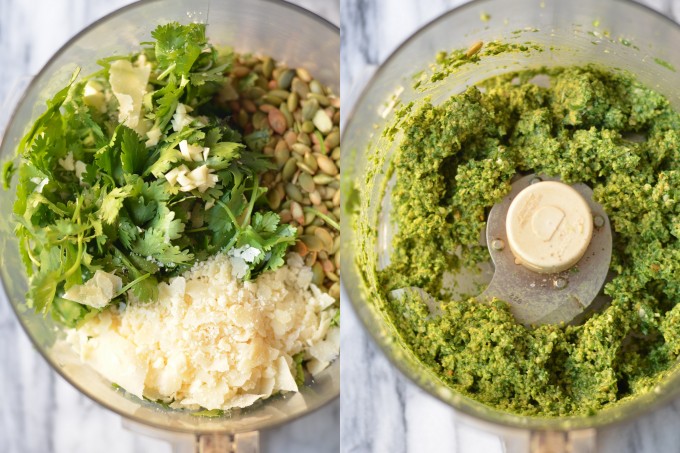 Was that a good enough segue to pesto? I hope so, because that's what I want to talk about. That and the wedding… naturally.
I could make all kinds of claims about this pesto. It'll cure what ails ya. It'll make you look like #swolebrahamlincoln. It'll win you a million dollars so you can buy all the ties in the world. Mostly though, this pesto is deeelicious and so unexpected, because it's made with cilantro!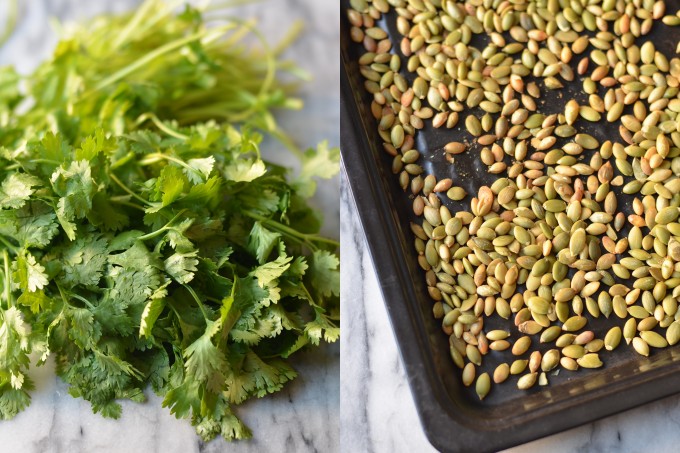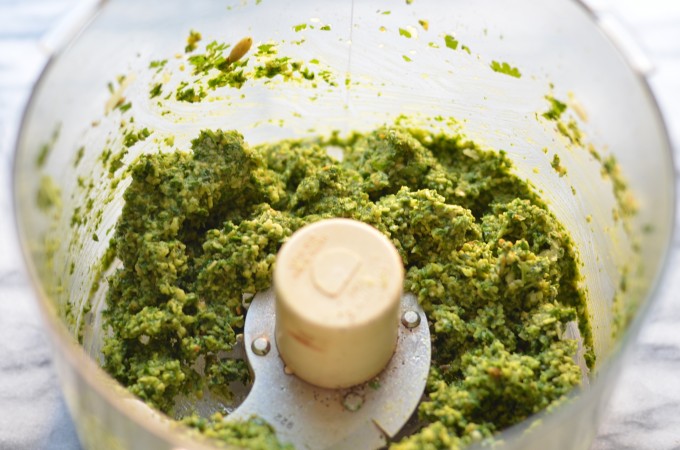 'Tis definitely the season for pesto. And if you feel the urge to branch out from the regular basil variety, I highly recommend a cilantro version! It's zesty, stays green forever,  and the cilantro you need to make it will cost you about a dollar. How is that for a change from basil? As you can see above, I didn't exactly make this batch with the most gorgeous cilantro on the planet. Oops. And yet you'd think it was made with the cilantro of the gods, because it was so crazy good.
Does cilantro pesto sound weird? I kind of think it does, especially because it has parmesan cheese in it. I was a little skeptical while making it, and even thought about switching out the cheese… but no need. Somehow the cilantro+lime+parmesan combo works. It's bursting with flavor and I think you should spread it on everything. But start with quinoa… always start with quinoa.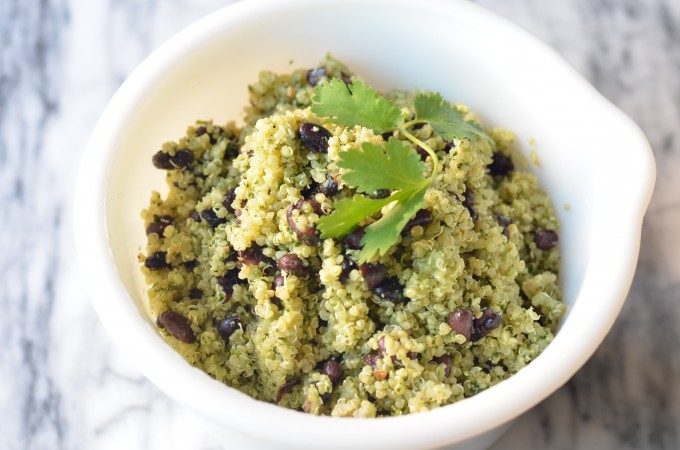 I've been wanting to make a quinoa and roasted veggie wrap for the blog for quite some time now, because – guess what? – there's one from Whole Foods that I like. Do I sound like a broken record? I'd say a good 50% of the recipes on this blog are inspired by Whole Foods. OK, so I exaggerate, but it's a great place to find some veggie inspiration. I have to say, though, that this wrap goes above and beyond. It is filled with ALL the good things, pesto and quinoa being just the start.
We've also got beans and roasted red peppers, not to mention juicy roasted 'shrooms.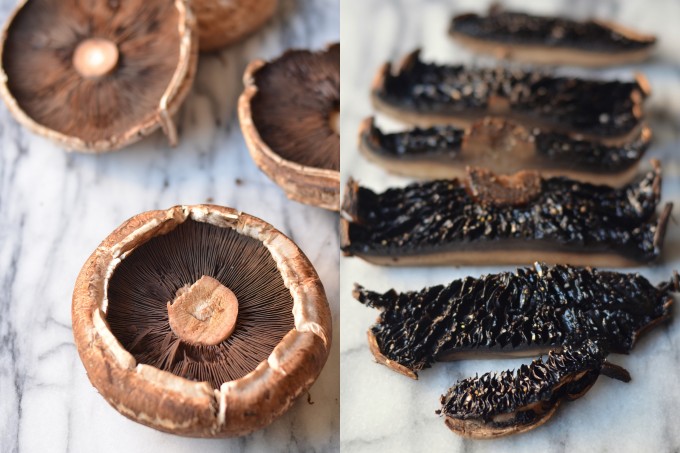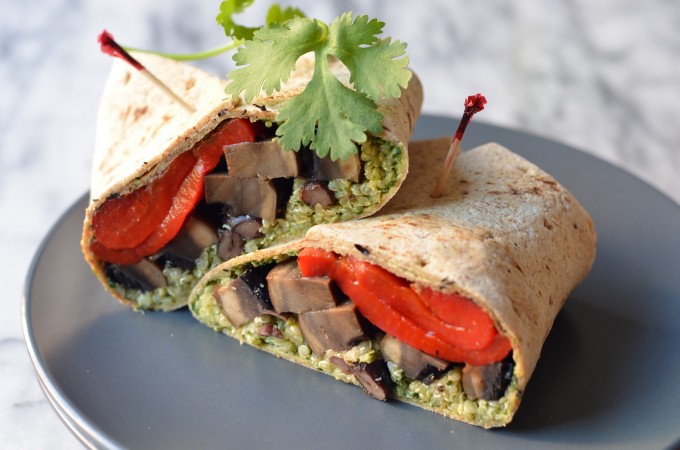 It's a pretty epic combo, especially when layered (with more pesto!) on a wrap.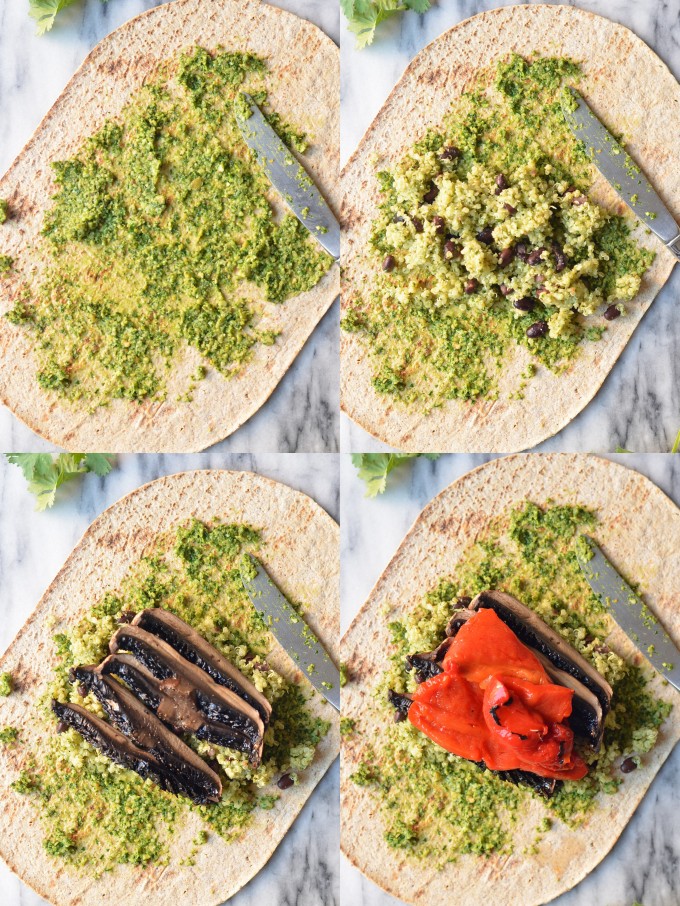 I'm a chronic wrap over-stuffer. Anyone else? You should compare my plate to Nate's after eating wraps or tacos. His? Spotless. Mine? Well, I set the forks out for a reason. I thought I was doing OK with this one until I tried to roll it up, but then… no such luck. Good thing no one was watching, because my wrap eating is pretty embarrassing.
That brings me to the other way this meal can be eaten, which is as a bowl. When I'm stuffing lunch in my face at my desk and 100% guaranteed to drop food all over the place if it's not on a fork, a wrap is not really an option. Times like those call for a bowl of cheesy, cilantro-y goodness, no wraps required. I highly recommend it in bowl form! It will also use up more quinoa as a bowl, so keep that in mind if that's your plan.
Do you think I can Instagram a picture of this wrap and caption it #swolebrahamlincoln? Just kidding, I'm not that embarrassing.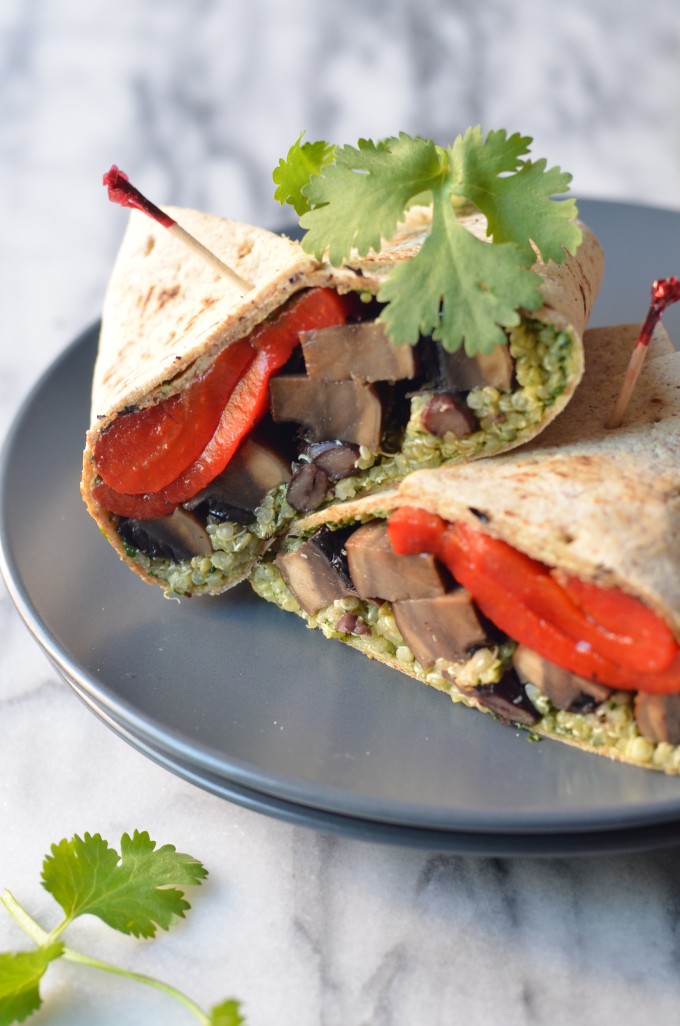 Portobello Quinoa Wraps with Cilantro Pepita Pesto
Yields:
about 6 wraps, depending on the size of the portobellos
Ingredients
For the cilantro pepita pesto:
3 cloves garlic
2 cups loosely packed cilantro (mostly leaves), about 2 bunches
1/2 cup pepitas (hulled, unsalted pumpkin seeds), toasted
1/2 cup parmesan cheese
2-3 Tbsp olive oil
juice of 1/2 a lime
salt and pepper
For the wraps:
4 portobello mushrooms caps
1 Tbsp olive oil
salt and pepper
1/2 cup uncooked quinoa, rinsed and drained
1 cup cooked black beans
wraps or tortillas (about 6)
roasted red peppers
grated parmesan cheese
lime wedges
Instructions
First, roast the portobellos. Preheat oven to 425. Slice the stems off the portobello mushrooms and wipe the tops clean with a damp paper towel. Brush both sides with olive oil and place, gill side up, in a baking dish. Roast until tender, 15-25 depending on the size of your portobellos. Set aside to cool. Once cooled, slice thinly.
Next, cook the quinoa. Add the rinsed and drained quinoa to a pot with 3/4 cups water. Bring to a boil and simmer until water is absorbed, about 15 minutes.
Now make the pesto. Add the garlic cloves to the bowl of a food processor and process until finely chopped. Add remaining ingredients and process until smooth, scraping down the sides of the bowl as necessary. Add salt and pepper to taste.
Stir a quarter cup of pesto and the black beans into the cooked quinoa.
Finally, assemble the wraps. Spread each wrap with a spoonful of the remaining pesto. Add a scoop of the quinoa mixture, sliced portobello, and a roasted red pepper. Top with a squeeze of lime and a sprinkle of parmesan. Roll up and enjoy!
Notes
I prefer to start out with less oil in my pesto so that I can add more to the leftovers, which inevitably dry out. Feel free to adjust the amount of oil to suit your tastes.