This post is sponsored by Pacific Foods.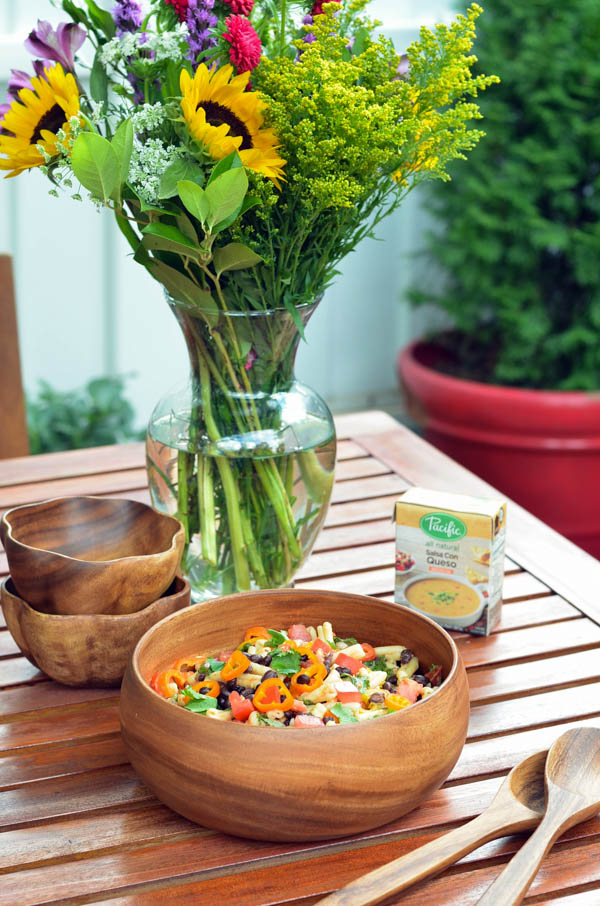 I'm looking for ways to extend summertime.
The list I've brainstormed so far:
– Keep wearing white pants.
– Move to Arizona.
– Eat nothing but corn and zucchini until January.
– Heat lamps.
…other ideas?
While the rest of the blogging community is heralding the coming season of boots, scarves, and pumpkin, let's face it: I'm not going to celebrate those things until I'm forced to. Do you think my boots and scarves will look good with cropped white jeans? OK good.
Summer is my favorite season, and luckily we had plenty of summery weather in Salt Lake this Labor Day to celebrate its (unofficial) last weekend. Despite planning to spend the whole weekend relaxing (we're gone almost every weekend in September!), Nate and I ended up heading over to our friends' house for a little impromptu gathering on Saturday night. It didn't take too much convincing… there was wine involved!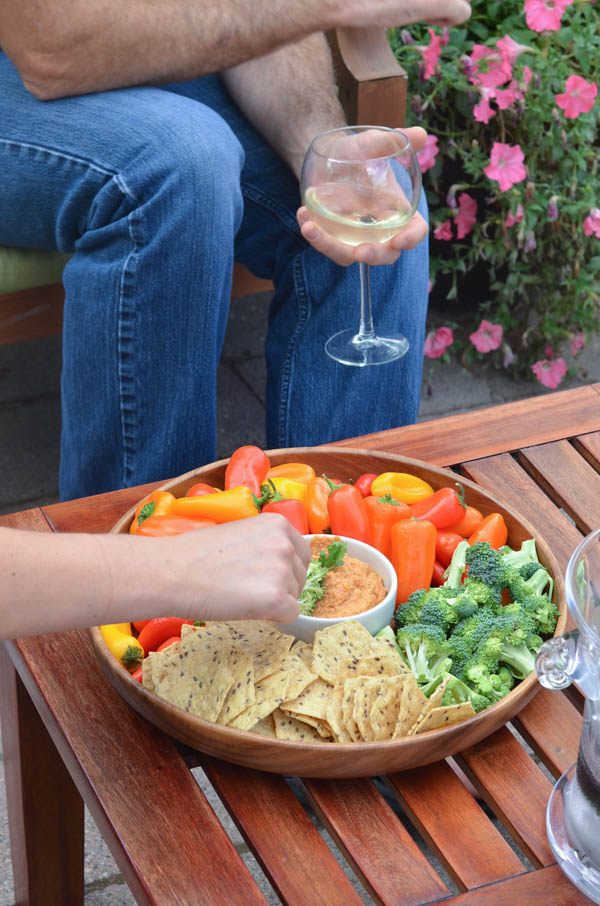 Our friends Alex and Matt are THE most generous hosts, and we don't return the favor nearly often enough. They have an absolutely gorgeous outdoor space, so naturally everyone loves inviting themselves over on a summer evening. I don't have a shot that does it justice, but they are master gardeners. Someday I hope to be grown up enough to have a yard that looks half as good as theirs! Unfortunately that day is not only far away, but will probably involve me paying someone else to garden for me. Not a green thumb to be found in our household.
Anyway, because we take advantage of Alex and Matt's hospitality far too often, I said we'd bring the food this time. Enter this roasted red pepper hummus: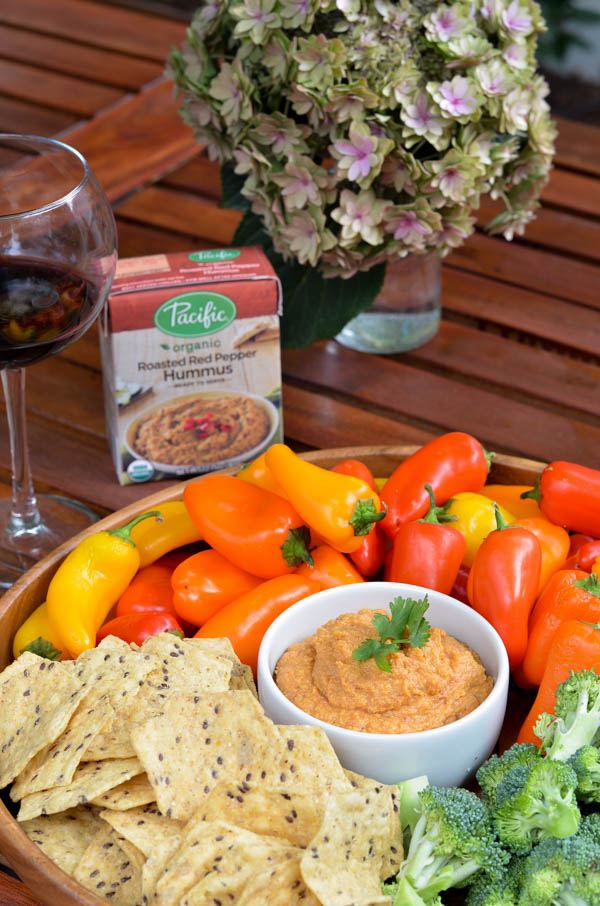 …of which we devoured every bite.
Pacific Foods generously sent me several types of their organic, shelf-stable hummus to try. Yum! They have classic, roasted garlic, and roasted red pepper flavors. I brought over several containers of the roasted red pepper, and wished I'd brought more! This group can sure eat some hummus.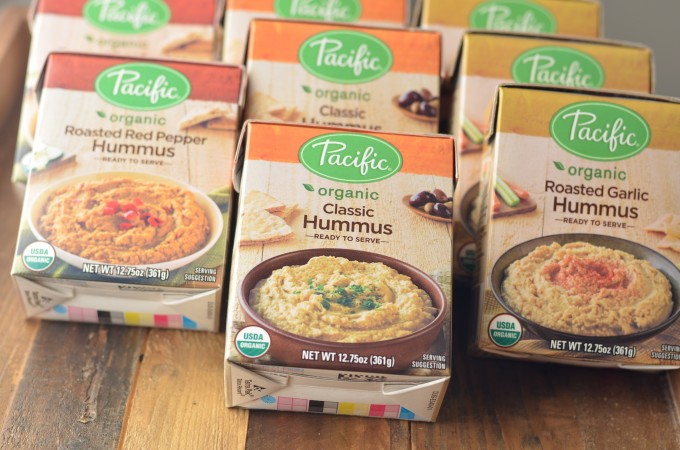 Have you seen these little cartons of hummus? Rather than using plastic containers, Pacific Foods packs their products in cartons, allowing them to be shelf-stable without refrigeration or preservatives. They're recyclable, too. Pretty cool if you ask me! Great for not only parties, but to pack along on a camping trip or picnic.
The other thing I just couldn't resist bringing was this cheesy southwest pasta salad: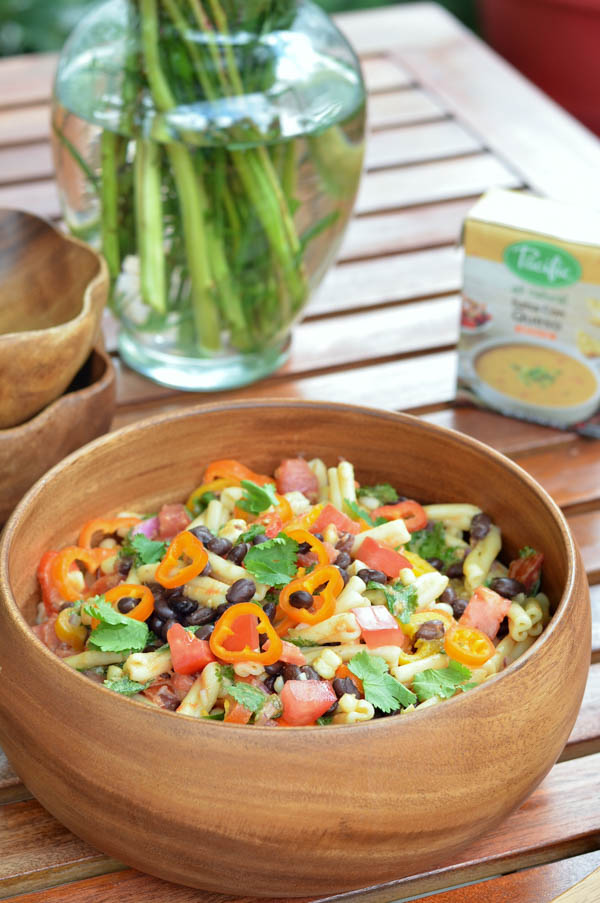 Pasta and all the southwestern fixings are stirred together with a generous helping of salsa con queso to make an easy, cheesy delight. It's so simple to whip up, and a great way to stretch a half pound of pasta to feed a crowd. Plus, could cheesy pasta ever be bad?
I think we all know the answer to that.
Actually, I have to say this pasta salad is kind of like a cross between mac and cheese and pasta salad. It is seriously cheesy! And yet the bulk of it is made up of veggies and beans… my kind of party dish. Why did it take me so long to make this? Truth be told, I just didn't realize how easy it would be… but now you know. So do it!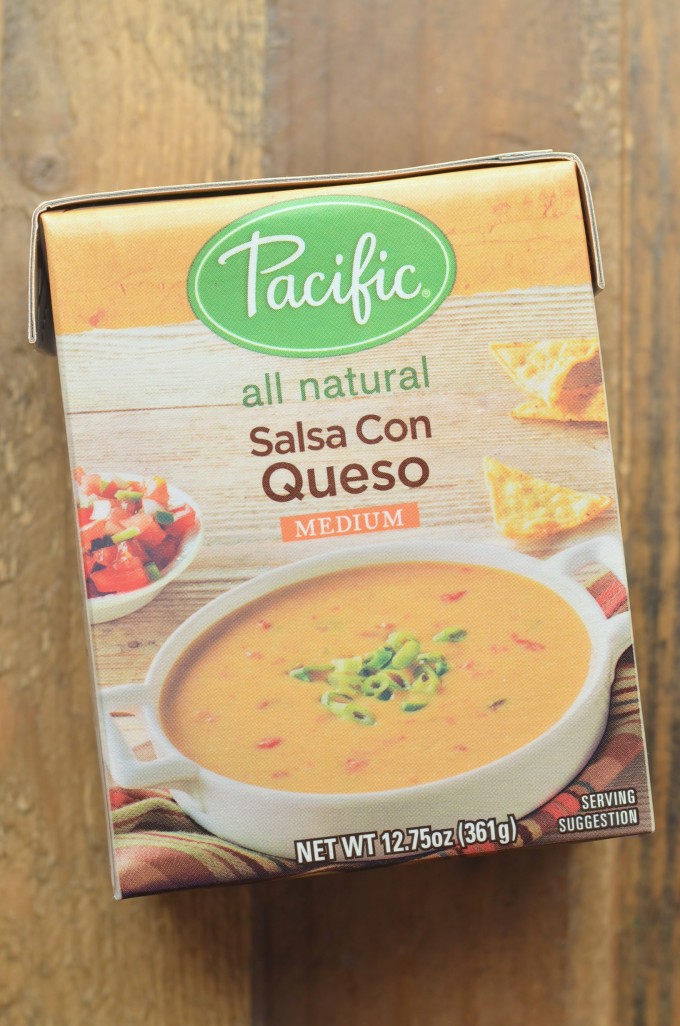 In fact, so that you can do just that, Pacific Foods is giving away a whole box full of goodies to one lucky Coffee & Quinoa reader! This includes their salsa con queso, three types of hummus, and their refried beans. Let's just say you'll be all set to extend your summer for as loooong as you'd like with these treats!
Each reader can enter the giveaway up to five times. Here's how to enter:
1. Leave a comment on this post telling me how you're extending summer!
2. Like Pacific Foods on Pinterest (then leave a separate blog comment below to tell me you did).
3. Like Pacific Foods on Facebook  (then leave a separate blog comment below to tell me you did).
4. Like Coffee & Quinoa on Pinterest (then leave a separate blog comment below to tell me you did).
5. Like Coffee & Quinoa on Facebook (then leave a separate blog comment below to tell me you did).
The giveaway is open to US residents only and will be open until 11:59 Eastern Time on Monday, September 15th. In the meantime, check out the Pacific Foods Foodie Party pinterest board for ideas to entertain a crowd for these last few warm-weather weekends.
On my to-do list this week: Eat cheesy pasta salad while wearing white pants and checking out flights to the Southwest. Yep… still summer!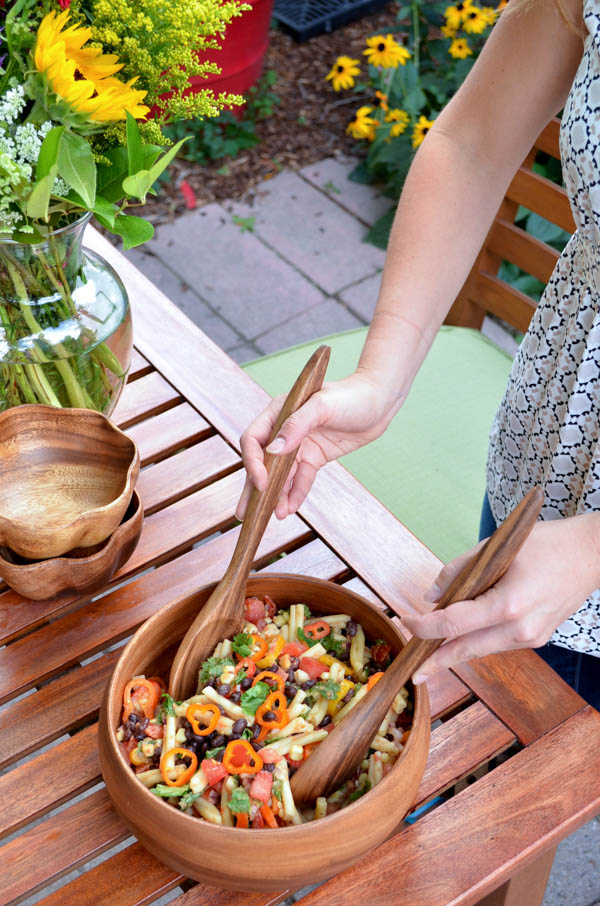 Cheesy Southwest Pasta Salad
Ingredients
8 oz short pasta (I used casarecce)
kernels from 2 ears of corn (about 1.5 cups)
2 cups diced bell pepper (I used sliced mini peppers)
2-3 cups diced fresh tomatoes
1 bunch cilantro, chopped
1/2 cup minced red onion
juice of 2 limes
14 oz can black beans, drained and rinsed
1 container Pacific Foods Salsa Con Queso
Instructions
Cook pasta according to package directions. Place corn kernels in the bottom of a colander. Drain pasta over corn, then add both to a large mixing bowl.
Stir the remaining ingredients in with the pasta and corn. Set aside until cooled to room temperature. Serve and enjoy!
I prefer this dish on the first day made. If refrigerating over night, bring back up to room temperature before serving.