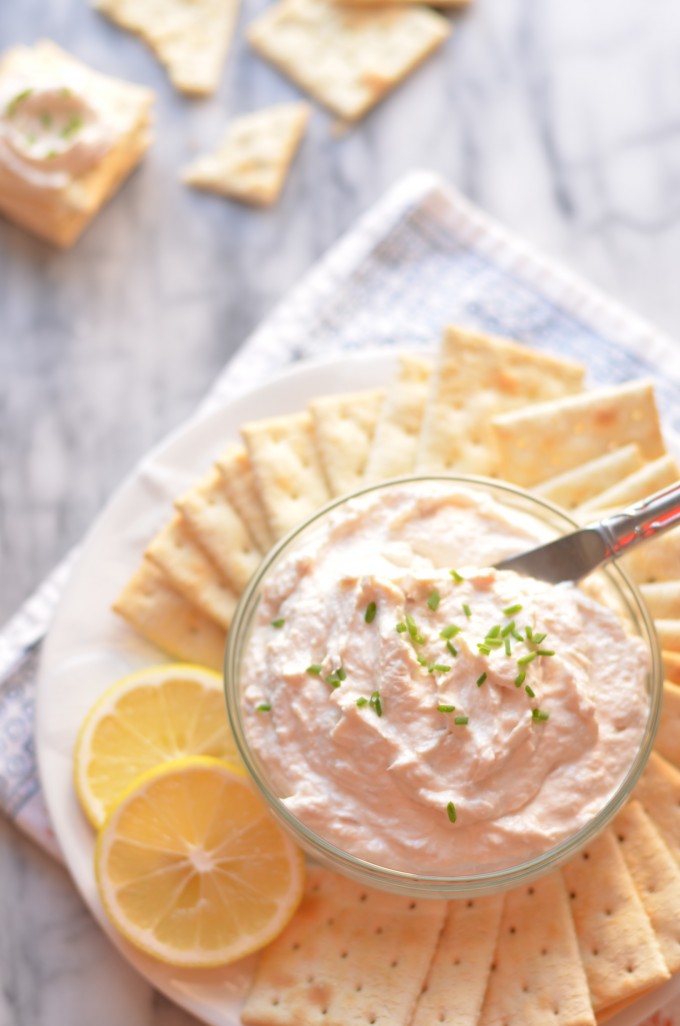 This recipe is my way of pretending I'm still on the Vineyard. Every smoky, creamy bite brings me back to vacation… delicious, delicious vacation!
Actually, this recipe is my way of mashing up vacation and real life. A creamy fish pate is definitely an island treat, but the one we had on the Vineyard is made with smoked bluefish. Well, in Utah, there is nary a bluefish to be found, never mind smoked. Trout, however, we have in abundance, and that's how it made its way into this pate.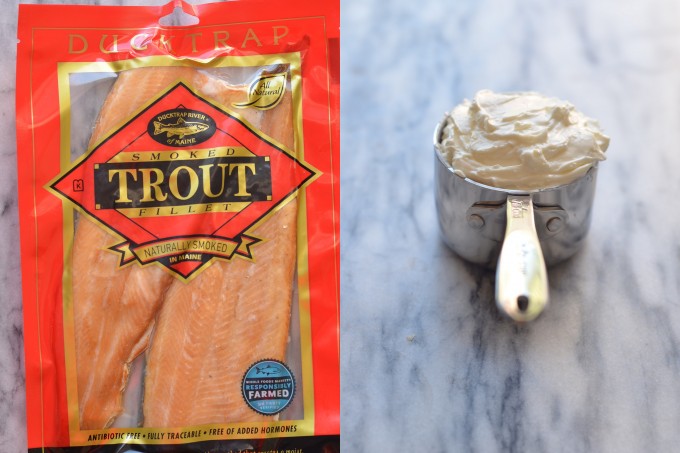 It turns out that pretty much any smoky fish is absolutely delicious mixed with cream cheese and Greek yogurt. Are you surprised? Hmmm, me neither. In fact, I'm pretty sure that angels start singing whenever you take a bite of a cracker slathered in this dip. I tried to capture that in these pictures… see what I mean?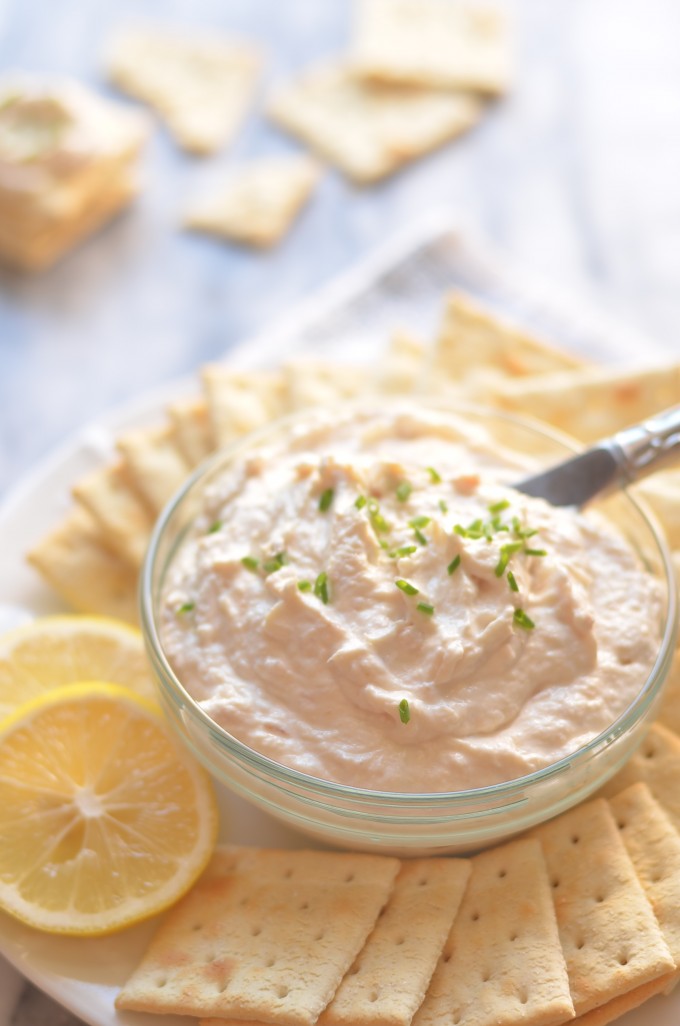 Just heavenly.
This dip has a handful of ingredients, but the two that stand out are the smoky trout and smooth cream cheese. The others are just there to complement. The tiny bit of lemon and horseradish make the trout stand out, and the Greek yogurt gives the dip a light, whipped texture. And whatever you do, don't skip the chives! They can just be sprinkled on top (as pictured here) or stirred into the dip to get some in every bite. The smoked trout + chive combo is going to be happening more frequently after this in my life. So good!
This pate is quick to whip up, but there's a catch: smoked trout is stiiiiinky. I honestly don't know how something that tastes so delicious can leave that odor everywhere! I wore (new, clean) rubber gloves while handling the trout, and washed my food processor twice afterward making this dip. That seemed to do the trick! No one likes their hands (or their next batch of almond butter, for that matter) to be left with any smoked fishiness.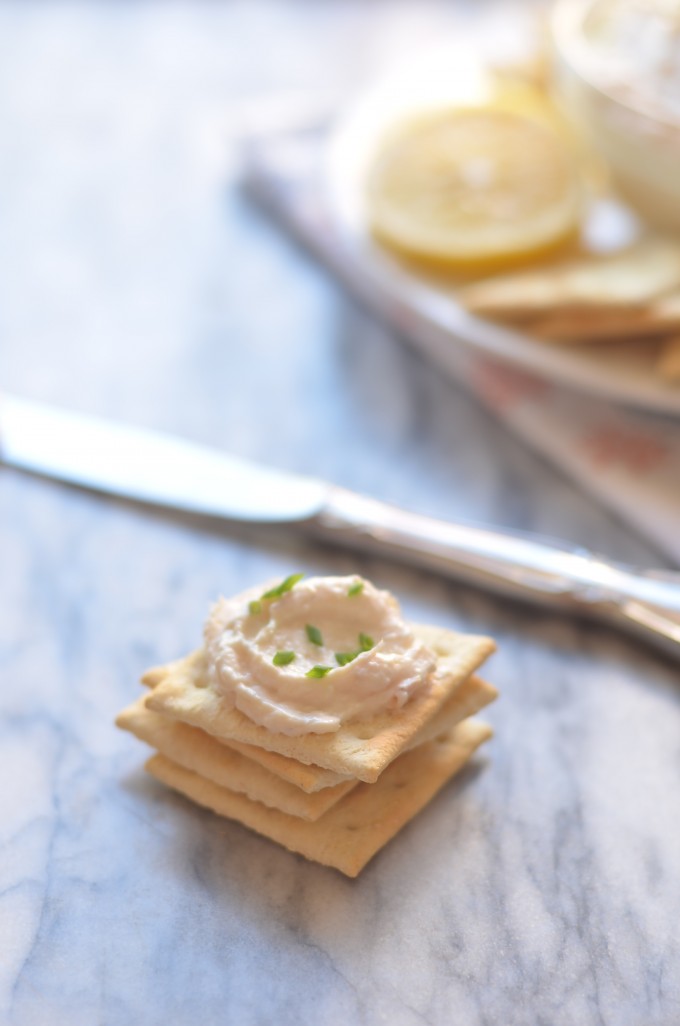 I'm so addicted to this dip that I think you and a few friends will have no trouble polishing off the generous amount this recipes makes. Truth be told, I originally made just half the recipe, but soon realized that would be just plain silly. What's the use of making this if you don't have enough to share with friends? Because if you're like me, you'll take a few scoops right out of the food processor before even thinking about sharing. No shame.
Wherever you are, grab some smoked trout, kick up your feet, and pretend you're on vacation! There's no way to savor those last few days of warm weather like this summery pate. And the fact that it tastes great with a cold beer doesn't hurt, either. Enjoy!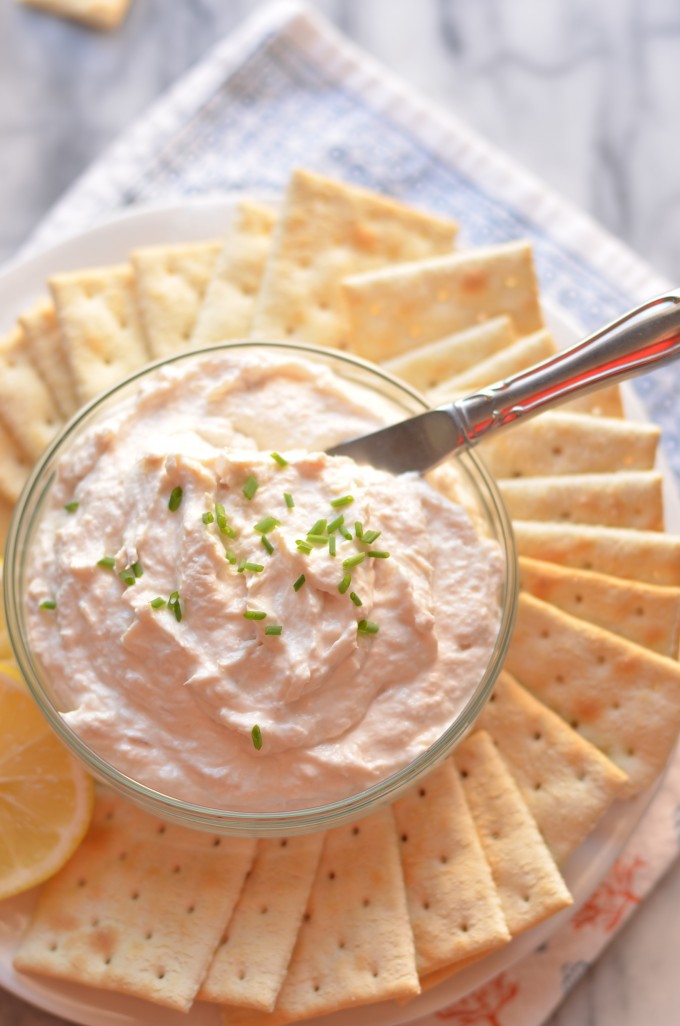 Creamy Smoked Trout Pate
Yields:
2 heaping cups of pate
Ingredients
8 oz smoked trout
1 cup cream cheese
1 cup plain Greek yogurt (I used Fage 0%)
juice of 1 lemon (1/4 cup)
2 tsp prepared horseradish (not the kind in cream)
1 Tbsp thinly sliced chives
saltines or multigrain crackers for serving
Instructions
Use a fork to flake apart the trout. Pick out any visible fish bones.
Pulse the trout several times in a food processor to break it into small shreds. Add the cream cheese, Greek yogurt, lemon juice, and horseradish and pulse to combine. Last, pulse in the chives (or reserve for a garnish).
Serve with saltines or multigrain crackers. Enjoy!
Notes
I like to use rubber gloves when handling smoked trout. It can make your hands quite stinky!