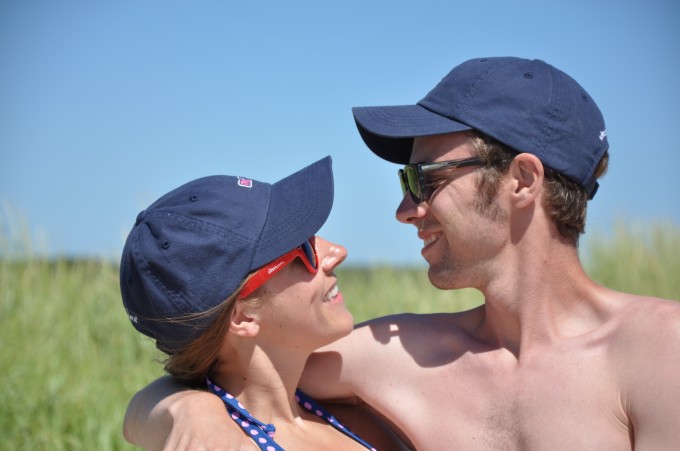 I am on board and buckled up for the emotional roller coaster ride that is monitoring the 10 day forecast before my wedding.
Just kidding – it hasn't been too emotional (so far). Mostly because right now the weather forecast looks like this: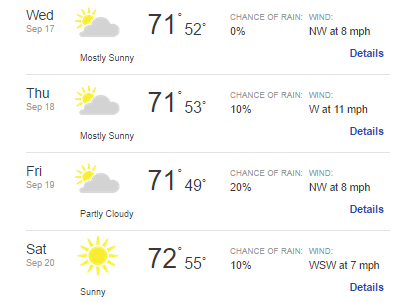 72 and sunny on Saturday, September 20th. You really couldn't ask for a more perfect fall day in New England.
While I've by no means been great about giving regular wedding planning updates on here, I thought I'd give it one last shot before the big day. And this is pretty much my last chance! I cannot believe it's just 8 days away. On the one hand, we've been planning our wedding for almost a year, and at times it felt like it would never come. But on the other, it has totally snuck up on me. Time is such a funny thing.
So we are (I think) completely prepared for the wedding. Marriage license? Check. Rings? Check. Final payment to the caterer? Groan, check.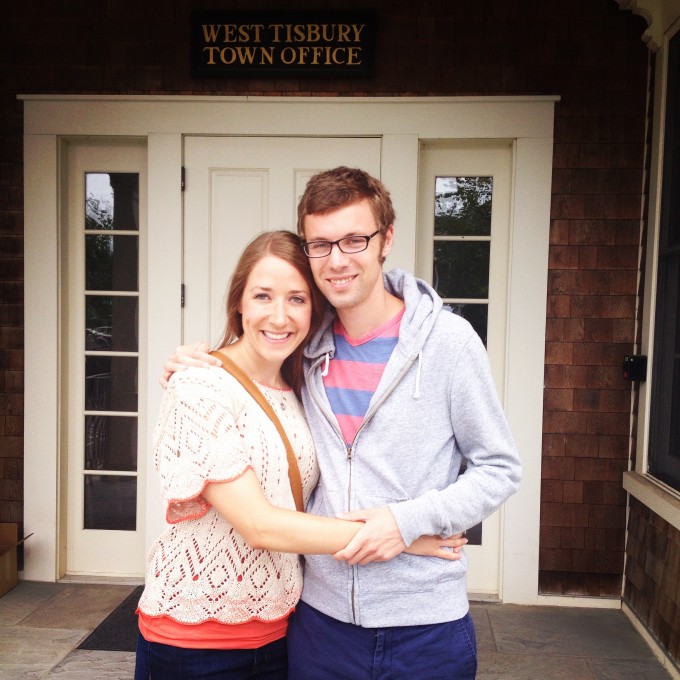 Oh wait, then there are things like picking up my wedding dress, carrying it on to the plane (on Southwest, GULP), and finishing up writing a little thing called our entire wedding ceremony that I still have yet to take care of.
OK so maybe we're not 100% there, but some things were going to have to wait until the last minute anyway.
Thank goodness for my mom, who arranged her schedule to have a full 2 weeks off before the wedding to make sure everything is taken care of. She's been feverishly working on the the seating arrangements, meal counts, place cards, and everything else I can't even handle. To say she's the best is an understatement! Love you, Mom :)
A few wedding details I can't remember if I've told you before:
We're doing it all outside – there's no plan B. It was that or wait until 2015. Come on, 72 and sunny!
We are doing a first look. The ceremony is late in the day, so the first look will guarantee that we get some good pictures before it gets dark. And also my only prayer of getting my tears out of the way before the ceremony! There's no way around it – I'm a crier.
I have five bridesmaids – my sisters, his sister, my cousin, and one friend. He has seven groomsmen, all friends. Typical!
I'm going for a "rustic elegant" look with the decor. Some elements are more on the elegant side, but it got continuously more rustic as we went along. I think the combined effect will be beautiful, but Mom isn't so sure… she keeps referring to the "rustic" theme as "barnyard" instead :) We are getting married on a farm, but there will be no cows mooing in the background. Although come to think of it, one of the most beautiful weddings we ever attended featured cows grazing on a hillside as the backdrop for the ceremony. Maybe "barnyard" isn't too bad after all.
I found gold peep toe flats and I can't wait to wear them! No heels for this lazy bride.
Attention to detail is not my middle name, and our wedding will not be very DIY. Cute little surprises for the guests and details everywhere you turn? Nah, there won't be any of that. Everything will be pretty, but again… #lazybride
Not gonna lie, the part I'm most excited about is getting all done up with hair, nails, make-up, and of course the dress. I often enjoy getting ready more than the actual party, and, while I hope that won't be the case here, I'm still excited to look like a princess for a day! Oh and also to eat cake. And maybe to marry Nate? And see everyone I care about? Ahhh there is a whole lot to look forward to!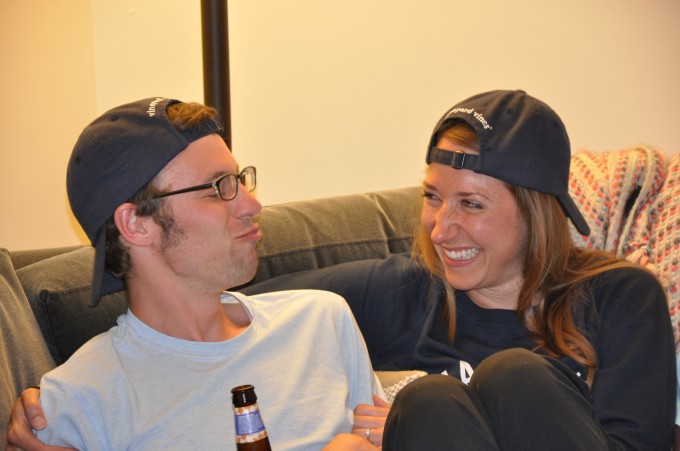 I kinda like him.
I think that's it for now, you all! This is my weekend of getting last minute wedding pampering done (like a facial) and also some work that needs to happen before I take off for over a week. Good timing because Nate is out of town for his bachelor party! Having a totally boring time, I'm sure :)
I'll plan to check in next week with a last recipe or two before I take a break for a few weeks. Have a great weekend!