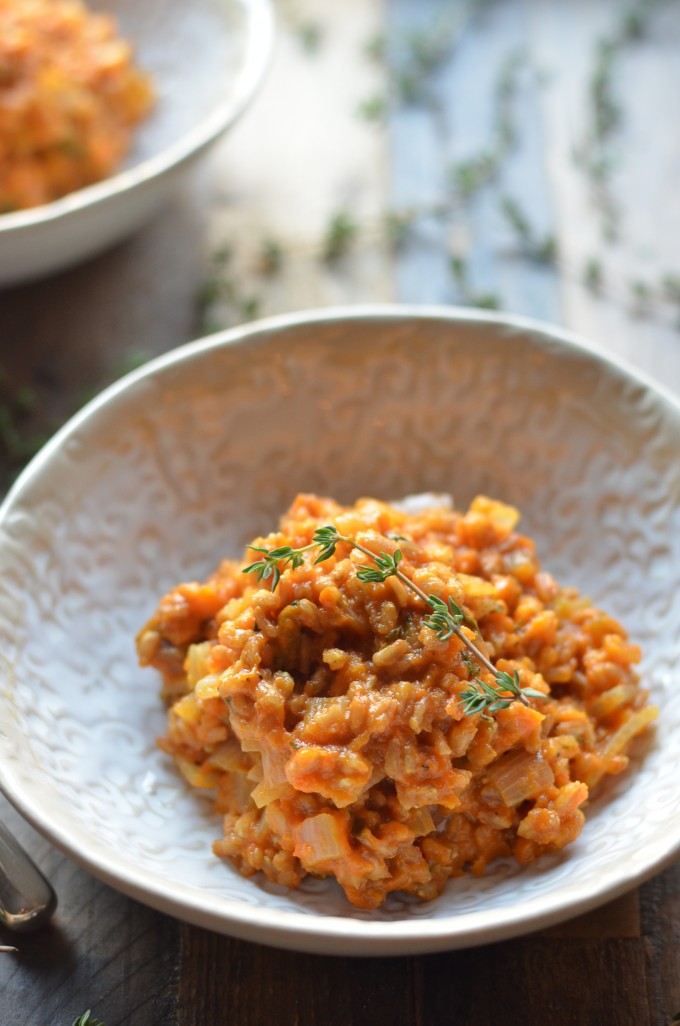 Before the wedding, I developed a zucchini recipe for the blog… then ran out of time to post it. I thought about sharing it this week, but you know what? I'm just not feelin' it. The zucchini ship has sailed. And although I hate to say it, I have finally moved on to fall foods. I almost can't believe it, because I feel like every year I'm even sadder to see summer go. I think it has to do with the beautiful Utah weather. Other bloggers start with the pumpkin recipes when it's still 80 degrees here, and I'm all noooooooo. But now that it's October and I actually have to wear a jacket when I leave the house in the morning, we can talk about warm, comforting food.
But maybe I will sneak a zucchini in sometime soon, just for kicks.
Not that this is a fall dish per se, but to me, risotto is a very wintery food. I mean, am I going to stand at the stove stirring for ages in the summer? Nein danke. Only when it starts to get dark and chilly can I commit to risotto.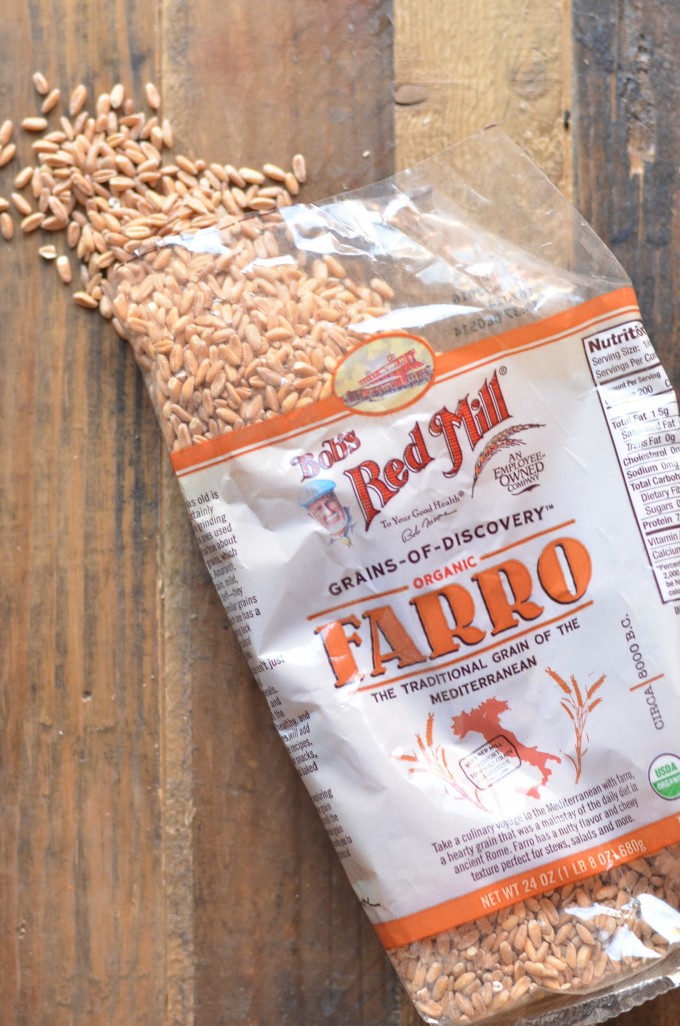 But the real reason I made this is that I ate SO MUCH risotto during our "minimoon," and I'm now addicted. We had some ridiculously delicious restaurant meals, and every piece of fish I ordered was served on a bed of creamy seasonal risotto. Oh my gosh, we ate so much over those three days! The amount of risotto I consumed should be illegal.
Then I saw this recipe in an issue of Edible Vineyard, and knew it was obviously going to happen. So as soon as we got home and I had like 12 salads to make up for our indulgent vacation, it did.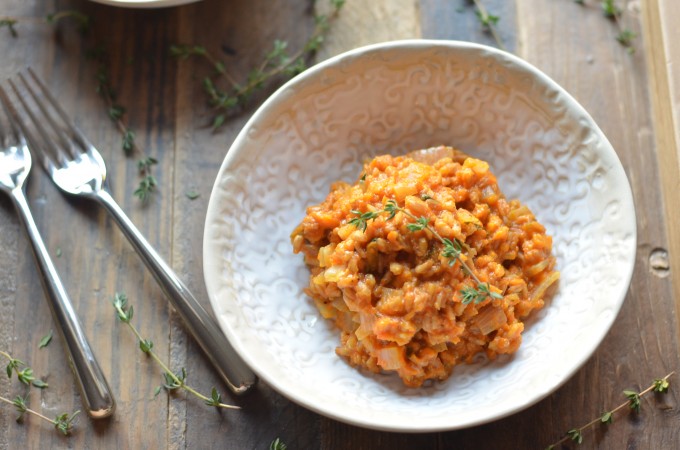 There are several things that make me love this risotto so much. Even beyond the normal buttery and cheesy reasons to love a risotto.
First of all, it has some different flavors from your typical risotto. The fennel and cumin? Not your normal risotto ingredients. You get a little hint of the fennel every so often, and I think it makes this dish really special.
But mostly it's the creamy carrot puree that takes this dish over the top. Does it sound odd that a vegetable could kick a cheesy rice dish up a notch? Because it totally does. Case in point: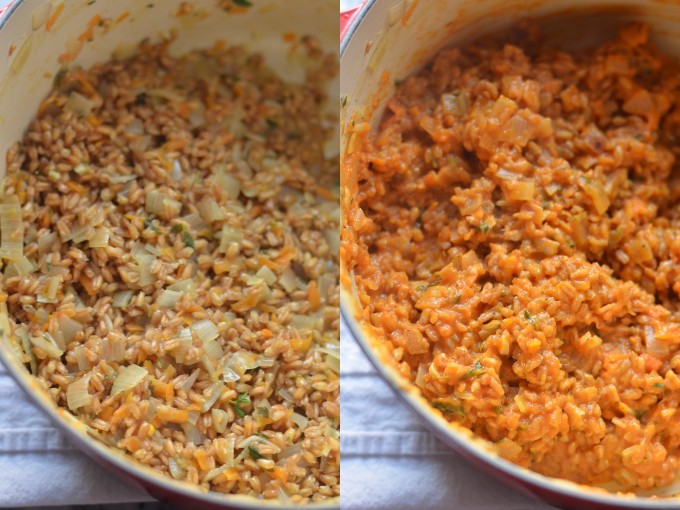 Before and after adding the carrot puree (OK, and the cheese is added in the same step). See how creamy it looks afterwards? Now that I've made this and seen tasted the difference before and after adding the carrot puree, I think all future risottos I make will have pureed veggies in them. Consider yourself warned. This winter: every possible root vegetable is going to get risotto'd on this blog. Hold me to that, please!
Last but not least is the orange color. For some reason I just love eating orange foods, and fall is a great excuse.
This isn't the first farro risotto on this blog, but I have to say it's the best. And why the farro? Because it's what I had handy, to be honest. With all the new dishes we've received lately, I'm on more of a mission than ever to clear out my cabinets and make some room. And after a few batches of this, I'm running low on farro! Success.
One of the new dishes we received as a wedding gift was the Le Creuset Dutch oven I've been coveting for years, and this was the first meal I cooked in it. This thing can hold some heat!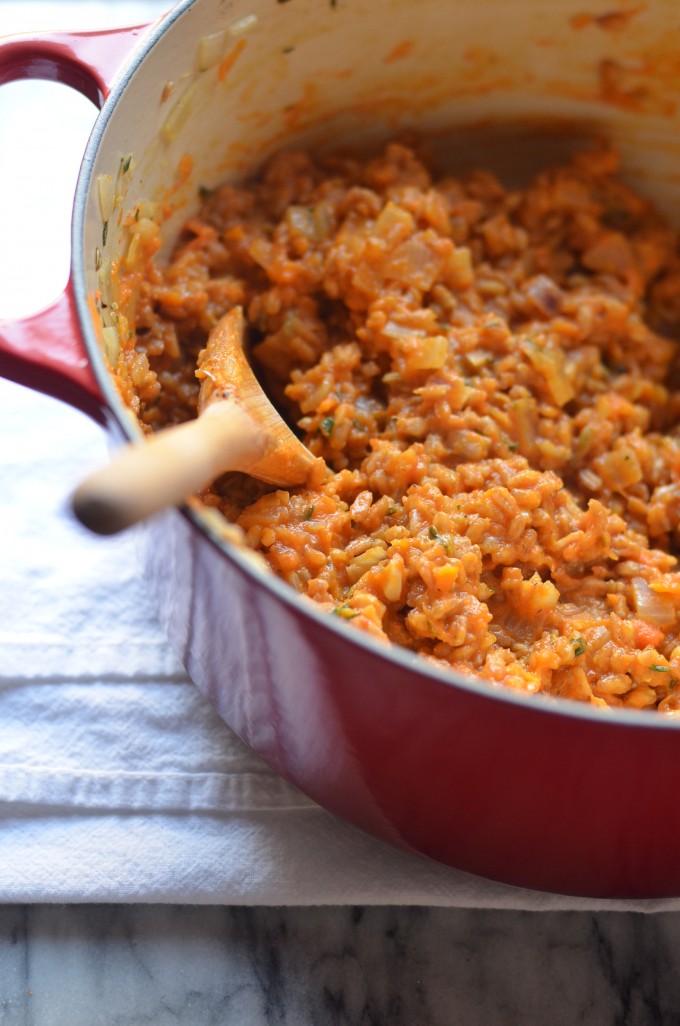 It was perfect for making risotto. It's like I'm being officially welcomed to adulthood, cooking with all this high-quality equipment. I feel so spoiled!
Speaking of dishes, we're talking about risotto here. It uses many dishes, takes a lot of time, is totally not my normal cooking style, and is worth every bit of effort. Just every once in a while, you know. For special occasions. Like… being a newlywed and trying to make your husband special meals? OK, I guess that actually is kind of a special occasion.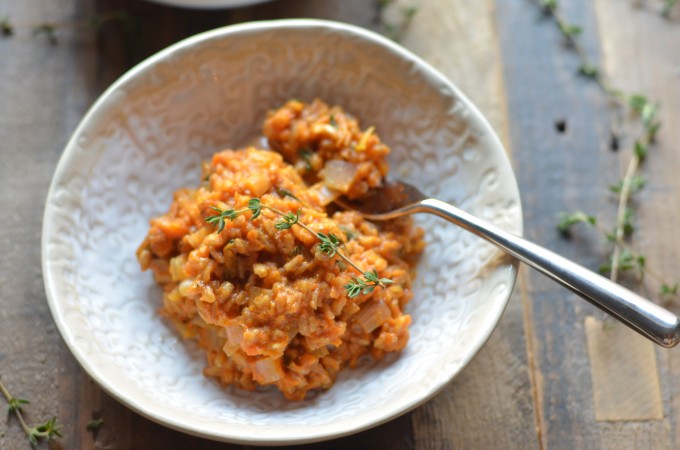 Carrot Farro Risotto
Ingredients
1 lb carrots, chopped into 1-inch chunks + 1/2 cup grated carrot
2 Tbsp unsalted butter
3 shallots, chopped
2 cloves garlic, minced
2 handfuls of fresh oregano leaves, divided
leaves from 6 sprigs of thyme, divided
1 tsp fennel seeds
1 tsp cumin seeds (or use 1/2 tsp ground cumin)
1 1/2 cups uncooked farro
4 cups vegetable broth, warmed
1 cup dry white wine (I used sauvignon blanc)
1/2 cup shaved parmesan cheese + additional for serving
salt and pepper to taste
Instructions
Bring a pot of water to a boil. Add chopped carrots and simmer until tender. Drain and transfer the carrots to a food processor. Puree until smooth. Set aside 1 cup of the carrot puree; the rest is leftover. (The carrots are added to the risotto as the last step, so you can cook them while the risotto is on the stove.)
Melt the butter in a heavy-bottomed pot. Add shallots, garlic, half of the herbs, and the spices. Sautee until the shallot is translucent.
Add the farro and toast for several minutes. Add in grated carrot and sautee another minute or two.
Alternate adding the wine and broth, 1/2 cup to 1 cup at a time, making sure all liquid is absorbed before adding more. I like to alternate stirring vigorously and walking away. Continue until farro is al dente, about 30 minutes. You may not use all the broth (but be sure to use all the wine!). Just before farro is al dente, stir in the remaining herbs.
Stir in 1 cup carrot puree and parmesan. Season to taste with salt and pepper. Don't hesitate to use a lot of salt! Serve with additional parmesan for sprinkling. Enjoy!