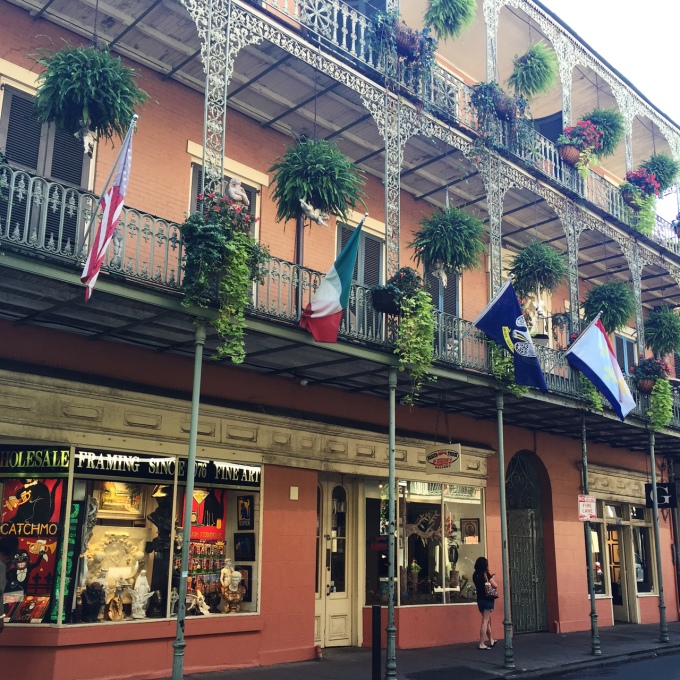 I had pretty much the ultimate foodie vacation this weekend when I traveled to New Orleans for my lovely cousin Katie's bachelorette party.
Some people get married when they're 22, and hey, there's nothing wrong with that. But one of the bonuses of getting married when you're a liiiittle bit older is that you get to have a different kind of bachelorette party. Your friends can, first of all, afford to fly to New Orleans to celebrate with you. And no one wants to wear boas and take shots on Bourbon Street til they puke. Instead,you celebrate by going out to eat THE most amazing meals in one of the best foodie towns in the country.
There were still drinks involved (maybe even a shot or two!), and inappropriate bachelorette party attire,  but mostly things were organized around food. It was my kind of weekend!
So without further ado, here's what I ate in Nola this weekend. Warning: it was not a vegan adventure.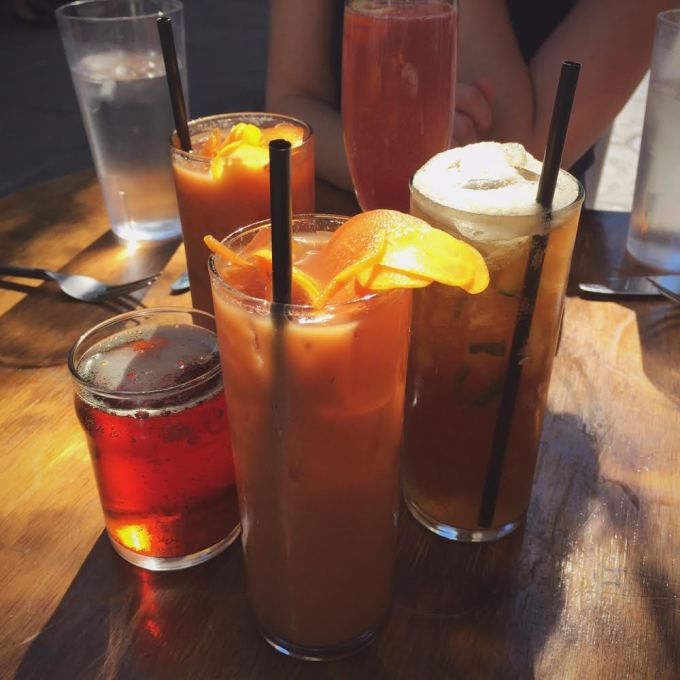 First up: Friday lunch cocktails. Mine was the "Smoked Mary" closest to the camera (slash iPhone). It was made with carrot juice instead of tomato juice – see the pickled carrots in there? I am a sucker for a good Bloody Mary, and I may have to recreate that one.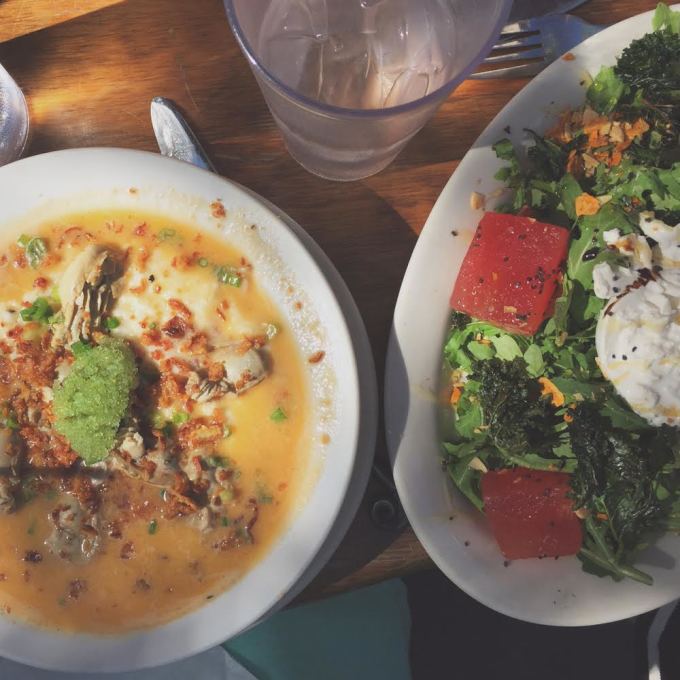 Along with those cocktails: On the left, an oysters and grits special topped with caviar. On the right, an arugula, watermelon, burrata and kale chip salad. Yummmm. This was all at Green Goddess.
No pictures of dinner Friday night. We ate at Coop's Place, which is definitely worth a visit. I had a creamy Cajun pasta that tasted amazing with my Jockamo IPA, and I will definitely be creating a healthy version of it for you! Mmm mm mmmmm.
Breakfast Saturday morning was a cafe au lait and beignets at Cafe du Monde. Can you believe I didn't get a picture? I can… my hands were covered in powdered sugar. SO good.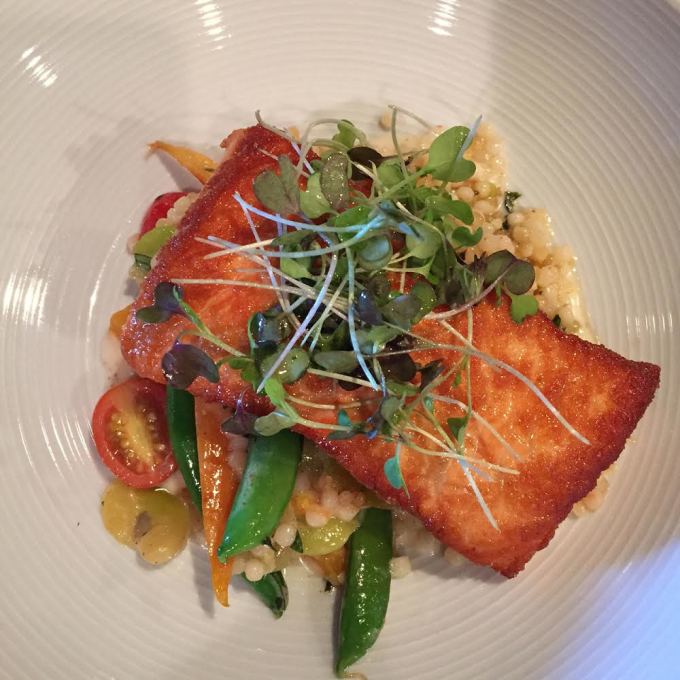 This pan-seared salmon at Rue 127 was lunch. I lurved it.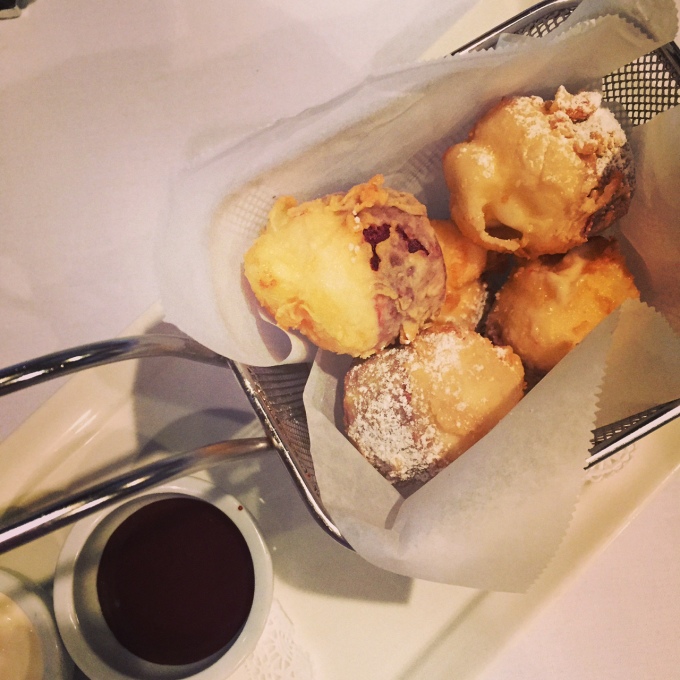 But the real highlight of lunch was these deep-fried red velvet cupcakes with a trio of dipping sauces (chocolate, salted caramel, and orange creme fraiche). Oh. my. god. Totally, gratuitously decadent and one of the best desserts I've ever had. One of the other bridesmaids' sisters is the owner and pastry chef at Rue, and these are her special creation. I'm not usually one for deep fried foods (although my pictures here would seem to contradict me!), but if you are ever in New Orleans, you should go to Rue 127 just for these cupcakes. Unreal.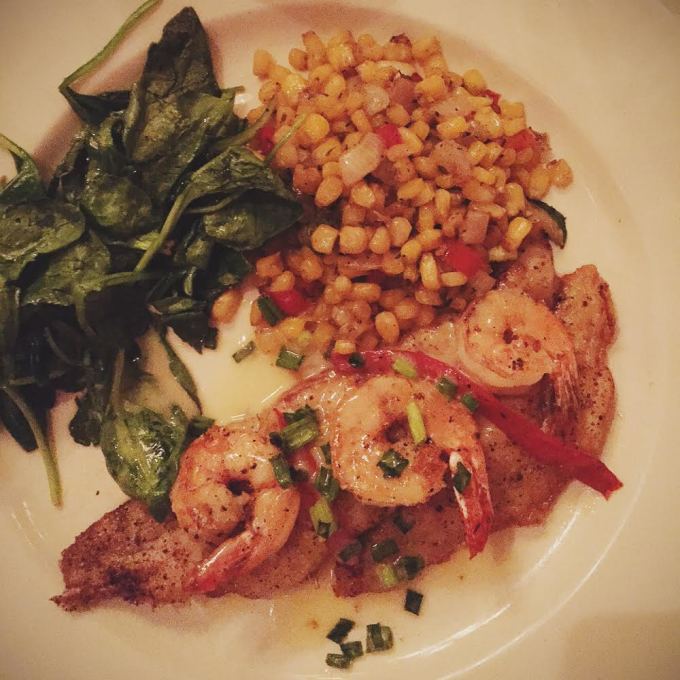 Saturday was a big eating day, to put it mildly. I didn't even show you the cocktail walking tour in between! This fish, shrimp, succotash and spinach at Irene's Cuisine was dinner.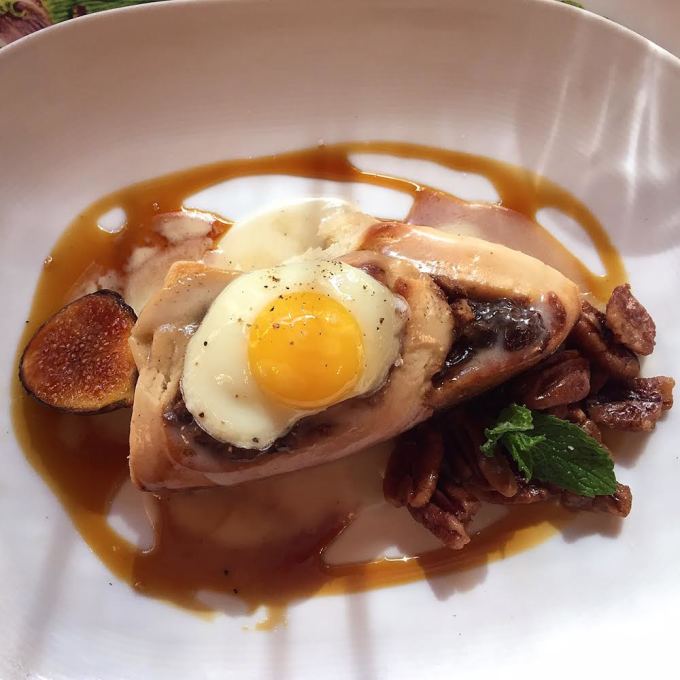 Aaaand that brings us to the totally insane brunch we had on Sunday at Commander's Palace. Can you even believe that this is a fig and foie gras cinnamon roll, and that somehow that totally worked?
Also, can you believe that was the appetizer course? Never mind the craziness that is a multi-course brunch. Definitely one of the nicest brunches I have ever been to.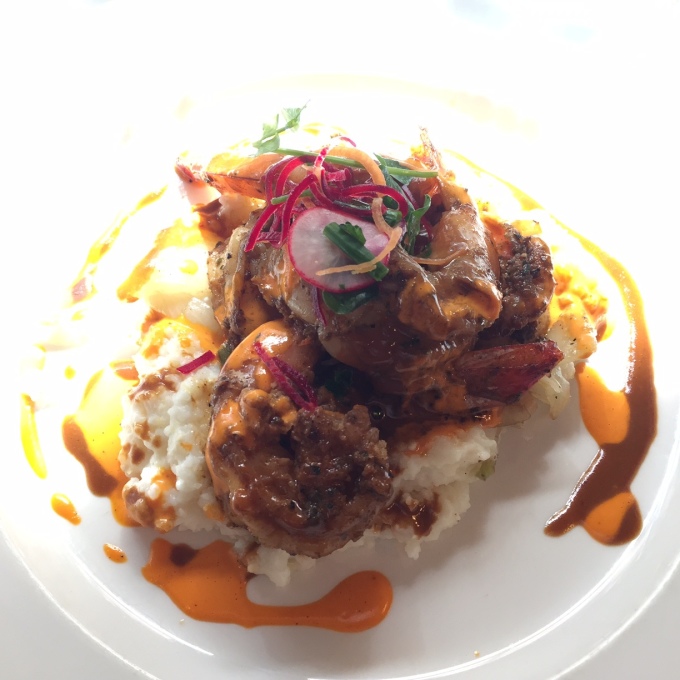 And that brings us to my main brunch course, shrimp and grits. I am a sucker for grits!
I had to head to the airport after licking this plate clean, so I left my dessert with the rest of the girls… only to buy myself some pralines in the airport. Typical!
I think it's fair to say that I could not (and should not!) have had a more decadent weekend of eating! New Orleans, you are delicious. Needless to say, I brought some great inspiration back with me. Time in the kitchen has been scarce lately with all the travel, but I hope to have some new recipe creations for you soon!