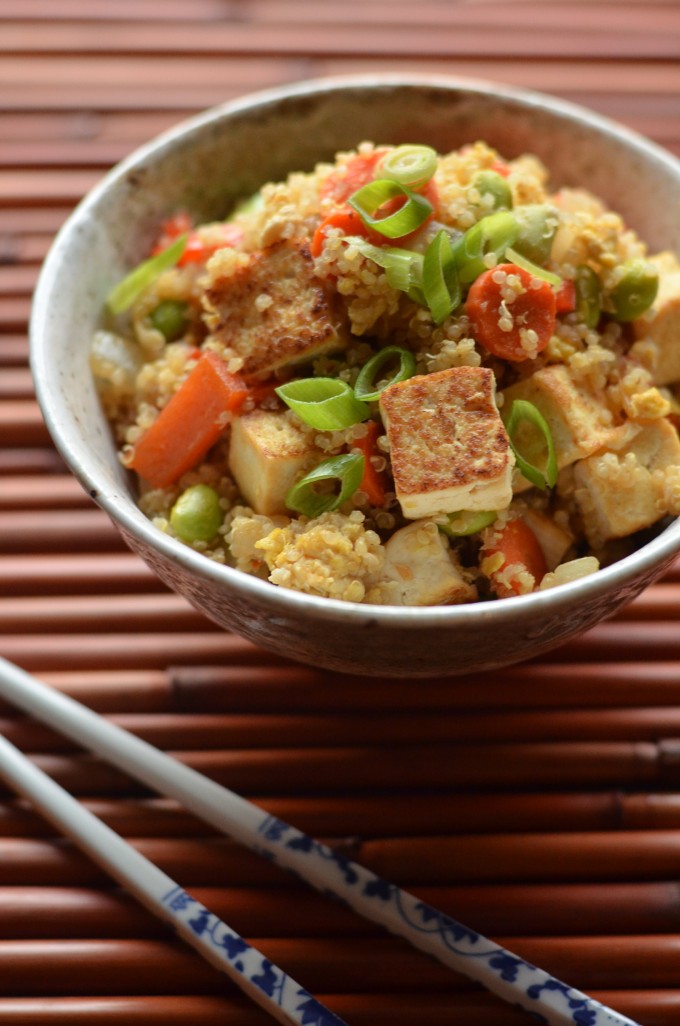 OK, even I am rolling my eyes at the title of this recipe. Quinoa fried rice with tofu – can we get any more hippity dippity healthy food blogger over here?
I'm sorry, but I'm that girl. The one who loves tofu and is using a Peruvian grain/seed to make an Americanized, pan-Asian dish.
Sue me. It's delicious.
I guess I am feeling sassy today. At least I don't take myself too seriously.
Truth be told, I didn't plan to blog this meal. But as I was unabashedly stuffing my face with it, I realized it was still light out, and I could kill two birds with one stone by getting to stuff my face AND take pictures of food for you. All in the space of .8 seconds, because 1) it really was getting dark, and 2) nothing, especially not a camera, was coming between me and this hippity dippity Peruvian-pan-Asian meal for longer than that.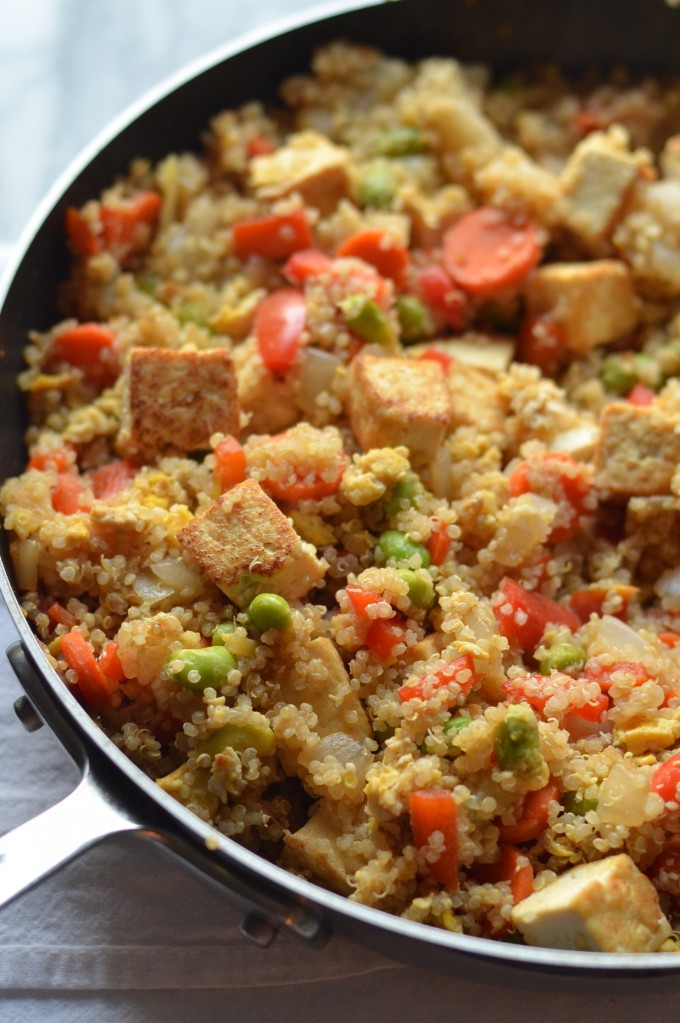 Fried rice may not be the fanciest, it's true. It's more well-know for its simplicity and satisfying flavors, and this version is no different. In fact, a bite of it brings me straight back to my time studying abroad in Germany. Random, I know… but fried rice was the go-to dinner my group of friends cooked together during my semester in Munich. It was perfect for tight budgets and tiny kitchens – I think our version had 6 ingredients. Onions, carrots, rice, chicken, eggs, and soy sauce were all we needed to throw together a passable meal. I still remember sitting on a twin bed, drinking Weissbier while slicing raw chicken with a blunt IKEA knife. Those were the days!
My cooking style is a little different now – more veggies and more than two burners on a stove can make all the difference. But this meal is still simple to throw together, and is a great way to turn any veggie odds and ends into a dinner that looks like you planned ahead. It pretty much appeals to all palates, in my experience. And while I love using a bit of fish sauce for added flavor, you could substitute it with liquid aminos or soy sauce to cut down on ingredients and leave this dish vegetarian.
If you ask me, the hardest part of making fried rice is avoiding turning it into a mushy mess – something I've definitely been guilty of once or twice. Using day-old rice does the trick, but using quinoa works just as well. Quinoa holds its shape well, and doesn't need to be cooked ahead of time and dried out overnight the way rice does. You can use leftover quinoa, of course – but come on, I suspect some of you are like me and will make this meal on a weeknight whim, leftover quinoa in the fridge or not. Stir-fried dishes like this are ideal for those nights – one of their biggest perks, in my opinion!
Using quinoa also adds significantly to the protein in this meal. A cup of quinoa has almost double the protein content of a cup of cooked white rice (8 grams vs. 4.2). We're adding to that with tofu, edamame, and eggs for a sneakily protein-packed "rice" dish! It's also stuffed so chock full of veggies that it puts oily, veggie-less, restaurant-style fried rice to shame.
This is a meal I'll be making time and time again as the days get shorter and I'm craving something tasty and quick to prepare. I hope you'll do the same!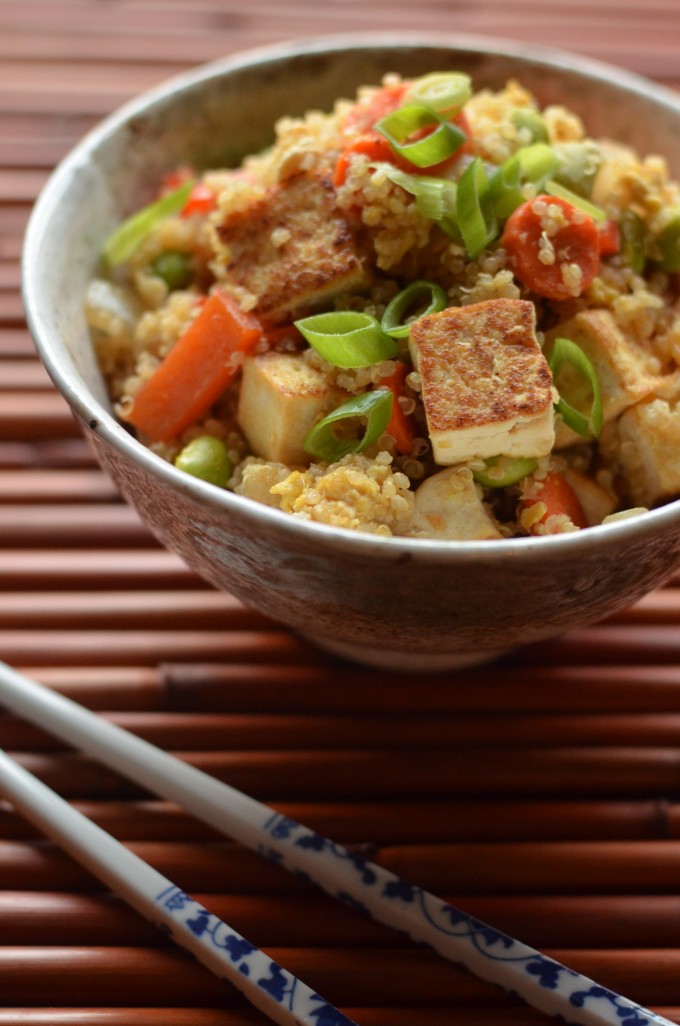 Quinoa Fried Rice with Tofu
Ingredients
1 cup uncooked quinoa
1 1/2 cups water
2 Tbsp olive oil or canola oil, divided
14-oz block extra firm tofu, patted dry and cubed
1 yellow onion, chopped
2 cloves garlic, minced
2 Tbsp fresh ginger, minced
2 large carrots, sliced into thin coins
1 red bell pepper, chopped
3/4 cup frozen edamame
3 eggs
3 Tbsp Bragg's liquid aminos (or low-sodium soy sauce)
1 Tbsp fish sauce
sliced green onions for topping
Instructions
Rinse and drain quinoa. Place in a small pot with 1 1/2 cups water. Bring to a boil and simmer until water is completely absorbed, 12-15 minutes. Set aside until ready to use. (The quinoa can also be cooked ahead of time.)
Heat 1 Tbsp oil in a non-stick pan over medium-low heat. Add cubed tofu and saute until golden-brown, stirring occasionally to brown all sides. Remove from pan and set aside.
Add remaining Tbsp of oil to the pan over the same medium-low heat. Add onion and saute until softened, about 5 minutes. Add garlic and ginger and saute another minute.
Add carrots, pepper, and frozen edamame. Saute, stirring occasionally, until softened, about another 5 minutes.
Push veggies to the sides of the pan and crack the eggs into the middle. Scramble and cook until firm.
Add cooked quinoa, Bragg's, and fish sauce. Stir carefully so that the pan doesn't overflow! Add the cooked tofu and heat through.
Serve topped with green onions. Enjoy!
Notes
For a vegetarian version, substitute an additional Tbsp of Bragg's for the fish sauce.