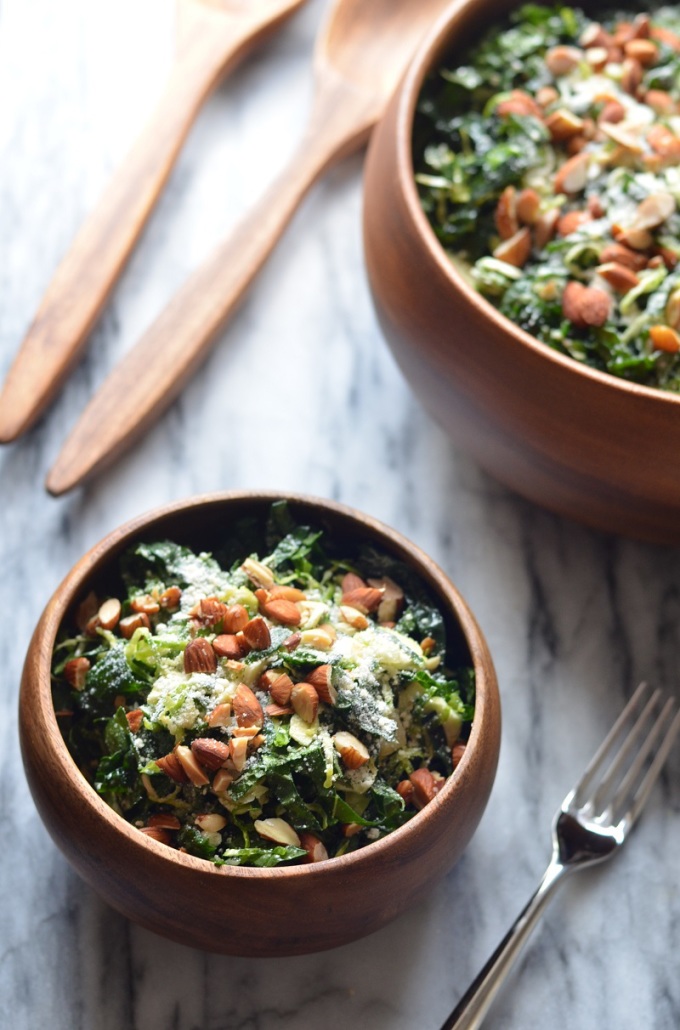 Thank you for all your sweet comments on Monday's post! I loved reliving our wedding day through sharing it with you. There are more photos to come, but first I thought we could use some food to tide us over.
I was up early before work last week, making this salad for a Thanksgiving potluck, when it hit me: now it feels like the holidays. I never, ever cook before work – oatmeal or a smoothie is my max! – so it's a rare occasion that I'm shredding sprouts before my morning cup of coffee. (Should I have kept that to myself so you'd think I'm a super dedicated blogger who whips up blog recipes in the wee hours? Oops.) In real life, morning cooking is limited to the holidays, when there's so much food to cook and so little time. Such was certainly the case last week! Somehow, slicing kale at an ungodly hour of the morning felt like something special, and I was suddenly ready for all December's festivities. Isn't it nice that raw vegetables can put me in the holiday spirit?!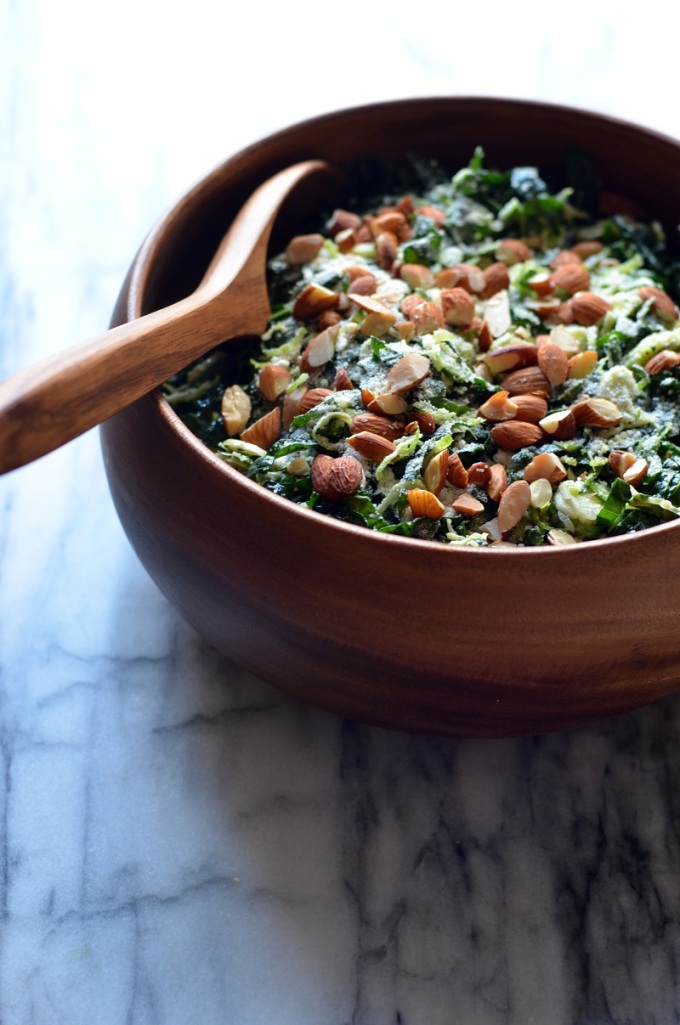 This salad is really like green confetti for your Thanksgiving dinner table. Shredded is definitely the way to go with kale – the thin little ribbons soak up the dressing and almost melt in your mouth. To anyone who finds kale questionable and can't really handle it in salad form, I suggest you shred! You'll be the Queen of Kale in no time.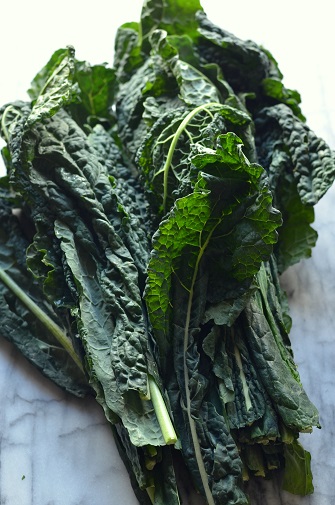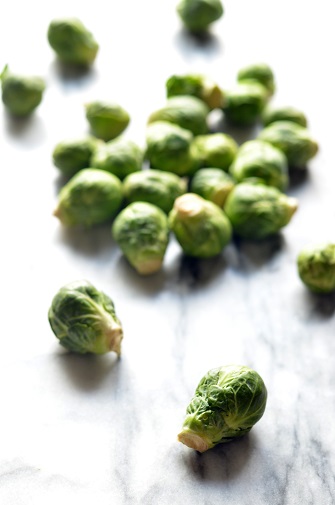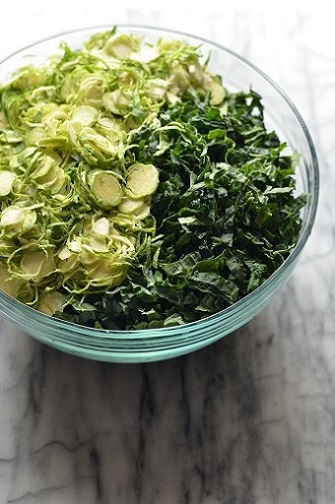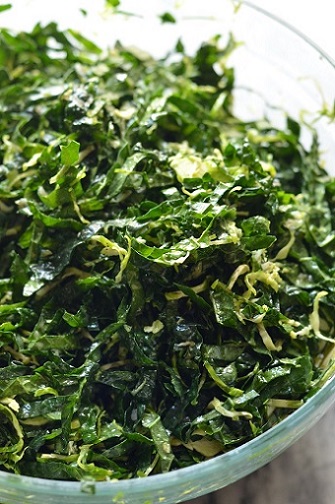 And I always love an excuse to throw some sprouts in… no matter what the dish. Some of you out there must love Brussels sprouts as much as I do. (Bueller? Bueller?) Slicing them thinly with a mandolin allows them to disappear into the salad with no jaw-tiring crunch. I really suggest taking the time to shave the Brussels sprouts with a mandolin for this recipe (rather than using, say, a pre-sliced bag from Trader Joe's). I always find those TJs sprouts to be sliced too thickly, not to mention not sliced in my preferred direction. They might work for cooking, but noooot raw. Your jaw will be tired before you finish your bowl!
But we do have to add a little bit of crunch. That's where these toasty, salty almonds come in. They are seriously addictive, and if you can make this salad without picking at the almonds, I don't know who you are.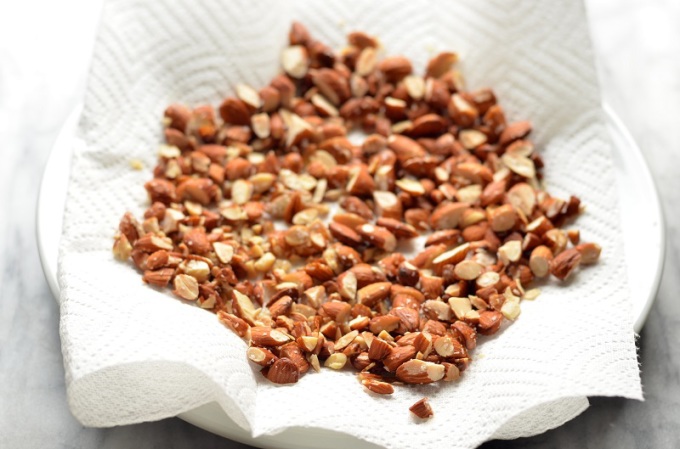 Oh, and there's cheese. Not to be forgotten.
The result is a salad with a perfect balance of acidity from the lemon juice and richness from the cheese and almonds. And I can't even explain the texture – shredding really makes all the difference. This salad is SO satisfying to plunge your fork into!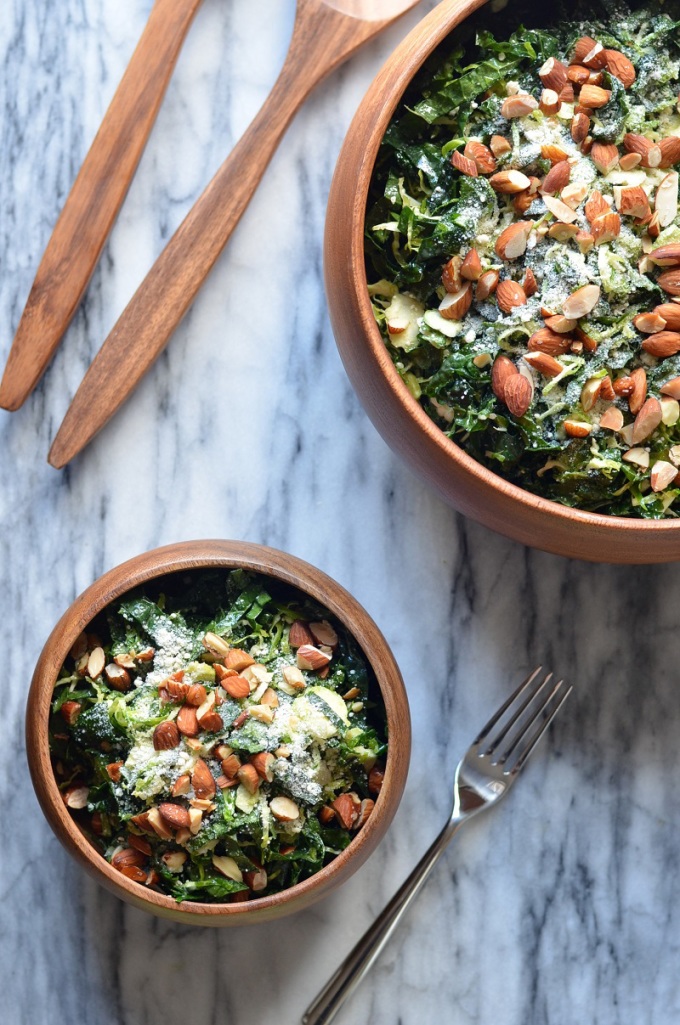 Between the mustard in the dressing and the parmesan cheese, it has a hint of Caesar to it. But creamy dressings need not apply. I would argue we're taking it up a few notches in the nutrition department over your average Caesar.
Because kale and Brussels sprouts are hardy, this salad can be made ahead of time and even dressed several hours before serving. It's currently my top contender for a Thanksgiving vegetable for just that reason. Is it bad that I haven't finalized that yet?! I foresee some more early-morning cooking in my near future…
Grab some greens and get shreddin'! Oh, and save those kale stems… we'll need them on Wednesday!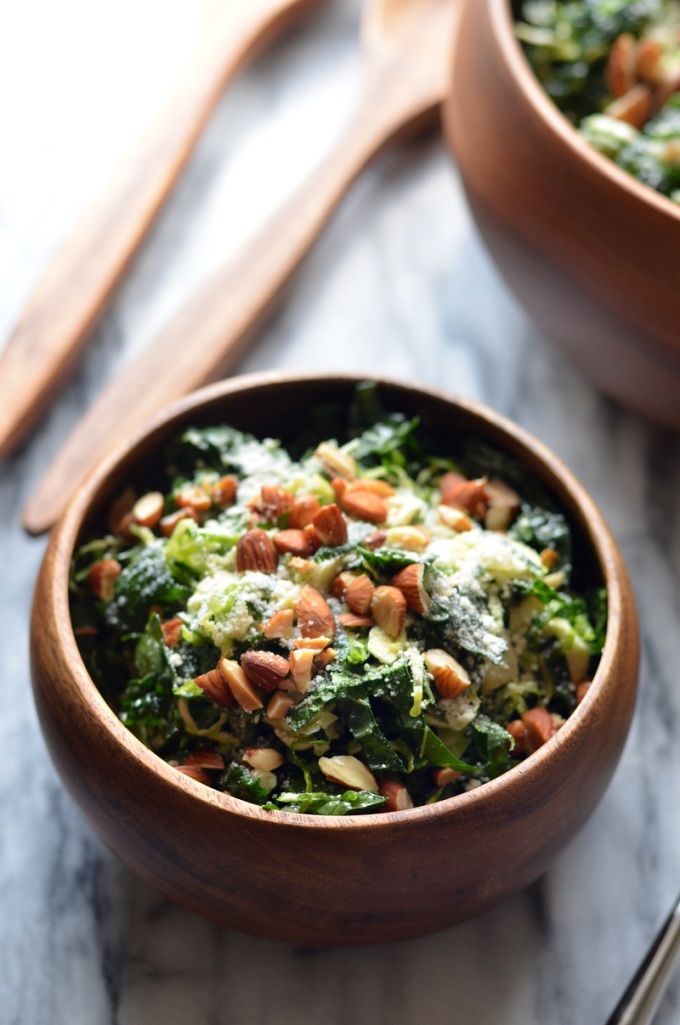 Shredded Kale and Brussels Sprout Salad
Ingredients
For the salad:
1 cup raw almonds, roughly chopped
1/2 Tbsp olive oil
1 tsp kosher salt
2 heads lacinato kale, stems removed, sliced into thin ribbons
12 oz Brussels sprouts, shaved with a manndolin
1/2 cup shredded parmesan cheese
For the dressing:
juice of 2 lemons (about 1/2 cup)
2 Tbsp dijon mustard
1 Tbsp minced shallot
2-3 cloves garlic, minced
1/4 tsp kosher salt
1/4 tsp ground black pepper
6 Tbsp olive oil
Instructions
Preheat oven (or toaster oven) to 350. Mix almonds, olive oil, and salt together and spread on a baking sheet. Toast until golden brown, 6-8 minutes. Pour onto a plate covered with a paper towel to cool completely.
In the meantime, mix the lemon juice, mustard, shallot, garlic, salt and pepper together in a small bowl. Set aside to let the flavors combine while you slice the kale and sprouts.
When you're ready to dress the salad, slowly whisk the olive oil into the rest of the dressing. In a large salad bowl, toss the shredded kale and Brussels with the dressing, half of the parmesan cheese, and half of the almonds. Season to taste with salt and pepper. Top with remaining cheese and almonds and serve. Enjoy!
If preparing ahead of time, cover and refrigerate the dressed greens. Keep the almonds separate, at room temperature, and add them and the cheese to the salad just before serving.