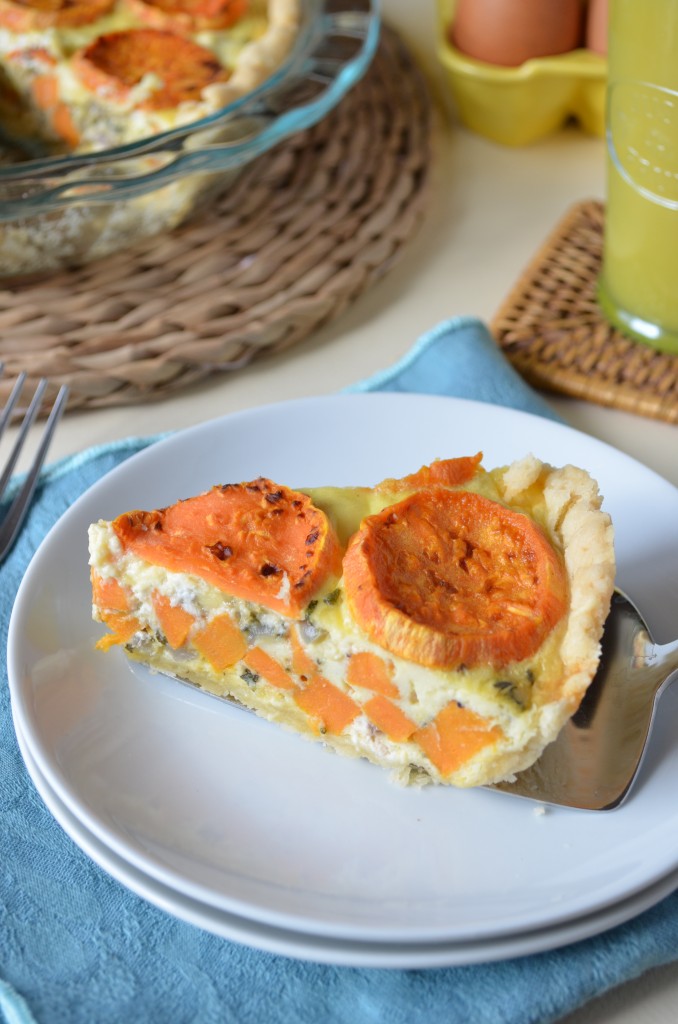 A.K.A. My obsession with sweet potatoes reaches new heights.
I have to warn you about my sweet potato consumption lately. It has been INTENSE. My realization that winter is almost over prompted not only soup panic, but sweet potato panic. I've been incorporating them into almost every meal we eat. So, if you read this blog regularly, you can expect to see a lot of sweet potatoes in the next week or two. As in… 66.67% of the posts I have planned for the next week involve sweet potatoes.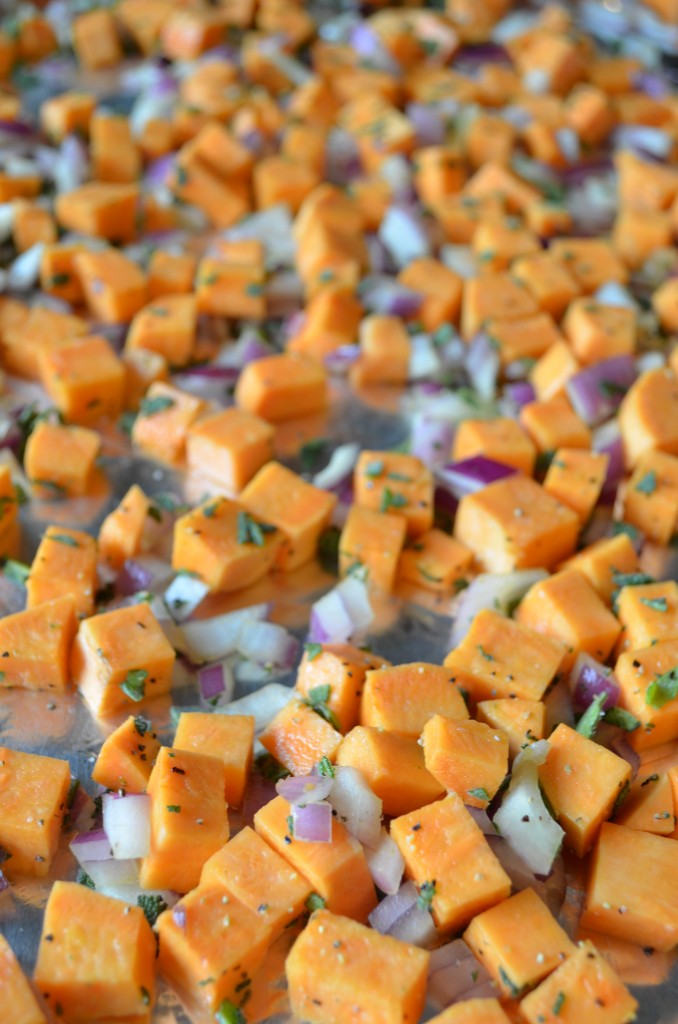 I hope you're OK with that… especially when those sweet potatoes take quiche form.
Now, I'll be honest, the idea for this quiche was born out of some desperate-looking leftovers on my counter and in my fridge (sweet potatoes and goat cheese). Pantry cooking is not my forte, although I'm trying to be better about it and will hopefully do a post about that soon. But sweet potatoes and goat cheese seemed like a good combo, and so they found their way into this quiche, along with some sage, red onions, and Swiss cheese.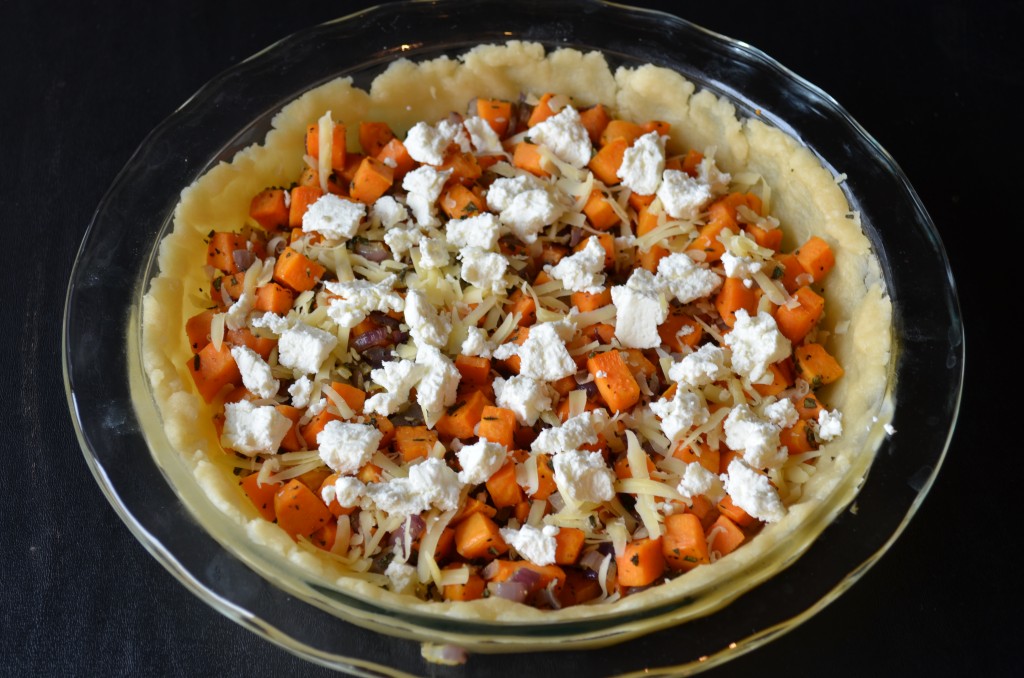 And let me say that it is taaaaasty. I definitely forgot how much I like quiche.
When I wasn't eating eggs or dairy, I didn't think I had too many quiches in my future. Luckily, I was wrong. I had a LOT of quiche in my life on the day that I made this little beauty. Probably too much. It was yummy, but I think I recommend moderation. Do as I say, not as I do.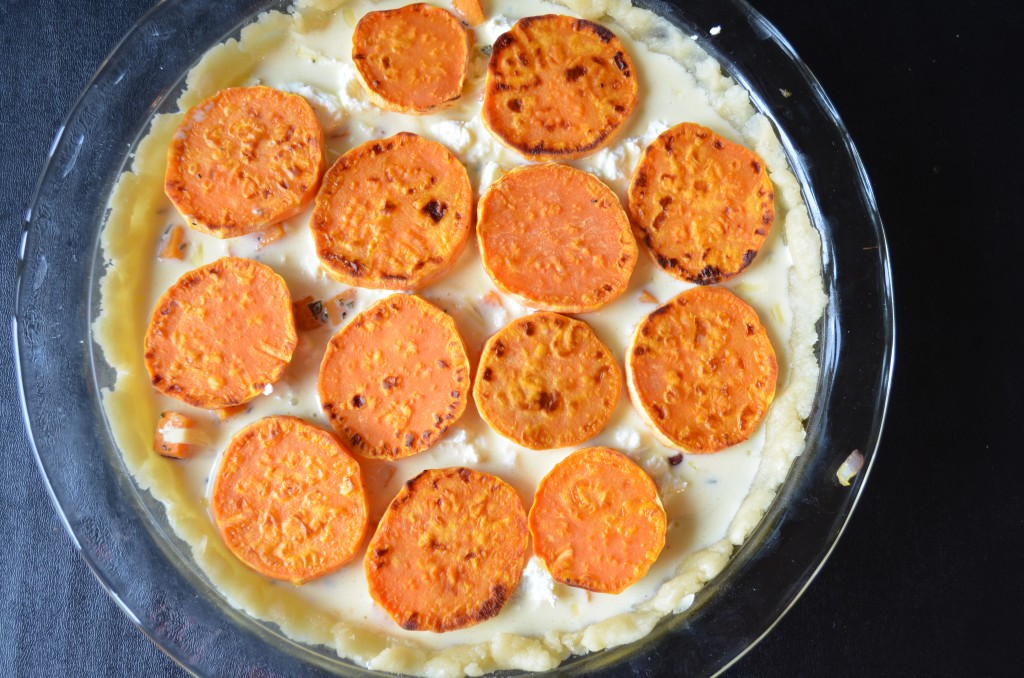 I realized after making this quiche that it may slightly resemble my blood orange upside down cake, hah. I guess I'm loving everything round and orange recently!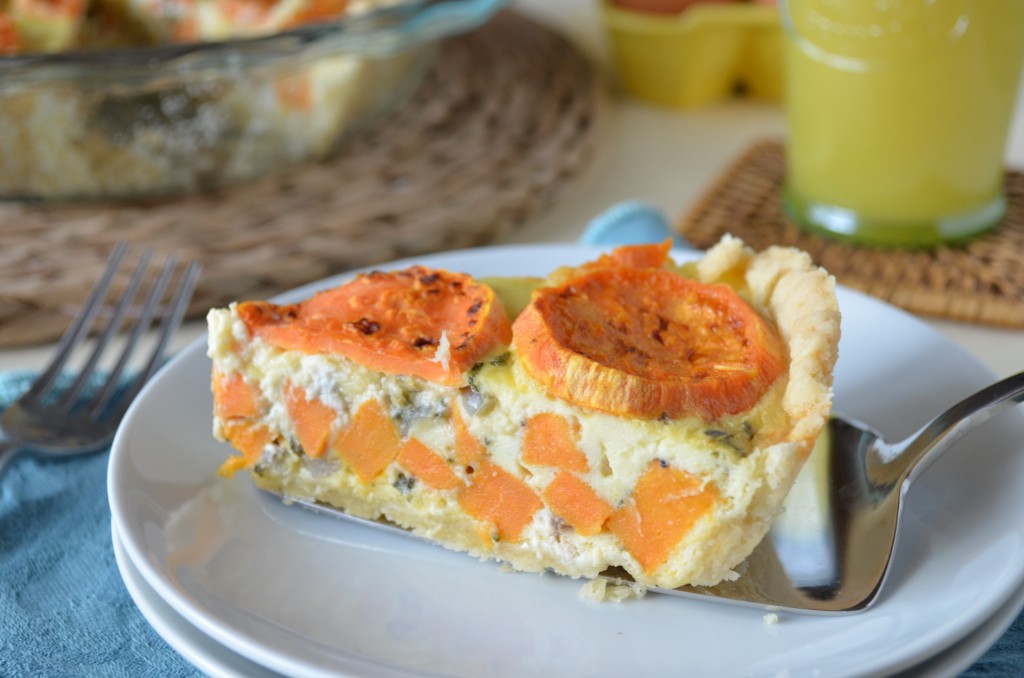 This is one of the most flavorful quiches I've ever had. The goat cheese and sweet potatoes really are a great combo, and the sage and red onion add another punch. Mmmm I'm wishing I had some leftovers of this right now. Writing about really good food just isn't as much fun when you're not simultaneously stuffing your face with it.
I used my mom's easy press-in pie crust for this quiche. In my opinion, quiches take long enough to cook; the last thing I need is to be chilling and rolling out a pie crust on top of that. You can even mix this pie crust right in the pie plate and then just press it on in. And if you're better at working with pie crusts than I an, you might even be able to crimp the edges of yours. Clearly, that didn't happen with mine. My mom somehow manages to put beautiful crimps in this crust, but I have yet to manage it.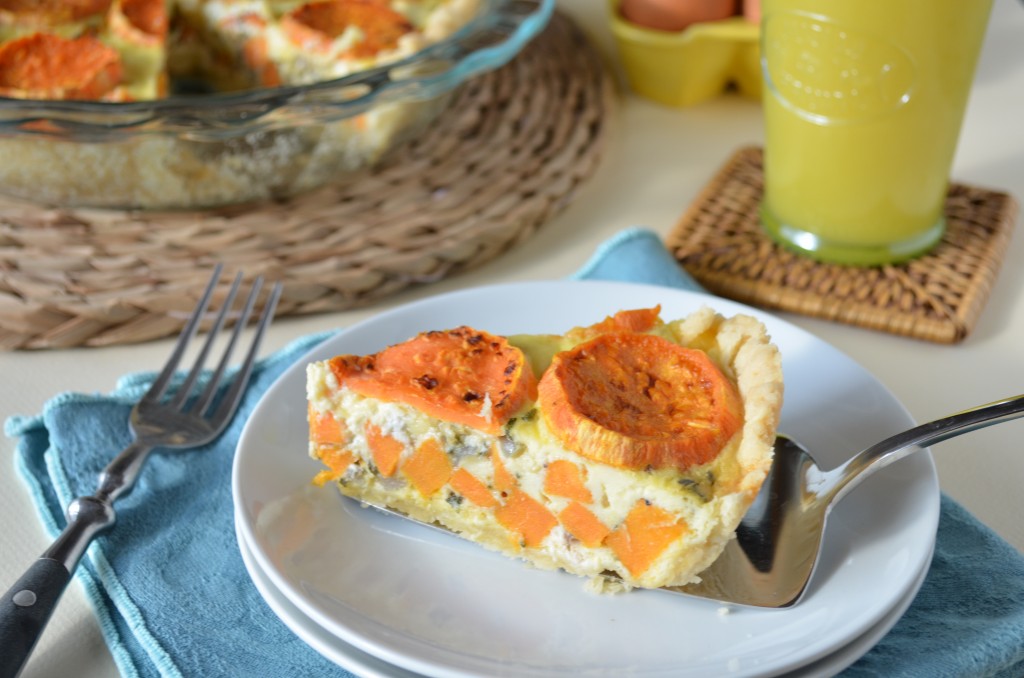 This quiche would be great for brunch, lunch or dinner. I've eaten it for all three! It's one of the tastiest ways I've gotten my sweet potato fix lately :)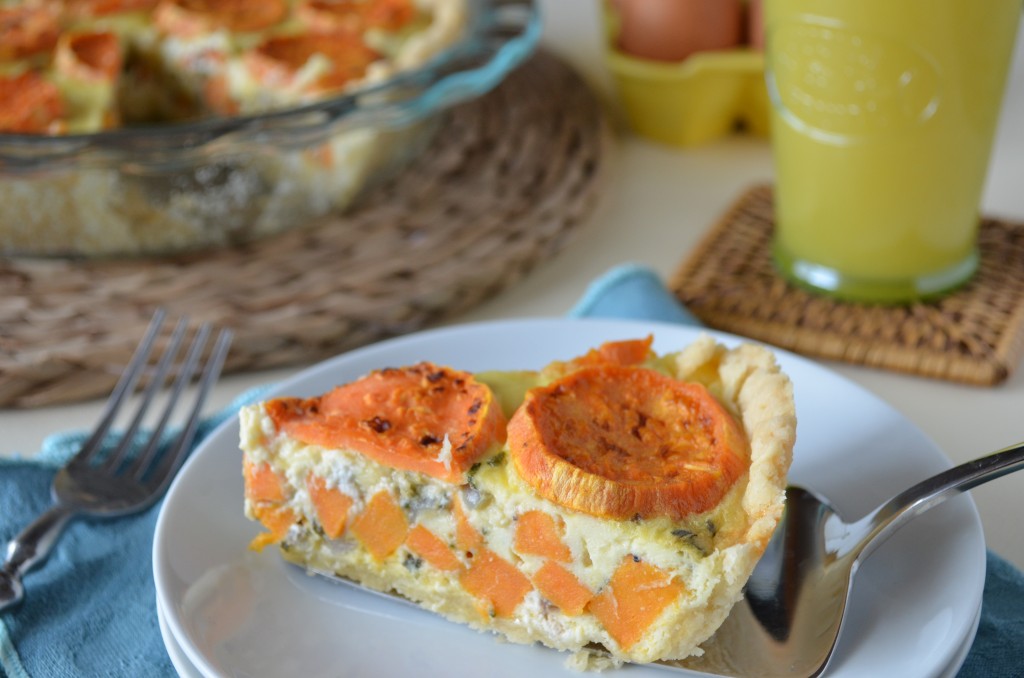 Goat Cheese and Sweet Potato Quiche
Yields:
1 quiche, about 8 servings
Ingredients
For the crust:
1 1/2 cups all-purpose flour
1/2 tsp kosher salt
1/2 cup canola oil
2 Tbsp milk (I used plain unsweetened almond milk)
For the quiche filling:
1 1/2 medium or 2 large sweet potatoes, peeled
1/2 red onion, chopped
1/4 cup minced fresh sage leaves
1/2 tsp kosher salt
1/2 tsp ground black pepper
1 Tbsp olive oil
1/2 cup grated Swiss cheese (or other cheese of your choice)
4 oz. crumbled goat cheese
For the custard:
3 large eggs
3/4 cup milk (I used plain unsweetened almond milk)
1/2 cup heavy cream
pinch of nutmeg
Instructions
First, prepare the vegetables. Preheat oven to 400 and line two baking sheets with foil. Slice half of one sweet potato into 1/4-inch rounds for the top of your quiche. (This is optional. I needed 13 slices to top mine.) Brush with olive oil and spread in a single layer on a baking sheet. Chop the remaining sweet potato into 1/2-inch cubes and place in a medium-sized mixing bowl.
To the bowl of chopped sweet potatoes, add the red onion, sage, salt, pepper, and olive oil. Toss to combine. Spread in an even layer on the other baking sheet. Place both sheets in oven and bake until potatoes are tender and starting to brown, about 20 minutes, stirring/flipping slices once halfway through. Remove from oven and reduce oven temperature to 350.
While sweet potatoes are roasting, prepare the crust. Add all crust ingredients directly to a pie plate (or to a separate bowl, if you prefer) and stir to combine. Press into an even crust and, if you have enough crust, crimp the edges!
Whisk together all custard ingredients (eggs through nutmeg).
Now you are ready to assemble the quiche. For the bottom layer, sprinkle half of both types of cheese. Top this with the chopped sweet potato mixture, followed by the remaining cheese. Pour the custard mixture over everything, and arrange optional roasted sweet potato slices on top.
Bake quiche at 350 until set in the middle and custard is starting to turn golden brown, 45-55 minutes. Cool on a wire rack for 15 minutes before serving.