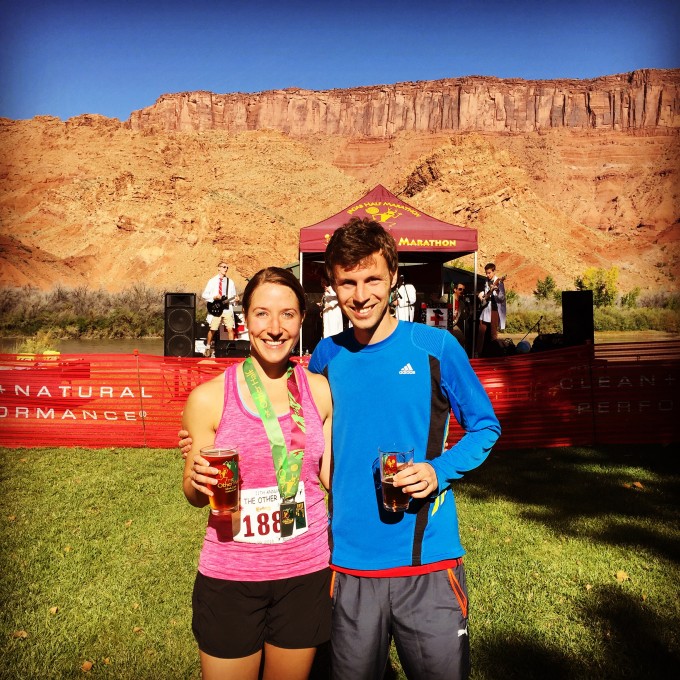 It's time for a race recap!
Nate and I ran The Other Half down in Moab, Utah on Sunday. It was my third year running this race; his second.  (And his second year winning – typical!)
With the wedding just 4 weeks beforehand, I didn't focus on my training as much as I usually do. I skipped a few mid-week workouts around the wedding and ate more than my fair share of desserts in the weeks afterwards! This course is also really hilly. Even so, I'm in better shape now than I was this time last year, so I figured I'd go out there, have fun, and run a course PR.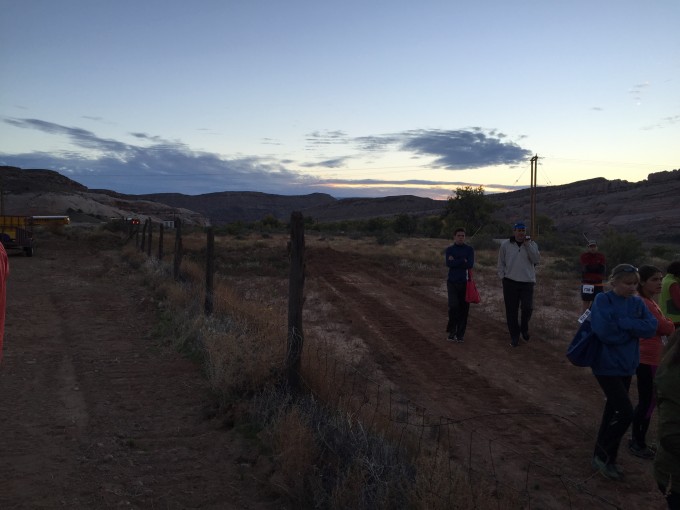 Having run this race a few times, and knowing I wasn't trying to PR, I wasn't too nervous. I should have known that PR or not, it would hurt! I mean, I did know that; I was just in denial. I think denial is a requirement for running long distances.
We caught buses out to the start at 6:30 AM. It was a beautiful morning, and much warmer than past years.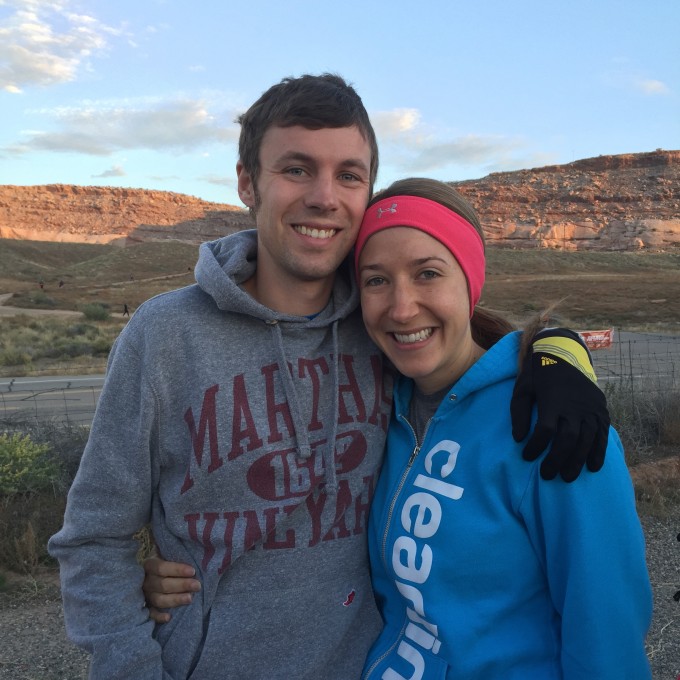 I know we look cold, but I swear we weren't! It was around 50, but we bundled up and stood by the fires just to keep extra warm. It's nice to start a race in comfortable weather. I even ditched my long-sleeved shirt before the start. Just perfect!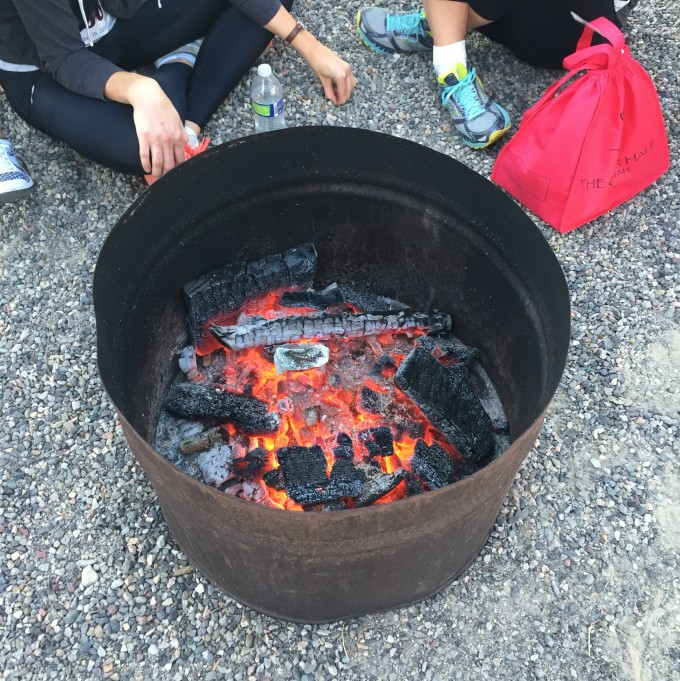 There are a couple things that make this half special: The beautiful scenery, for one. It's not every day you have road closures so you can run through a red rock canyon!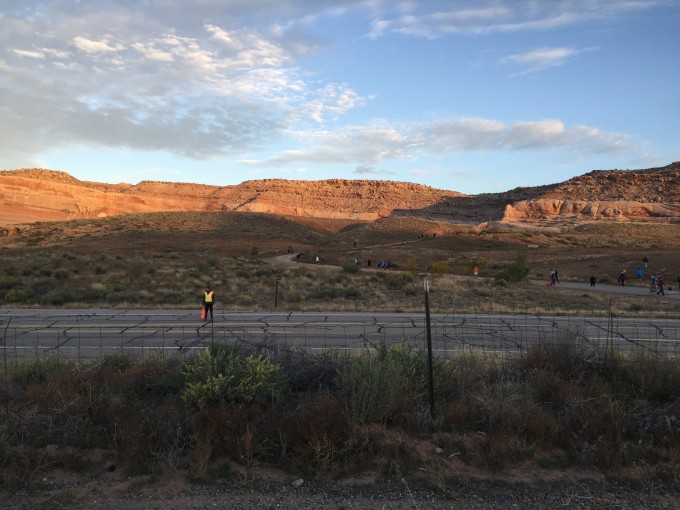 Also it's on a Sunday, which makes it easier to travel to, and is an anomaly since we live in Utah. You basically cut out half the entrants by holding it on Sunday instead of Saturday! And last but not least, they serve beer at the end. Again, rare for Utah. Even harder to do on a Sunday!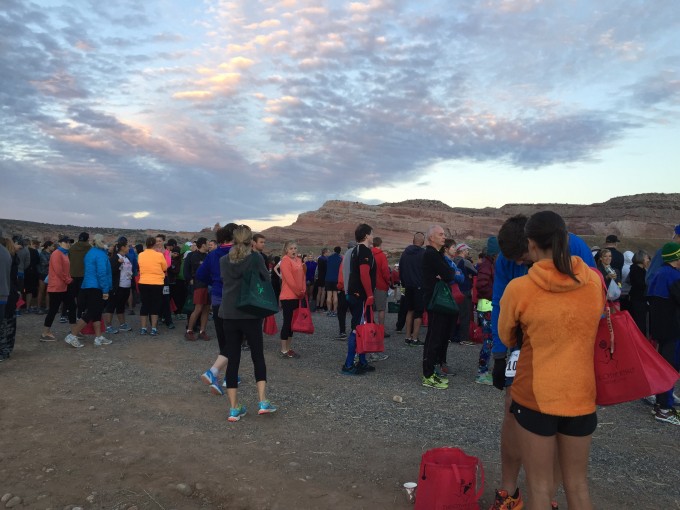 This is a medium-sized race –  about 1,100 runners. Because it's so much fun and everyone is always so stoked to be there, the energy at the starting line is great. Nate and I split up so he could line up at the front, and I got in with the 1:50 pacers. Then the gun went off, and we were running!
My plan was to run pretty much the whole race with the 1:50 pacers, so I fell in behind them. It might sound funny, but I usually try to fly under the radar with pacers. The reason is solely to save my breath – they always try to engage runners in conversation, and I need that oxygen! Does that make me unfriendly? :) So I ran right behind them and listened to others talk, instead.  I've never stuck with a pace group for so long, and it was actually nice – I felt less tempted to check my watch all the time, which I'm usually pretty guilty of.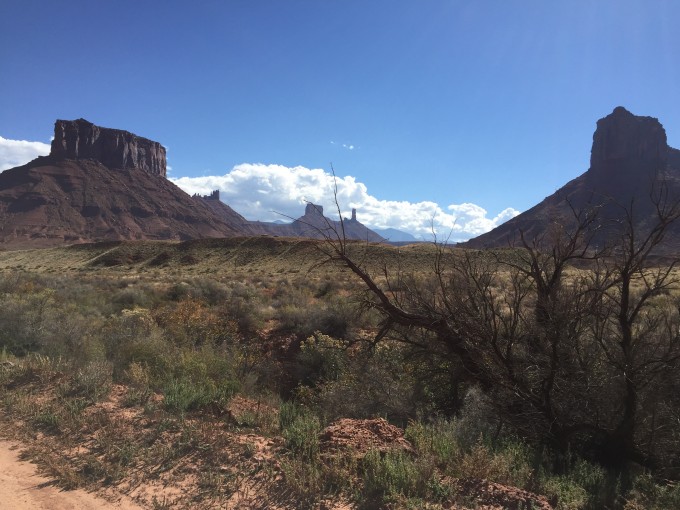 Mile 1: 8:08
Mile 2: 8:12
Mile 3: 8:01
Mile 4: 8:08
Mile 5: 8:08
We were running right about on pace for a 1:49, which was perfect. For the first 5 miles or so, I didn't feel like I was working too hard. I figured I'd stick with the pace group through mile 10, then drop them if I felt good. Thennnn the hills hit. From mile 7 to 8 is all uphill, and the pacers took it pretty fast. I guess that makes sense – as a pacer, you're clearly running slower than you're capable of, so your effort going uphill isn't going to be as much as the group you're pacing. In any case, I was hell-bent on staying with them, and we kept up a pretty fast clip.
Mile 6: 8:06
Mile 7: 8:06
Mile 8: 8:20
In retrospect, maybe I should have let them get away a little bit. That hill was a killer, and I struggled to keep up afterwards – forget dropping the pace group! I fell behind a bit, but the pacers stopped to walk at all of the remaining water stations, and I would pass them again. Knowing that they were going to stop to walk let me relax a little bit about staying right on them. Wish I had know the same on that first long hill!
Mile 9: 8:17
Mile 10: 8:18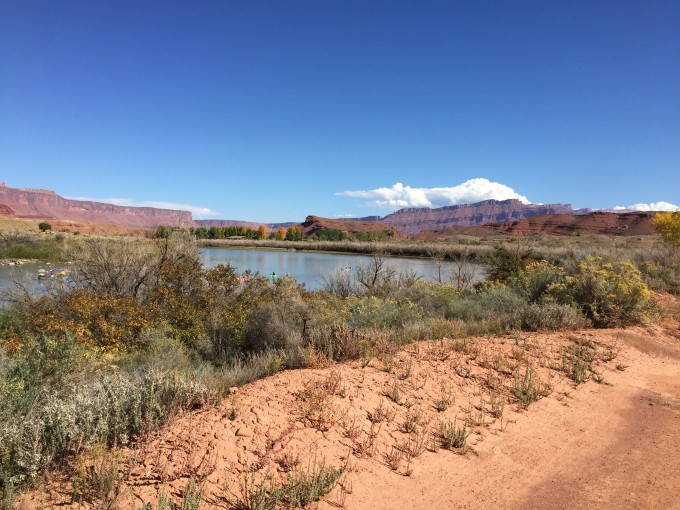 The way they paced this race was faster at the beginning and slower at the end, but honestly, that's kind of the only way to run this course with all the hills at the end. I certainly wasn't up for any 8:00 miles over those hills!
The last 3 miles were a struggle, as always. No matter how many long runs I do, I can never seem to run long enough to make those last 3 miles easier. Also, my hands were so swollen from running that I felt like I was wearing boxing gloves. So uncomfortable! Is this a bad circulation thing? Nate says it doesn't happen to him, and I feel like it must have to do with my poor circulation, AKA being a girl. Oh well, there are worse things.
Mile 11: 8:06
Mile 12: 8:32
This is the point of the race when you're so close and yet so far away. I tried to channel my sister Caitlin, who always feels best the last few miles of a run… but it only worked when I was running downhill, hah. Luckily, the hills end around 11.5 and there's a nice mile or so of downhill. It was very welcome, let me tell you! I also knew that Nate would be waiting for me with about a half mile to go, and the promise of that kept me going.
Well, what do you know, but he was able to run out to meet me even earlier. The state troopers who had closed the road decided to be nice to the winner and let him run back along the course to help his wife out! He met up with me around the 12 mile marker and gave me some encouraging words. I needed it! The pacers were a few yards ahead of me, with no one else around. Everyone else who had started out with them had either dropped back or gone ahead (mostly dropped back is what I'll tell myself!). I have a feeling I would have let myself slip further behind without Nate's support!
Um, then the pacers stopped to walk? I'm not sure if one of them needed a walking break, or if they just realized they were going to come in much too fast. In any case, we passed them, which was fine with me – much more satisfying then finishing behind them! They ended up finishing around 1:49:30.
The last bit of this race is so tough because the finish is in sight, but you have to do a big lap of this ranch in order to reach it. I will say that while the last few miles of this race were tough, they were nothing compared to the agony of miles 10-13.1 in my last half. I mean, I was going a lot slower this time, so there's that. I still felt like I was pushing myself as hard as I could, but I guess I probably pushed myself harder last time.
Mile 13: 8:08
last bit: 1:59 (my watch measured the course at 13.26!)
And then it was OVER. Hallelujah! 1:48:29 was my final chip time. I'd been aiming for under 1:50, so I was pleased. Sure it's more than 6 minutes slower than my PR, but that race was downhill, and my goals were different this time. Also, I shaved a whopping 7 minutes off of last year's time on this course! I'd say that's a win. Now to do the same next year, hmmm… :)
I finally asked Nate how his race had gone (again, saving my breath) and was happy to hear that he'd won. (Defending champion!) He ran the whole race completely alone, and we found out later that he had beaten the 2nd place finisher by 9:40. At his pace, that's almost 2 miles! It wasn't his best time, but he was glad to defend his title, and I was pretty darn proud! He is just awesome.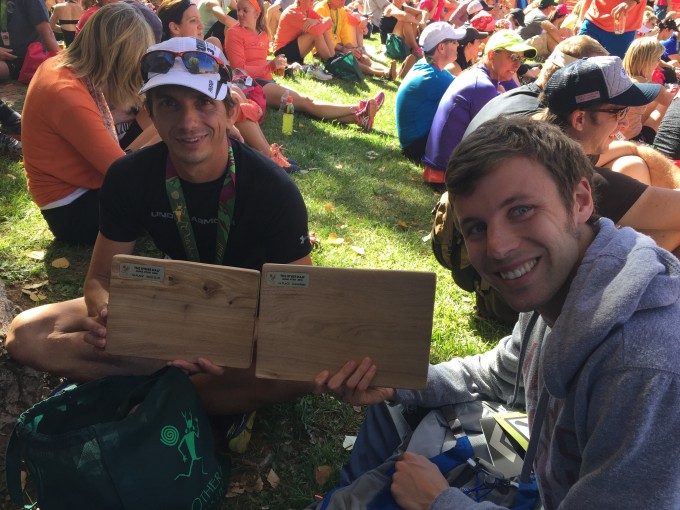 Also, the winners' plaques were these cutting boards… hmm. Something unique to add to the trophy collection, I suppose?
We wasted no time getting a beer :) Zooming through the beer line is one of the perks of finishing early!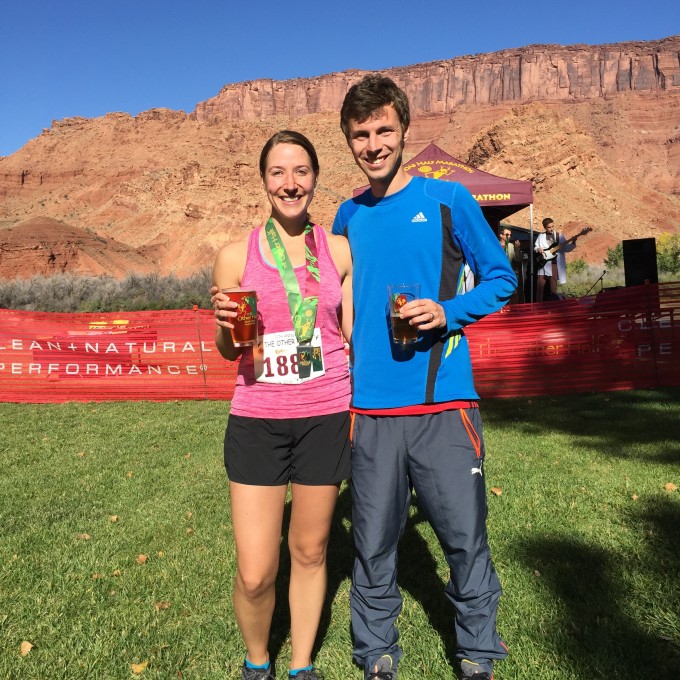 It took me a while to drink mine, though. I love that they have beer after this race, but to be honest, I'd be happy with some red Gatorade :)
I also snapped a picture with the pacers. It may have been painful trying to keep up, but I definitely have them to thank for getting me in under 1:50!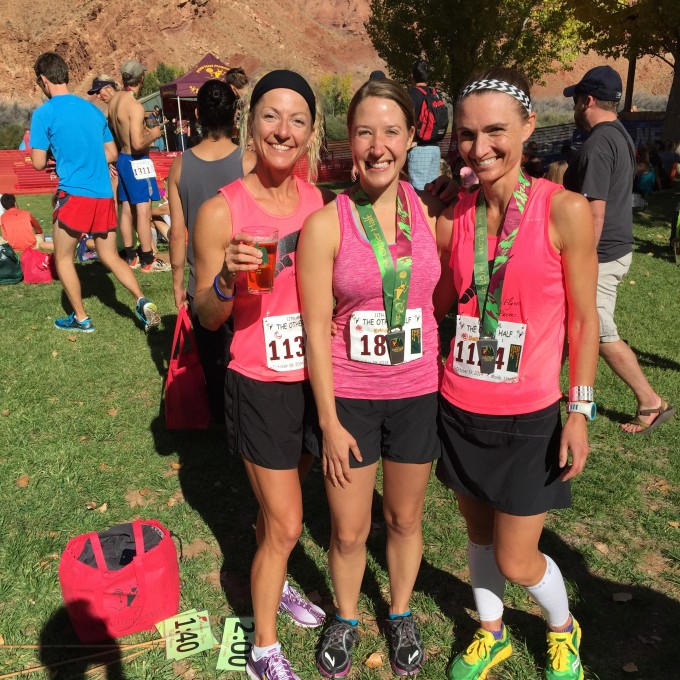 Side note: how jacked are these girls?!
The finishers' area gradually filled up as they handed out the awards and gave away raffle prizes and we all drank beer and listened to the band.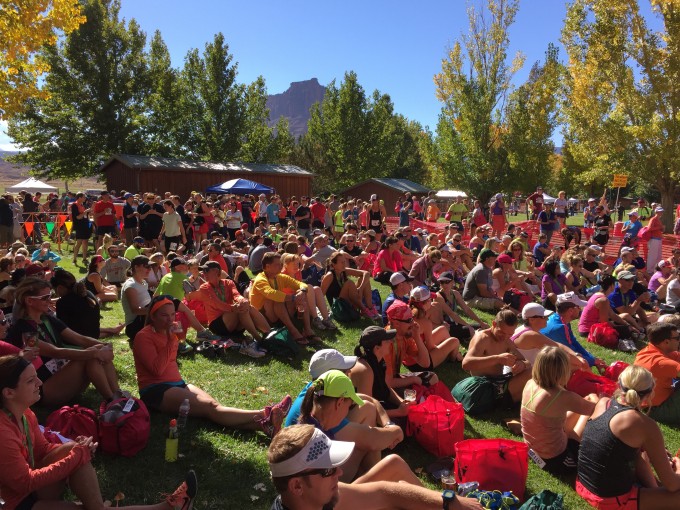 You can't ask for much more than a beautiful fall day in Southern Utah. It was pretty much the best weather possible. It got hot as we sat in the sun, but it wasn't too bad during the race, which I was thankful for. I had been hoping for some clouds to keep us cool during the race, but I guess we didn't need them, after all. Instead we got this gorgeous blue sky!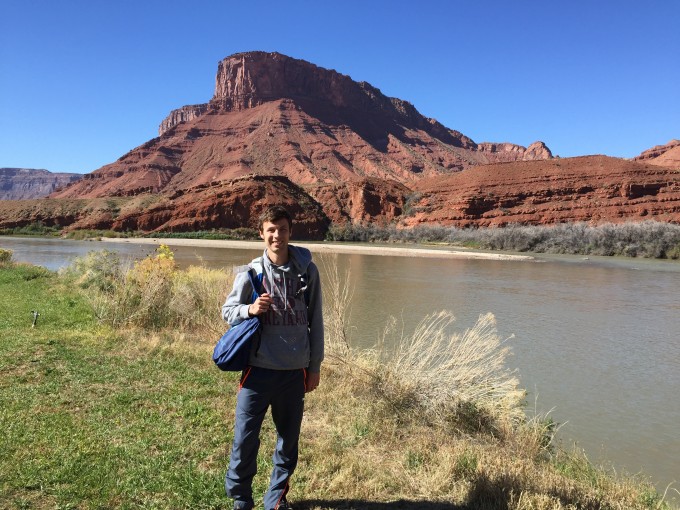 The blue sky + red rock is pretty hard to beat.
Eventually we finished our beers and headed back into town for lunch. I devoured this mushroom melt, apple sauce, and cookie in about 3 seconds flat.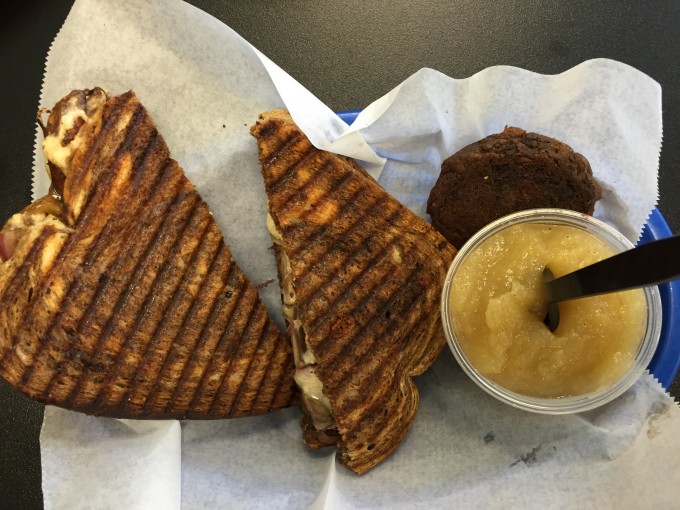 My mushroom melt was pretty good, but Moab is not exactly known for its cuisine. In another life I'll move down there and open up a good restaurant with vegetarian options galore :)
Then we hopped right back in the car to head home. We got back around dinnertime and bummed around the rest of the evening – well-deserved relaxation after a solid morning of work :) Between Nate winning and me dropping 7 minutes off last year's time, I think we can call the race a success.  I slept soundly on Sunday night, that's for sure!
As always right after a race, I'm plotting the next one. Maybe a Thanksgiving turkey trot? Let's face it, outdoor running in the winter is not much fun, so I think my next big race probably won't be until April or May. And then I think a fall 2015 marathon is on the horizon. How I will ever run that far, I'm really not sure – 13.1 is killer. But after 3 half marathons this year, I think I'm up for the challenge.
Have you run any races recently? Any tips for getting my body ready to run a full marathon?
You can find past recaps of this race here: 2012 and 2013. And for more race talk, see my running category.