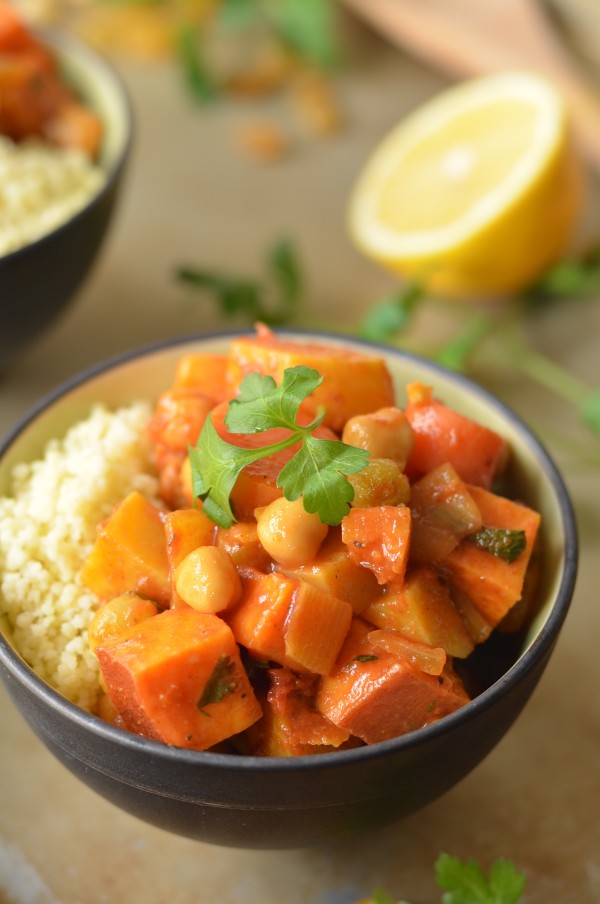 Hello Monday! Hello President's Day. And hello new favorite meal.
Do I say that a lot? I feel like I do. I have a lot of new favorite meals, I guess. Like one or two a week. I'm gonna go ahead and say that's why I started blogging.
Anyway, this meal is certified extra special, because I made it twice in the past two weeks, despite the fact that it makes a huge amount. So yes, I've essentially been eating this for 14 days straight. It's my personal little veggie heaven.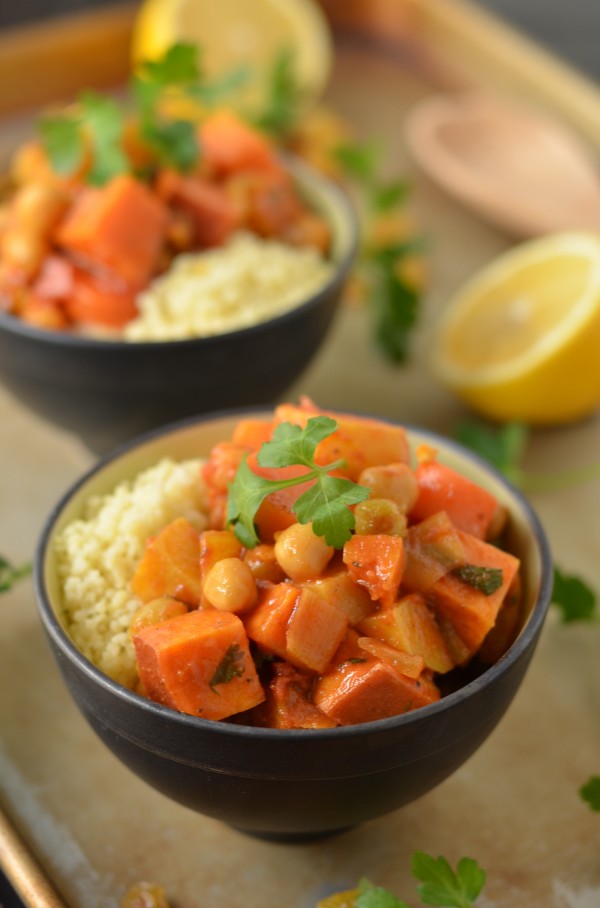 So what is it, anyway? It's a tagine. Ta-what? Tagine, pronounced "tuh-jhean." Tagine is a Moroccan stew that typically contains meat and is named after the awesome-shaped pot it's traditionally cooked in. Not to worry, we're making ours in a regular ol' pot, since a tagine is apparently the only thing available on Amazon for which I didn't register. Not that I didn't want to… but I have a hard time justifying the space that single-function kitchen items take up. And I think it's safe to say we're going to have to move because of all the kitchen stuff I did register for… so anyway, no tagine necessary for today's recipe. And apologies for the tangent, but apparently I have to bring my wedding into every conversation. It will only last for… 7 more months? Sheesh.
So we've got a pot. And we basically throw a whole mess o' root veggies in that pot – specifically carrots, sweet potatoes, and golden beets. (I used beets of the golden variety because I wanted to avoid this whole dish turning bright pink. But if that's your thing, go to town with red beets!) Also to that pot, we're adding a healthy amount of warm spices like cumin, coriander, cinnamon, and paprika. There are a handful of other ingredients, too (raisins, chickpeas, tomato paste, etc.), but those are the essentials. (Oh and raisin haters: you can totally use chopped dried apricots instead of the raisins.)
The result is a fragrant vegan stew that will take the edge off a cold winter's day like that. And with these sweet root vegetables, the raisins, and the warm spices, the flavor is decidedly sweet. It's worth mentioning that ahead of time, because if you're against some sweetness in your entree, this one probably isn't for you. We're not adding sugar or anything like that, it's just that the sweetness that naturally collects in a plant's roots really comes through in this dish. It is so unique and I loooove it.
…