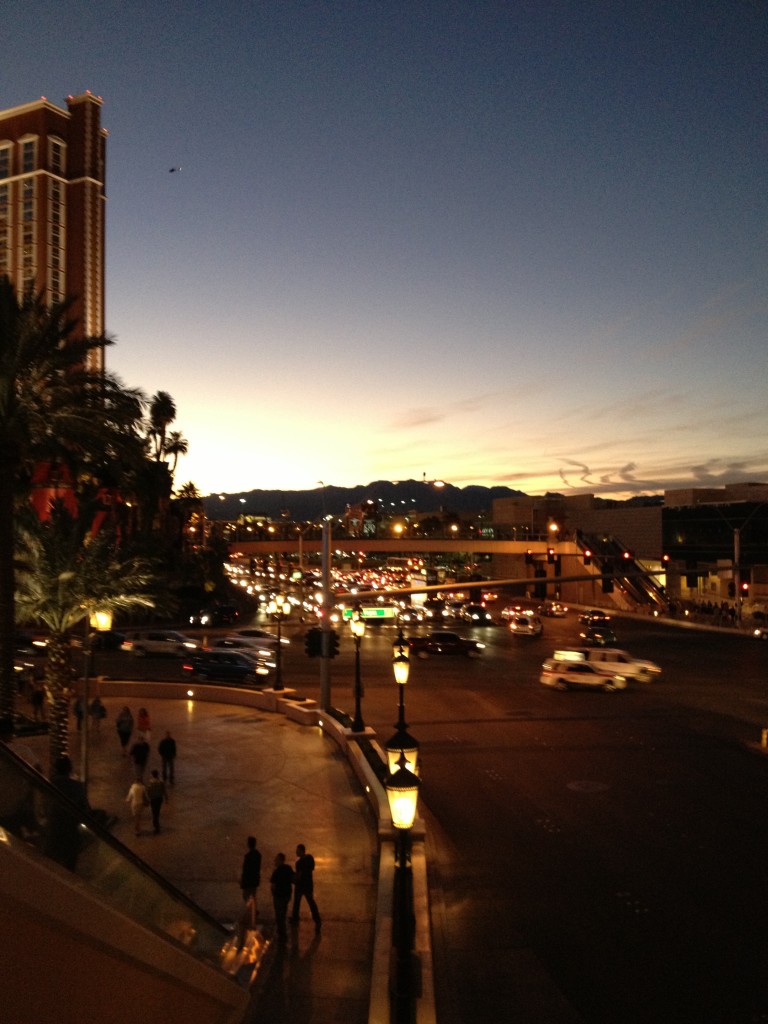 I just got back from Vegas last night! And although I don't necessarily feel ready to take on the week, I'm happy to report that I neither drank too much nor lost any money the whole weekend. The same can't be said for all the co-workers I went with – not calling anyone out though :)
This was a work trip, but no meetings or anything – just an annual rewards trip where we get to head down there and have fun! Last year they went at the end of my very first week of work, so needless to say, I did not get to go. I was happy to be in on the fun this year.
We took buses down there, leaving at 6 am on Friday, which was brutal. We arrived in the early afternoon and checked into our hotel, the Palazzo. The hotel was awesome. I'm not sure how much the suites cost, but it was definitely nicer than the hotel we stayed in last time I was in Vegas on my own dime!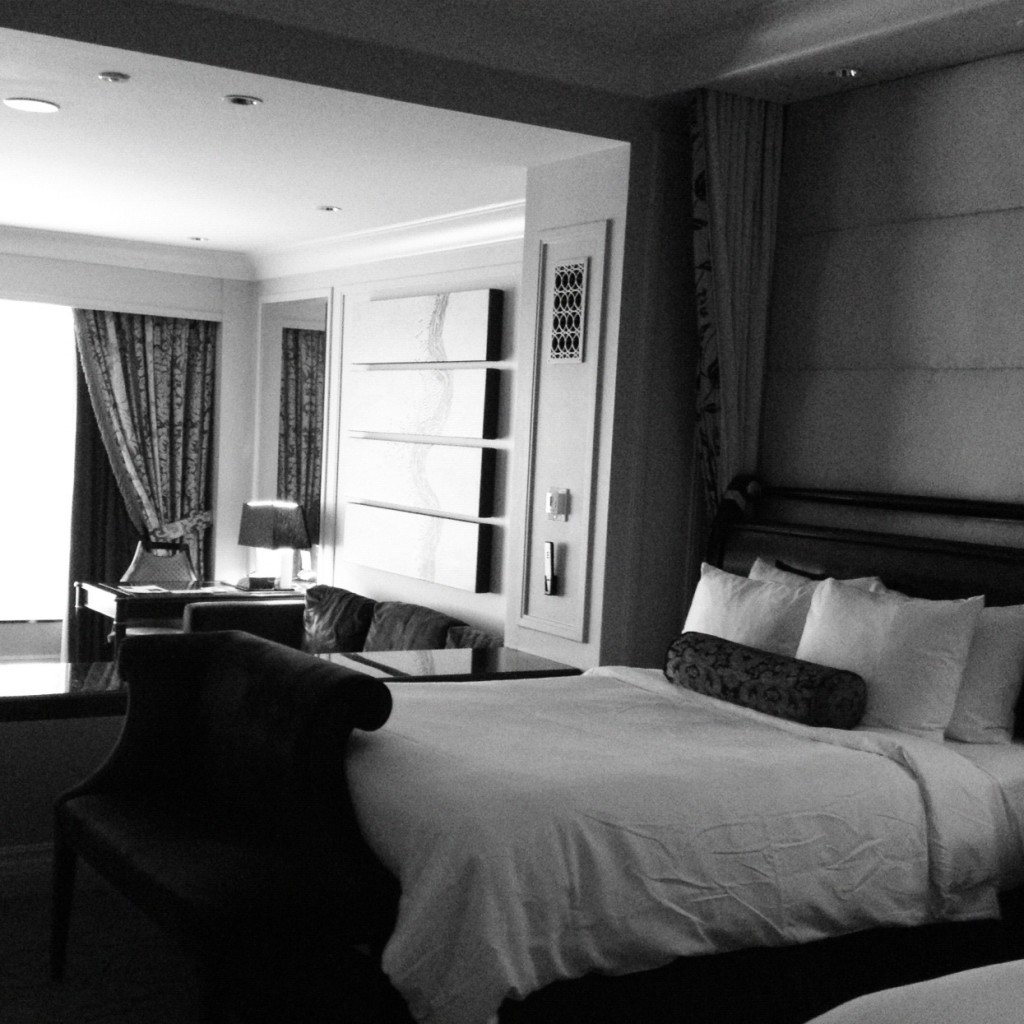 The rooms were huge! Each one had two double beds (we had roommates) and a step down to a seating and office area.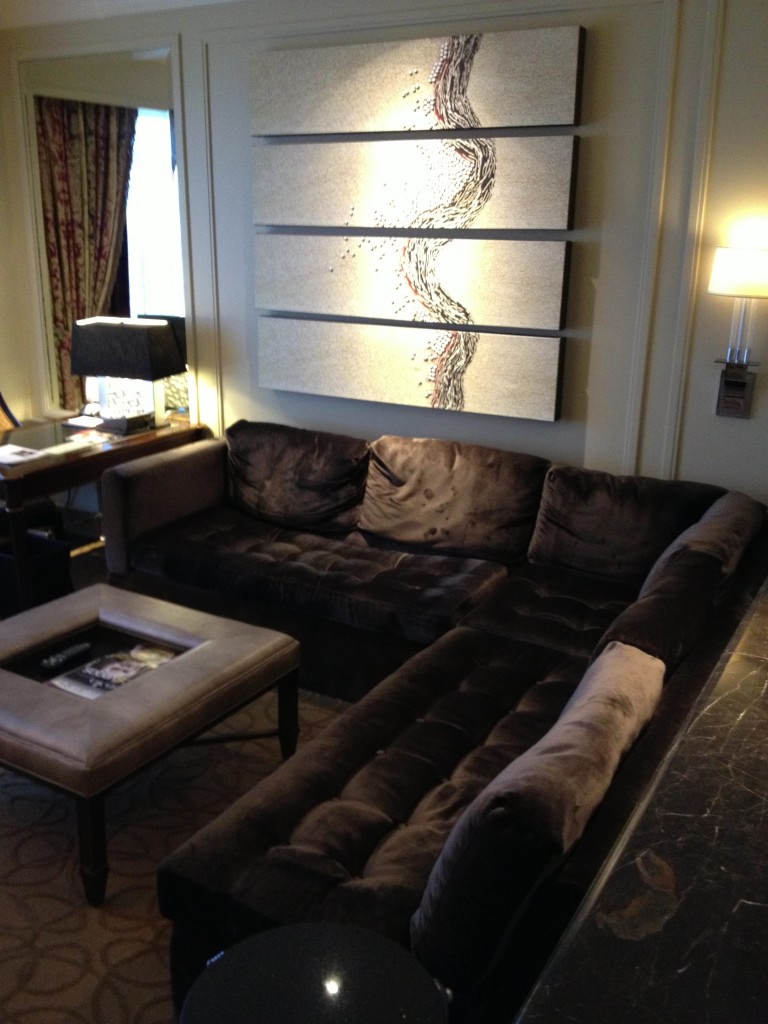 The bathrooms were super nice, too, although I didn't get a picture before I spread my stuff out all over.
Our hotel was attached to the Venetian, and I wandered around there for a while. I found I could deal with the tackiness of Vegas much better my second time there, and even appreciate it, because I knew what to expect.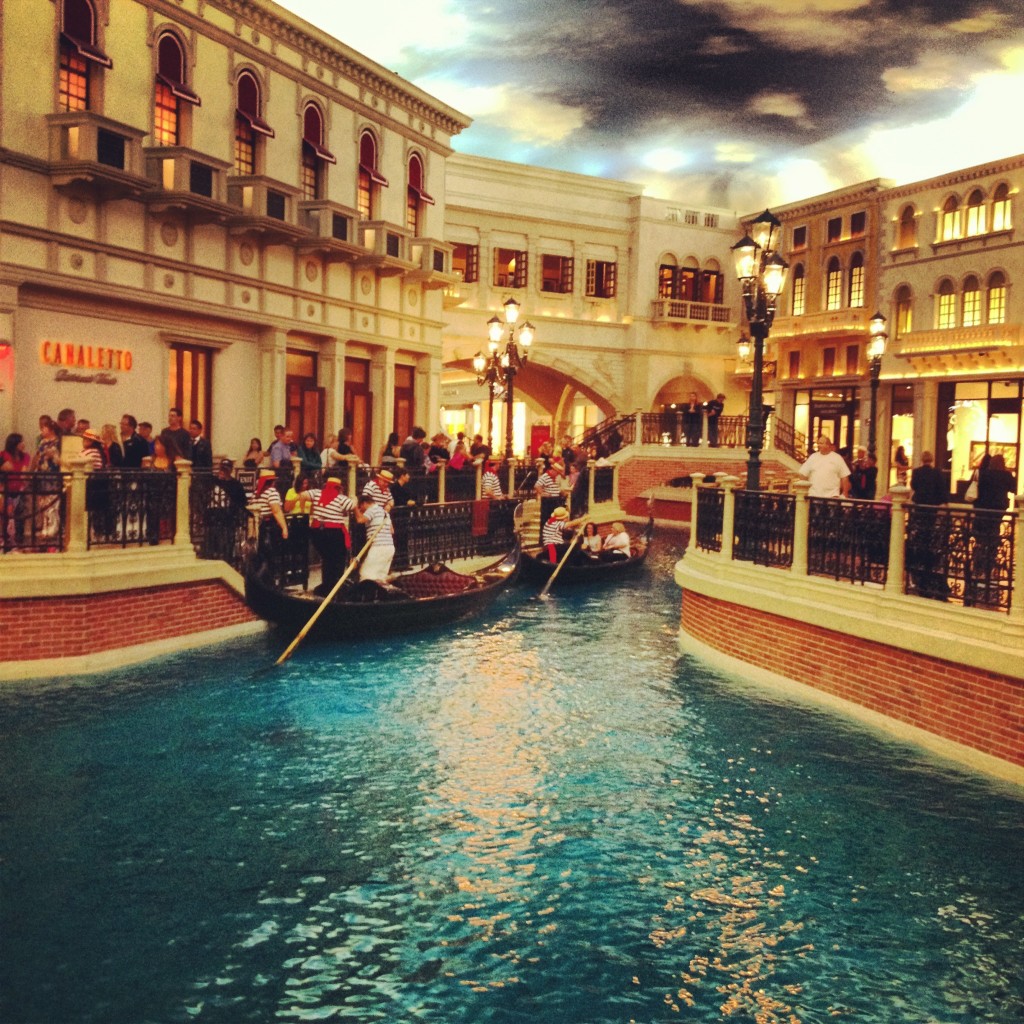 I didn't do any gambling the whole weekend. I'm not really into the gambling thing… when I was in Vegas this May I lost about $2.50 in the penny slots, and that was enough gambling for the year for me! (Can you say high roller?) Luckily this time we had plenty of activities lined up, and I didn't even have to spend too much time watching other people gamble. :)
Friday evening we had a company meeting (where I won a $50 Amazon gift card – totally left Vegas up!), then a bunch of us headed to dinner at the sushi fusion restaurant in our hotel.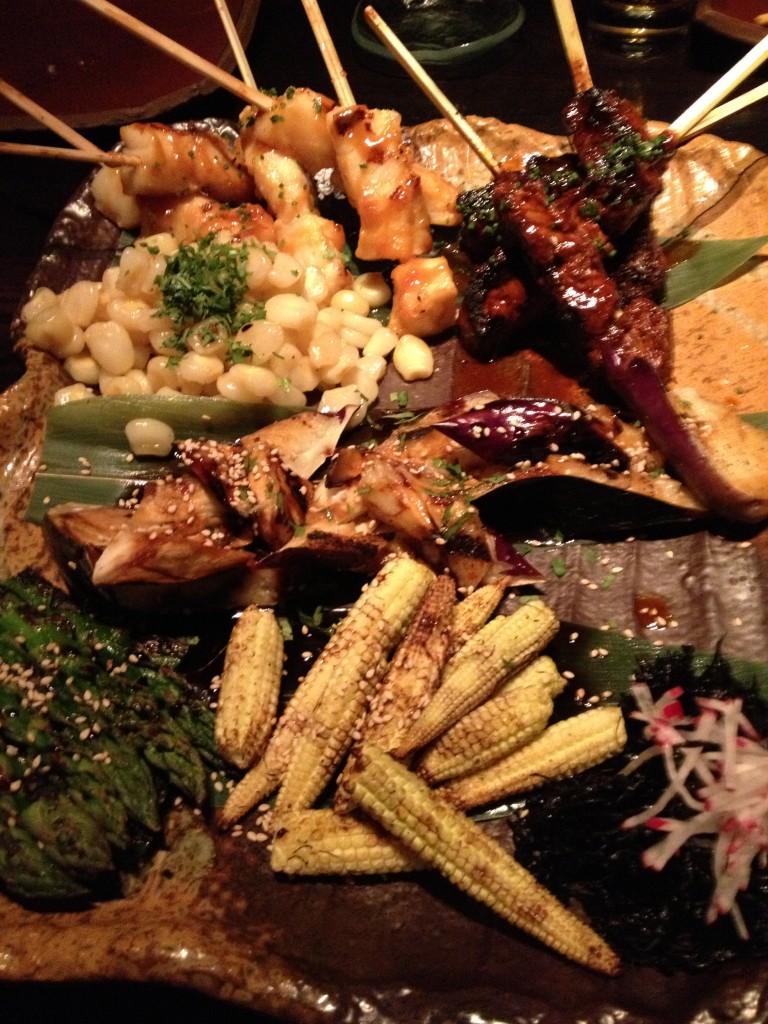 That might not be the most appetizing picture, but everything was delicious! Pickled seaweed, grilled baby corn, asparagus, eggplant, and more corn, plus swordfish and beef skewers. We did a tasting menu that included our waiter bringing out several trays like this for the whole table to share. I have to admit I broke with veganism to eat these swordfish skewers, plus the sushi that came after this. Too good to pass up!
After dinner, we went to the hotel club, where we had a VIP area rented out for work. Probably the only time in my life I'll get bottle service in Vegas, and I only drank the bottled water! When my choices are Amstel Light and hard liquor, I think I'll pass.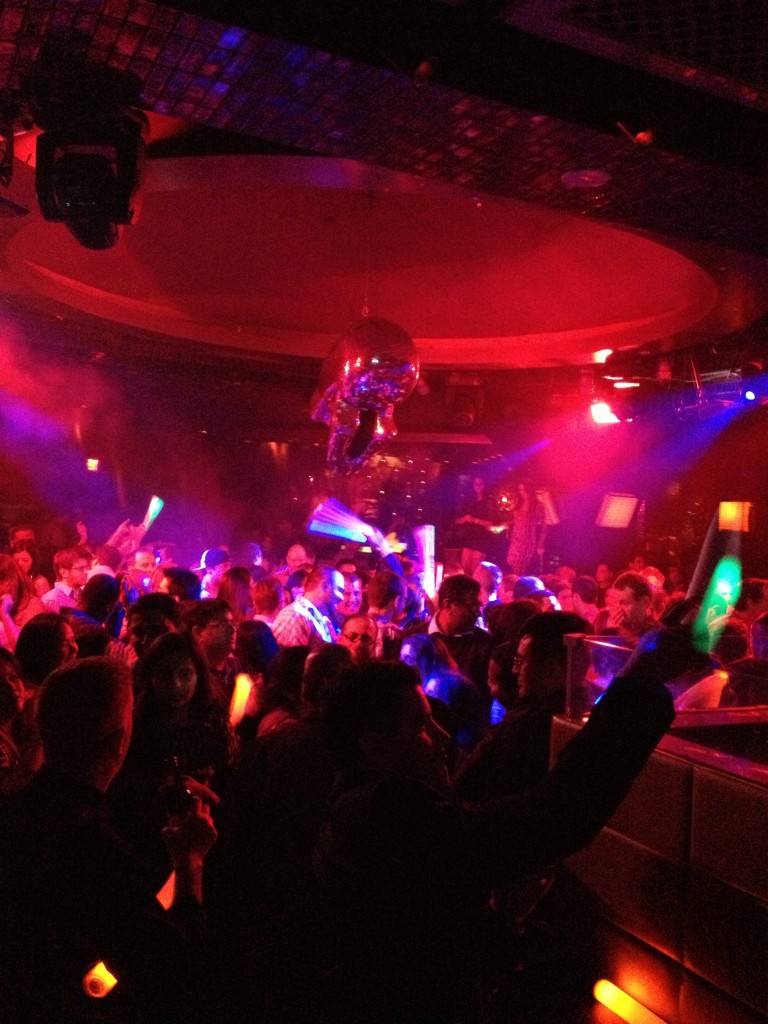 The club was fun, but by 1 am (2 am Salt Lake time!) I was ready to call it a night.
The next morning we ate at Olives and got to watch the Bellagio fountain show from the patio. Fun!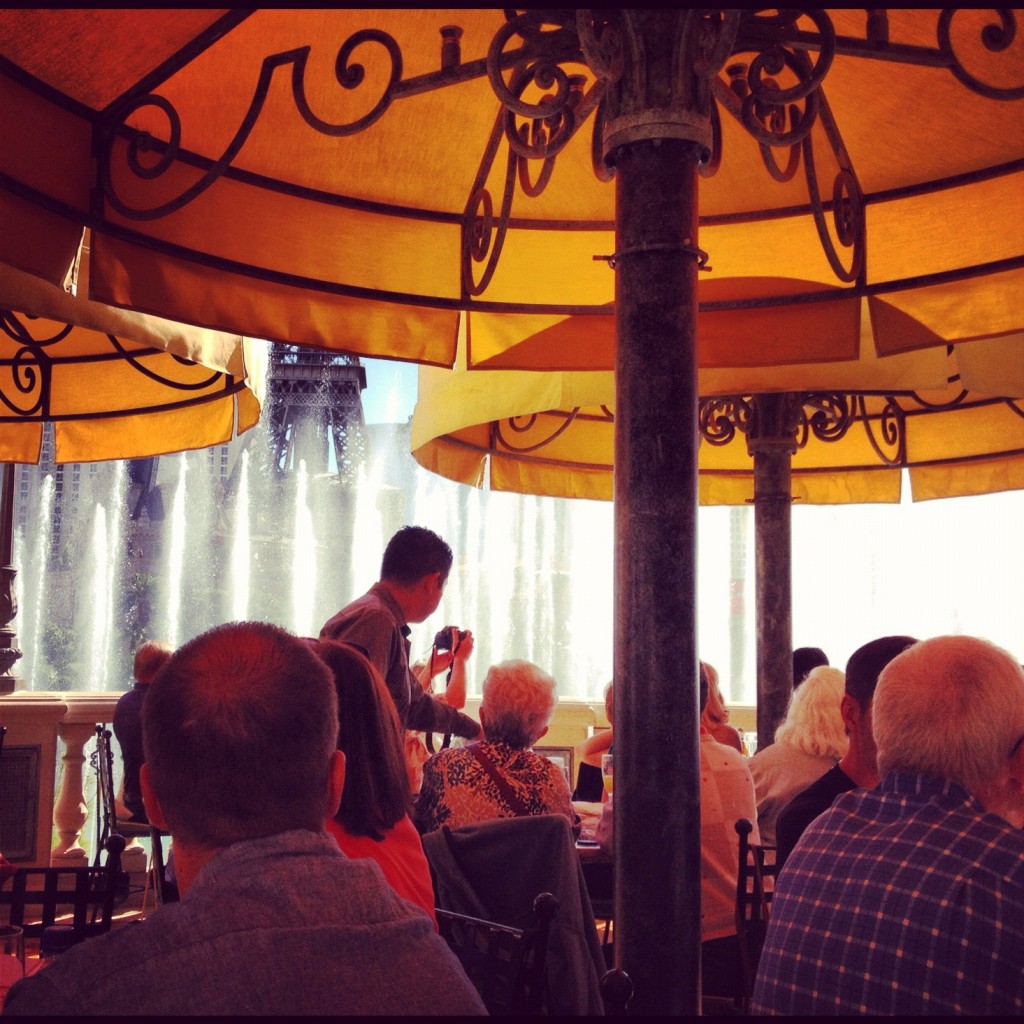 We shopped our way back down the strip, only to hop in a cab and head back to the Luxor for the Bodies exhbit.
Saturday night we had a staff dinner at the steak house at the Palazzo. I was all prepared to request a vegan entree… until I saw the prix fixe menus on the table. Boo. I ate creamy squash bisque, salad, salmon, and part of the creme brulee. My stomach did not feel awesome afterwards, but that's OK. As much as I like eating vegan, I also realize the value of being able to go with the flow and not make a stink in that type of work-dinner-prix-fixe situation. (Did I mention I avoid confrontation at all costs?)
After dinner we made our way back down the strip to the Chandelier bar at the Cosmopolitan.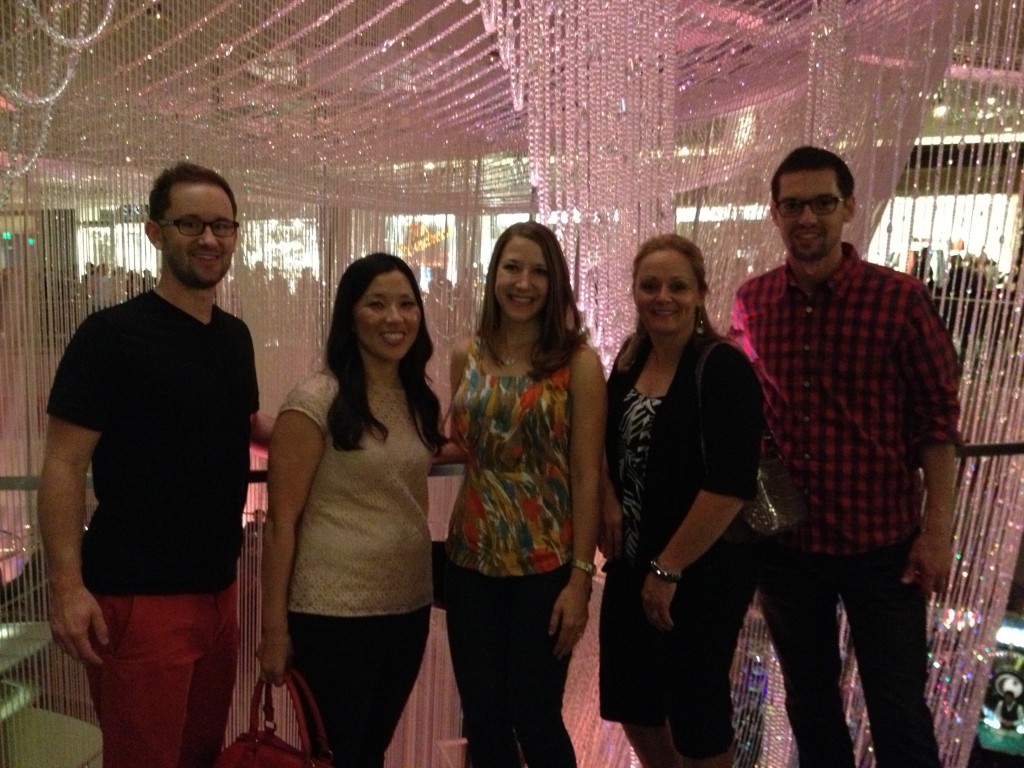 This place was awesome, and had no cover! It's a multi-story bar in the center of the Cosmopolitan that looks like a giant chandelier. We wandered in and ended up going down to the ground floor where a live band was playing. They were amazing!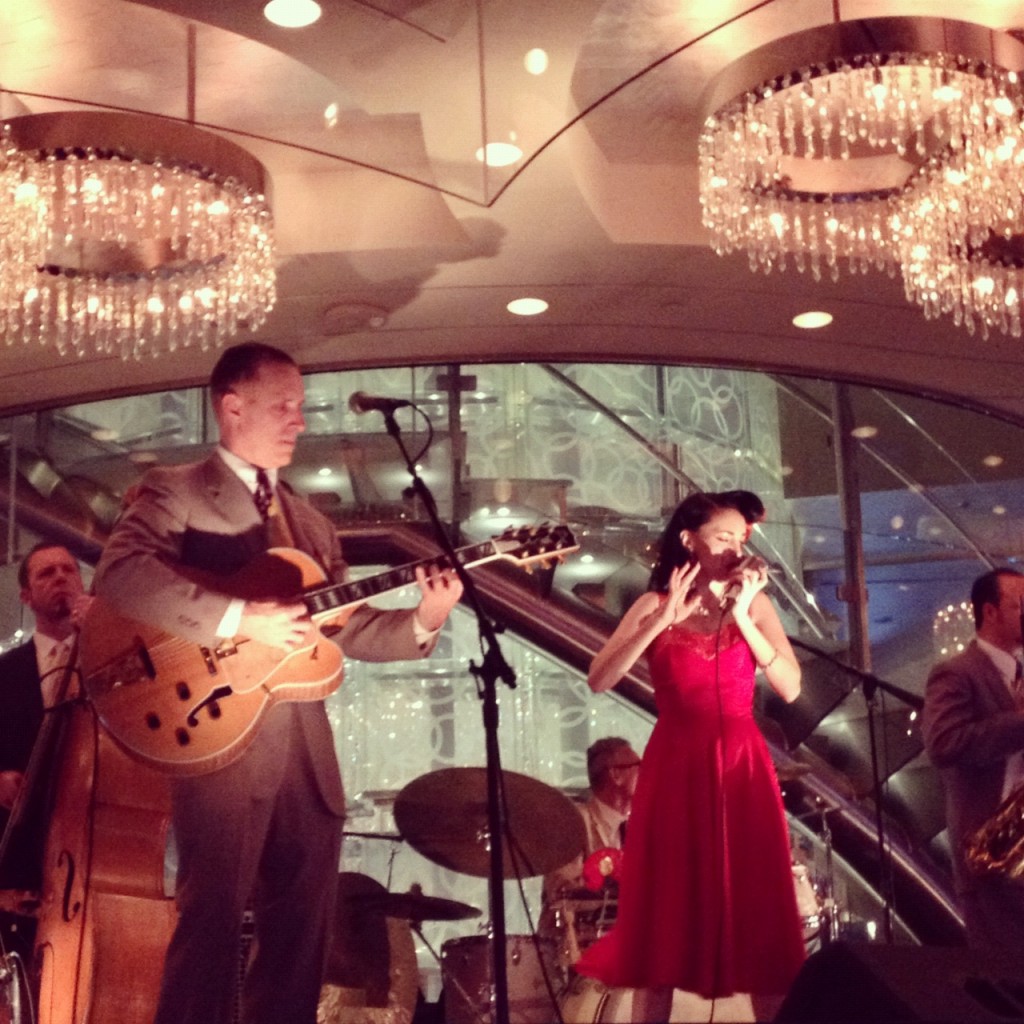 They played swing, some songs from the 20s, and other music that made me wish I still had some of my old college ballroom moves. Maybe I'll get back into it sometime…
My feet were killing me after walking a mile down the strip in heels, so we took a cab back and headed to bed. This morning we were up bright and early for breakfast and the loooong bus ride back!
So after adding every possible picture into this post, here's a little summary:
Where we stayed: The Palazzo (attached to the Venetian)
Where we ate: Sushi Samba (vegetarian friendly), Morel's French Steak House (they might make you a veggie entree, but everything on the menu definitely had meat, butter and cheese), Todd English's Olives (I got the portobello flatbread without cheese and it was delicious!)
What we drank: Vanishing Point 2011 Pinot Noir (at Morel's), Mad Fish 2008 Australian Shiraz (that I brought from home), bloody Mary at Olives (delicious!)
What we did: Lavo Nightclub, shopping on the strip, Bodies exhibition, Jennifer Keith Quintet at The Chandelier
My main takeaway from the weekend was that even though I don't love gambling or drinking heavily, Vegas is a lot of fun! As long as someone else is paying. :)