Whole Foods has been known to inspire food addictions in me. Sprouted wheat "seeduction" bread, Justin's almond butter, red quinoa… it is a magical wonderland, and I could wander around for hours. Unfortunately, my wallet can only support about 10 minutes…
My most recent obsession is their "mighty omega-3 trail mix," which was the inspiration for these cookies. Dark chocolate, almonds, walnuts, cranberries, blueberries. What's not to love? Probably just the fact that I can eat about a pound of it in one sitting, and keep opening the bag back up once I put it away. Actually, let's not discuss that right now, because I'm too full of cookies to even think about it.
Yeah, so I don't know that these cookies are really the solution to my problem of stuffing my face with trail mix on a regular basis. They are, however, super delicious, vegan, and a great excuse to eat more dark chocolate and dried cranberries.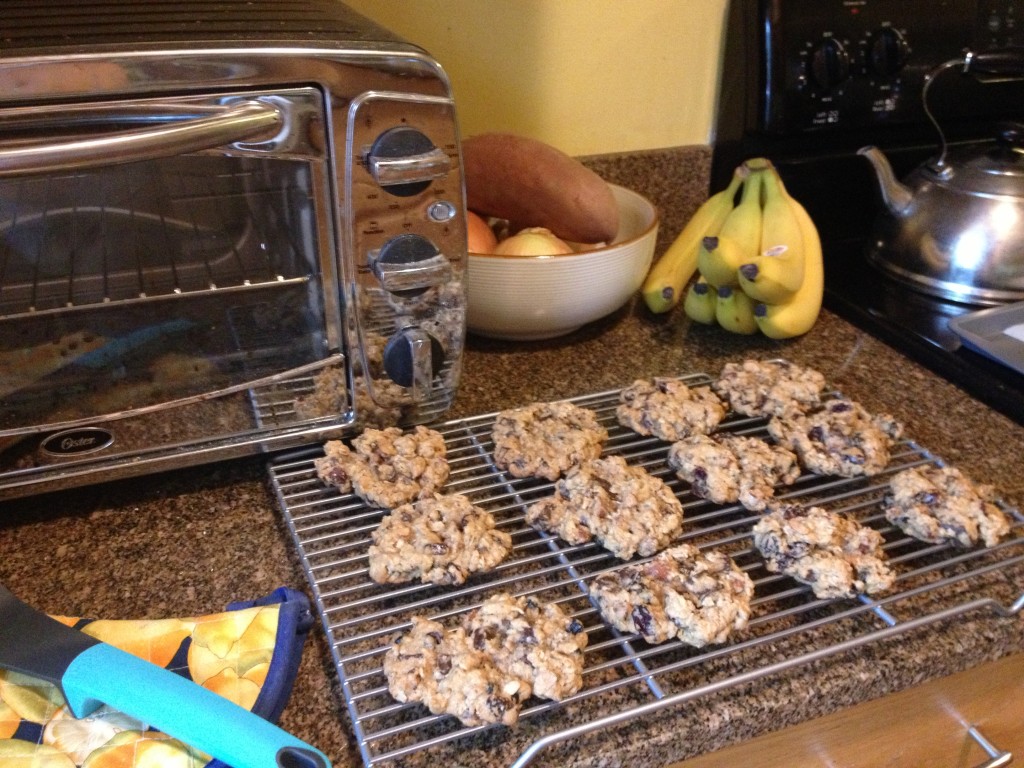 Let's get this straight, though – they are not a healthy cookie. They have sugar and vegan butter in them. Guys, this is one of my first attempts at vegan baking. Let's not try to make it super healthy baking or anything, OK? I've got to evolve slowly.
As a base for this cookie, I used my all-time favorite cookie recipe – Joanne Chang's Chunky Lolas. Here in Utah they somehow became my signature cookie (not like I was trying to make friends or anything), and Nate asks for them pretty much weekly, even when I'm in the middle or baking something else. (Don't worry, I made them for his birthday a few weeks ago.) I have plans to veganize those soon, and maybe even healthy them up a little bit! But in the meantime, although that recipe didn't provide the healthiest base, I decided to use it for a cookie I knew would turn out delicious – and it didn't fail me.
These are like a yummy chocolate chip cookie with some extra chewiness and crunchiness mixed in. You can definitely switch up the mix-ins to match your favorite trail mix.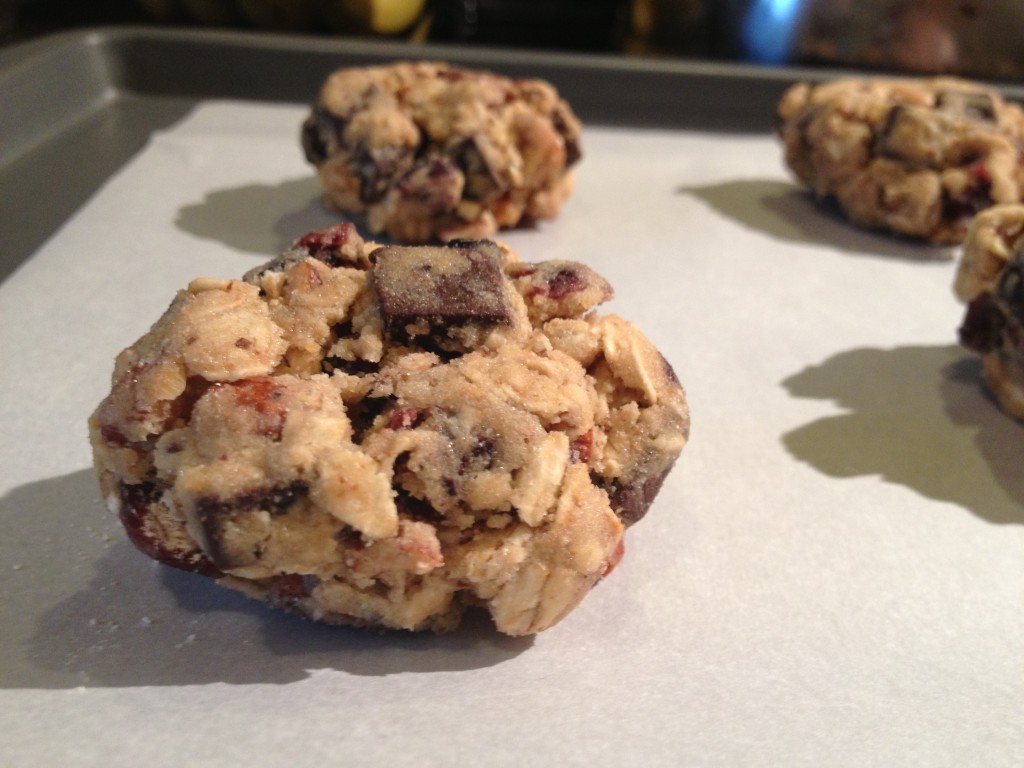 I should mention something about timing: These cookies are somewhat frustrating in that you  must mix the batter and then let it sit in the refrigerator for at least 3 hours before baking. Don't skip this step, though – you don't want to go through all the effort and then get flat, crispy cookies! That would just be sad, so plan ahead and they'll come out perfectly.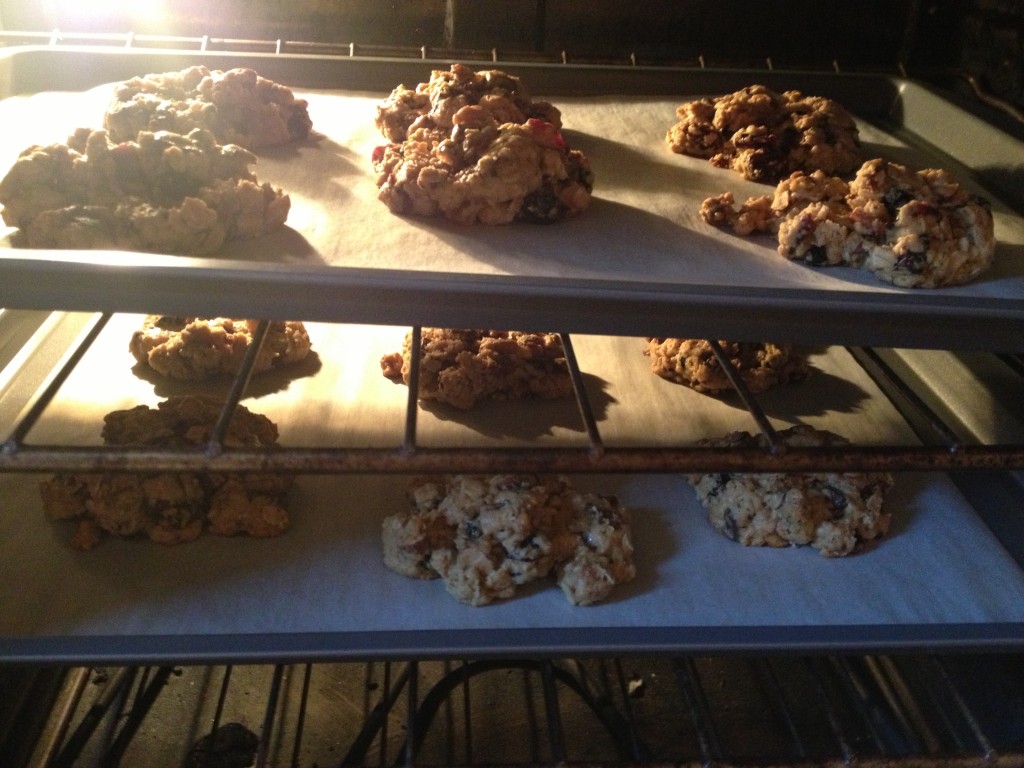 Last but not least, I realized that of 3 recipes I've now posted on this blog, all 3 are sweet! I swear I really do cook dinner, too. And to prove it, there is a savory recipe coming up later this week!
Whole Foods Trail Mix Cookies
Adapted from Joanne Chang's fabulous Flour cookbook
Makes about 18-20 cookies
Ingredients:
1 1/2 sticks Earth Balance, at room temperature
2/3 cup granulated sugar
2/3 cup packed brown sugar
1 tsp vanilla extract
1/4 cup almond milk (or other non-dairy milk)
1 Tbsp ground flax seed
1 1/4 cups whole wheat pastry flour
1 3/4 cup old fashioned oats
1 tsp baking soda
1/2 tsp baking powder
1/2 tsp salt
8-10 oz dark chocolate chunks or bittersweet chocolate chips
1 cup whole almonds
1/2 cup walnut halves
1 1/4 cups dried cranberries
1/4 cup dried blueberries (if you can't find these, simply omit or sub with cranberries or other dried fruit)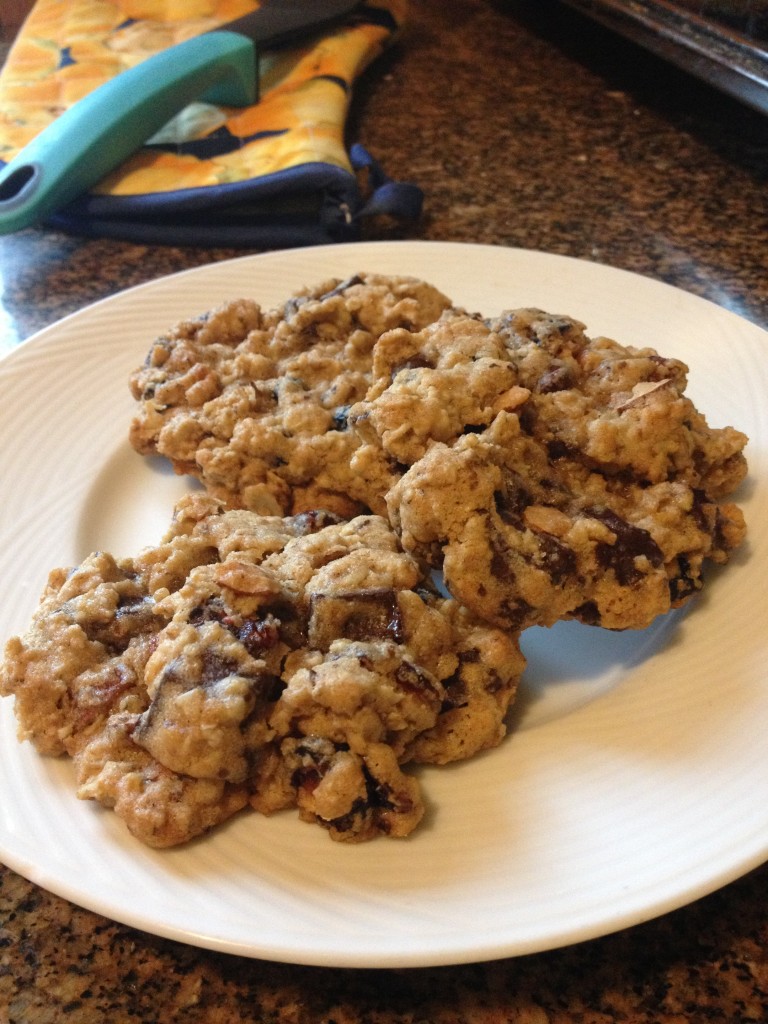 Directions:
First, toast the nuts. Preheat oven to 350 and spread almonds out on a baking sheet. Toast for 2 minutes, then add the walnuts and toast for another 5-8 minutes. This will vary a lot by oven, so keep a close eye on them. Once the nuts are a few shades darker, remove from the oven, allow to cool for a few minutes, and chop them.
In a large bowl, beat together the butter and both types of sugar with a hand mixer. (You can also use a KitchenAid mixer for this step if you have one.) Beat together until light and fluffy, about 3-5 minutes, scraping down the sides of the bowl occasionally. Add the vanilla, almond milk and flax seeds and beat until just combined.
In a medium-sized bowl, mix together the dry ingredients (flour through salt). Add in all of the mix-ins (chocolate through blueberries) and stir until thoroughly combined.
Dump the dry mixture into the large bowl with the wet mixture. Stir until the dough is evenly mixed. At this point, sampling is mandatory. Anyone else in the vicinity would probably appreciate a sample, too. But leaving some dough to bake later is also mandatory, so don't get carried away! Cover with plastic wrap and place in refrigerator for at least 3 hours and up to a few days.
When ready to bake, preheat the oven to 325 degrees. Line several cookie sheets with parchment paper. Remove cookie dough from fridge and scoop out in 1/4 cup balls. Flatten each ball slightly with the palm of your hand. These cookies hold together nicely and won't spread too much, but keep a few inches between them just in case. Bake for 15-18 minutes or until cookies are a light golden brown. Remove from oven and cool the entire sheet on a cooling rack for a few minutes. Finally, remove cookies from the sheet and place directly on the rack to finish cooling.
I love eating these cookies while still warm, although they will keep for several days in a sealed container.
Enjoy!