I think it's finally fall.
The boots and sweaters are out, and we got our first snowfall yesterday. That means I plan on turning on my oven as often as I possibly can – starting with Wednesday's cookies and continuing with these quinoa-stuffed peppers.
Maybe stuffed peppers are a little bit 80s, and I'm OK with that. They bring me back to my parents' kitchen, where stuffed peppers made a regular appearance in my mom's dinner rotation. That qualifies these as comfort food for me. Also, like any mixed-together dish, they totally make the best leftovers.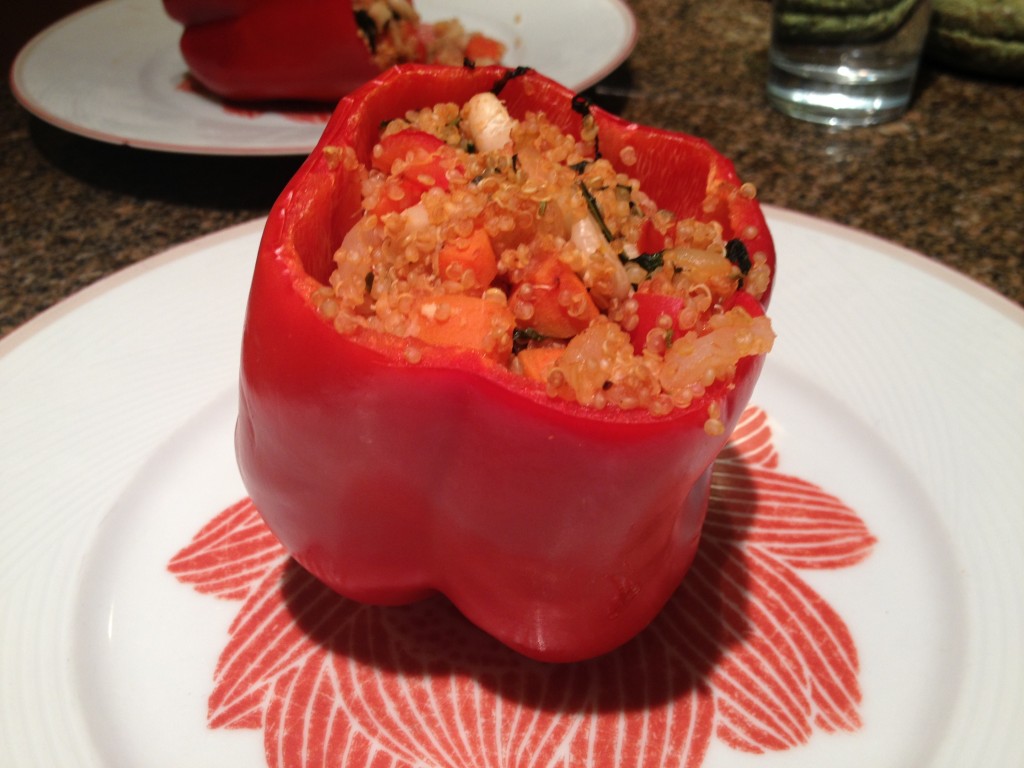 Can we talk about leftovers for a sec? As a kid, I hated them. I vowed I would never eat leftovers in my adult life, kind of like some kids said they'd stay up all night when they were grown up. (Even as a kid I don't think I ever made that claim – I've always loved to sleep!) In any case, I've done a total 180 on the leftovers thing. Get this: You only cook once… and you get to eat more than once. Best thing ever! Plus, there's something about a stuffed pepper in a tupperware container that is just so cute. Taking my good-looking leftovers out of the fridge at work the next day, I really feel like an adult, kind of like when I make my own stock or cook dried beans from scratch instead of using canned.
Speaking of beans and stock, both make an appearance in this recipe. The beans I did make from scratch, but they didn't turn out very pretty. Deb from the amazing Smitten Kitchen mentioned in a post from a few years ago that she makes beans in a slow-cooker, which means no pre-soaking required. That sounds delightful to me, and I think I'll try it next time. As for the vegetable stock, I have to admit I bought it from Whole Foods. I recently tried making my own veggie stock, but found that it didn't turn out very well. I think I'm just used to making chicken stock, because my veggie stock seemed to be missing a little something. Duh… chicken. Anyway, I'm due for another try sometime soon, but in the meantime I'm sticking to the soup aisle.
If you're smart, you'll wait to make these until bell peppers go on sale at your supermarket. If you're impatient like me and enjoy parting with your whole paycheck every time you buy produce, you'll make these as soon as you have a craving and end up spending approximately $12 on bell peppers. Oops.
This is my first pass at these stuffed peppers, so let me tell what I would do differently next time: I would add some lemon zest, maybe a bit more rosemary, and more tomato paste for flavor. I would also add more kale (maybe double it?) because it cooked down quite a bit. If you try out those changes, leave a comment to let me know how it goes!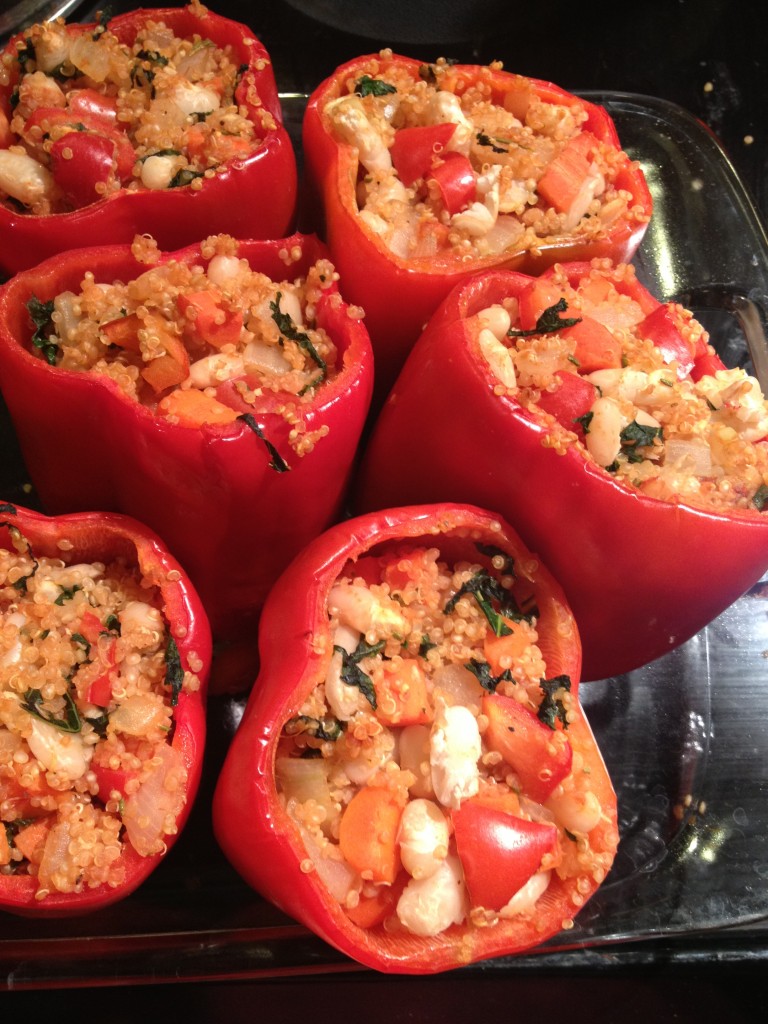 White Bean and Kale Stuffed Peppers
makes 6 servings
Ingredients:
1 cup quinoa
1 1/4 cup low-sodium vegetable broth
6 red bell peppers
Olive oil for pan
1/2 yellow onion, diced
2-3 cloves garlic, minced
2 carrots, peeled and chopped
1 tsp finely chopped fresh rosemary
2 cups packed shredded kale
3 Tbsp tomato paste
1 3/4 cup cannellini beans (or 1 15 oz can, drained and rinsed)
Juice of 1 lemon
Sprinkle of crushed red pepper
Salt and pepper to taste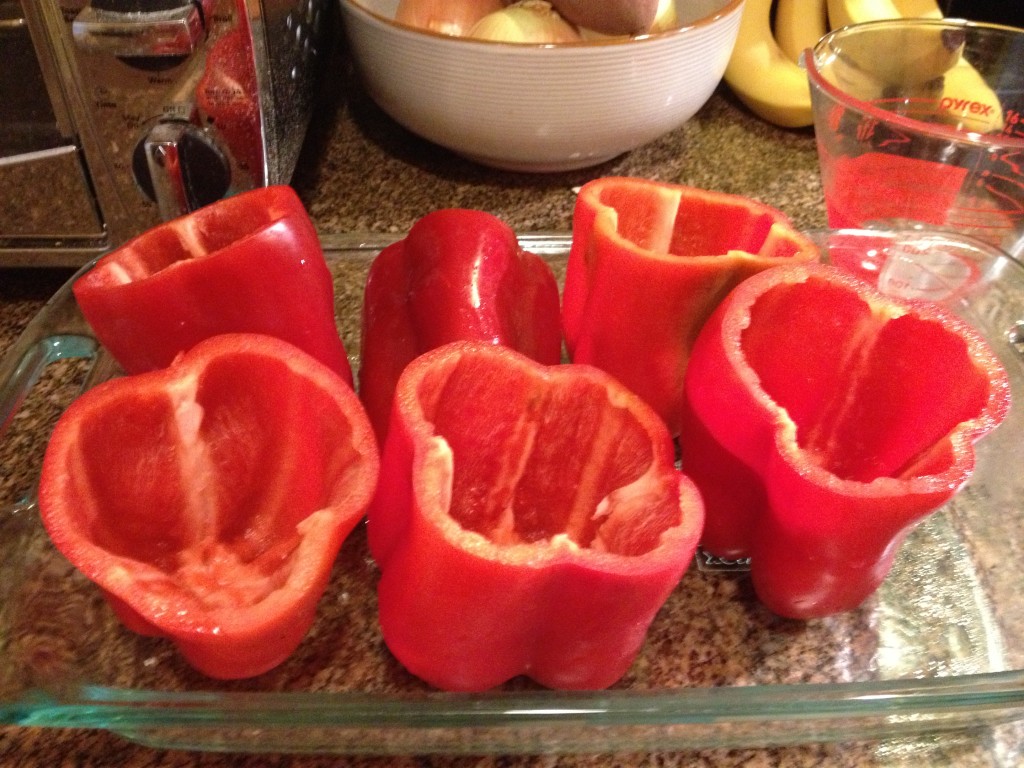 Directions:
Preheat oven to 350 degrees. Cut the tops off the peppers and remove the membranes. Place the peppers in a baking dish and bake for 15 minutes to soften. Chop up the tops of the peppers to add in later.
Rinse quinoa and add to a small pot with the vegetable broth. (You should use the amount of liquid that usually works for you when cooking quinoa – I usually see recipes call for 1 1/2 cups, but less works better for me.) Cook for about 15 minutes or until quinoa is tender and no liquid remains.
Add a small amount of olive oil to a large pan over medium-high heat. Once hot, add the onions, garlic, and carrots and cook until soft, about 5 minutes. Stir in the rosemary. Stir in the kale and chopped bell peppers. Saute until softened, 2-3 minutes.
Remove from heat. Add the quinoa, tomato paste, beans and lemon juice (and zest if using) and stir to combine. Season to taste with crushed red pepper, salt and pepper.
Spoon the quinoa mixture into the peppers and bake at 350 for 15 minutes. Serve hot!