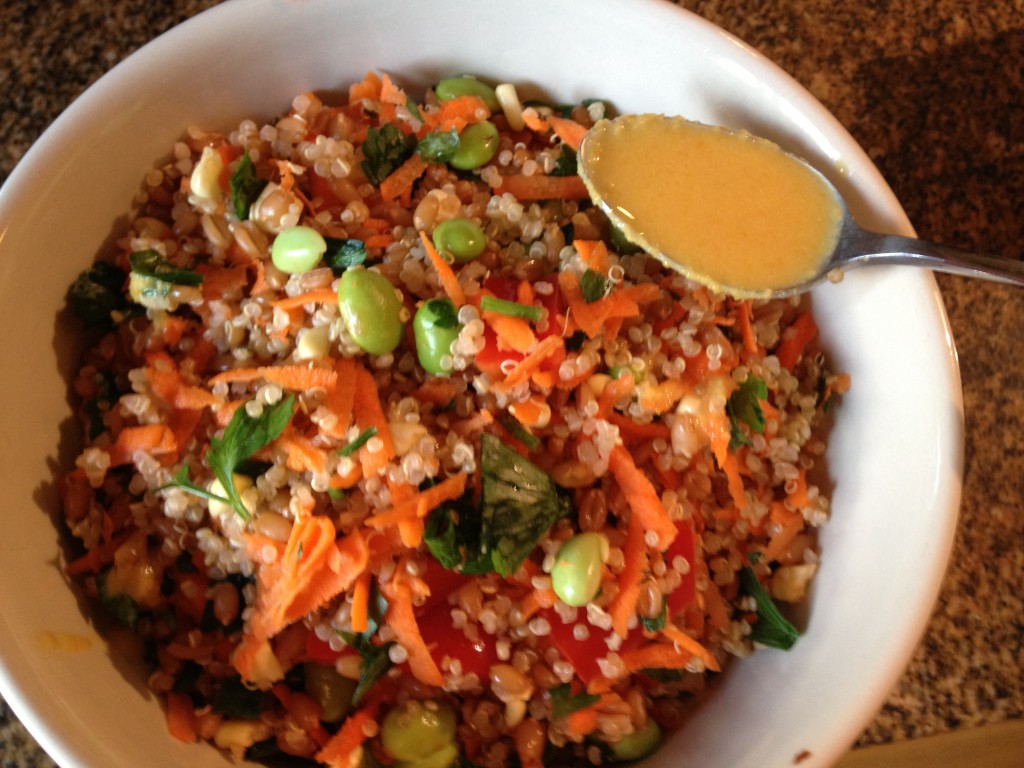 Sometimes a girl just needs a salad for dinner. Like after Halloween. Or eating this cake.
Those aren't Nate's favorite nights, I have to say.
This orange and ginger dressing is more exciting than your standard salad dressing, though. Even Nate gives it the thumbs-up (and then asks about dessert). I like to make it to top a grain and veggie salad (the recipe for that is below, too), but it would also be delicious on a spinach salad, noodle dish, or even tofu (I'm going to try that next!).
I recommend it when you want something super flavorful and a little different from the norm… and when you plan on eating cake later.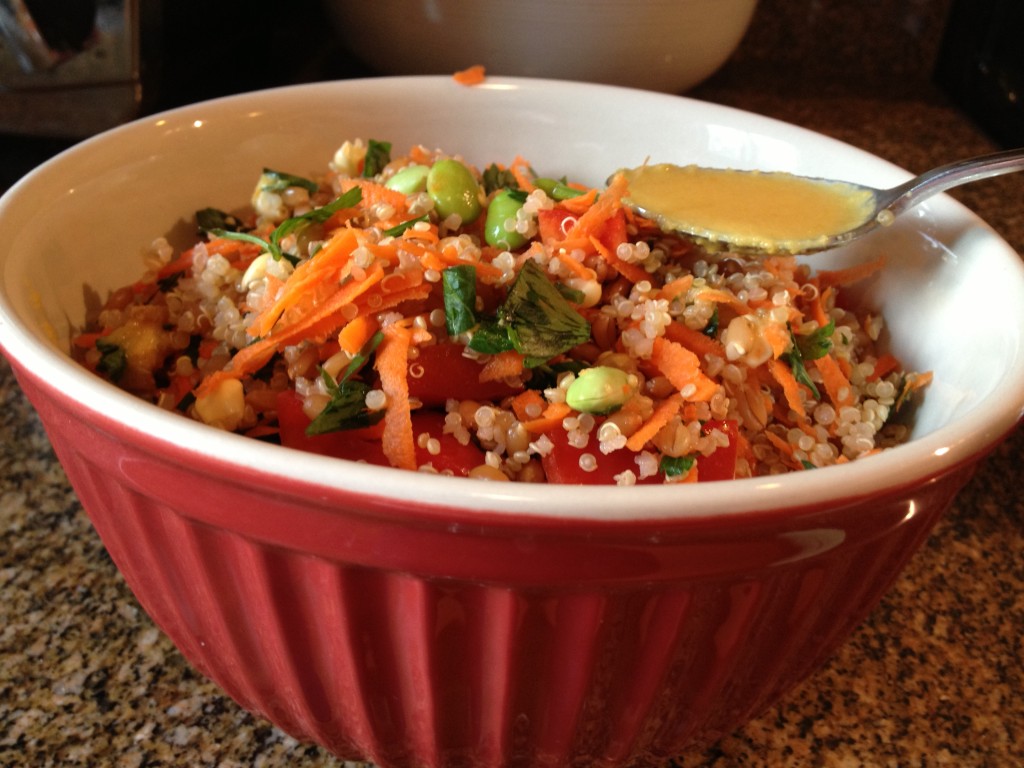 Asian Orange Ginger Dressing on Grain and Veggie Salad
makes about ¾ cup dressing
For the dressing:
zest and juice of 1 orange
1-2 garlic cloves, peeled and roughly chopped
1 Tbsp freshly grated/chopped ginger
2 Tbsp rice vinegar
2 Tbsp canola or other vegetable oil
1.5-2 Tbsp reduced sodium tamari or soy sauce
For the salad (adapted from Oh She Glows):
1 cup uncooked quinoa, drained and rinsed
1 cup uncooked wheatberries, drained and rinsed
1 cup shelled edamame
1 large or 2 small carrots, peeled and chopped or grated
1 red pepper, diced
½ head broccoli, stems removed and chopped into small pieces
½ cup chopped parsley
Directions:
Cook quinoa and wheatberries according to package directions. (I prefer to do this the night before.)
Combine all dressing ingredients in a small bowl. If you have an immersion blender, this is a great time to use it. If not, you can use a regular blender or simply mince the garlic and ginger extra fine, then shake or whisk. Taste and adjust – you may like a bit more tamari or a bit more oil.
Toss veggies and cooked grains in a large salad bowl. Serve dressing alongside.
Enjoy after a weekend of cake! This will keep in the refrigerator for several days.