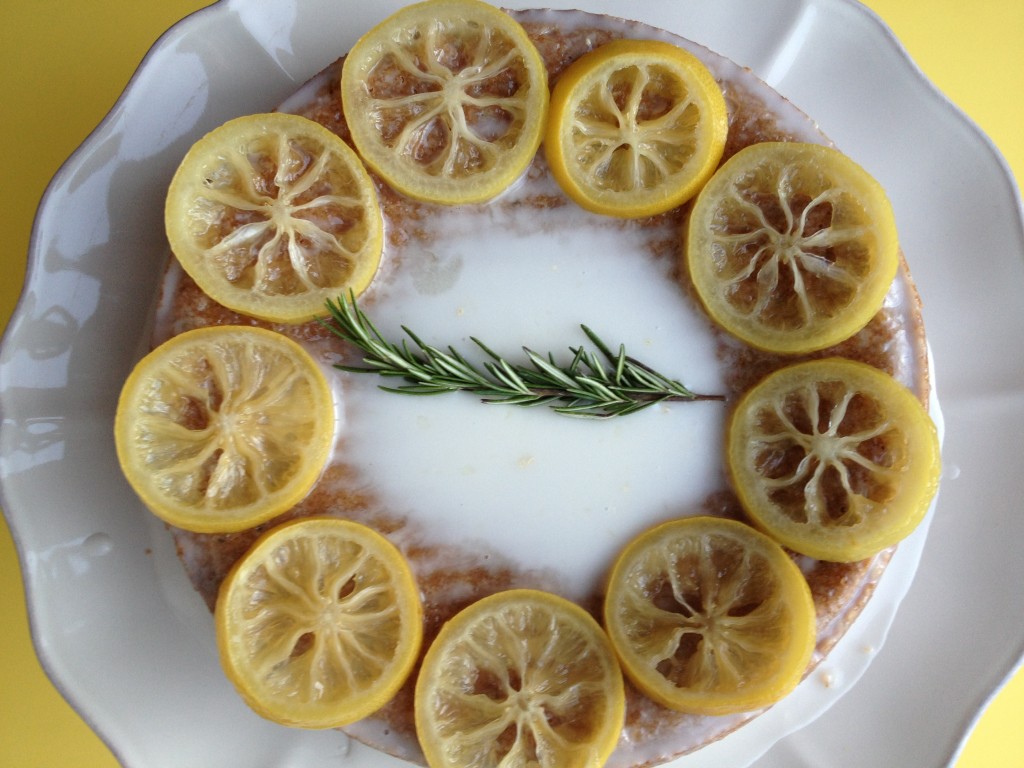 Happy Friday!
I'm so excited to share this cake today. Mostly because it's just SO pretty. (Apparently candied lemons will do that to just about anything. Even a cake that rose slightly higher on the sides than in the middle!)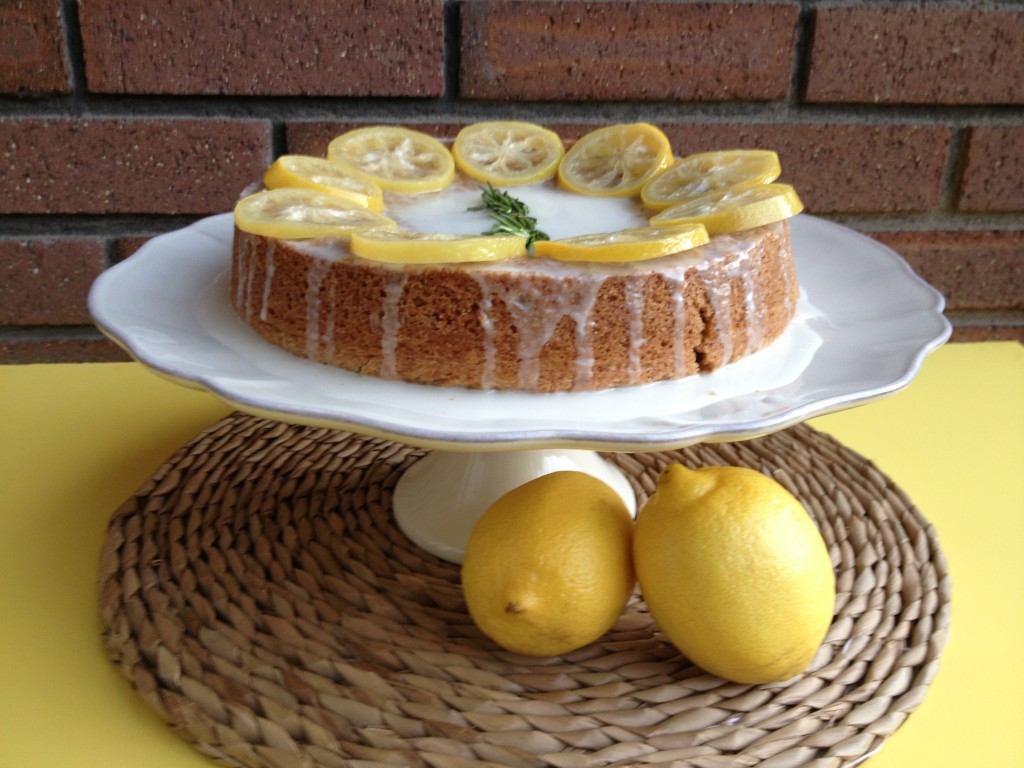 But I'm also excited to share it because it tastes good! I am typically a frosting person, but this cake is so flavorful on its own that it really doesn't need much extra. The tart lemon, aromatic rosemary, and rich olive oil are all noticeable in the finished cake, without being overpowering. This made me so happy – I hate it when unique ingredients seem to bake off and are totally undetectable in the finished cake. The spelt flour adds nutty whole-grain flavor, too. All combined, it is both sweet and savory, and something a little outside the ordinary – in a very good way!
I'm lucky that Nate and I had a few friends to help us polish this off. (Thanks guys!) Otherwise I guarantee I would have gone to bed with a big stomach-ache.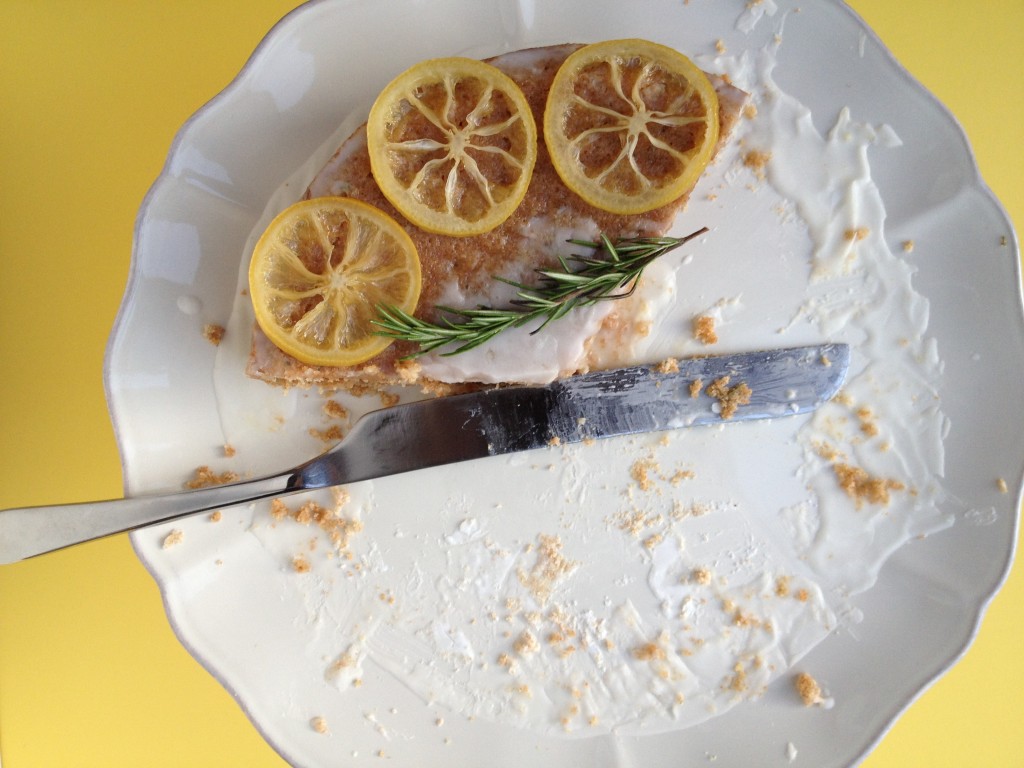 While I didn't intend to use an existing recipe for this cake, once I started researching, it just sort of happened that way. I guess I'm scared of developing my own recipes when baking, or even modifying existing ones, because you can only do so much taste testing as you go. At some point you have to stick it in the oven and commit to any horrible newbie vegan baking mistake that comes out on the other side. I don't know. I'll get there. For now, this is a lovely recipe from The Gluttonous Vegan. It may seem to have a lot of components, but it's really very simple (mix it up and put it in the oven) and fun to make.
If I tell you to bake this cake this weekend, will you do it?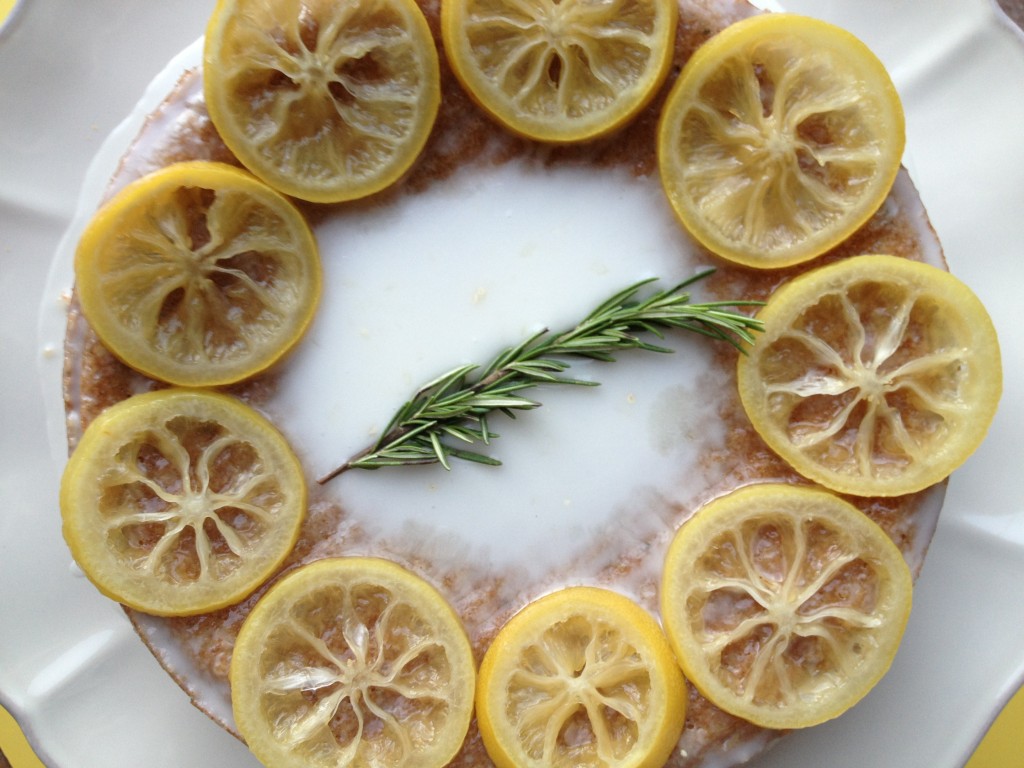 Lemon Rosemary Olive Oil Cake with Candied Lemons
Adapted from The Gluttonous Vegan and Eat, Live, Run
Ingredients:
For the cake:
3 cups spelt flour (whole wheat pastry flour would also work)
2 tsp baking powder
½ tsp baking soda
½ tsp salt
1 ½ cups sugar
1 Tbsp fresh rosemary, finely chopped
½ cup olive oil
¾ cup almond milk (or other non-dairy milk)
¼ cup canola oil
1 tsp grated lemon zest
¼ cup freshly squeezed lemon juice
For the glaze:
1 cup powdered sugar
Juice of 1 lemon, freshly squeezed
For the candied lemons:
2 lemons, thinly sliced
½ cup water
½ cup granulated sugar
To top:
Sprig of rosemary
Directions:
Preheat oven to 350. Grease a 9 inch cake tin or two smaller tins.
Combine all the dry ingredients (flour through rosemary) in a large mixing bowl and stir to combine. Pour in the olive oil and almond milk and beat until those are incorporated. Now add the canola oil and mix again. Finally, mix in the lemon juice and zest.
Pour batter into the greased cake in. If you can, mound the batter up in the middle a bit, as the sides may rise more. (I ended up using a spring-form pan because it's really the only cake-shaped pan I have. If you have a 9 inch cake tin, that should work, or use 2 smaller ones.)
Bake at 350 until a toothpick inserted in the center comes out clean. The original recipe said to bake 25-30 minutes, but mine took 42. This will vary a lot based on your oven and the tin that you use! I would say test every 5 minutes starting at 30 minutes. Remove cake from oven and allow to cool completely on a wire rack before glazing.
While the cake is in the oven, candy the lemons. This part is optional, but I absolutely love the way they look (although they served purely as a garnish; we didn't really eat them). Bring the water and sugar to boil in a large pan. Reduce the heat to a simmer and add in the lemons. Simmer for about 20 minutes, until the lemons are translucent. Remove with tongs and drain on wax paper, then refrigerate until cooled.
Next up, make the glaze. Sift the powdered sugar into a medium-sized bowl. Whisk in the lemon juice one tablespoon at a time, continuing until you have a pretty runny consistency.
Last but not least, assemble your cake! Once the cake has cooled, place it on your serving platter and drizzle the glaze over. You may not use all the glaze. (In fact, I recommend using only half unless you have a major sweet tooth.) Finally, garnish with candied lemons and a sprig of rosemary!
So pretty. Enjoy!