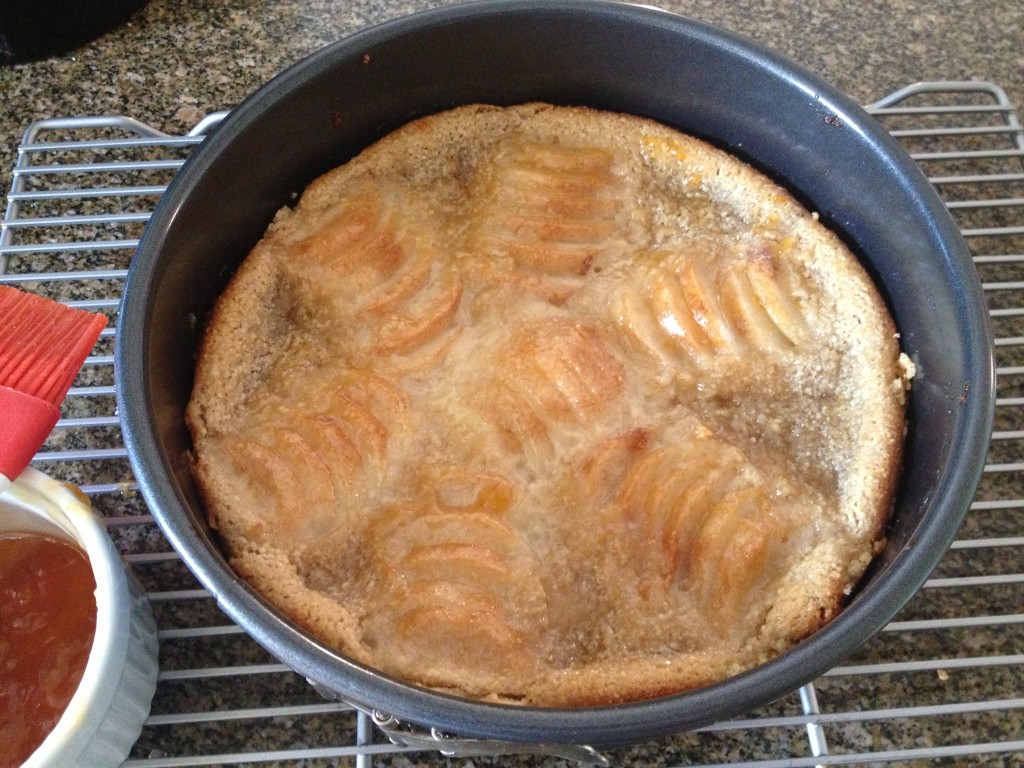 Look familiar?
Yes… I posted a picture of this tart in the oven on Facebook a few weeks ago now. Sorry for not sharing it before! I made it for a Thanksgiving party, but the truth is, it's probably more appropriate for Christmas. So now, rather than being late for Thanskgiving, I'm early for Christmas. I love the way that works!
Have you ever had frangipane? It is a sugary, creamy almond paste that is often layered under fruit in tarts. It's probably one of the most delicious things on earth, especially if you're a marzipan lover, like me. I was veeeery skeptical about a frangipane without eggs, but I was proven wrong. Granted it's been a while since I last baked a pear frangipane tart, but I don't think you can tell this one is vegan!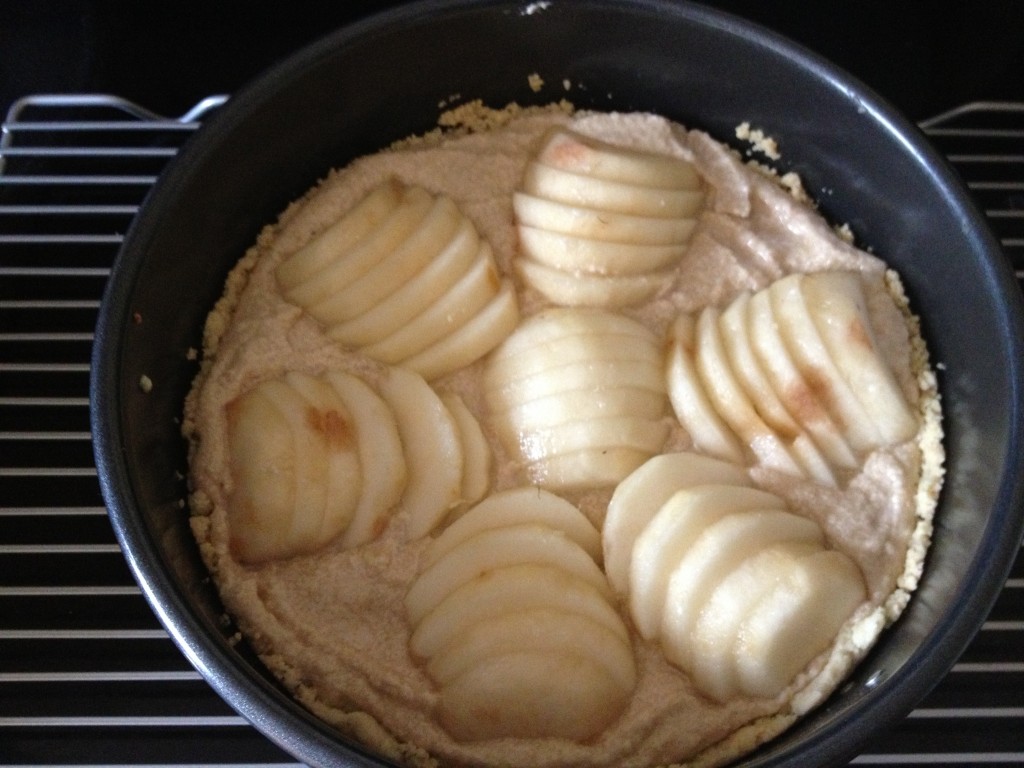 This is definitely a tart for those with a sweet tooth (kind of the opposite of the cranberry walnut one). I HIGHLY recommend baking it around the holidays to impress your guests!
For such a pretty and fancy tart, I didn't take any pictures of the finished product on a serving dish. Sorry. That was mostly because I was driving it across town to a friend's house, and there was no way I was taking it out of the springform pan before the car ride… no way. (On a side note, does anyone have any tips for transporting pies/cakes in the car? I did a lot of driving around with pies on the floor over Thanksgiving weekend, and it seemed VERY risky.)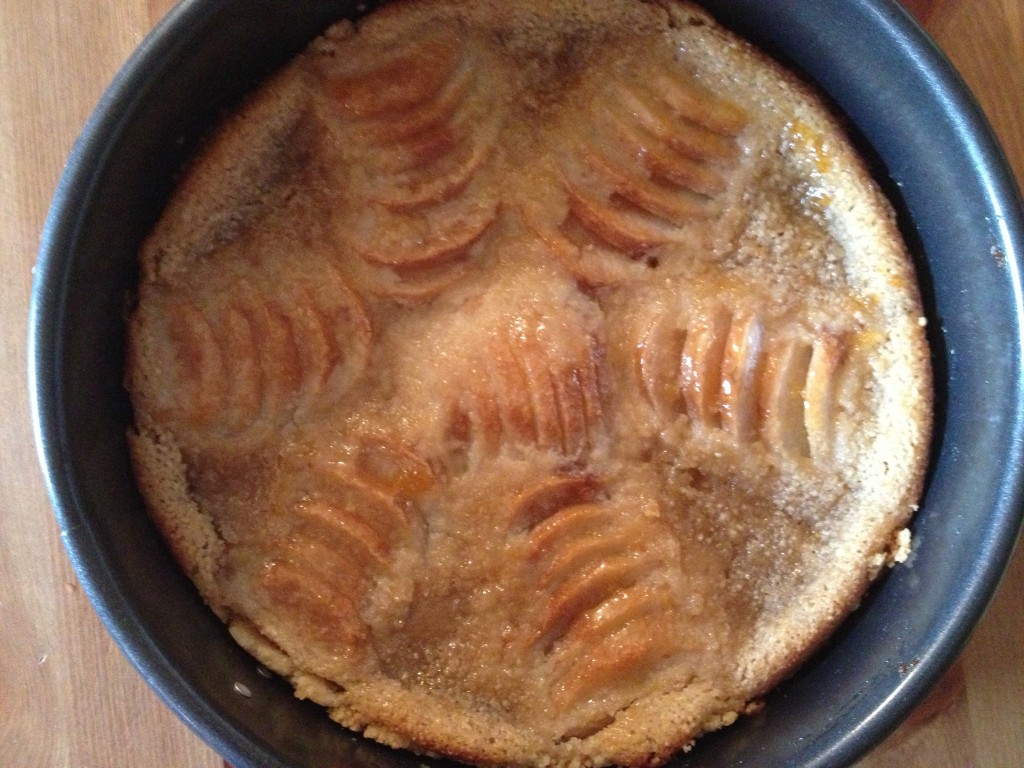 Back to baking. One big recommendation here: Use white sugar in the frangipane. I used natural cane sugar in mine, and it turned out the granules were too coarse. You can notice in the pictures that the frangipane looks a bit grainy when baked. It still tasted amazing, but if I were to do it again, I would use white granulated sugar. I've never used superfine sugar, but that might be an option for an even creamier texture.
America's Test Kitchen has a great post on the secrets to assembling a pear frangipane tart. I recommend checking it out before you get started!
Oh, and coring your pears with an ice cream scoop totally does the trick!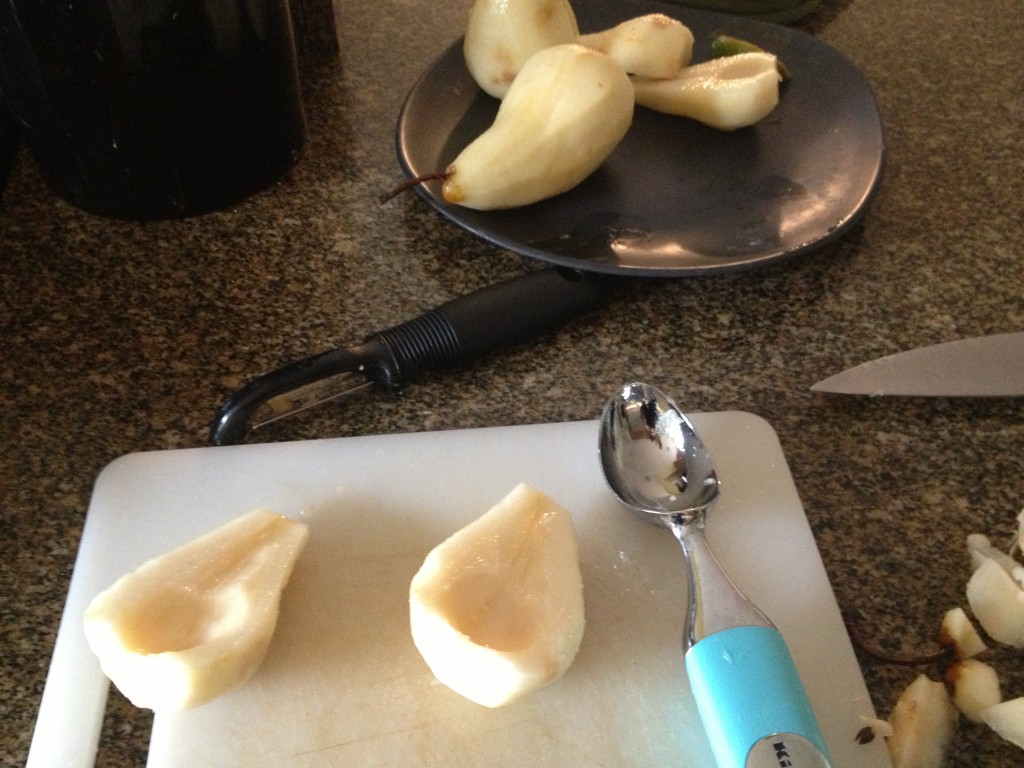 Crust and tart recipes are from the Post Punk Kitchen! Feel free to use this crust or a regular pastry crust.

Pear Frangipane Tart
Ingredients
FOR THE CRUST:
2/3 cup slivered almonds
1 cup all purpose flour
2 Tbsp sugar
1/2 tsp salt
6 Tbsp canola oil
4 Tbsp cold almond milk
FOR THE TART:
6 Tbsp Earth Balance, cut into pieces
2/3 cup granulated sugar
1 1/4 cup blanched sliced almonds
2 Tbsp cornstarch
pinch salt
1/4 tsp cinnamon
2/3 cup plain unsweetened almond milk
2 tsp vanilla extract
1/2 tsp almond extract
4 pears (Bartlet or Bosc), peeled, halved, cored and sliced thinly crosswise
1/4 cup apricot jam, melted
Instructions
Preheat oven to 350. Spray a tart pan, springform pan or pie dish with cooking spray.
First, prepare the crust. In a food processor, pulse almonds into a fine meal. Add flour and salt and pulse to combine. Stream in canola oil and 3 Tbsp of almond milk while continuing to pulse. Mixture should hold together when pressed between your fingertips; if it still feels a little dry, mix in one more additional Tbsp of almond milk at a time.
Sprinkle almond mixture into prepared pan and press to the bottom and sides. Press the crust as far up the sides as you can to hold in the filling.
Bake at 350 for 15 minutes. Remove and allow to cool while you prepare the filling, but keep oven at 350.
To make the frangipane, process almonds to a fine meal in the food processor. Pulse in Earth Balance, sugar, cornstarch, ground cinnamon, and salt until crumbly. Continue to pulse and stream in almond milk, vanilla extract, and almond extract to form a thick batter. Spread frangipane mixture into cooled tart shell.
Pat the pears dry with a paper towel. Gently press one sliced pear into the frangipane in the center of the tart. This is best done with an offset spatula, but can be done carefully with a knife. For the rest of the pears, tip the slices over so that they are leaning over, rather than standing straight up (see pictures or America's Test Kitchen link above). Carefully place them in a circle around the center pear, thin ends pointing inward.
Bake for 45 to 50 minutes, until tart is golden brown. Remove from oven and cool for 20 minutes, then brush (carefully!) with melted jam. Cool completely before slicing.
Enjoy!