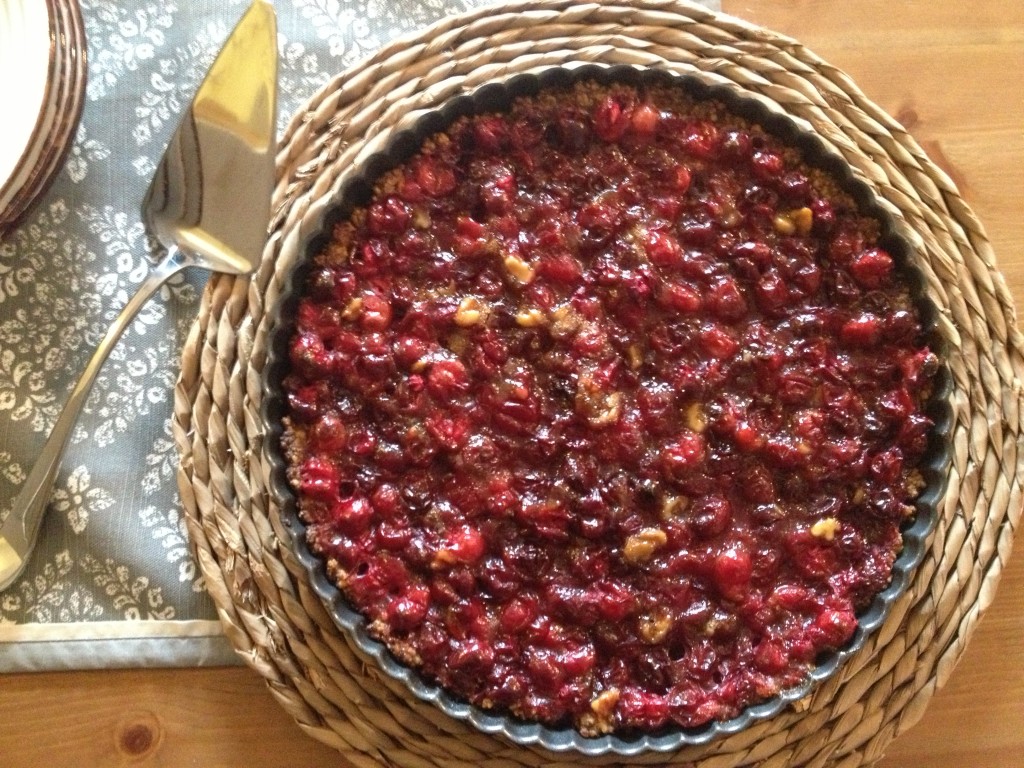 What a great weekend! I am so tired.
I said that I just wanted to sleep this weekend. But it turns out there was a lot of other stuff I wanted to do, too! So now I'm drinking green tea, hoping it will keep me up long enough to finish this post before I faceplant into my pillow.
Friday night was relatively uneventful. My cousin is in town to audition for the symphony, so once she got in on Friday, we went to dinner at a Middle Eastern restaurant in town. After dinner, it was pie baking time! I wanted to bring two pies to a Thanksgiving dinner party on Saturday night, so I had to get started. First up: a cranberry-orange walnut tart.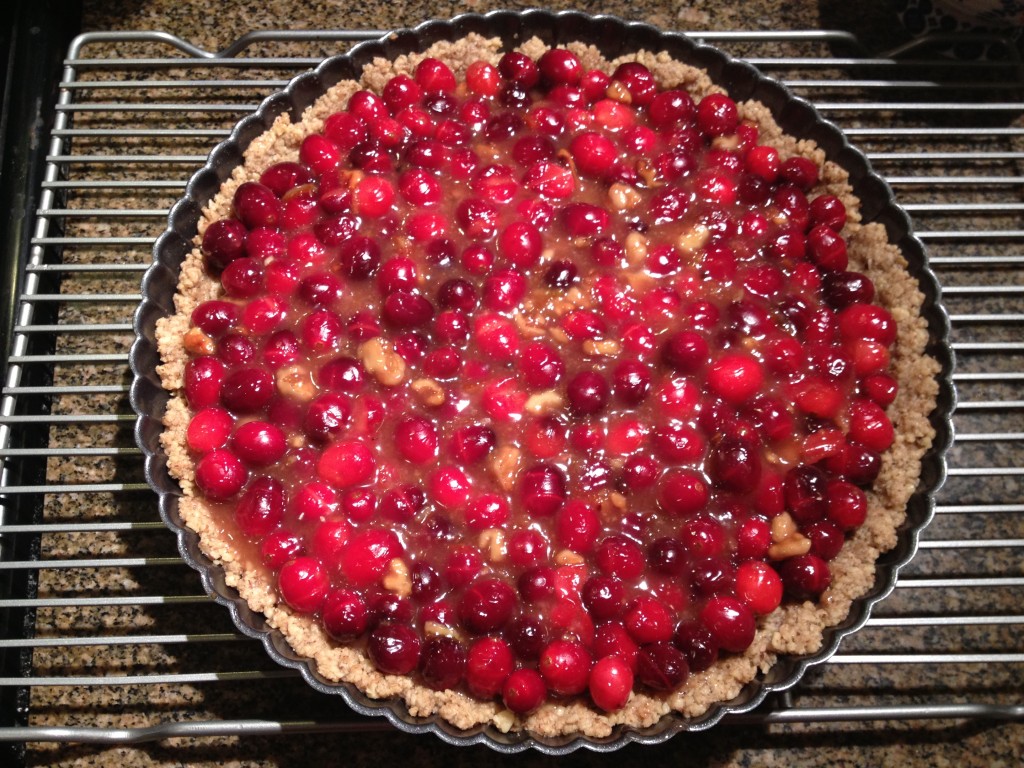 This tart was yummy, and believe it or not, gluten-free! I'll give the recipe below. I'm eating a leftover slice right now!
Making one pie was all I could handle on Friday, so we called it an early night. Saturday we were up early for brunch at Caffe Niche, followed by more pie-baking!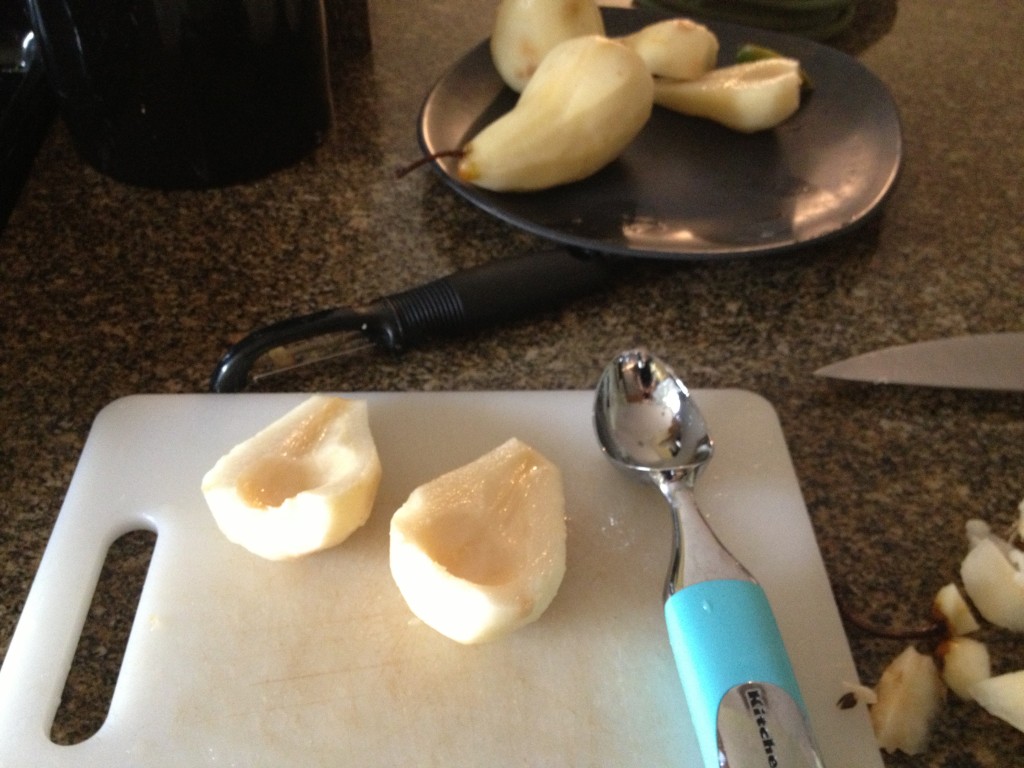 I really liked this pear frangipane tart. I'll give the recipe if anyone wants to see it, but I didn't modify it at all from the original.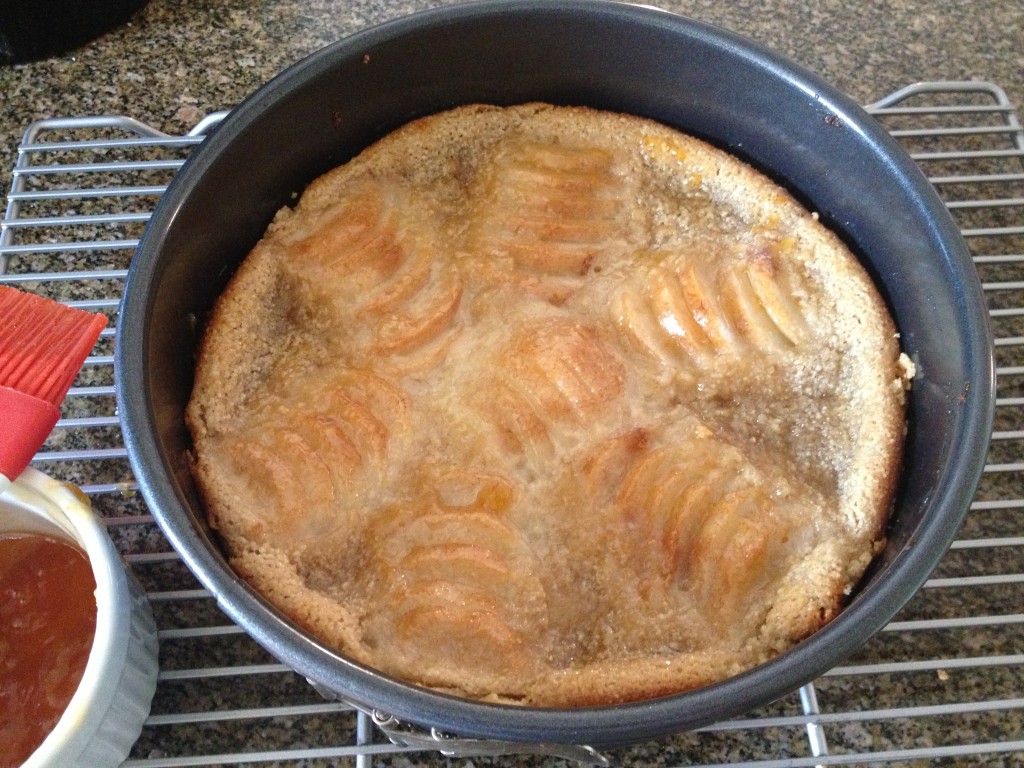 Saturday afternoon, we also did a bit of Salt Lake City sight seeing. Then we headed over to our friends Matt and Alex's for a fancy Thanksgiving dinner party. Just look at what they turned their living room into!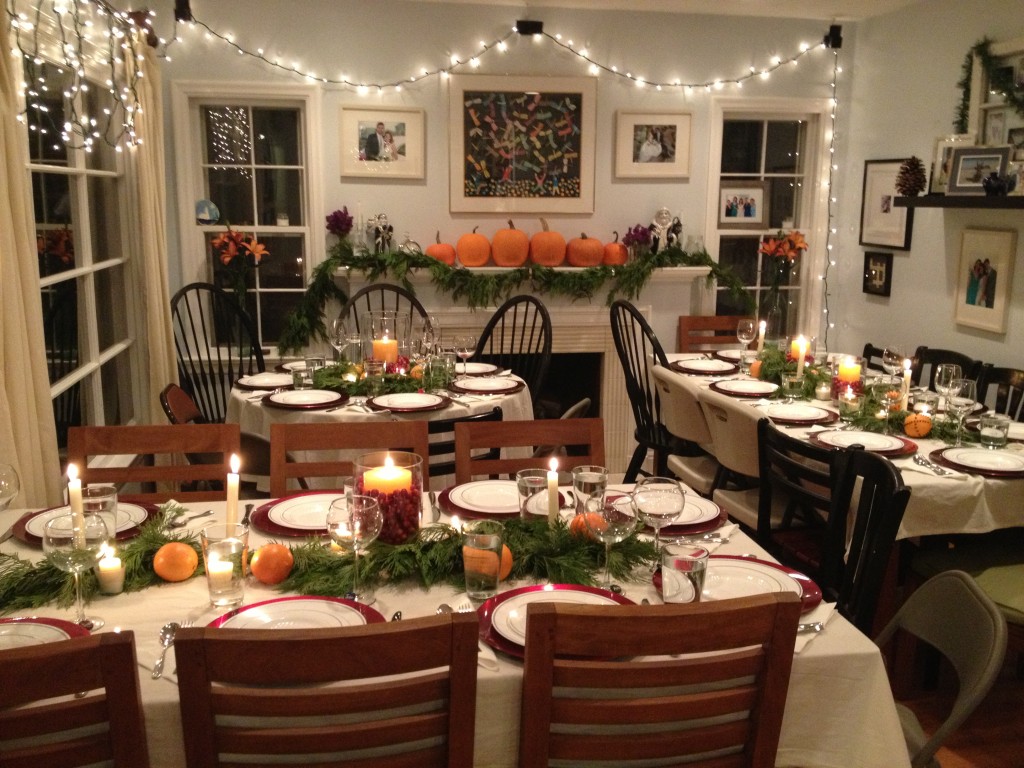 They had more than 20 people to a sit-down dinner. Alex is super crafty, and made us each a personalized clay charm for our wine glass! She also did the beautiful table decorations.
We ate way too much, of course. There was also some wine involved!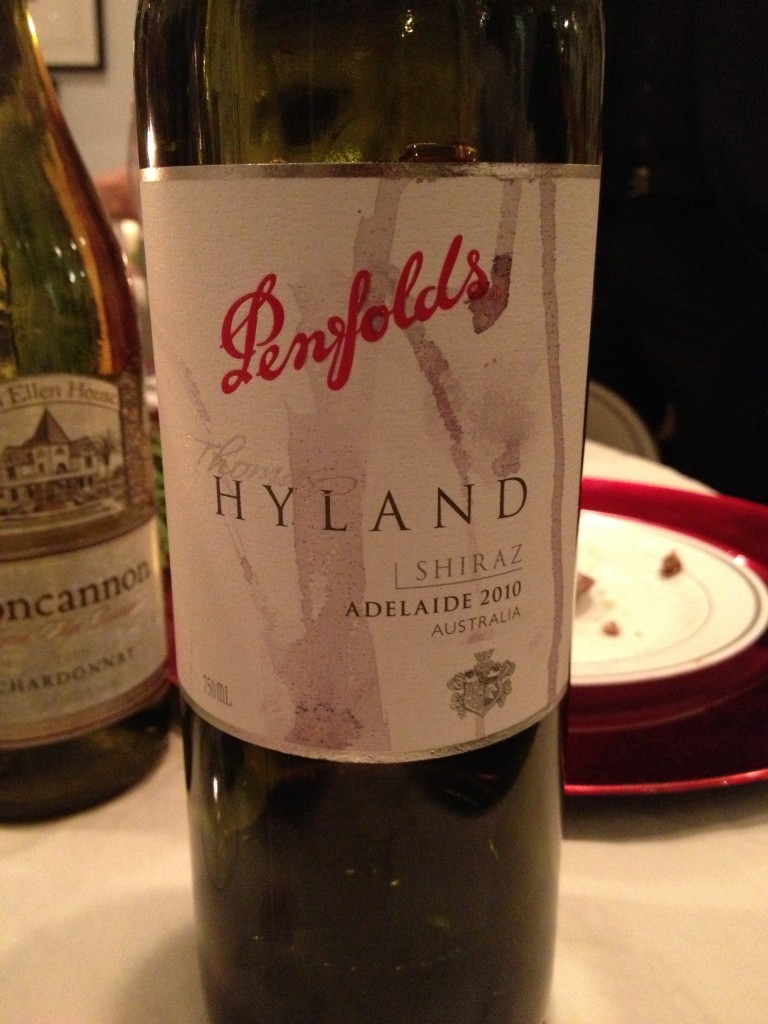 Yum.
We had such a great time with friends Saturday night – thanks Alex and Matt! It made a little hard to get up Sunday morning to go up to Snowbird. Luckily, we made it!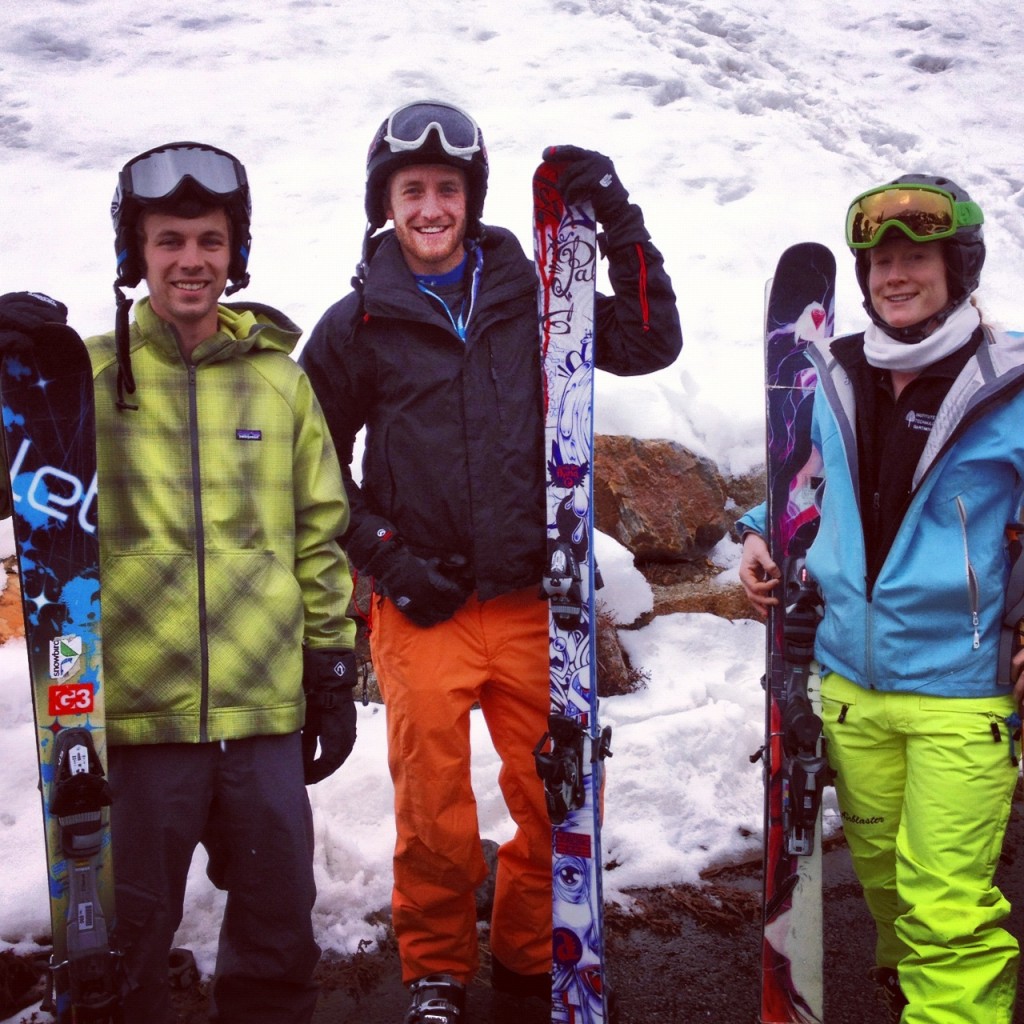 It was my first day out this year, and happily, the snow was good! It was actually snowing quite hard in the afternoon. It made for tough visibility, but a few good runs!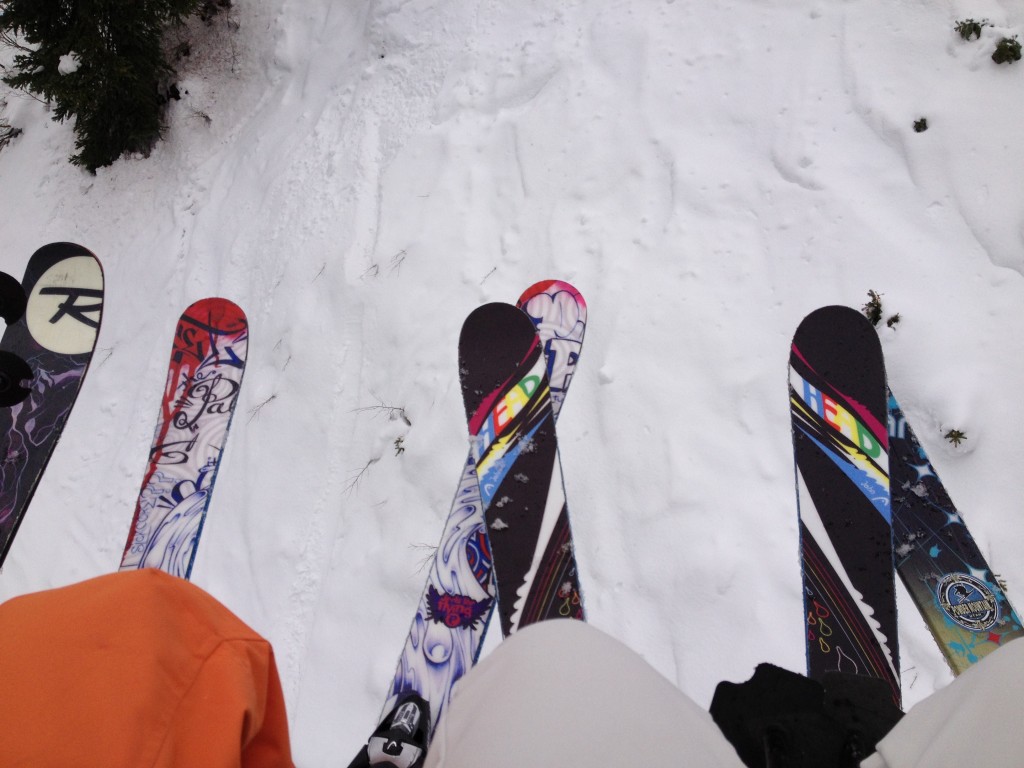 I had meant to get some powder skis for this season (my second winter in the West!), but I haven't gotten around to it yet. I also never got around to getting the skis I do own tuned up. They literally had cobwebs on them when I took them out of our storage shed this morning. It made for a pretty sloppy day. But I can't lie… it's the skier, not the skis, that has some cobwebs to clear! Hopefully I'll get out more this year than last, and improve a bit more.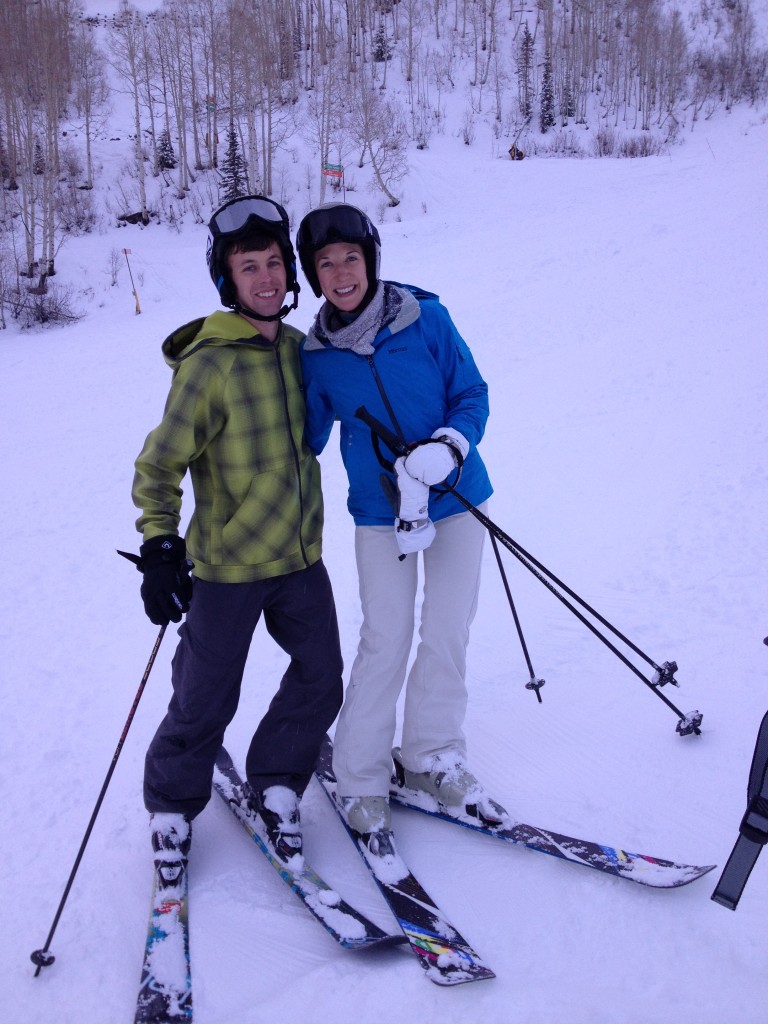 My partner in crime. How cute is he?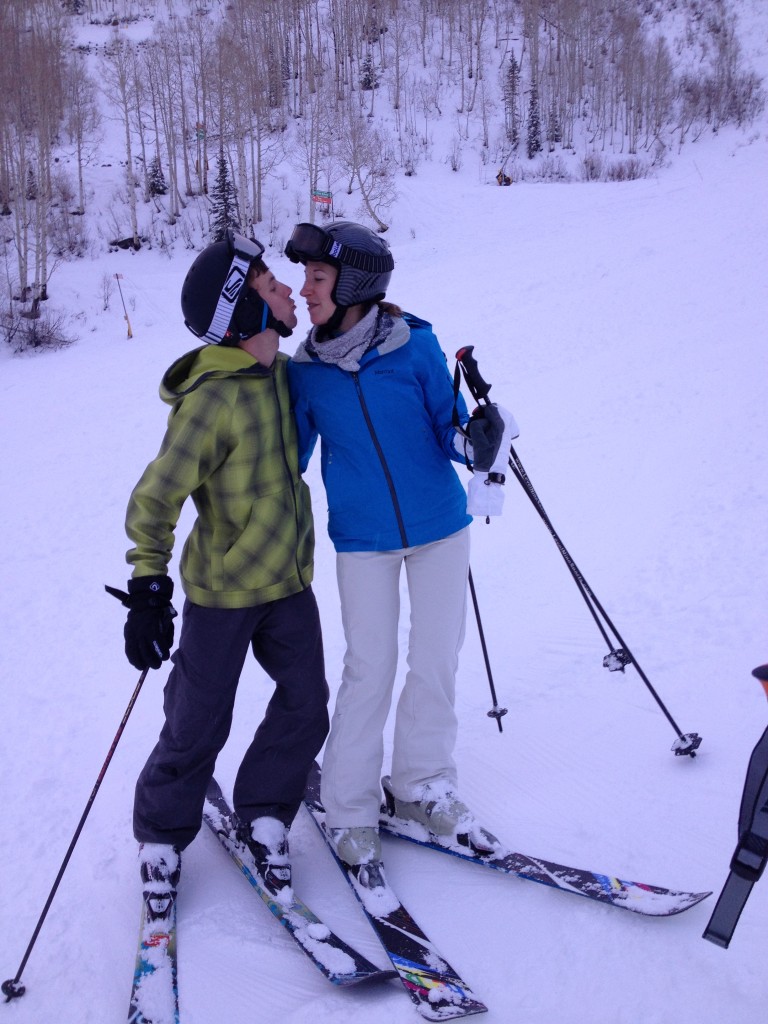 Pete and Suzanne made me jealous with their bright-colored ski pants. I think I may need to get some…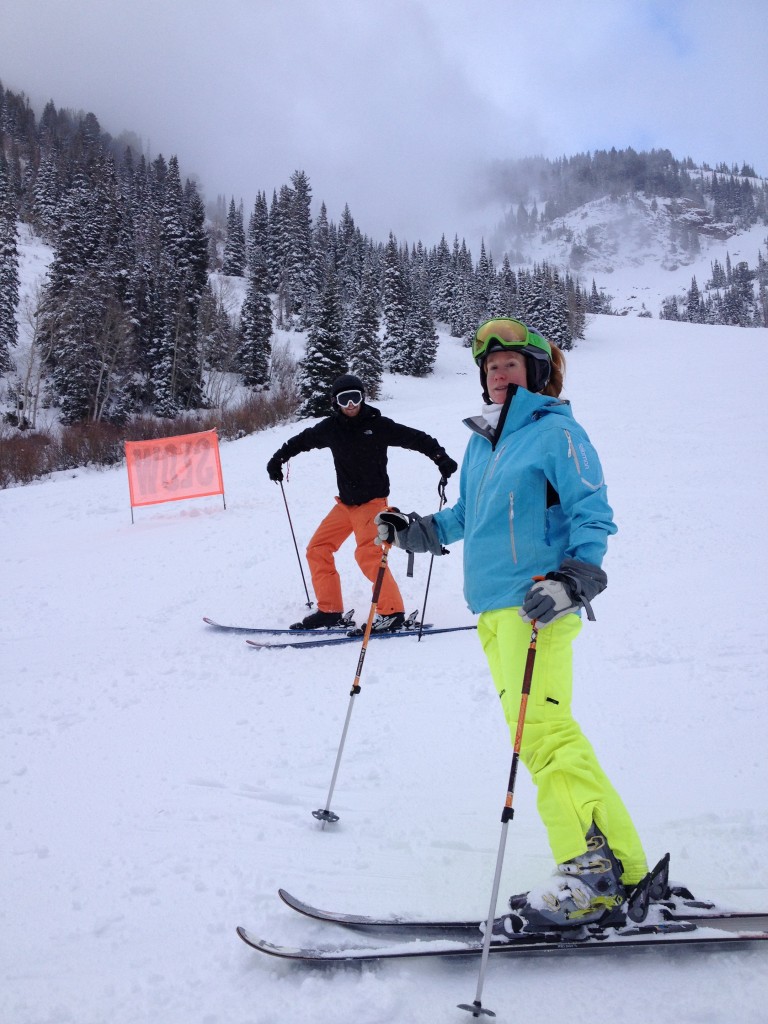 And we ended the day with beer and nachos up at Alta.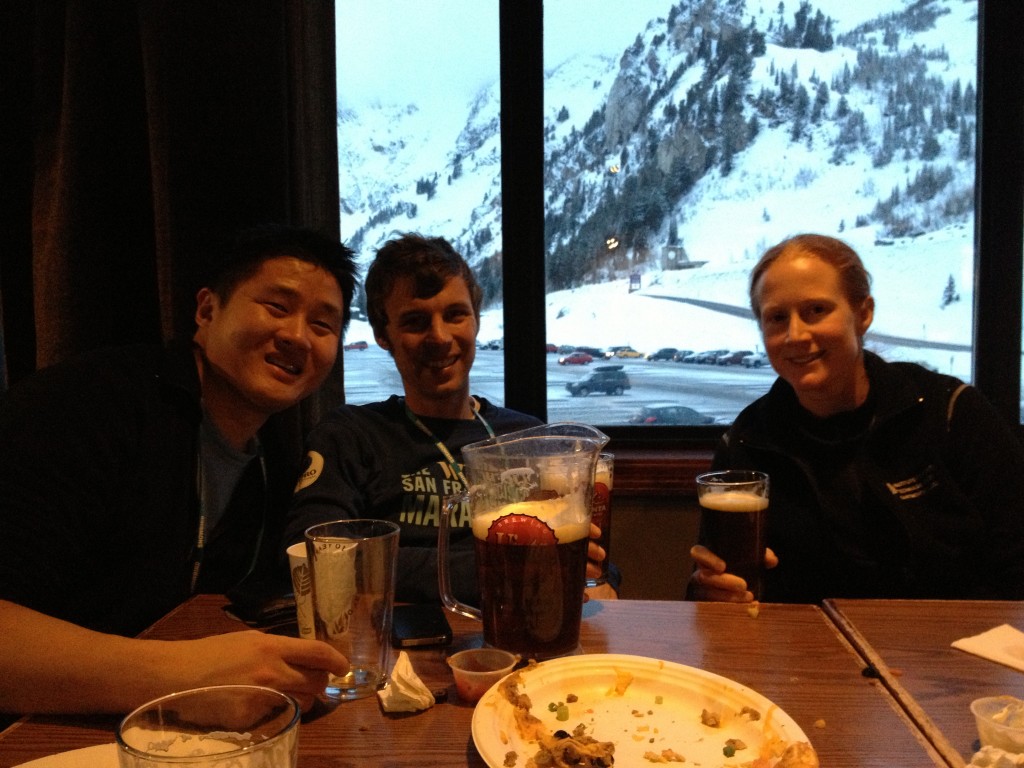 So I'm now realizing that my weekend could be summarized into "eating, skiing, and more eating." Yep. Pretty ideal, if you ask me. Let's do it again next weekend!
Anyway, speaking of eating, let me get back to the cranberry-orange tart.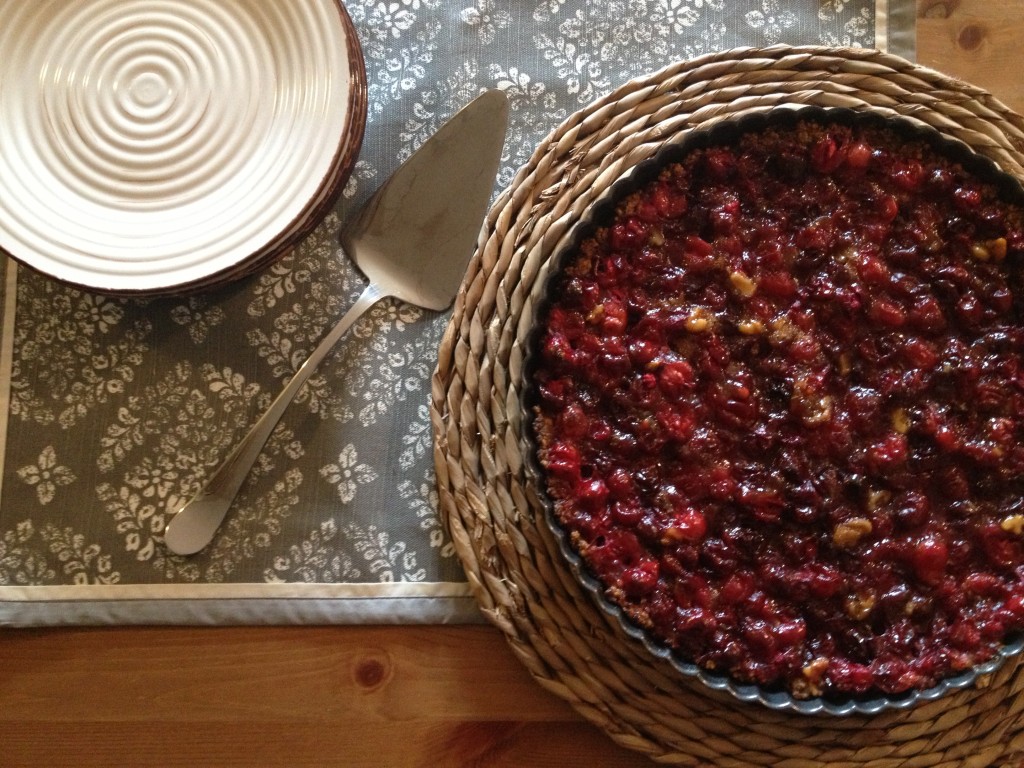 I didn't actually mean to make this gluten-free, but it ended up that way, so I'll take it! This tart has a crust made almost entirely out of walnuts, filled with a cranberry-orange mixture. It's kind of like eating cranberry sauce out of a nutty crust, to be honest. It's a pretty basic pie and is not too sweet, so it would make a good end to a rich, filling meal. Leftovers would also make a great breakfast the next day – a time-honored Foulser family tradition. :)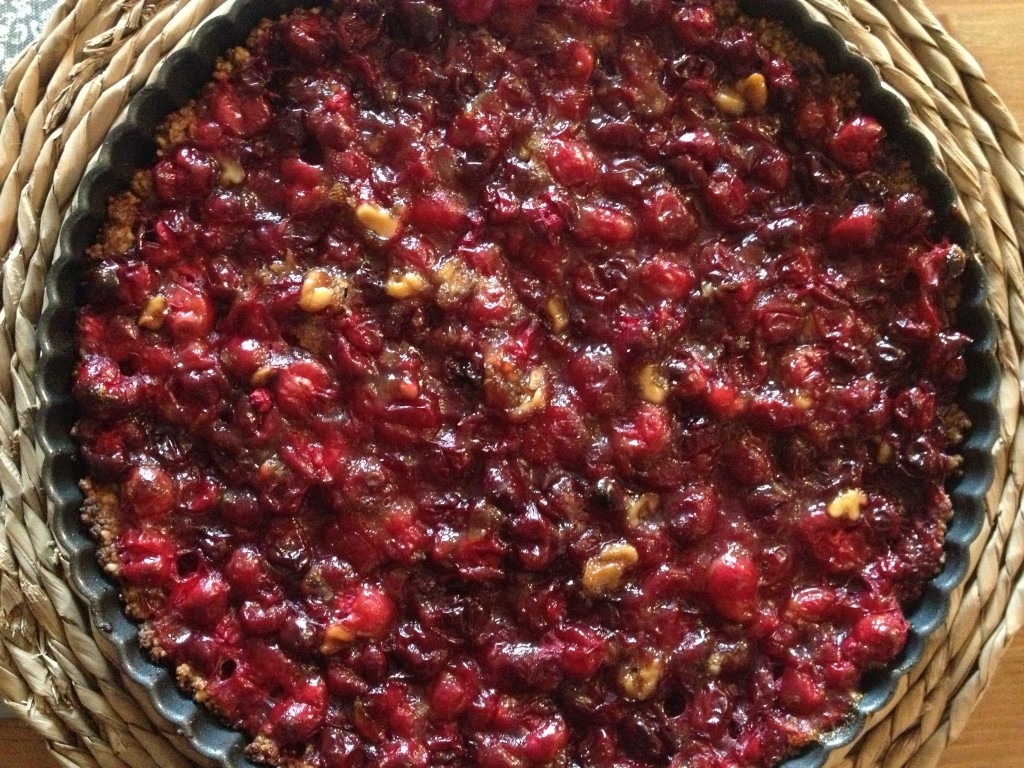 If you've never made a nut pie crust before, I highly recommend it. It's much easier than rolling out a traditional pie crust and adds extra flavor. As a bonus, it's a really easy way to go gluten-free. I've tried making regular pie crust before with gluten-free flour mixes, and never had very good results. So if you're baking with a gluten-free family member or friend in mind, give it a try. The walnut one below could be filled with chocolate or any number of other fillings. I might use it for a pumpkin pie on Thursday.

Gluten-Free Cranberry-Orange Walnut Tart
Ingredients
For the crust:
3 cups walnut halves
1 Tbsp canola oil
3 Tbsp maple syrup
⅛ tsp salt
For the filling:
juice of 1 orange
2 1/2 Tbsp cornstarch
1 (12-ounce) package fresh cranberries
½ cup maple syrup
1/4 cup orange marmalade
1 Tbsp grated orange rind
2 Tbsp chopped walnuts, toasted, plus extra for topping (optional)
Instructions
Pre-heat oven to 325 degrees.
In a food processor, process 3 cups walnuts to a find crumb. Remove to a bowl and mix with remaining crust ingredients. Mixture should hold together when pinched between two fingers, but not be too wet. Add some extra ground walnuts if it seems too wet, or a bit more maple syrup if it doesn't hold together.
Press into a tart or pie pan, taking care to press some up against the sides to hold in the filling. Bake for 10 minutes, remove and let cool on a wire rack before filling.
Increase oven temperature to 350. In a saucepan (without heat yet), whisk together orange juice and cornstarch. Now add the remaining filling ingredients. Heat over medium, stirring, until mixture is thick. This will take only a few minutes.
Spread evenly into prepared crust. Bake at 350 for 20-30 minutes, until crust is golden brown. Remove to wire rack and let cool completely before serving. Optionally, top with additional toasted walnuts once cool.
Notes
Filling adapted from http://www.myrecipes.com/recipe/cranberry-orange-tart-10000000522224/