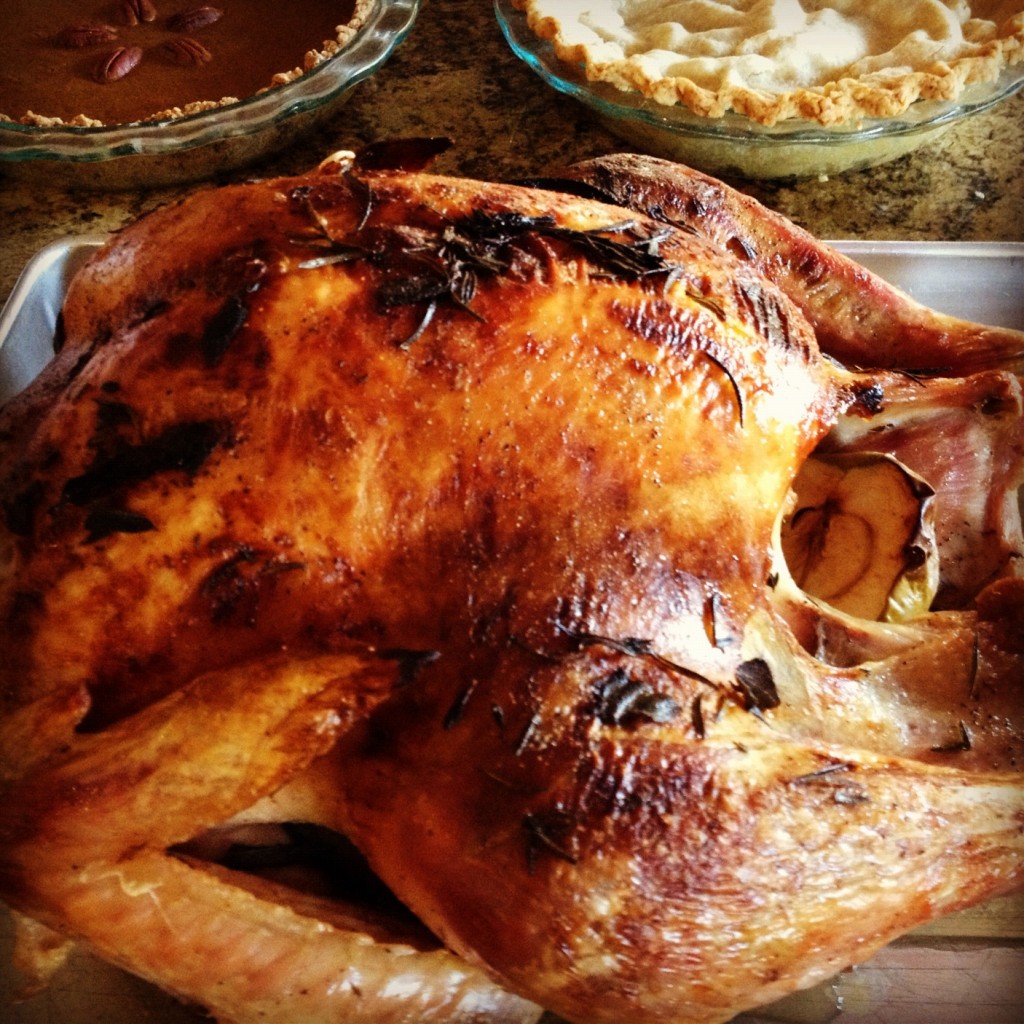 Well, that's a total lie. I can always eat more.
But I figured we could all use a break from the recipes today, right? We can get back to that business tomorrow. After a week of cooking and an extended weekend of eating, I'm finding it a little hard to get excited to get back in the kitchen. (I'm also finding it a little hard to get back to work.) I would rather just look at pictures and pretend I have another four-day weekend coming up. So how about a Thanksgiving recap?
So much food.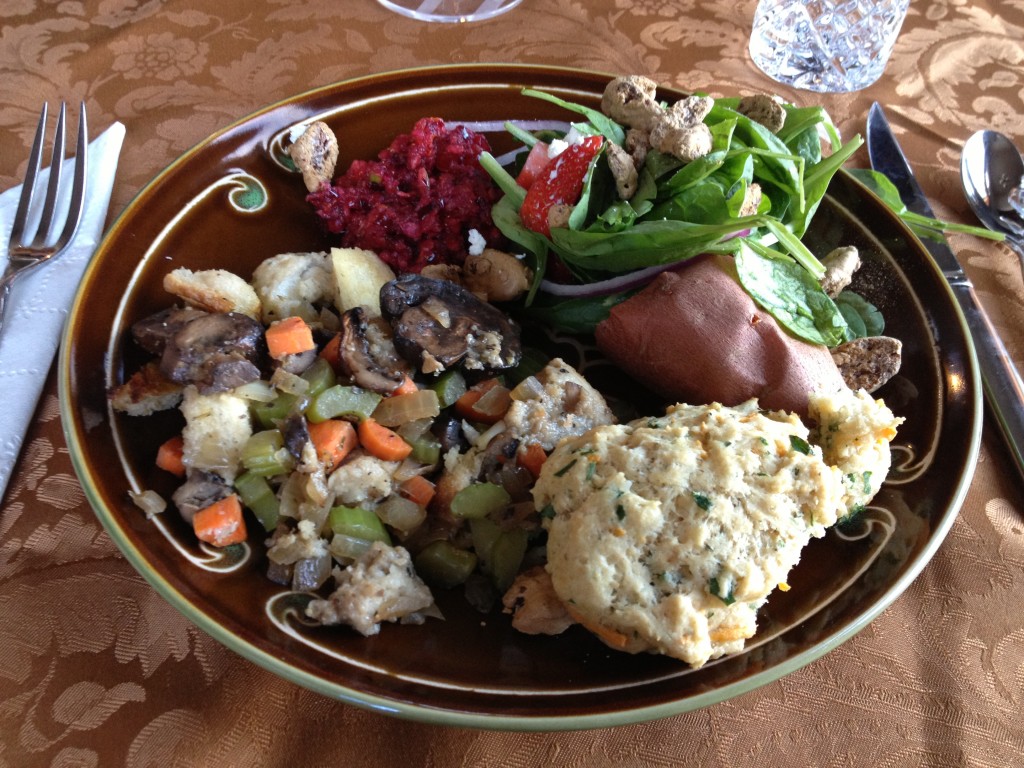 This was my first vegan Thanksgiving! I was determined to make it as easy on myself as possible by making tons of delicious vegan dishes. My contributions to Thanksgiving dinner were:
– roasted beet hummus from Cooking Stoned with veggies and pitas
– mushroom sourdough stuffing from Eat Live Run
– cheesy herb drop biscuits from Oh She Glows
– baked sweet potatoes
– apple pie and pumpkin pie from Pickles & Honey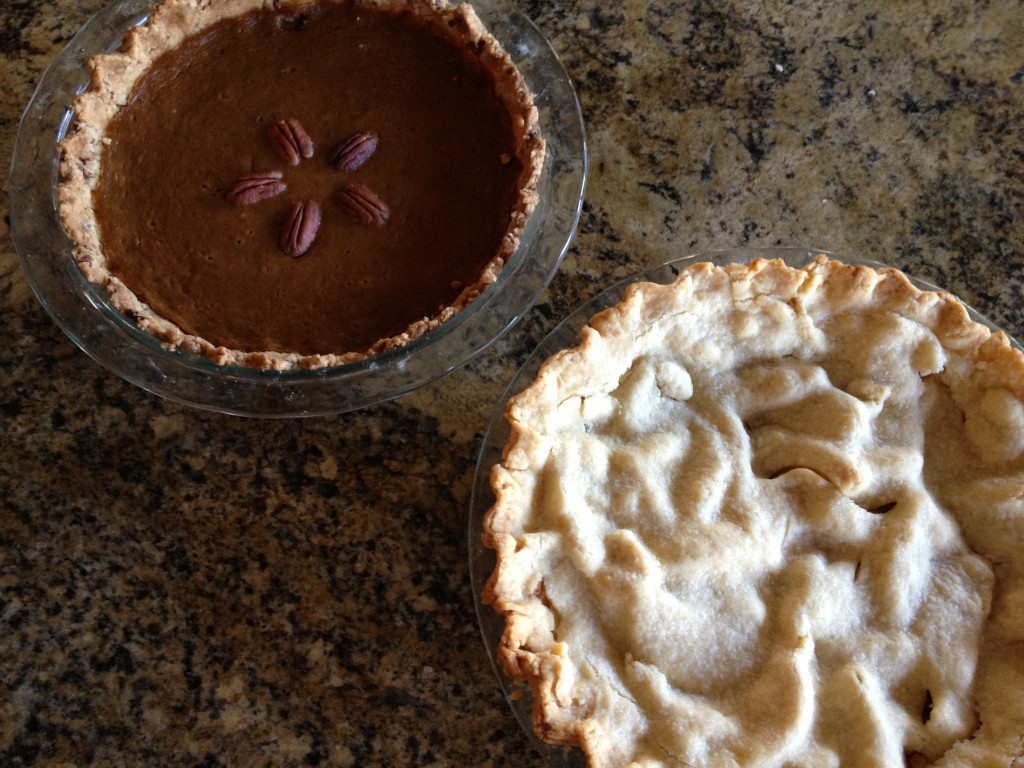 Everything was pretty good, if I do say so myself! We had an absurd amount of food. My friend Kate cooked a 22 pound turkey (which looked and smelled delicious!), and she and Pete did a great job carving it: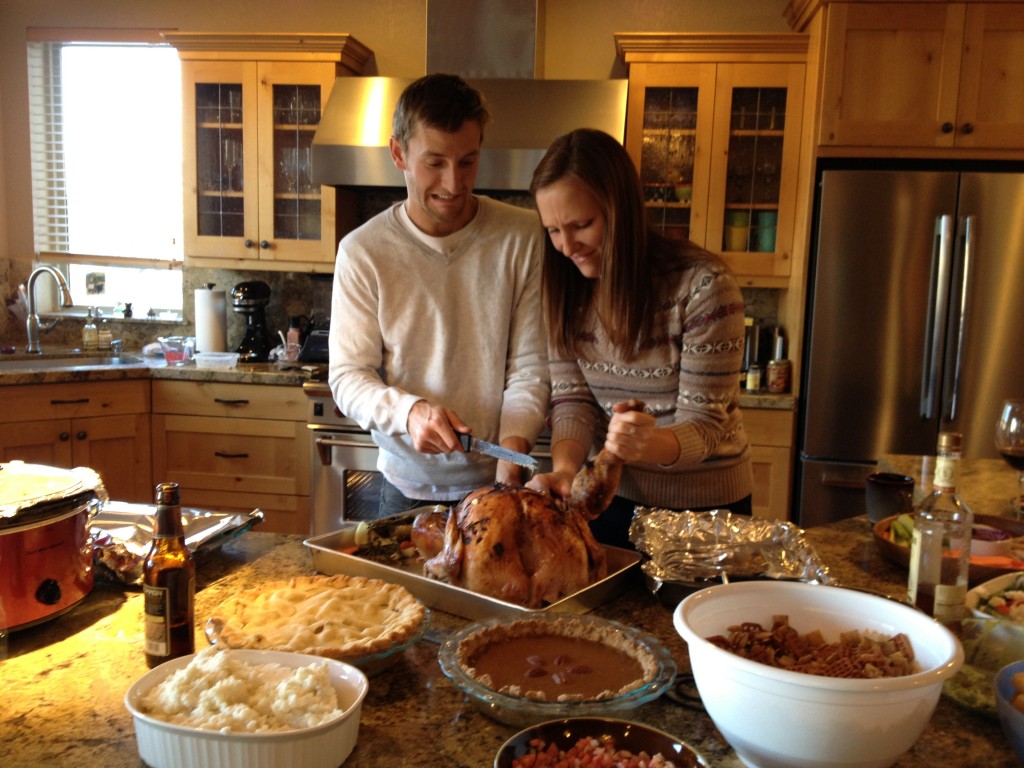 Hah! That's my absolute favorite picture of the night.
Anyway, Kate also made the gravy, a beautiful salad with homemade candied pecans, homemade Chex mix, guacamole, and cranberry sauce. Her friend Kristin made mashed potatoes, stuffing, a beautiful baked brie, and spiced hot cider. I'm sure there were other things I forgot, too! Check out the absurdity of our spread: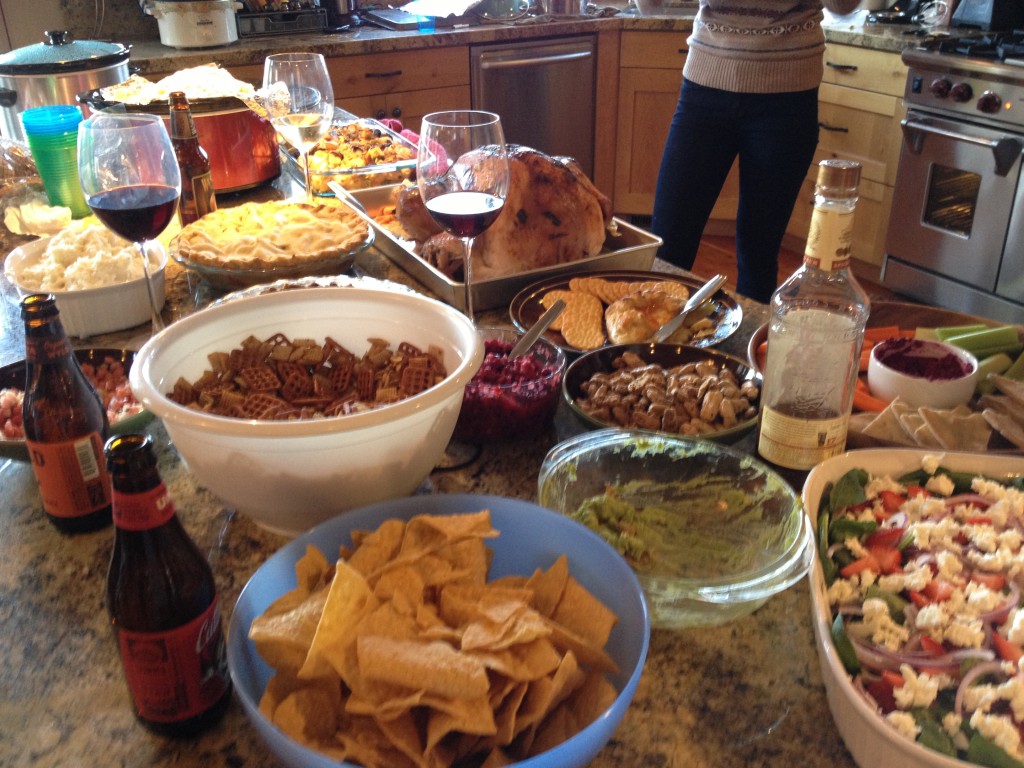 The food prep was not without drama, though. I mentioned on Thursday that my apple pie was a minor disaster. Welllll let me tell you what happened. Basically, I've never really been scared of pie dough like some people are, although rolling out a double crust is generally a little more effort than I like to put in. I usually mix my crust by hand, but having recently bought a food processor and heard how amazing it is for pie crusts, I decided I would use it to save a few minutes. It was also my first time making a crust with vegan butter. I should NOT have tried two new things at once. I ended up making the crust way too wet and doubling the recipe without realizing it, which led to a thick and doughy crust: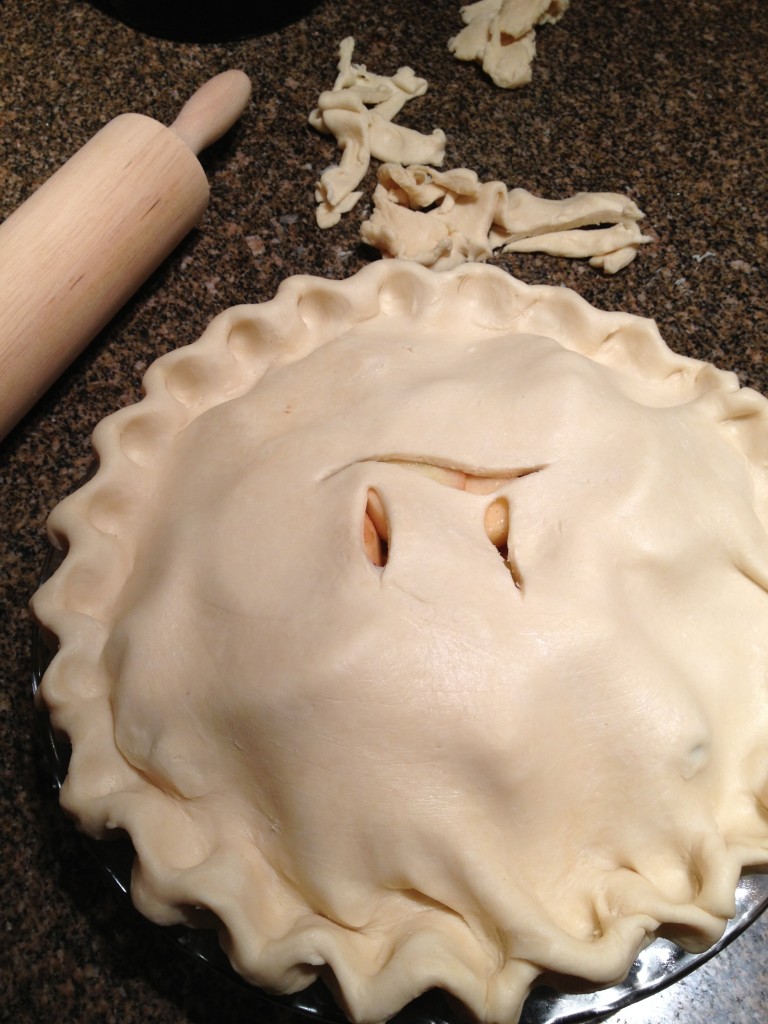 Then, to make matters worse, I forgot to dot the apples with butter before I put the top crust on. I was convinced the pie was ruined. I agonized about it for a while before I made a trip to the supermarket and bought ingredients for a new pie. That might sound ridiculous… OK, it was a little ridiculous… but I know people think the vegan thing is kind of weird, and I definitely didn't want anyone's first experience with vegan pie to be disappointing in any way. It turned out the "reject" pie was actually not bad at all – we ate it the whole rest of the weekend. I'll call it a win – extra leftover pie can't possibly be a bad thing.
So that made Thursday morning a little crazier. In addition to the stuffing and biscuits I had planned to make, I was also making a second apple pie. So much for my carefully drawn out plans!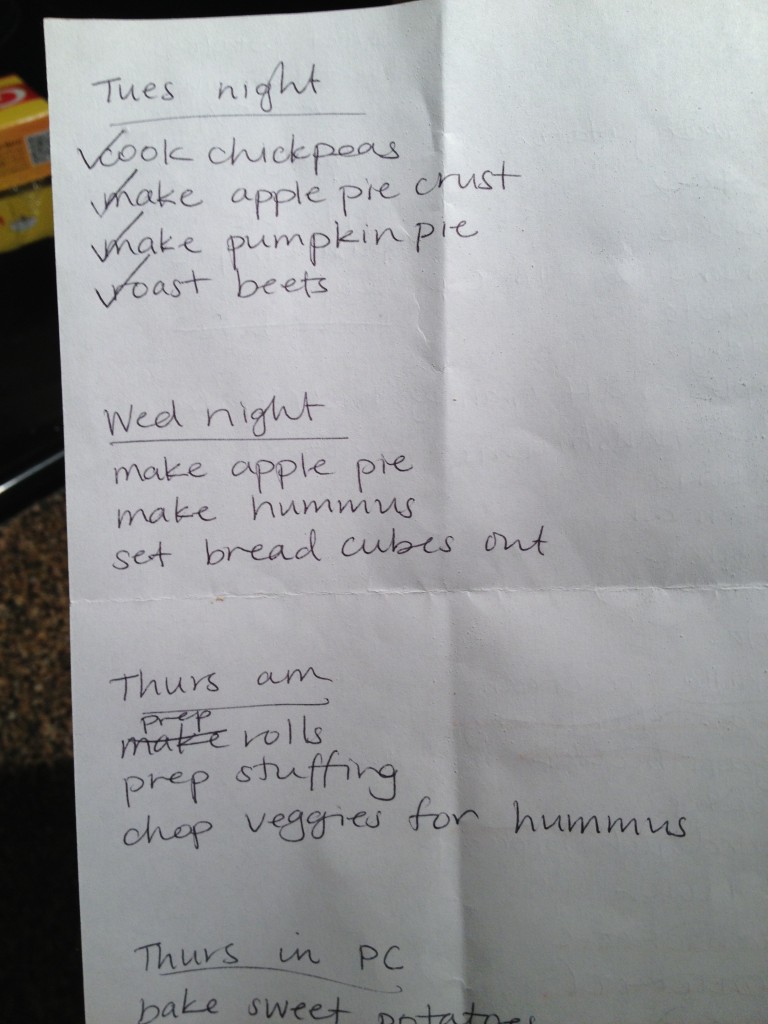 This time I overcorrected a little on the crust and probably could have added another tablespoon of water. Whatever, it was extra flaky. And I made sure to add that butter before closing up the pie!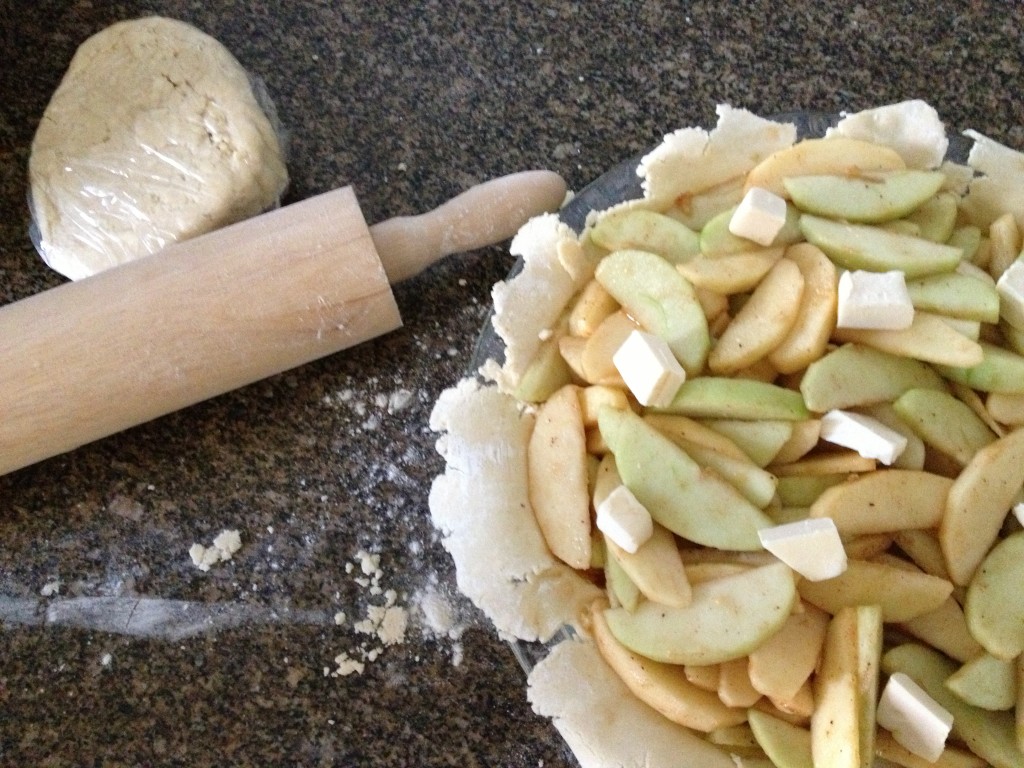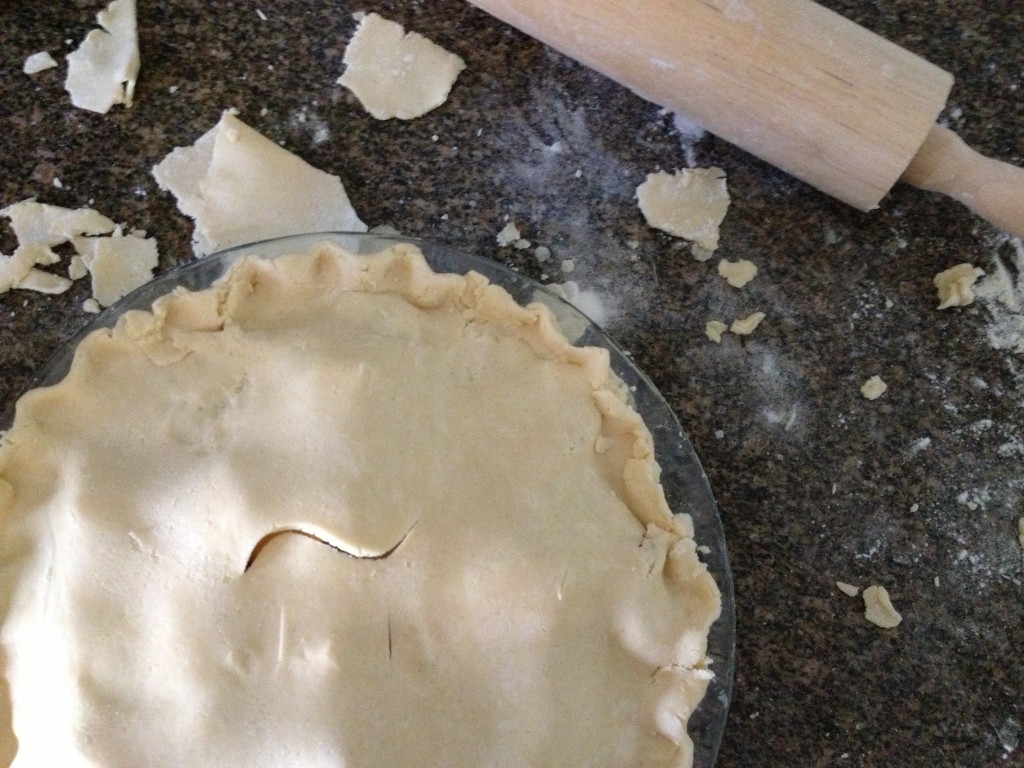 Also, make sure to note the pi sign on the pie… har har har. My dad started that tradition!
My hand was sore all weekend from peeling and coring all the apples… seriously.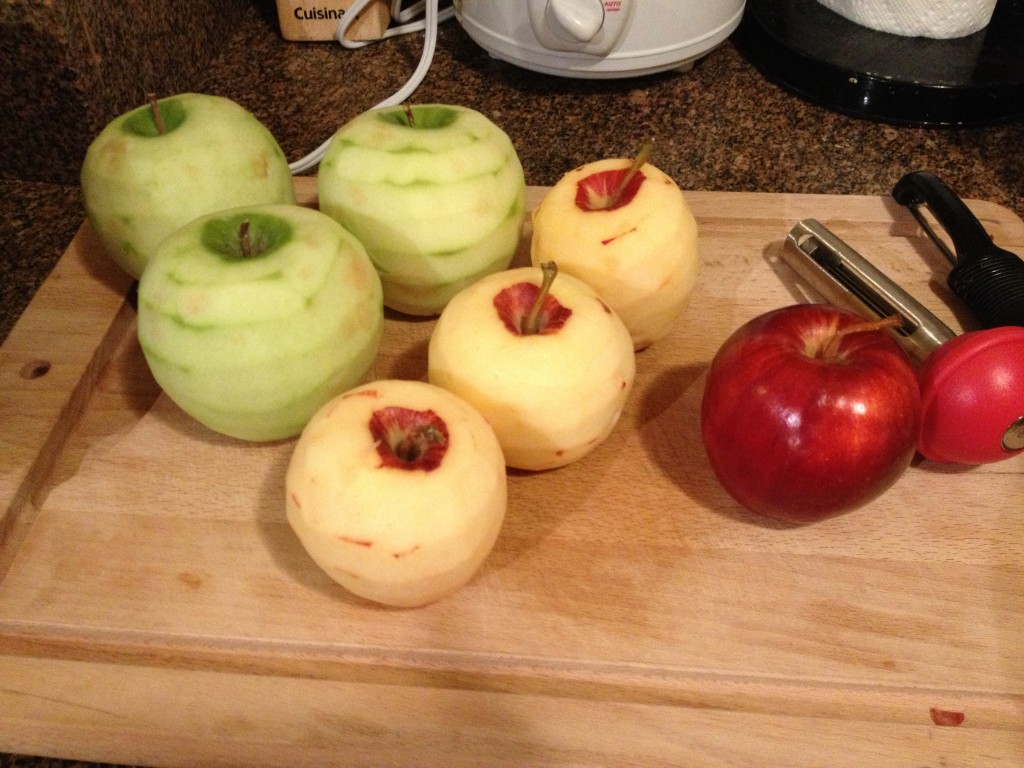 I escaped with only one addition to my collection of forearm burns, although I think Kate ended up with a few more from the turkey. That was it for holiday drama, fortunately. Once our umpteen dishes were ready, we ate…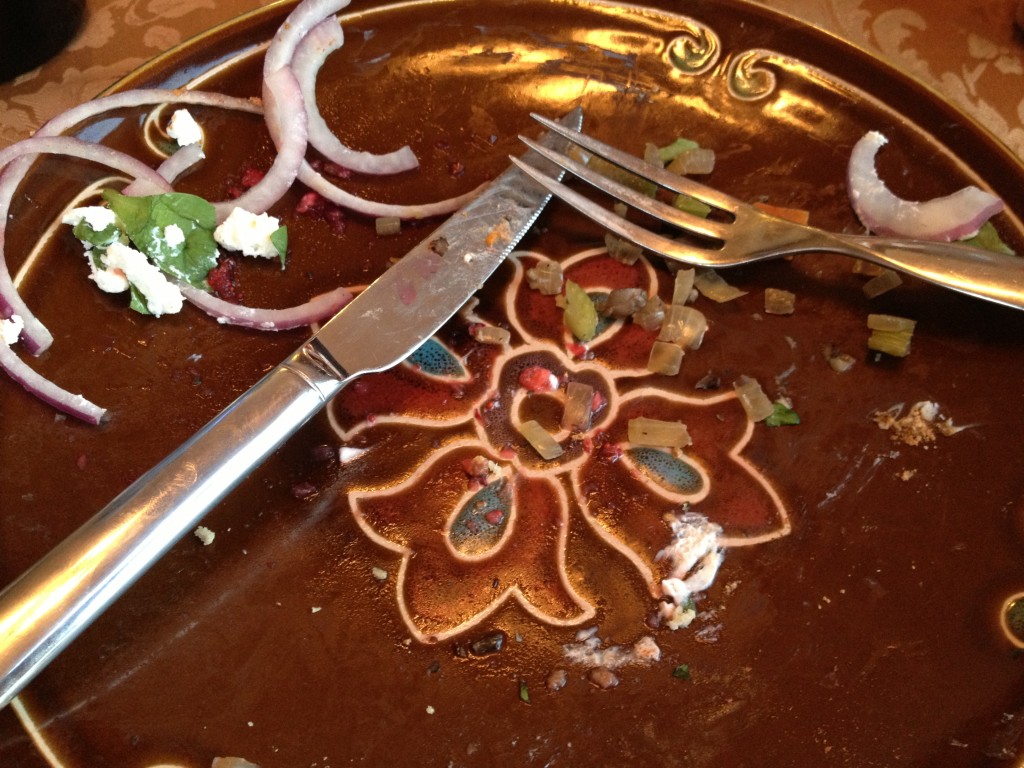 …the boys watched football…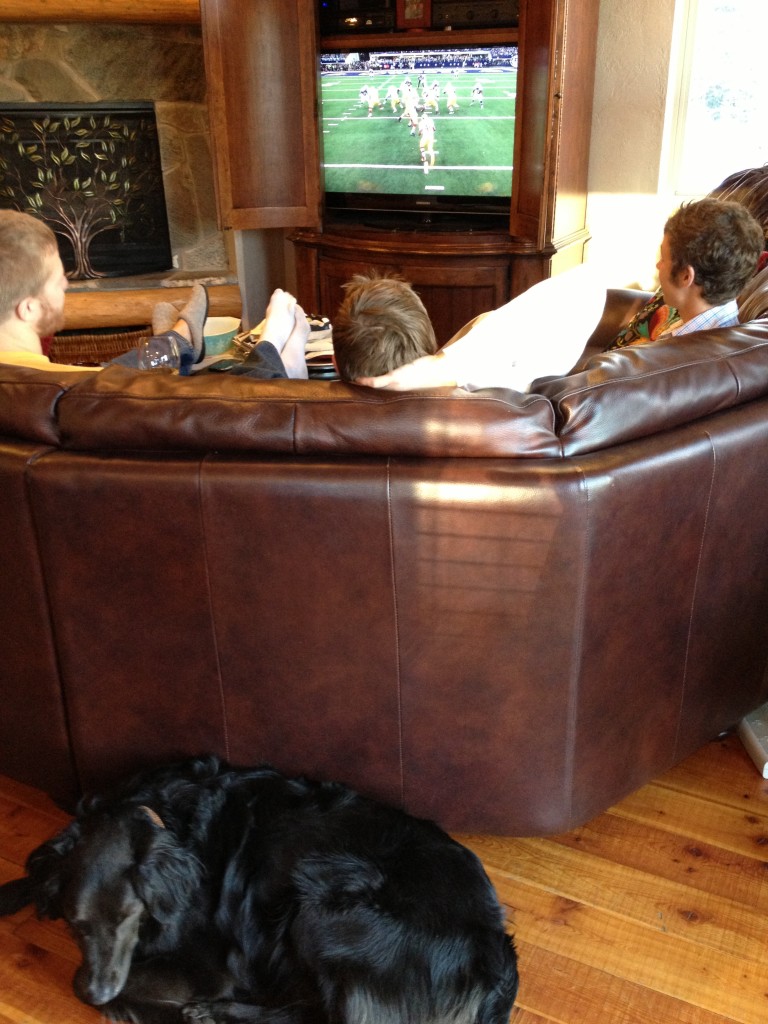 …and I fell asleep on the couch once the Pats were up 28-0 and may or may not have been out for the next 3 hours. We played Jenga…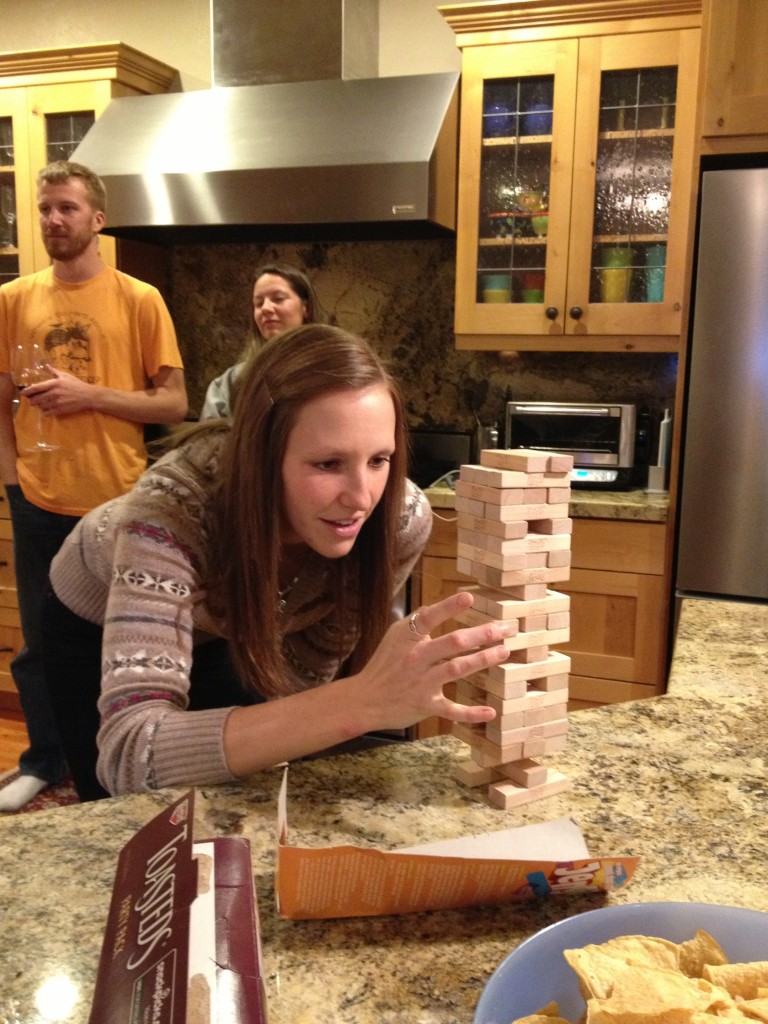 …and watched the Adjustment Bureau and part of The Descendants., followed by Megamind (a surprisingly good movie!) the next morning. We definitely got our share of movies in this weekend! Perfectly relaxing.
We had such a good time celebrating Thanksgiving with friends! I was proud of us girls for doing so well with the food. Does that mean we're finally adults? I guess I have to admit that we are.
Other weekend activities included watching more football, shopping, lots of pie eating, even more football, running (!), skiiing, oh did I mention football? and demolishing all of our leftovers. It was a great long weekend! I have to say I didn't do much cooking after the craziness of Thanksgiving prep, so this week may be a little light on recipes. Forgive me? I'll get back into the swing of things soon!
Hope you had a great holiday weekend!