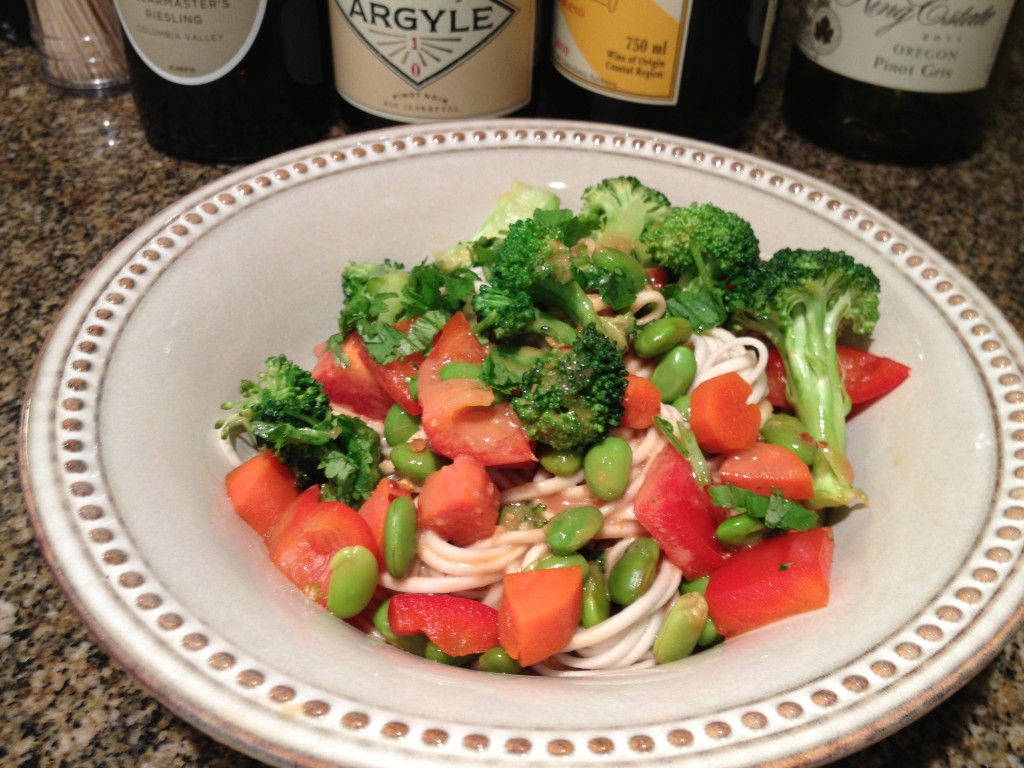 Good morning. How was your weekend?
Mine was SNOWY.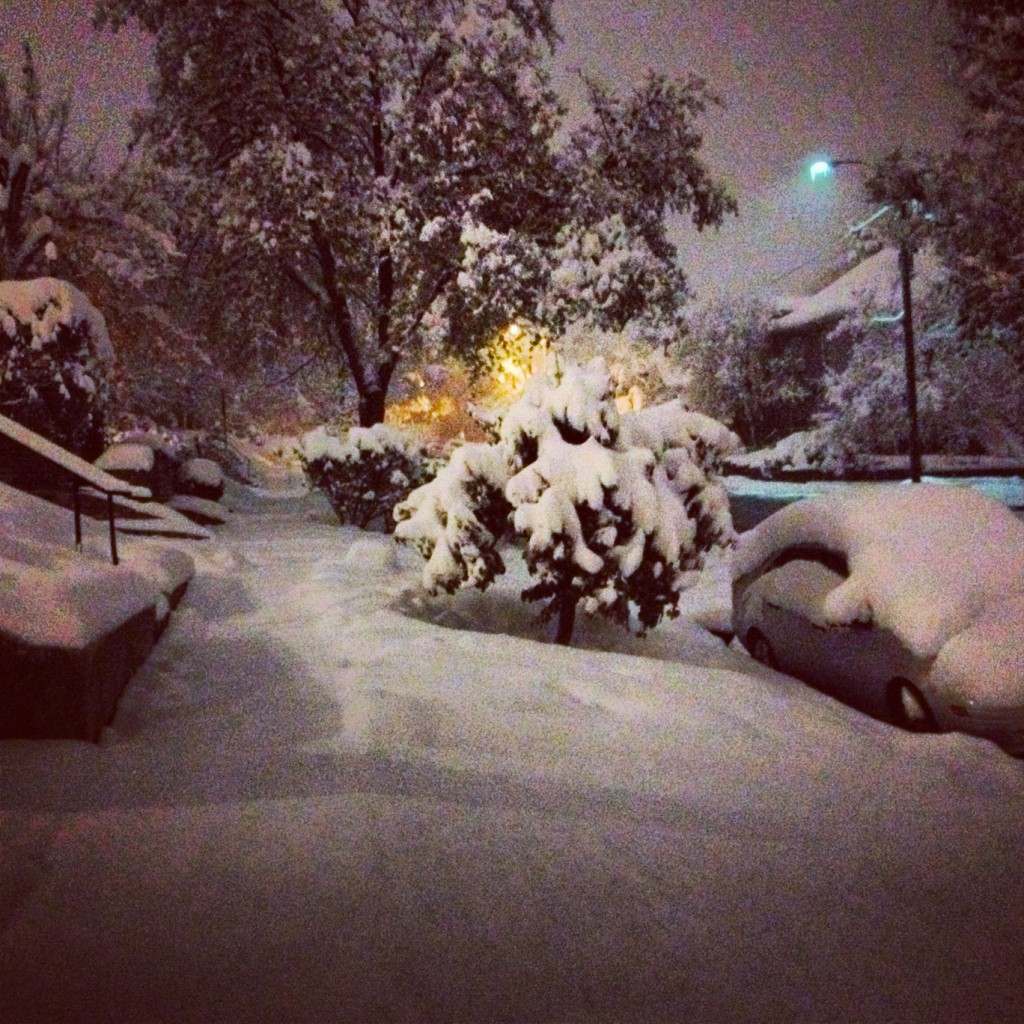 We got over a foot of snow here in Salt Lake, and about 4 feet up in the mountains! That means skiing next weekend for sure. Hooray!
Friday night Nate and I braved the storm to go out for dinner at Sage's Cafe, our favorite vegan restaurant (slash only vegan restaurant we've tried) in Salt Lake.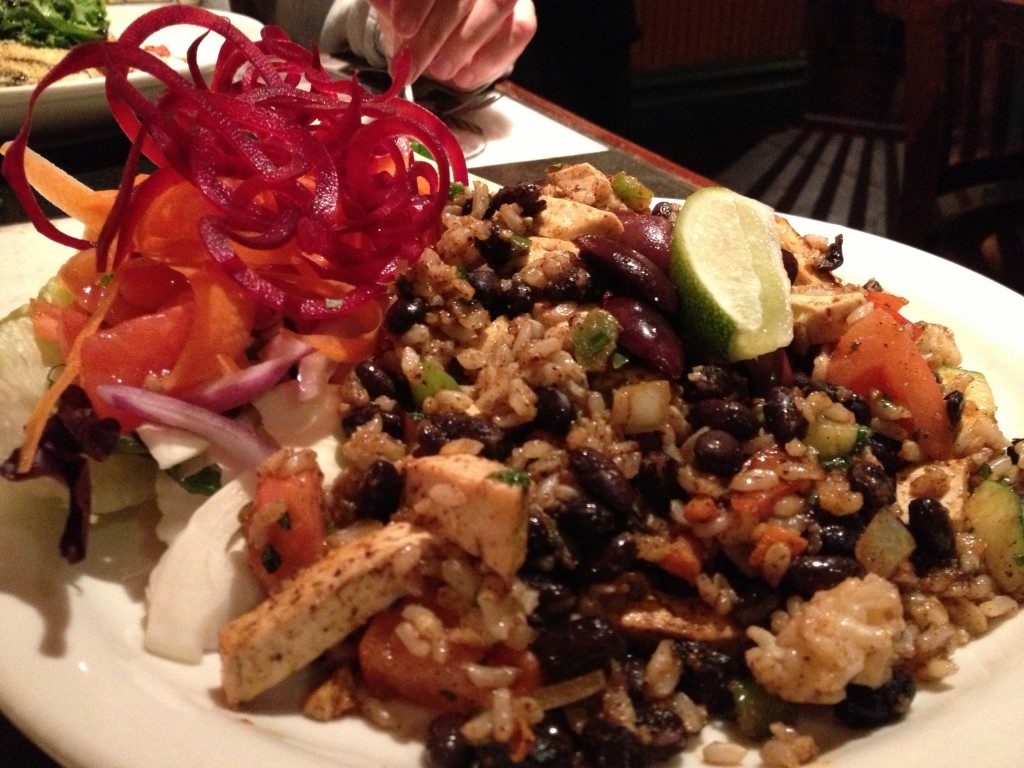 We ate so much food! We split the bruschetta to start. This is my entree, the picadillo vegetariano. It was delicious and full of spices – I will definitely be recreating it at home sometime soon. Nate got a pasta ragout special that was also yummy. And then we had dessert – brownie and ice cream with peanut sauce for me, chocolate raspberry cake for Nate. We should have split a dessert… mine put me over the edge!
It snowed pretty much the rest of the weekend, so I holed up inside and cooked and baked up a storm. So much fun! And also very tiring. But it means I have plenty of food to share with you this week! Luckily I did bundle up and make it to yoga and the gym, although it was still probably not enough activity to offset all the sampling I did while cooking :)
Speaking of cooking, let's get to the recipe part of this post.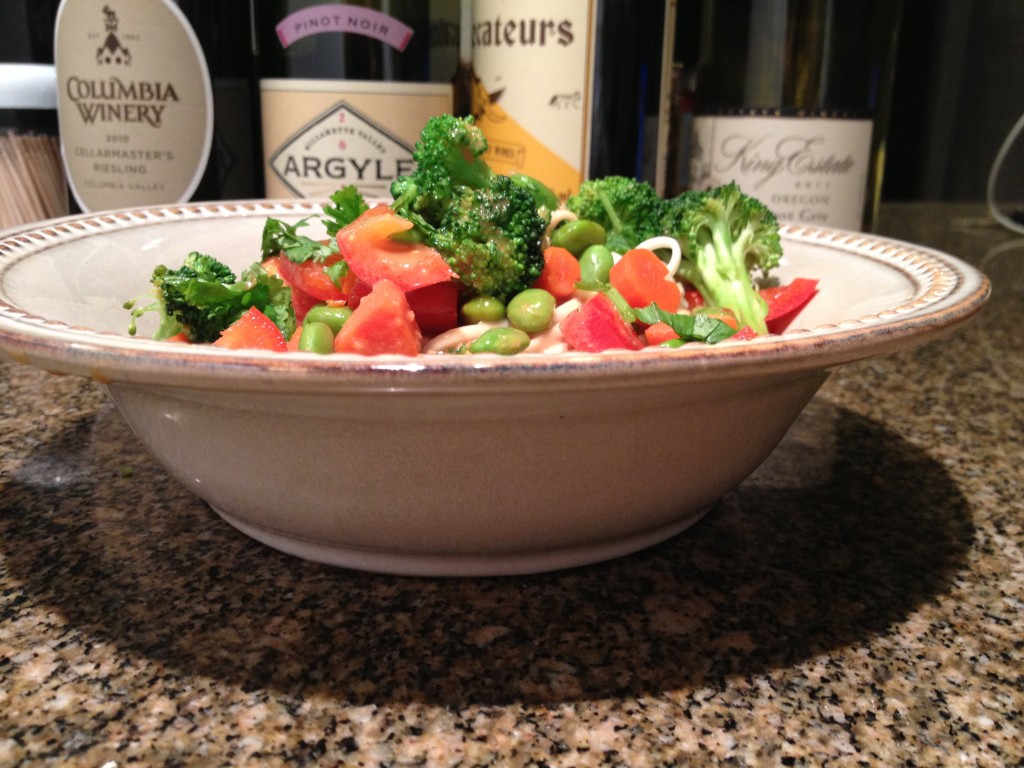 These noodles actually weren't part of my weekend cooking extravaganza; I made them last Thursday night. Healthy, tasty, and ready in 20 minutes flat – if that's not a recipe for weeknight success, I don't know what is! They are my favorite thing to whip up when I get home in the dark after work and yoga and we have no leftovers and I am HUNGRY. And the best part is that while I'm at it, I get to use up any extra vegetables that are lurking in my crisper causing guilt.
There's really no wrong way to make this dish. I usually aim to have about equal parts noodles and vegetables. You can throw any veggies you like in here, and even better if they are ones that often appear in Asian dishes (I happened to have broccoli, carrots, a red pepper, and some frozen edamame this week). You can also add cubed tofu in for protein, which I usually do but forgot this week. Roasted peanuts and green onions on top are also yummy if you have those lying around. But what reallllly makes this dish is  the sauce! I love love love peanut sauce and could eat it on pretty much anything. Thank goodness Nate feels the same way!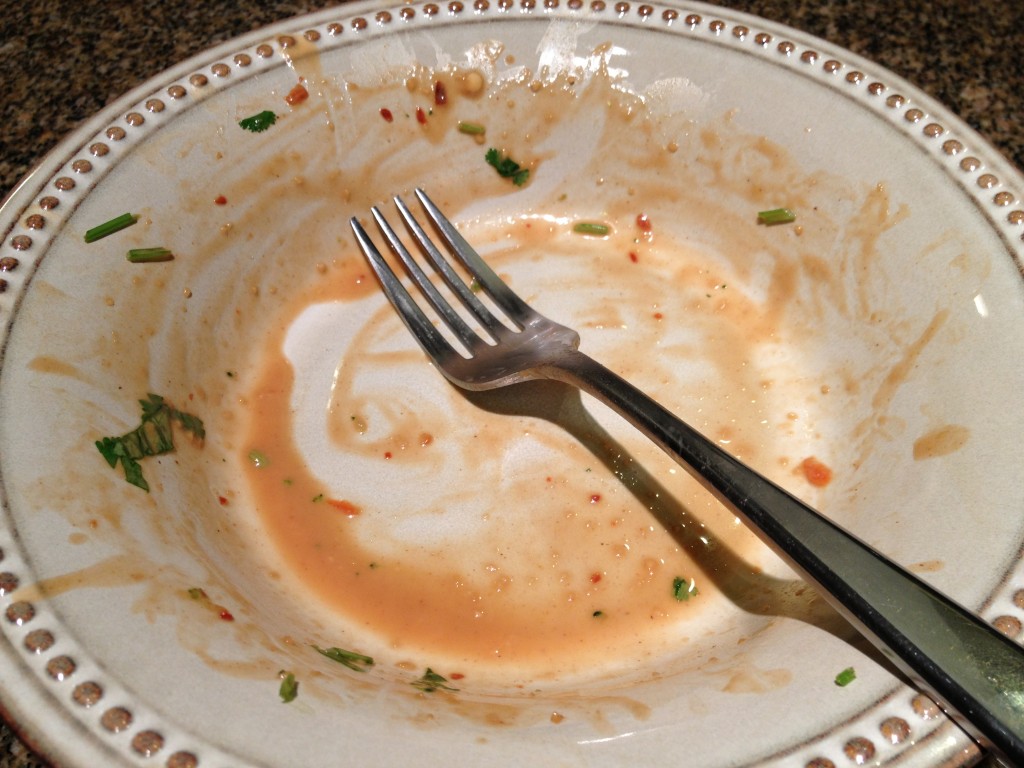 Gingery Peanut Soba Noodles
This perfect weeknight meal is healthy, tasty and ready in 20 minutes flat.
Ingredients
5 oz soba noodles
8 oz extra-firm tofu, cubed (optional)
Chopped vegetables - I used:
1 red bell pepper
2 carrots
2 crowns broccoli
1 cup frozen edamame
1 Tbsp reduced sodium tamari or soy sauce
1 tsp sesame oil
Sauce:
1 knob ginger, chopped or grated (about 2 Tbsp)
1/2 cup peanut butter
2 Tbsp rice wine
1/3 cup reduced sodium tamari or soy sauce
1/3 cup warm water
2 tsp sesame oil
2 tsp honey
1/2 tsp red pepper flakes
chopped fresh cilantro for sprinkling
Instructions
First, prep the vegetables, ginger and optional tofu. (If I don't do this first, I tend to let the noodles cook too long.)
Next, heat water for the soba noodles. Once boiling, add noodles and remove from heat. Let soak for several minutes, until tender but not mushy. This really takes almost no time at all, so keep a close eye on them! Strain and rinse in cold water, then set aside.
Heat a large pan over medium-high heat. Once hot, add vegetables and saute for 2-3 minutes. Stir in tamari, sesame oil, and optional tofu and continue sauteing a few more minutes until tofu is heated through and veggies are slightly softened.
While vegetables are sauteing, mix the peanut sauce. Add all sauce ingredients (ginger through red pepper flakes) to a small bowl and (ideally) blend with an immersion blender. Whisking will also work fine - just make sure to chop the ginger as finely as possible beforehand.
To serve, divide soba noodles among individual bowls. Add vegetables and top with peanut sauce and cilantro. Enjoy with a big mug of green tea!
Notes
Peanut sauce from Eat, Live, Run http://www.eatliverun.com/peanut-soba-noodle-bowls/
Have a good start to your week!