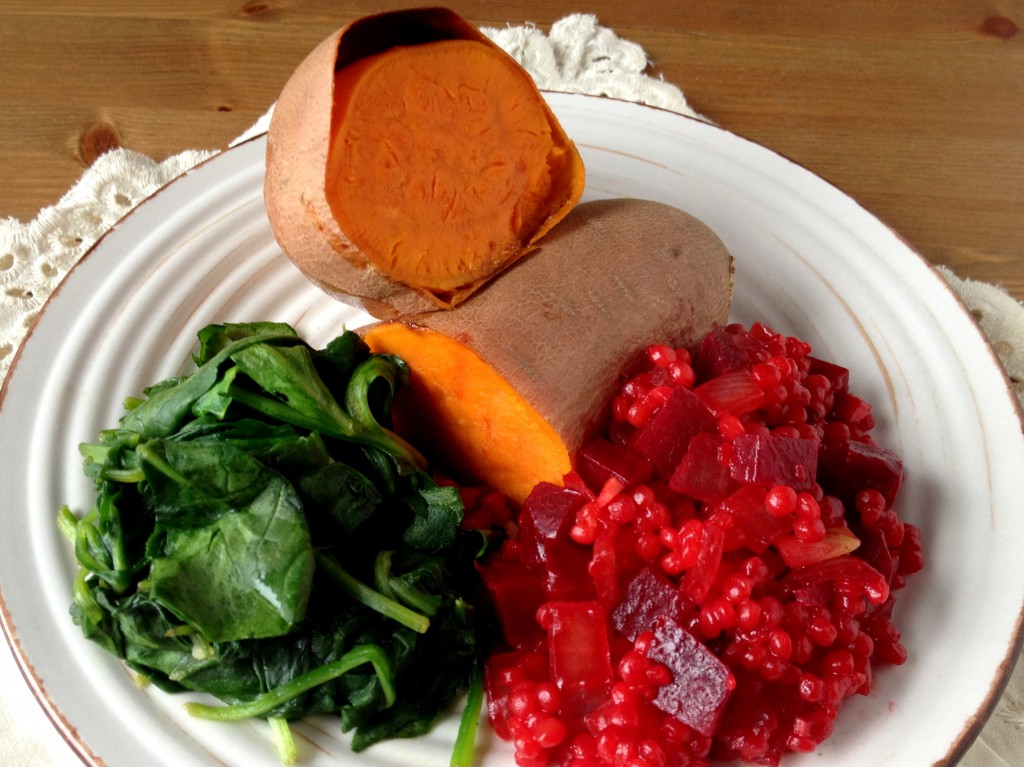 Second installment in this week's series of "maybe you don't have your Christmas dinner planned yet" posts: Christmas couscous.
How pretty and festive is this?!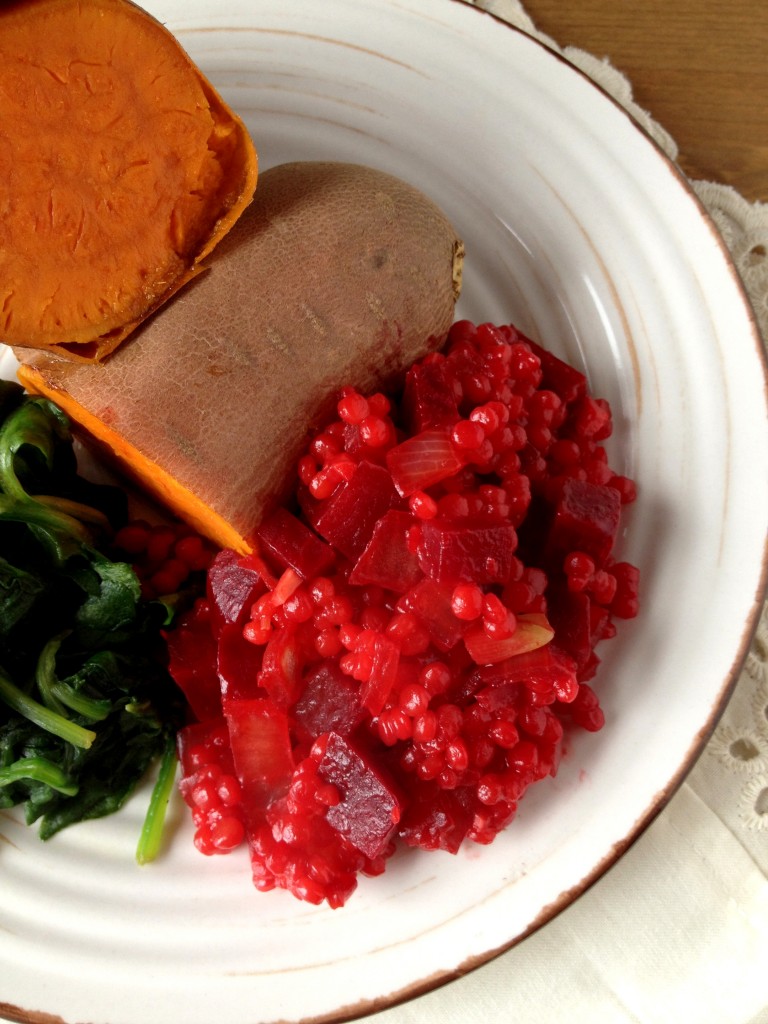 This couscous is all my mom's doing. She has served it as a Christmas side dish a few times now, and it's my faaaaavorite. It's all about the colors.
Beets and onion are cooked in with Israeli couscous, turning everything bright pinkish red. Pretty colors + only one pot = win.
Not only does this dish look festive, but Israeli couscous is kind of appropriate to Christmas if you think about it… right? Bethlehem couscous?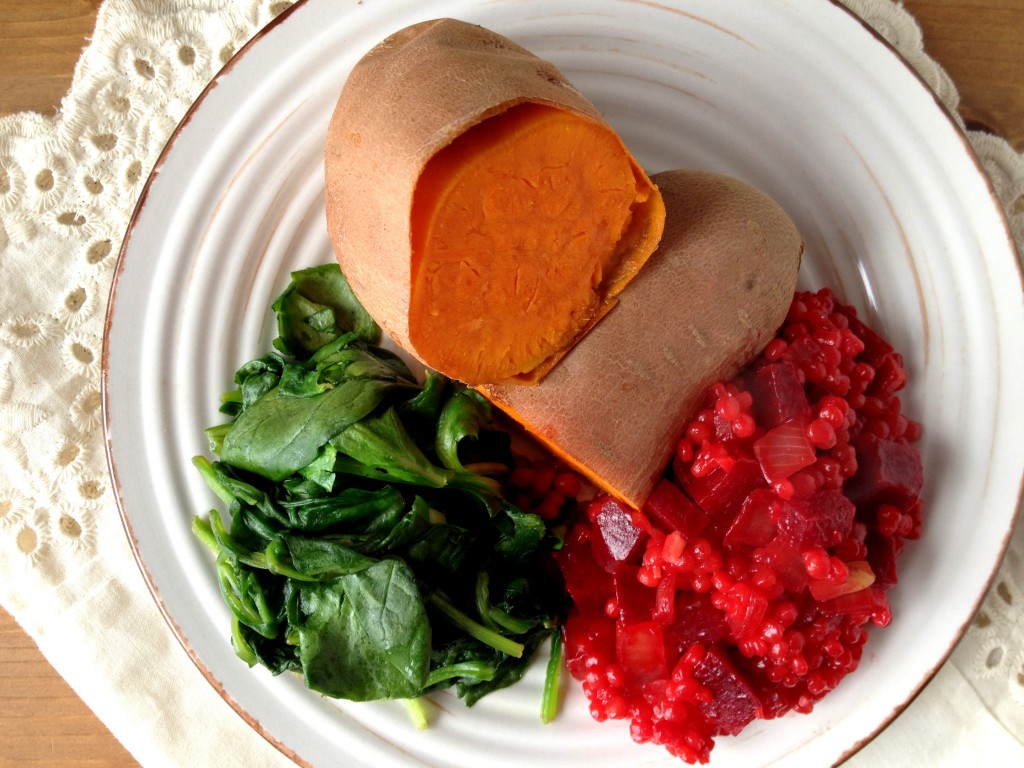 (I just made that up right now. Let's forget it and focus on the pretty food.)
This also makes a delicious non-holiday meal as pictured – served with sweet potato and sauteed spinach. Now that's my favorite. And good thing. Because did I mention that Nate is away all week? Guess what I'm eating for lunch every day.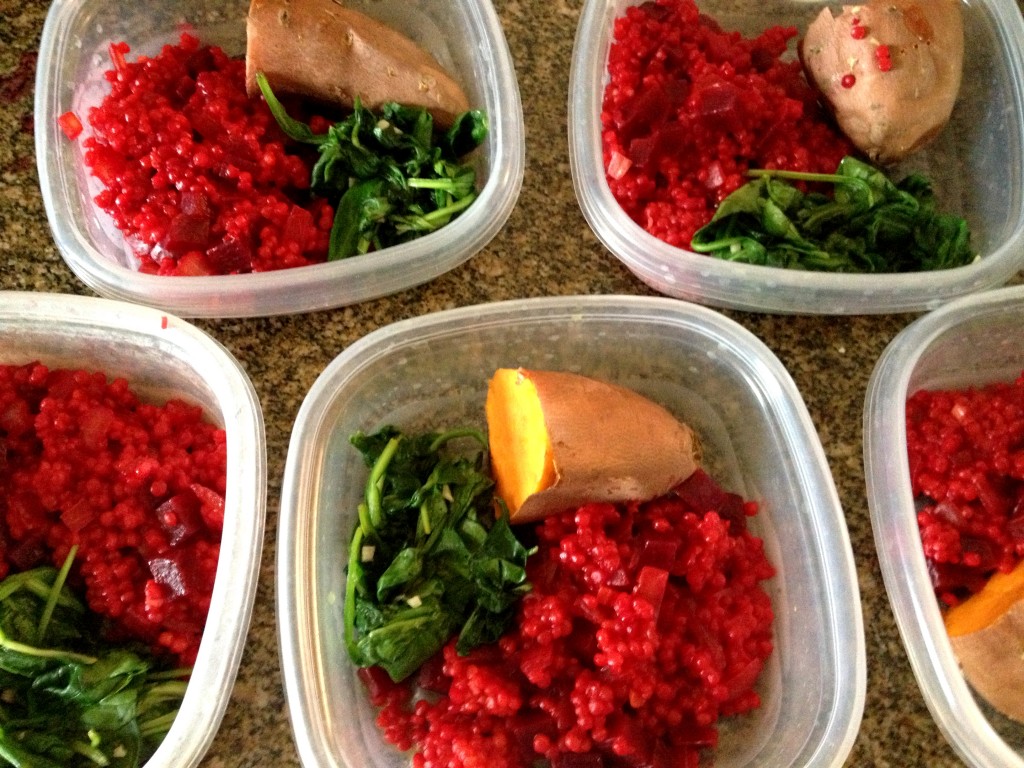 Miiiiine… all mine.
Christmas Couscous
Serves 4-6
Ingredients:
1-2 Tbsp olive oil
1 clove garlic, minced
1/2 onion, diced (yellow or red will work)
1 pound beets (about 2 medium-sized or 3 baby beets), peeled and chopped into 1/2-inch pieces
1 cup Israeli couscous
1 1/4 cups water
1/4 tsp kosher salt + more to taste
pepper to taste
Instructions:
Add the olive oil to a small-ish pot over medium heat. Saute the garlic and onion until soft but not brown. Add the beets and saute for about 3 minutes. (This ensures that they'll be done at the same time as the couscous.)
Stir in the couscous, water and salt. Simmer for 8-10 minutes, until the couscous is fluffy and the beets are tender. Add pepper and additional salt to taste.
Serve hot!
Time:
20-25 minutes