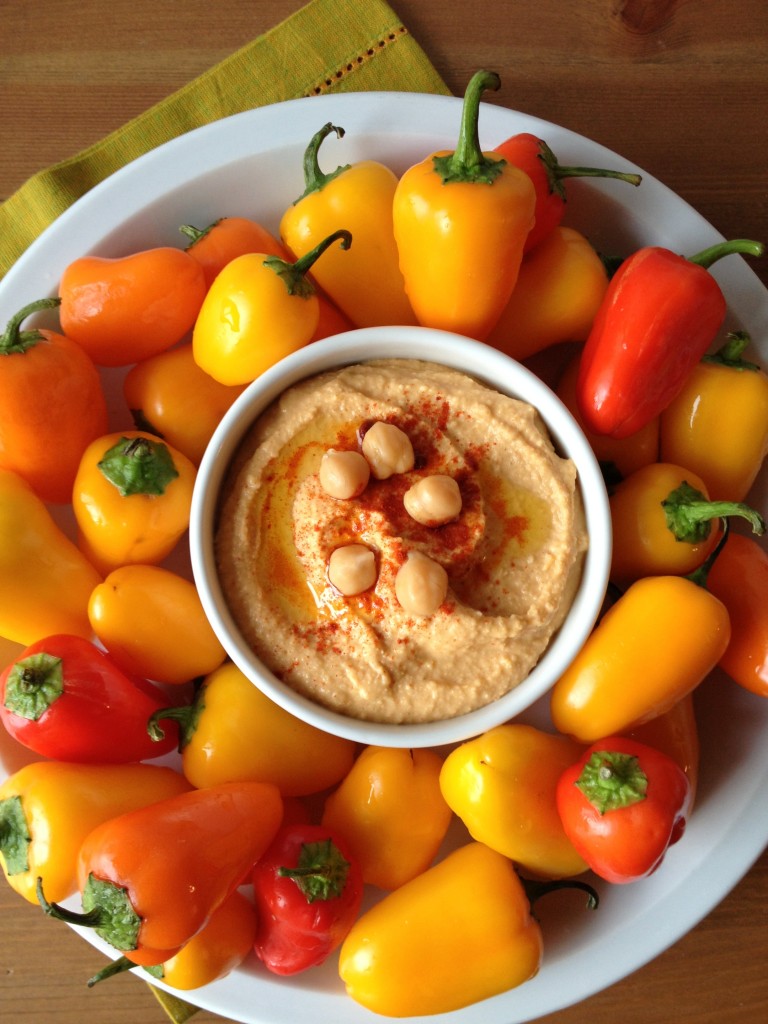 And now for something not at all Christmas-themed. Because it's yummy and I couldn't resist sharing.
I've discovered the secret to creamy homemade hummus. Only 3.4 million people got there before me.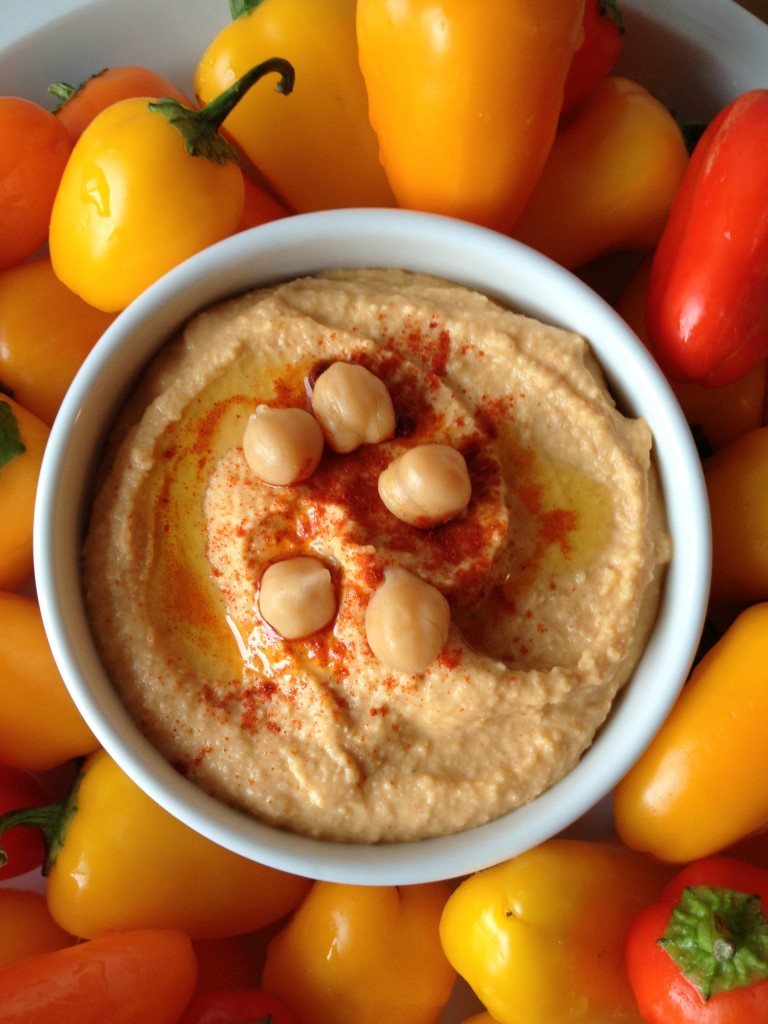 Have you made hummus before? It sounds easy to do – add all ingredients and process until smooth – and it was one of the things I was most excited to make when I bought a food processor a few months ago. Then I tried to make it myself and… ugh. It was just nothing like the creamy-textured stuff I love to buy. It was dense. I was bummed.
So I made my usual assumption for things that taste delicious when someone else makes them and terrible when I do: the stuff from the store/restaurant/wherever probably has oil/butter/other bad stuff by the POUND, and that's what makes it taste so good. (This is usually a fair assumption… Sometimes I think that when something at a restaurant tastes good, I should refuse to eat any more. It's probably too unhealthy! Life is just so unfair.) Well naturally I just continued buying hummus from the store. Sigh. The homemade stuff really was horrible.
But I didn't want to give up on one of my favorite foods, and something other people seem to love making at home! It turns out, all it took to set me straight was Googling "creamy hummus," which I did the other day. Should have done that before. 3.41 million results. I looked through about 3 of them and quickly learned the secret…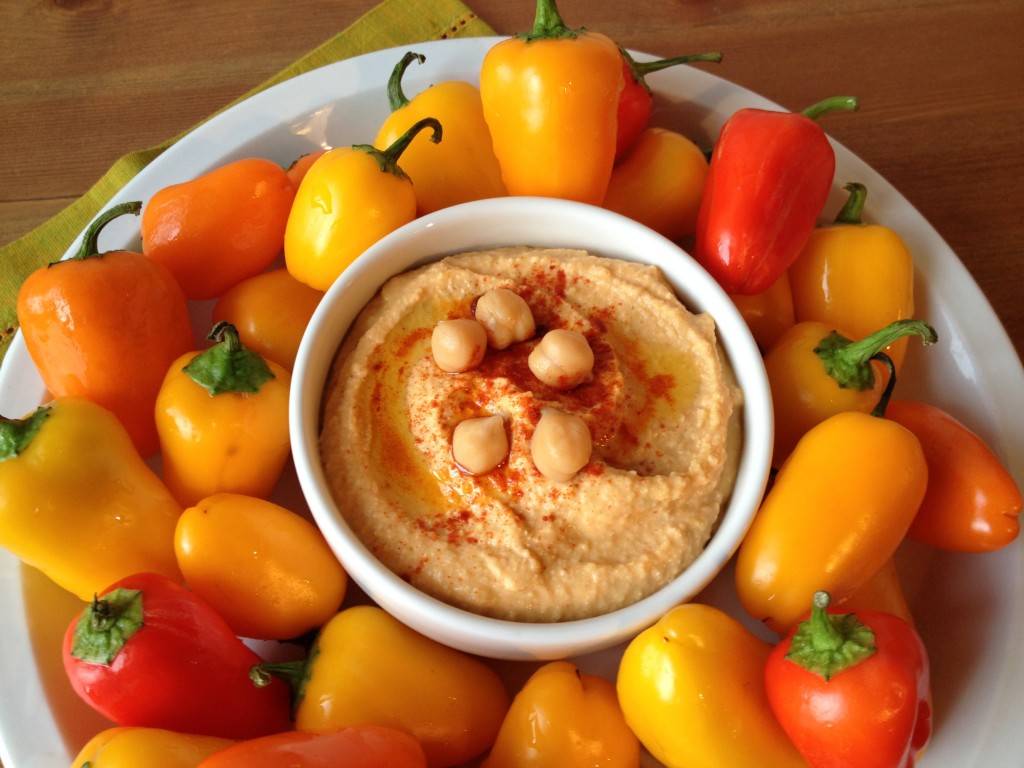 It's the order, stupid. You can't just "add all ingredients and process until smooth" (although I love nothing more than to discover a recipe with those instructions). But in the case of hummus, you have to emulsify the tahini with some liquid to lighten it up. Then you can add the rest of the ingredients, and it will stay light! Otherwise, the whole thing is heavy and weighed-down, just like plain tahini can be. And luckily this adds about 3 seconds to the time it takes to make this recipe, and no extra oil. Oh happy day!
You can change up the amounts of spices in this recipe, or roast the garlic for a milder flavor. Once you've added in the emulsifying step, it's really hard to go wrong!
Serving with adorable mini peppers is highly recommended. So is eating while you take pictures.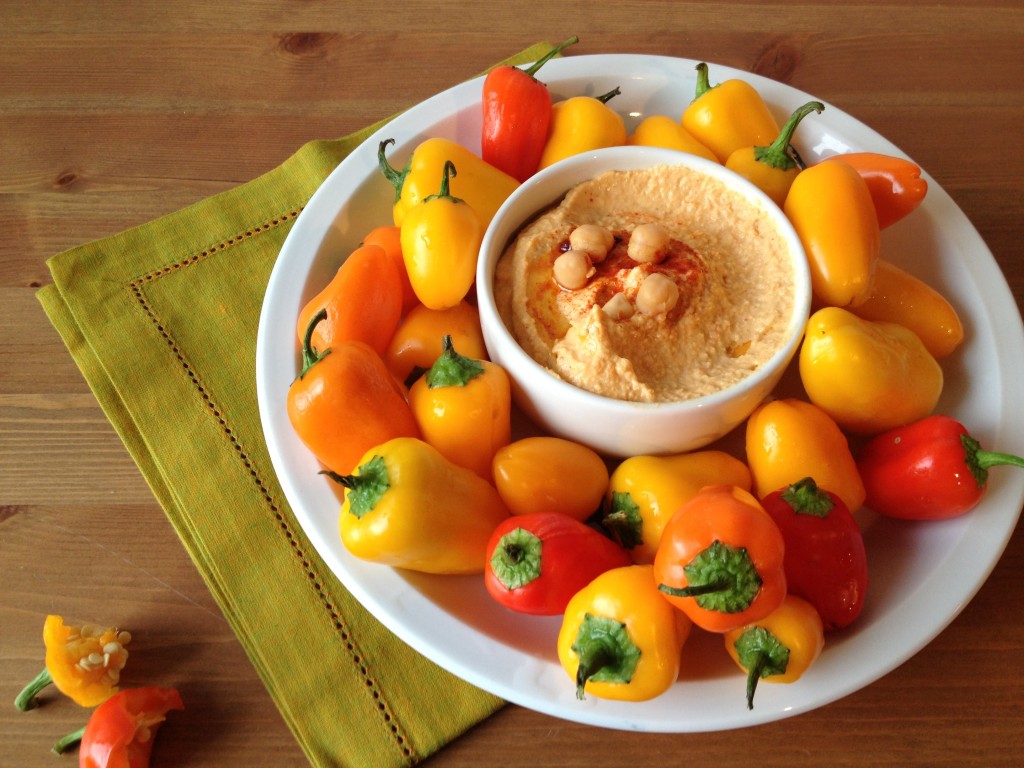 Extra Creamy Hummus
Discover the secret to light and creamy homemade hummus. No chickpea-peeling required.
Ingredients
1/2 cup tahini
juice of 2 lemons
1/2 cup water
2-3 cloves garlic, roughly chopped (I used 3 and it was quite garlicky, just the way I like it)
3 cups cooked chickpeas (2 14-oz cans, rinsed and drained)
1/3 cup olive oil
1 1/2 tsp smoked paprika
1 tsp cumin
salt and pepper to taste
Instructions
Add tahini, lemon juice and water to a food processor (or blender if you're brave!). Process on high speed until it becomes very light-colored and fluffy, which shouldn't take long.
Add the garlic and process again until incorporated. Add the chickpeas and olive oil, about 1/3 at a time, processing to incorporate them completely before adding more. Once all of the chickpeas and olive oil are added, process for a few minutes longer, stopping to scrape the sides down occasionally, until it becomes as creamy as you'd like. If it seems too thick, add a bit more water (or olive oil for a richer hummus).
When it's reached your desired consistency, stop the food processor and sprinkle in the paprika, cumin, and a pinch of salt and pepper. Process to blend them in. Taste and add more salt and pepper if you'd like, processing after each addition.
Serve with crunchy vegetables, pita bread or tortilla chips, or use as a spread on sandwiches!