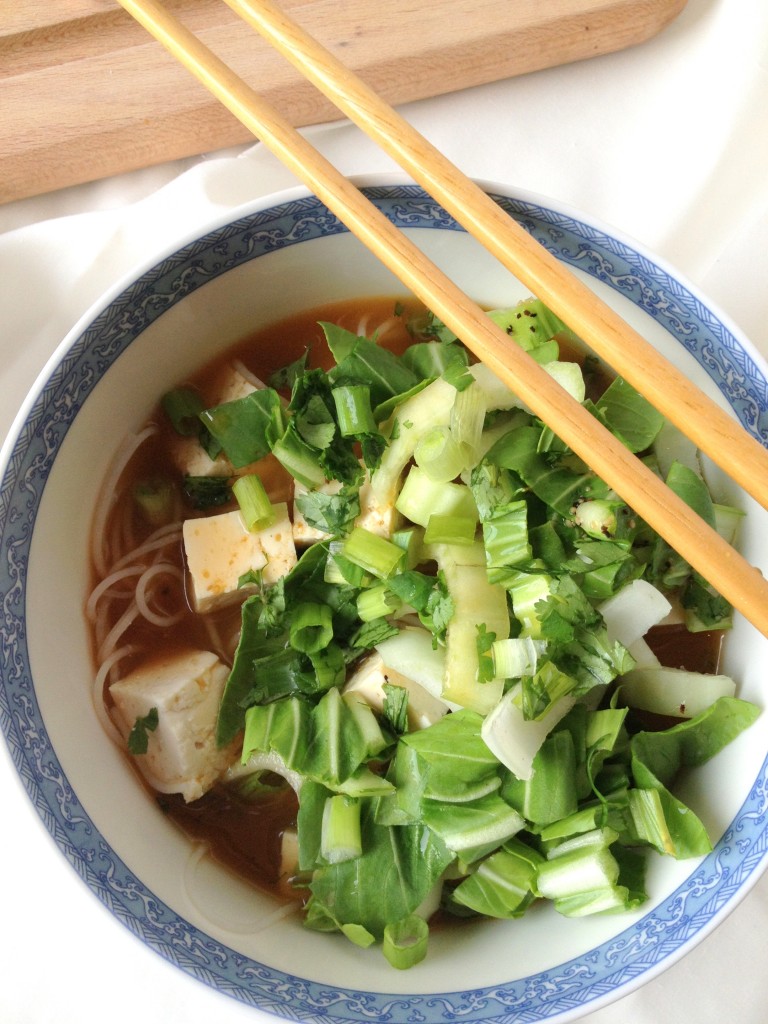 Things I want to do before Christmas:
1) Take a week off from work and wander around Whole Foods.
2) Take a week off from work and bake Christmas cookies.
3) Take a week off from work and make Asian soups.
Shoot. I don't even have enough weeks before Christmas, never mind vacation days. Will someone pay me to do those things? Great.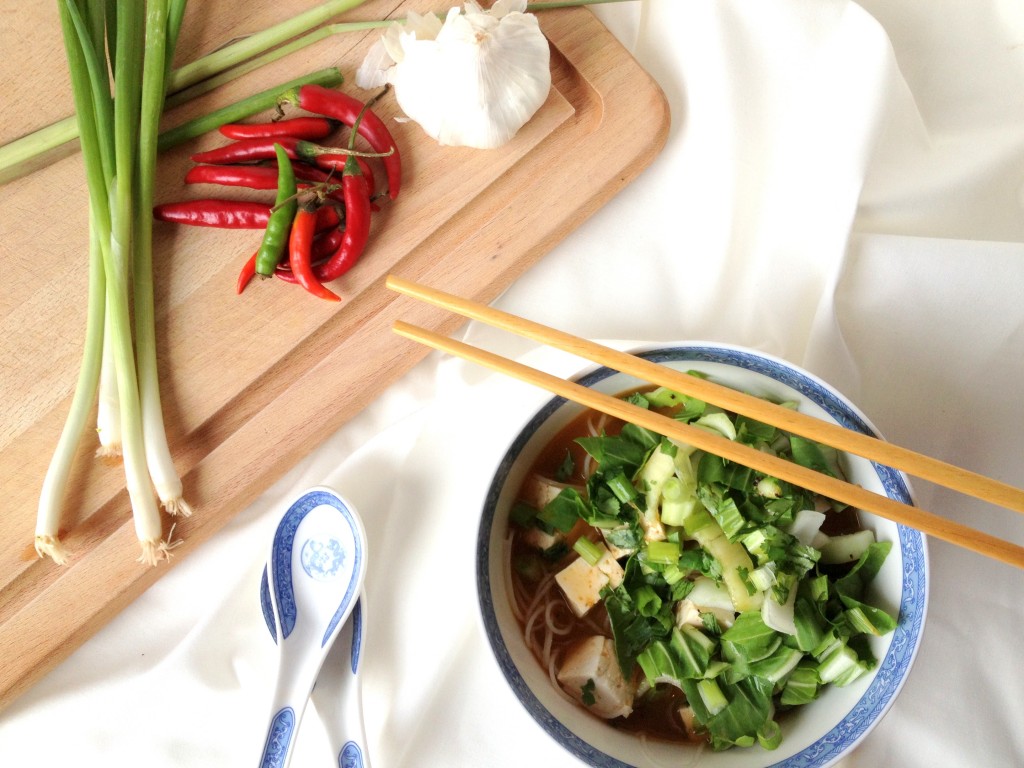 Well, I may not have started on the Christmas cookies yet (or my Christmas shopping – eek! – which sadly cannot be done at Whole Foods), but I've been making my fair share of Asian soups lately because:
1) I just finished Lisa See's Dreams of Joy, which left me craving Asian food (which is odd because there is a lot of starvation in the book as well as, uhhh, cannibalism).
2) I am fighting off a cold and want to eat ramen noodles all day long. (Why is that? It's uncontrollable.)
3) OK, three things. Did I mention it looks like this outside?
Fortunately, this soup contains only plants and is healthier (and MUCH spicier) than ramen. You can cut back on the chilies very easily, though, and it will still be plenty flavorful with the lemongrass, ginger, etc.
Basically, you add a bunch of flavorful Asian things to a pot (or Dutch oven if you haven't done your dishes recently!) with some broth: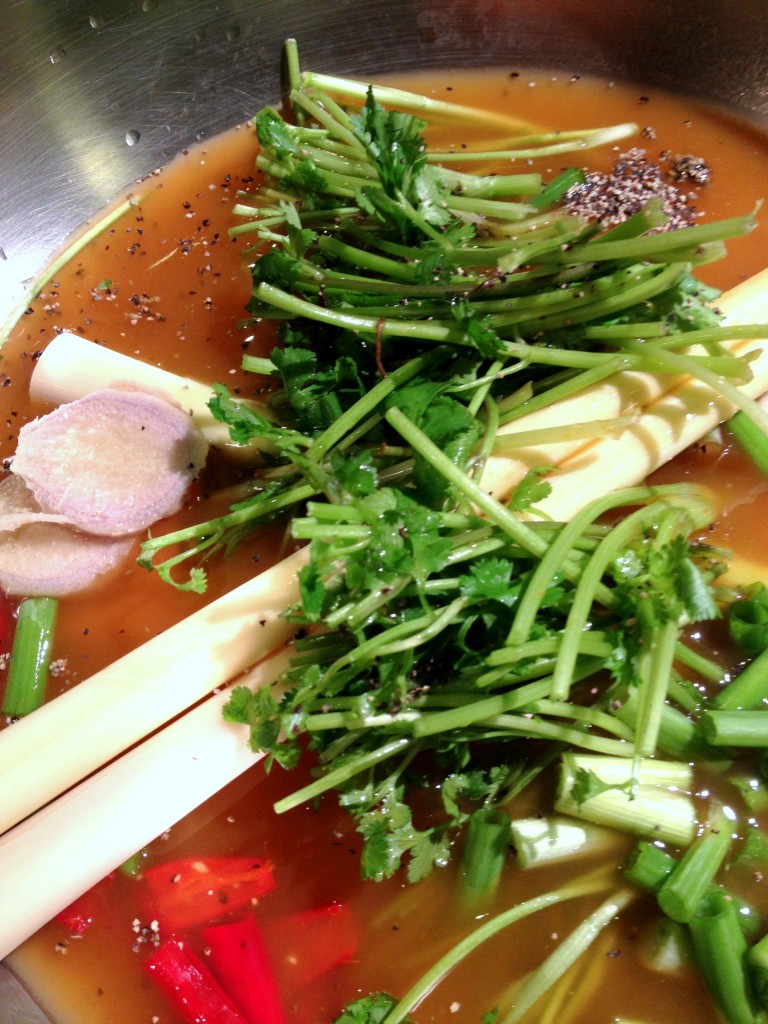 And simmer until it looks like this: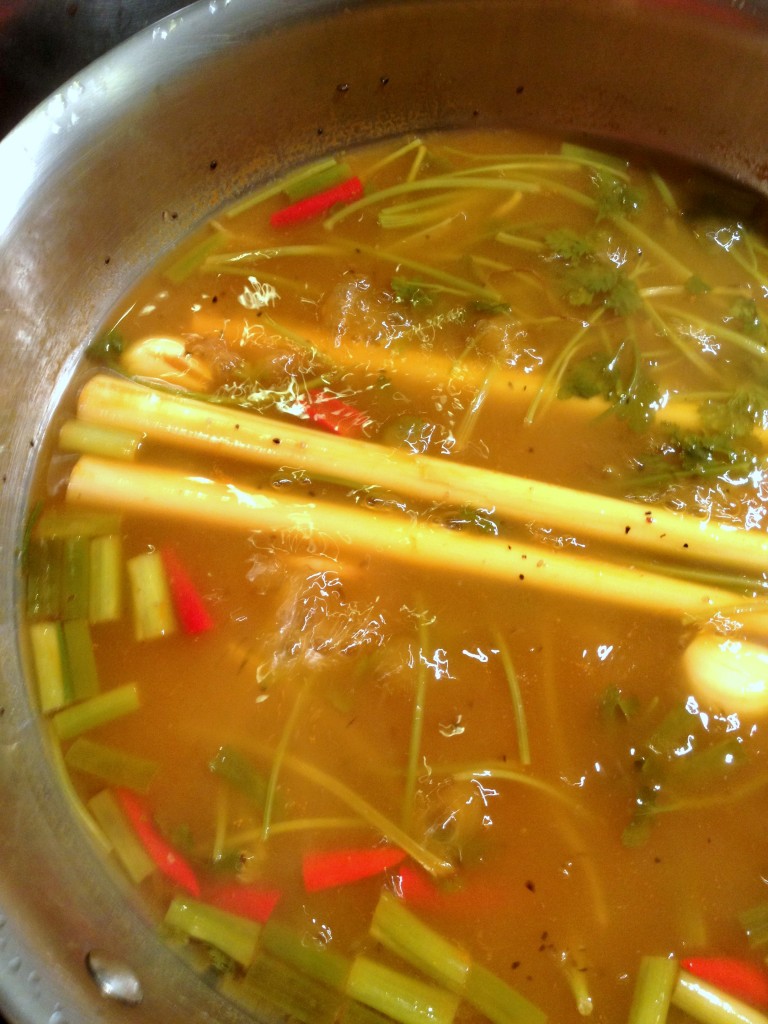 Then strain the solids out. Get your bowl ready with noodles, tofu, and veggies!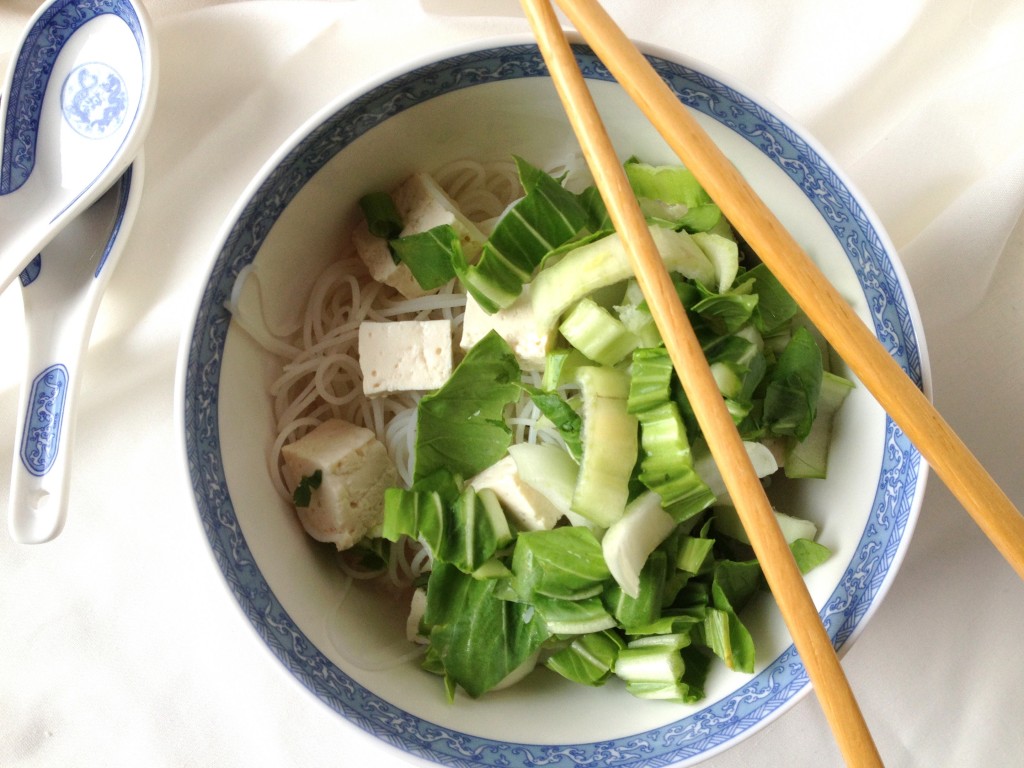 And then pour in as much broth as you like! I didn't use much here, as you can see, but you can certainly fill your bowl to the brim.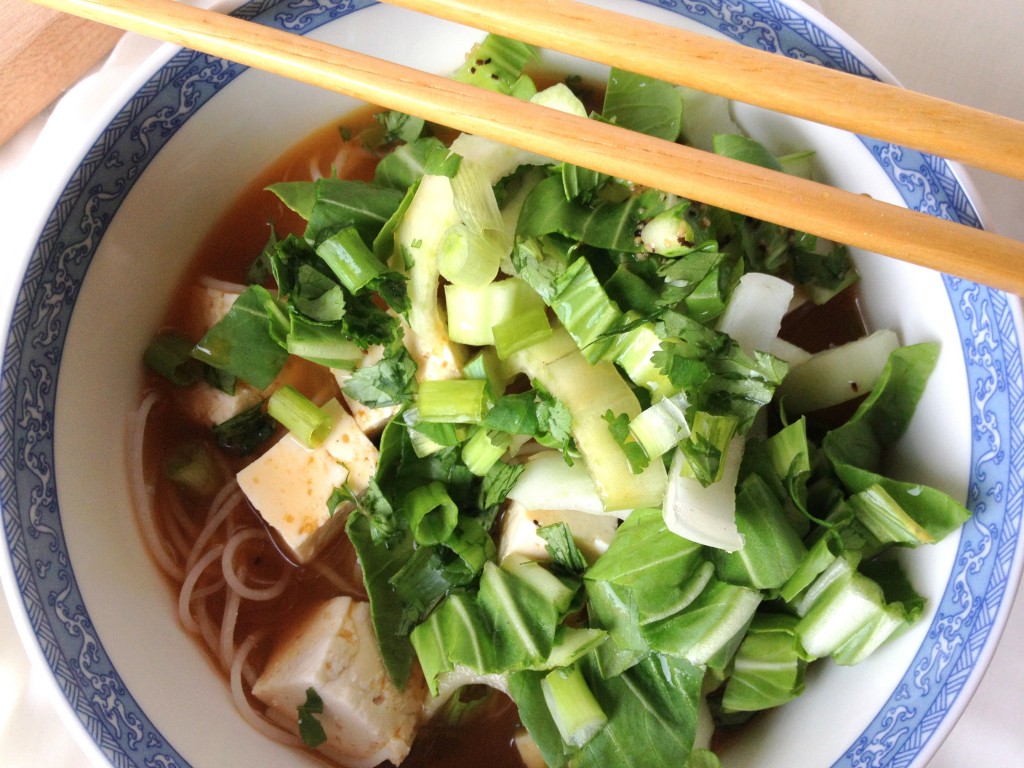 Then slurp, slurp, slurp!
I love this broth and can't wait to make it again soon. It's perfect for that pea soup whether we've been having recently, not to mention colds.
Have a great weekend! Next week, Christmas recipes – I promise. Plus an announcement!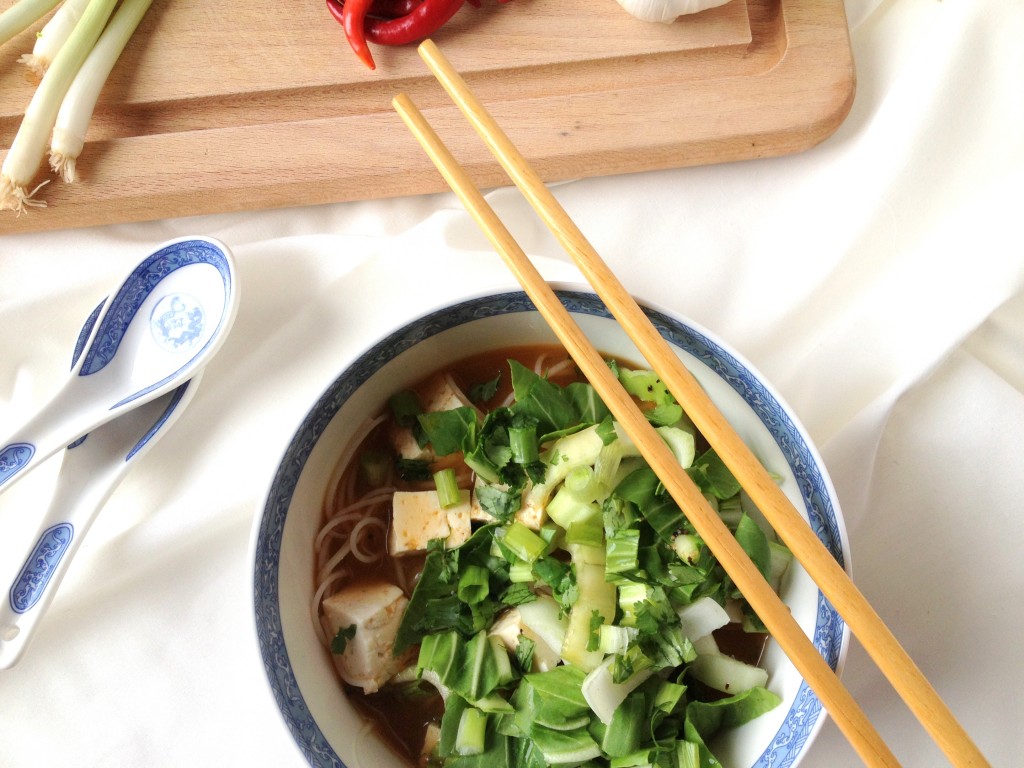 Noodles in Spicy Lemongrass Broth
Adapted from Sunset
Serves 3
Time: about 40 minutes
Ingredients:
3 stalks fresh lemongrass (10 to 12 inches long)
1/2 bunch cilantro, rinsed
1/2 cup chopped green onions (including tops)
6 thin slices (quarter size) peeled fresh ginger
3 cloves garlic, peeled
3 fresh red Thai chilies, rinsed, stemmed, seeded, and quartered (if you can't handle spicy food, I recommend cutting the chilies down to 1 or skipping them altogether and serving sriracha sauce alongside the soup)
1/4 tsp ground pepper
5 cups low-sodium vegetable broth
4 oz thin rice noodles
7 oz firm tofu, cubed
3 baby bok choy, rinsed and chopped
Instructions:
First, prepare the broth. Rinse the lemongrass and cut off and discard tough tops and root ends. Peel off and discard the coarse outer leaves. With the flat side of a knife, crush the inner lemongrass stalk. Chop cilantro leaves and set aside for garnish. Reserve the stems – these are what you will use in the broth.
In a pot, combine the crushed lemongrass, cilantro stems, 1/4 cup green onions, ginger, chilies, garlic, ground pepper, and vegetable broth. Simmer, covered, for 30 minutes. Pour through a strainer over a large bowl and discard the solids.
Meanwhile, cook noodles according to package directions. Drain and rinse with cold water. Divide noodles between two to three soup bowls. Top with tofu and 1 baby bok choy per bowl. Ladle broth over noodles. Garnish with chopped cilantro leaves and remaining 1/4 cup green onions.
Enjoy!