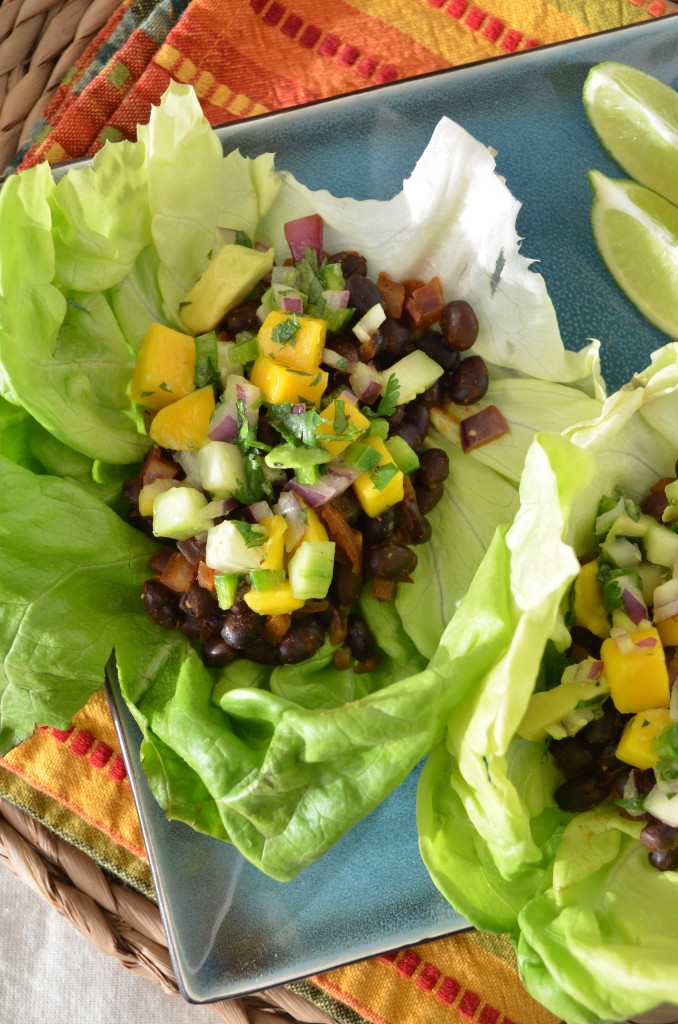 Hi there! How is Monday morning treatin' ya?
We had quite the weekend. Between entertaining friends who stayed with us all week, my birthday on Thursday, a friend's housewarming party on Friday, my company's annual party on Saturday, and 20 inches of fresh powder in the mountains (that Nate took advantage of but I did not), we were pretty much out of commission by the time Sunday morning rolled around. These days I have to admit I don't usually go out on both Friday and Saturday nights (and definitely not wearing monstrous heels), so this weekend was a reminder that I'm not as young as I used to be… and that sleeping in is necessary sometimes.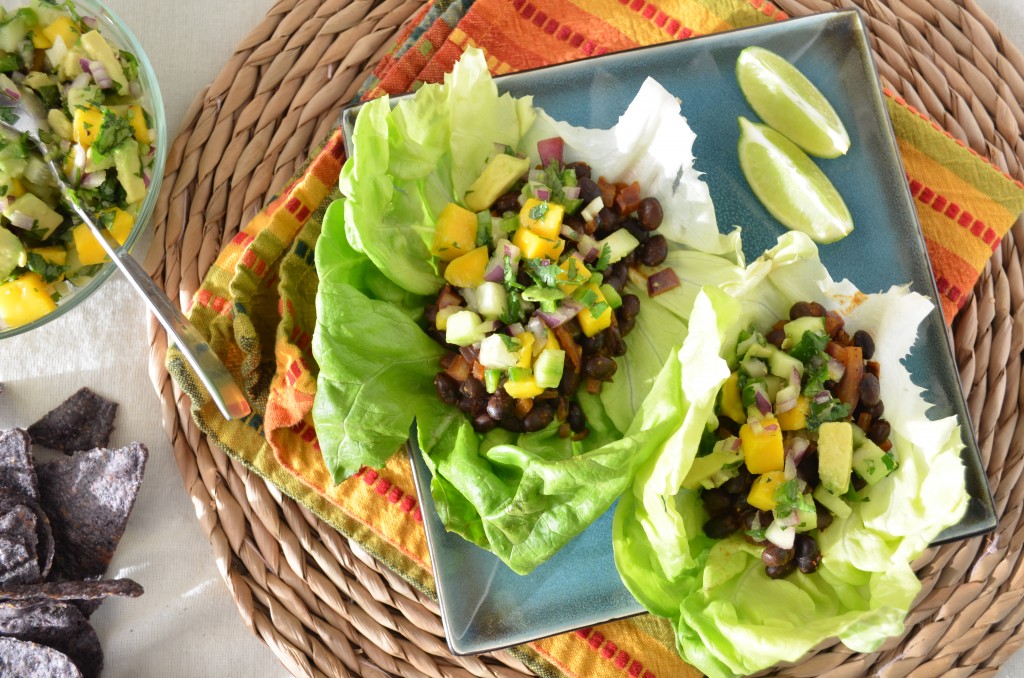 As a side note, I still can't feel one of my toes after wearing those heels all night. Maybe I'll forget about this and bring them the next time I go to Vegas… but until then, I'm pushing them to the back of my closet. Flats are the way to go!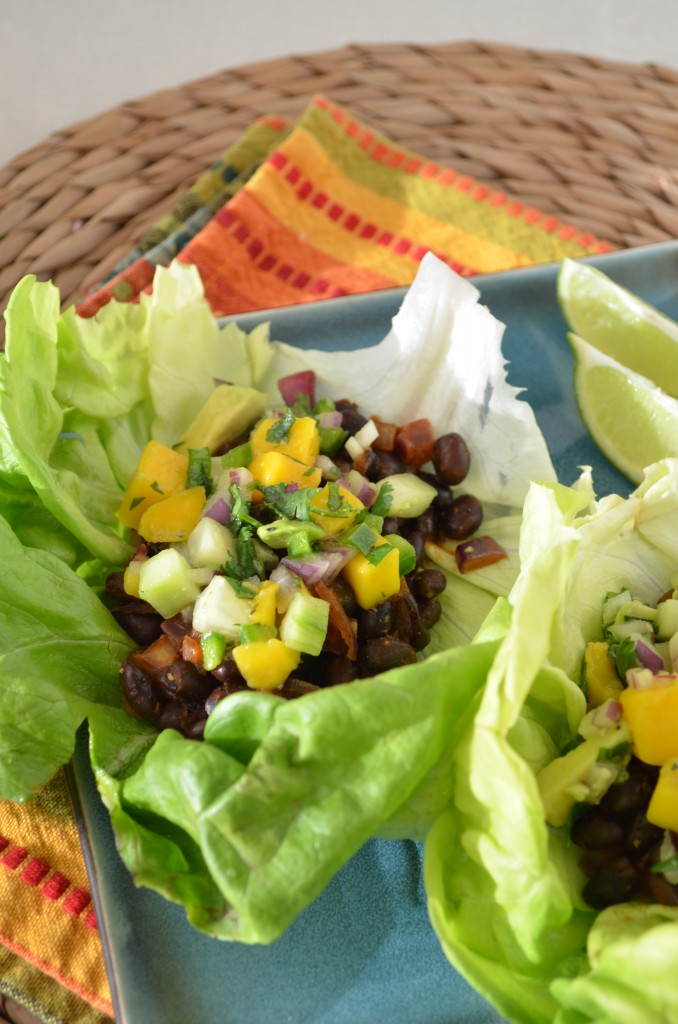 Anyway, after a busy weekend, I seldom feel like slaving over a hot stove all day Sunday. I much prefer going to yoga and then tossing together a quick meal like this, that involves just a little chopping and a few minutes of cooking time.
We loved these tacos because they're so fresh and light. Nothing is as refreshing as homemade salsa, and using lettuce leaves instead of taco shells lightens up the meal. No sense in cancelling out all those chaturangas I just did!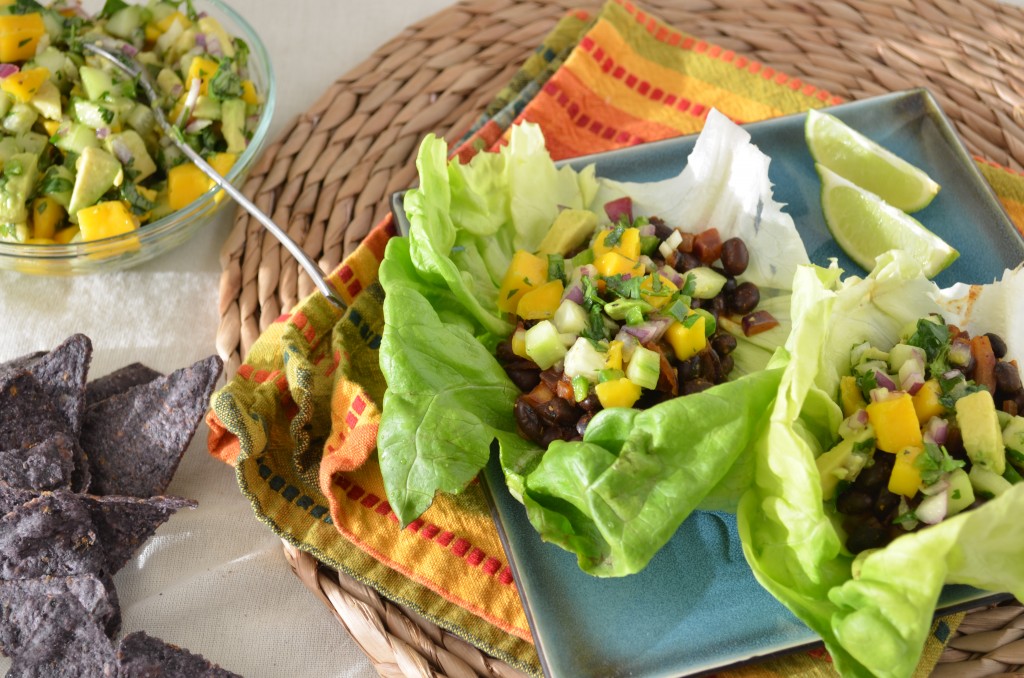 I based these off my chickpea tacos, using beans, onions, garlic, and the same spice mix. I know the ingredient list looks long, but honestly you just need a few fresh ingredients for the salsa, and the rest you most likely have in your pantry. I swear these come together quickly! If you'd rather use guacamole or regular salsa + cheese + sour cream, etc., go for it! But fruit salsa is allllways a good idea.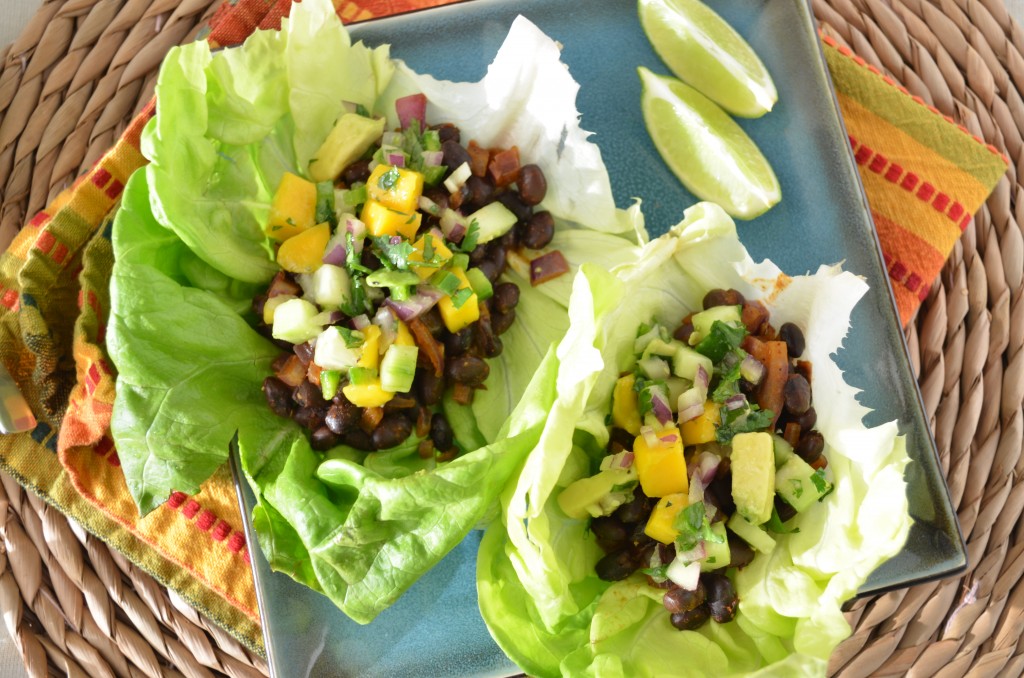 Black Bean Lettuce Wrap Tacos with Mango Avocado Salsa
These lightened-up tacos feature spiced black beans and homemade mango-avocado salsa wrapped in fresh lettuce. Quick to prepare and bursting with flavor!
Ingredients
For the tacos:
1 tsp olive oil
1 clove garlic, minced
1/2 onion, finely diced (yellow or red)
14 oz can black beans, drained and rinsed (or about 1 1/2 cups cooked)
6 leaves bibb or iceberg lettuce
For the taco seasoning (or use 1/2 packet of your favorite taco seasoning):
1/2 Tbsp chili powder
1/2 tsp smoked paprika
1/2 tsp cumin
1/4 tsp oregano
1/4 tsp kosher salt
1/4 tsp ground black pepper
1/4 tsp cornstarch
1/8 tsp cayenne pepper
1/4 cup water
For the mango avocado salsa:
1 mango, peeled and diced
1 avocado, peeled and diced
1/2 cucumber, peeled and diced
1/2 jalapeno, seeds removed and minced
1/4 red onion, diced
1 Tbsp lime juice
1/3 cup chopped cilantro leaves
salt and pepper to taste
Instructions
First prepare the salsa. Combine all ingredients in a bowl and mix well. Add salt and pepper to taste. Set aside.
In a small bowl, combine all taco seasoning ingredients. The tacos come together quickly, so I like to do this before anything goes on the stove.
Add olive oil to a large pan over medium heat. Once shimmering, add garlic and onion and saute until soft, 4-5 minutes.
Pour in black beans and taco seasoning and stir to coat. Saute, stirring occasionally, until beans are heated through and some of the water is evaporated, 2-3 minutes.
Serve with lettuce leaves to be used as taco shells and mango avocado salsa.
Enjoy!