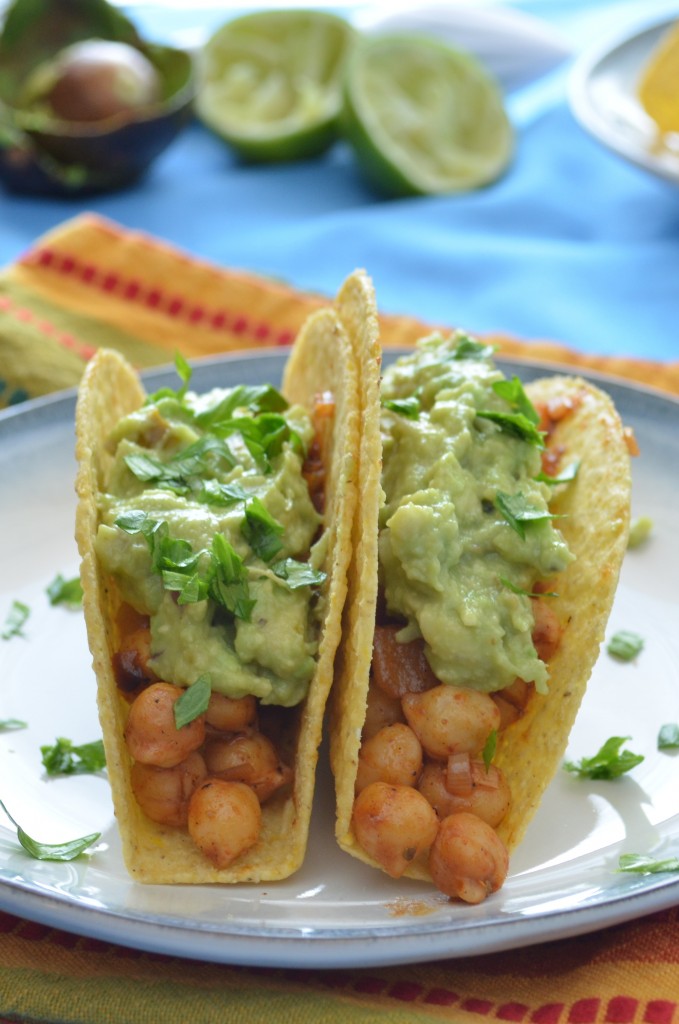 You know I had to post this on a Tuesday.
Who doesn't remember Taco Tuesdays from their childhood or, in my case, their college dining hall? Everyone likes tacos, and in college, you could count on that taco bar every Tuesday for lunch. Like clockwork.
So it's kind of a dilemma when you stop eating meat and dairy and all of a sudden… those ground beef tacos you've been eating for years are no longer an option, never mind the cheese and sour cream you used to top them with.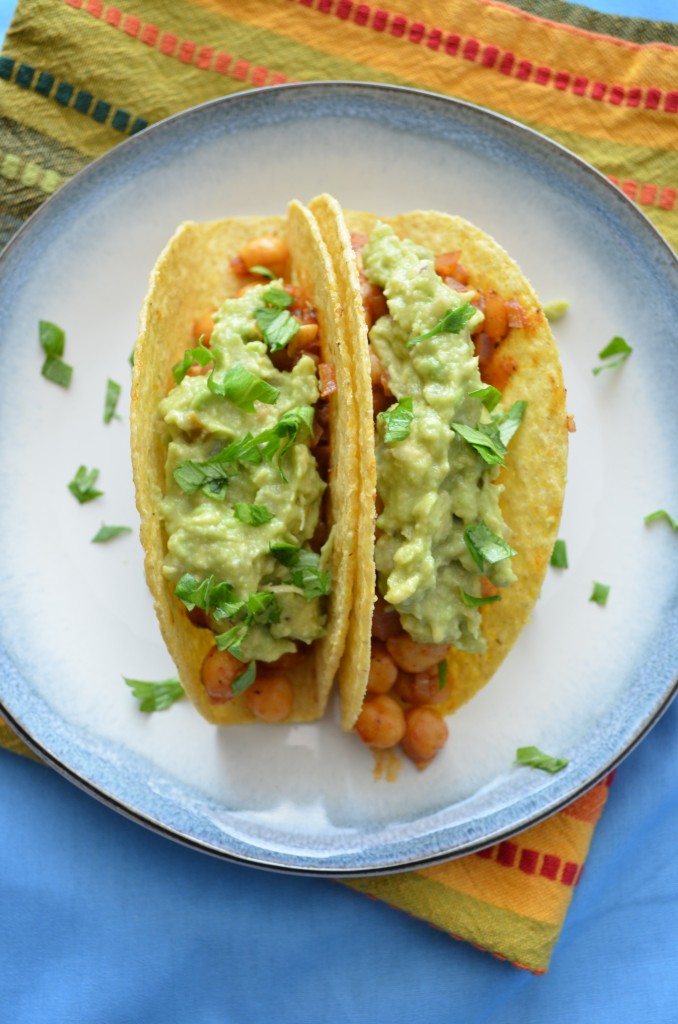 Grilled veggie tacos are a good option, and I'll definitely do a post about those when summer vegetables are in season. But what about when you're in the mood for a gold, old-fashioned, Old El Paso-style taco night? Diced tomatoes and shredded lettuce are just not gonna cut it.
After much experimentation, I discovered that chickpeas are the ideal substitute for beef or chicken when you want to use the same spices and toppings. And they're still loaded with protein! Even though I'm eating (some) meat again now, I'm sticking with the chickpea tacos. They're just too good to change!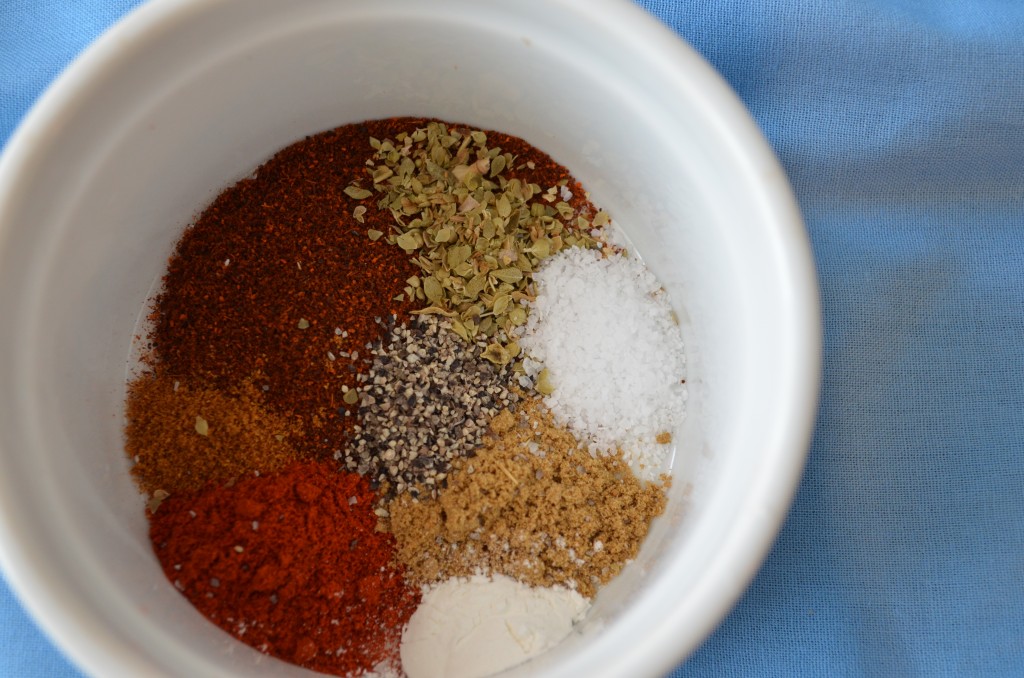 These are super easy to make if you're hosting a taco night and also doing beef or chicken tacos. You make these exactly as you would make the beef or chicken ones, only they don't take as long. So no extra work for you, and everyone's happy!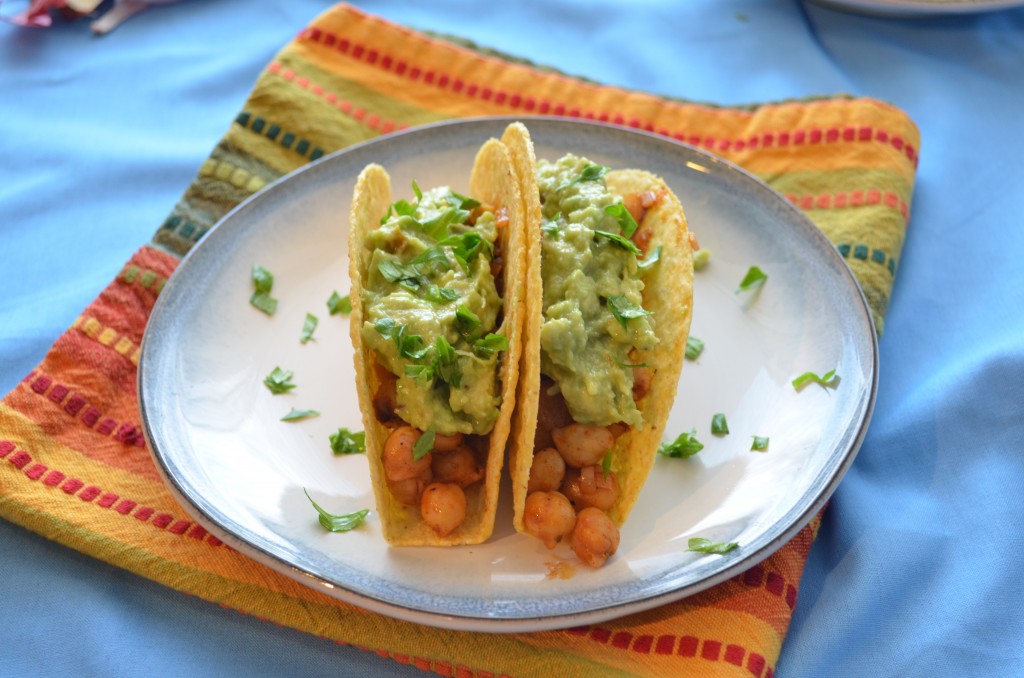 I do have some words of wisdom for you in regard to these guys, especially if you usually make your tacos with meat:
– When sauteing the chickpeas, you are only trying to heat them through and evaporate some of the liquid from the spice mix. You actually want to avoid getting any color on them, because they get quite dry. So just get 'em hot and they're done.
– Top them with something creamy, like guacamole or sour cream. The added moisture works well, and it has the added bonus of keeping the chickpeas in place. Chickpeas are rolly polly little suckers, and they will exit your taco in a hurry. Mash some guacamole down on top of them – problem solved.
I wish all problems could be solved like that.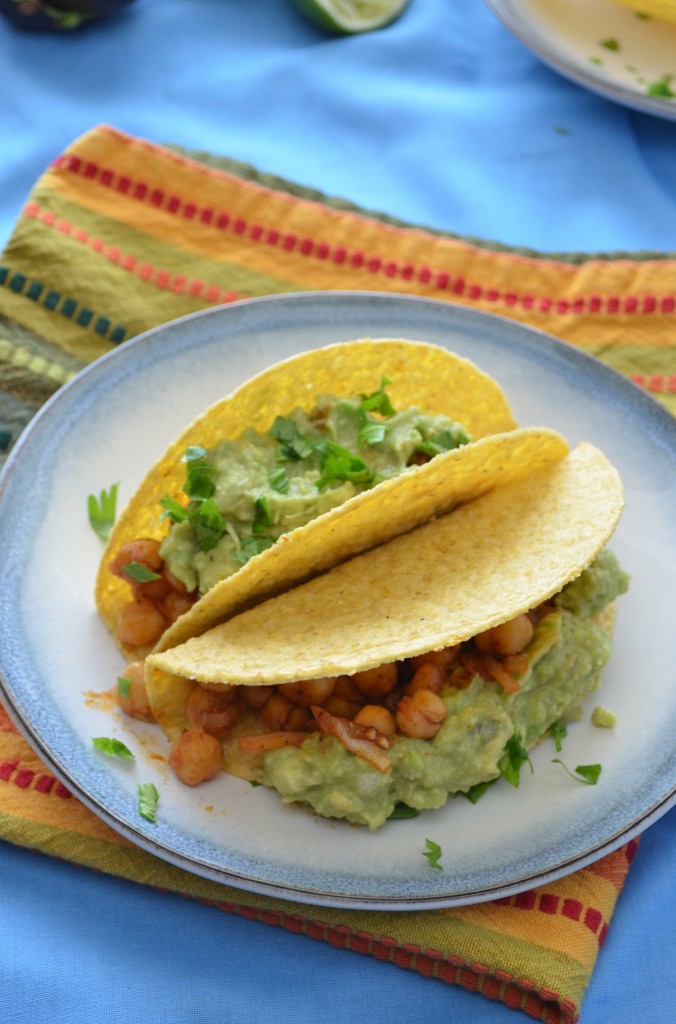 Taco Tuesday: Chickpea Tacos with Guacamole
This vegan taco recipe pleases both meat- and veg-eaters alike. Chickpeas make the ideal substitute for beef or chicken, and use the same taco seasoning.
Yields:
6 medium-sized tacos
Ingredients
For the tacos:
1 tsp olive oil
1 clove garlic, minced
1/4 red onion, minced
1 1/2 cups cooked chickpeas (or 1 14-oz can, drained and rinsed)
For the taco seasoning (or use 1/2 a packet of your favorite taco seasoning mix):
1/2 Tbsp chili powder
1/2 tsp smoked paprika
1/2 tsp cumin
1/4 tsp oregano
1/4 tsp kosher salt
1/4 tsp ground black pepper
1/4 tsp cornstarch
1/8 tsp cayenne pepper
1/4 cup water
For serving:
6 hard taco shells or medium-sized tortillas
1/2 recipe Simple Guacamole
chopped cilantro
lime wedges
Instructions
First, prepare the guacamole according to these instructions.
In a small bowl, combine all taco seasoning ingredients, including water. The tacos come together quickly, so it's best to have this taken care of first!
In a large pan, heat olive oil over medium heat. Once shimmering, add the garlic and onion and saute until onion is soft, 3-4 minutes.
Pour in chickpeas and taco seasoning, and stir to combine. Saute, stirring occasionally, until chickpeas are heated through and some of the water is evaporated, 2-3 minutes.
Serve alongside taco shells, guacamole, cilantro and lime wedges.
Devour!