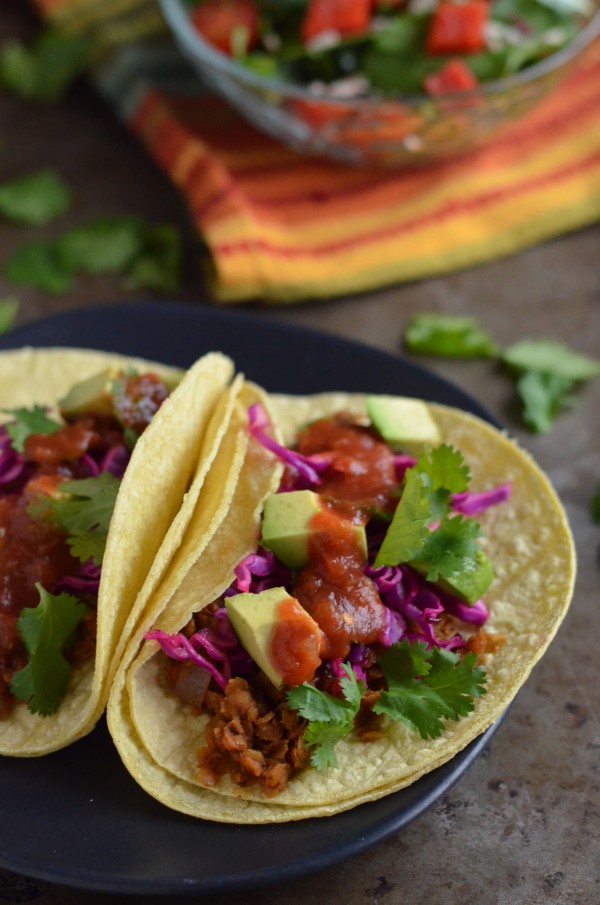 It's all about the first impression.
A while ago, I tried out a (bad) lentil taco recipe, and forever dismissed lentils and tacos as being all wrong for each other in terms of flavor and texture.
WRONG. (That's me making the buzzer sound. Sometimes I get frustrated with how many sounds I apparently use to communicate that just don't come across when typed.)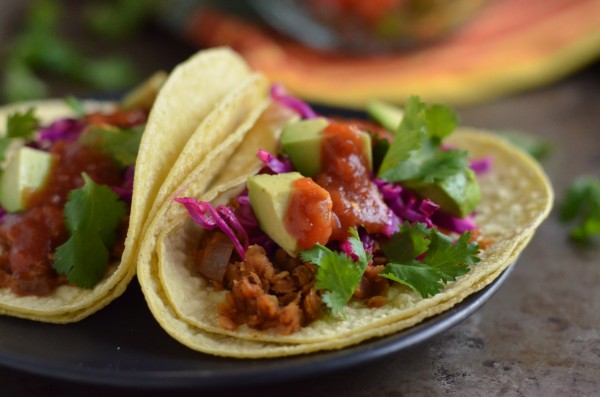 Anyway, it turns out that lentils and tacos are so totally RIGHT for each other. It just took me far too long to discover it because of the rude first impression lentil tacos made on me. I don't know what got me thinking about them again, but I recently gave them another shot, and discovered there are a few secrets to making my ideal lentil taco:
1. Red lentils. Red lentils are split, so they cook much more quickly (always nice) and get a little mushier than green or brown lentils. They also taste less, well, lentil-y. All of that combines to make them the perfect look-a-like substitute for ground beef in a taco.
2. Lots of seasoning. Lentils soak up the seasoning as they cook, so you gotta use a lot of it.
3. Added texture. Lentil tacos are especially fun when they have something crunchy going on! I added a simple red cabbage slaw to these bad boys to fulfill my textural requirements.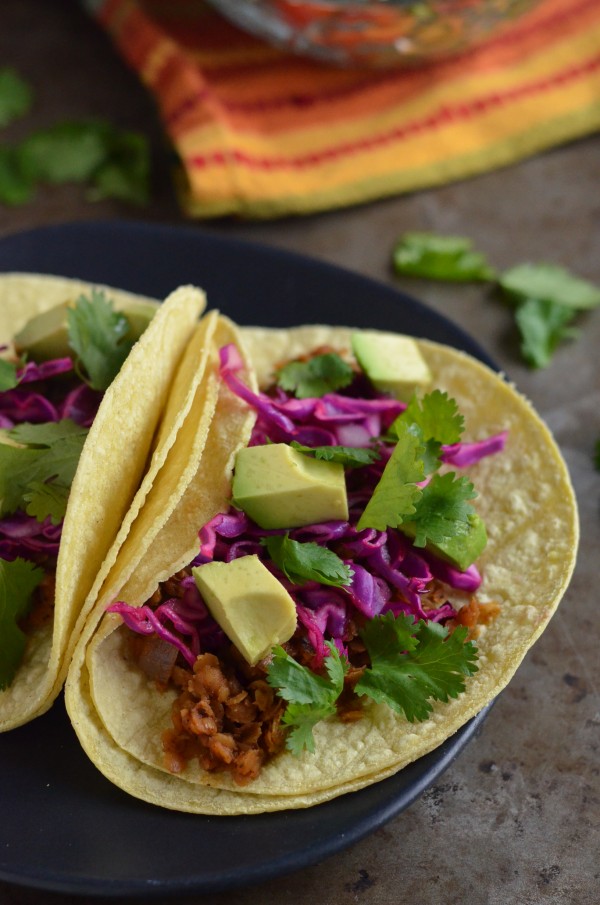 So now you know my deep, dark, lentil taco secrets.
Actually, the last secret is cheese. I sprinkled some grated cheddar on these before stuffing them into my face, and it was totally delicious. Highly recommended if cheese is your thing!
These tacos are based off my chickpea tacos, which are consistently one of the most popular recipes on this site. A kid-friendly, vegan dinner in 20 minutes – what's not to love? The lentil version takes a few minutes longer, as we're starting out with uncooked lentils, but as I mentioned, the red ones cook lickity-split. (Cause they're split lentils… get it?! OK, Erica, stop.)
We enjoyed these tacos alongside a simple salad topped with lime juice, olive oil and honey. Nothing quite like a filling, tasty weeknight dinner!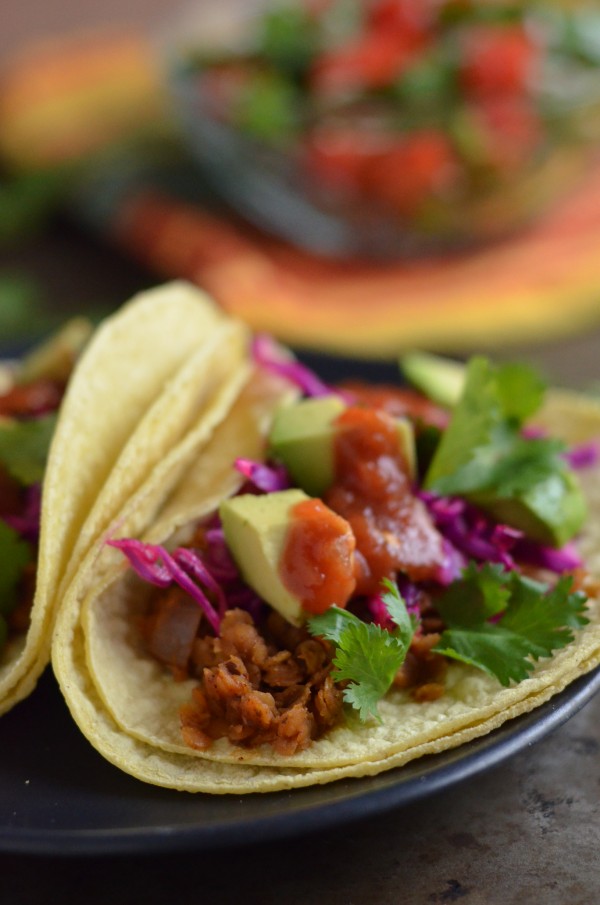 Red Lentil Tacos
Yields:
about 12 small tacos
Ingredients
For the tacos:
1 tsp olive oil
1/2 red onion
2 cloves garlic
1 Tbsp chili powder
1 tsp cumin
1 tsp smoked paprika (or use regular paprika)
1/2 tsp oregano
1/2 tsp ground pepper
1/2 tsp kosher salt
1/8 tsp cayenne pepper
1 cup dry red lentils, rinsed
2 cups water
For the slaw:
1/4 large head of red cabbage, thinly sliced/shaved
juice of 1 lime
For serving:
tortillas
diced avocado
grated cheese
salsa
chopped fresh cilantro
Instructions
Heat the olive oil in a pan over medium heat. Add onions and saute until beginning to soften, about 5 minutes. Add garlic and spices and saute until fragrant, another minute. Add lentils and water and bring to a simmer. Simmer until lentils are cooked and water is evaporated, about 15 minutes.
While lentils cook, prepare the slaw by tossing cabbage and lime juice.
To serve, layer lentils and slaw on tortillas. Top with avocado, cheese, salsa, and cilantro. Enjoy!