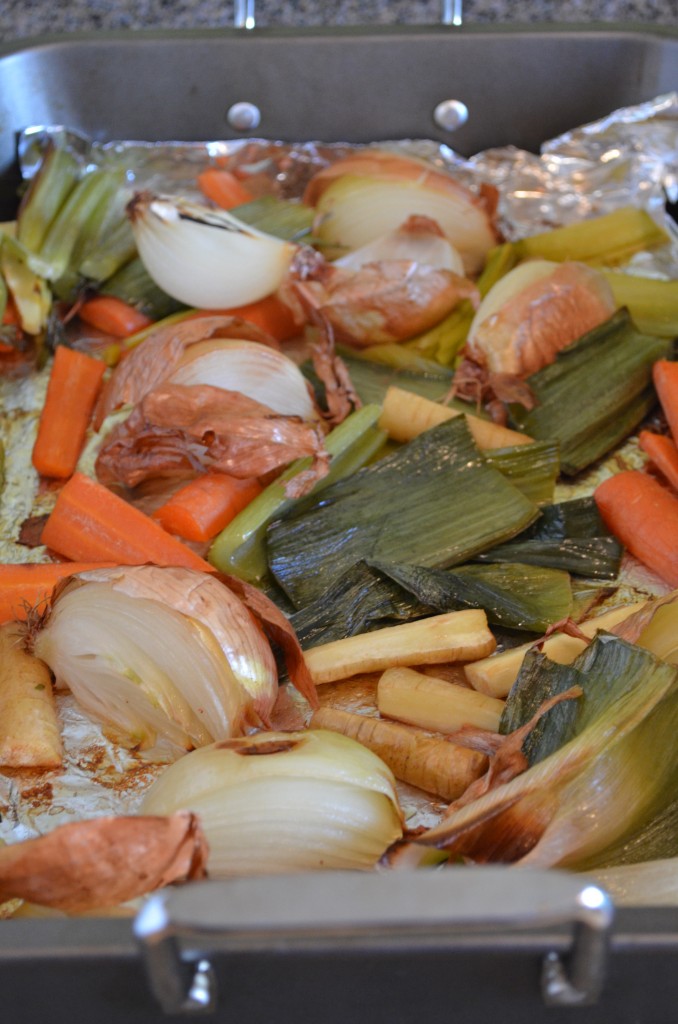 A few months ago, I had a failed veggie stock experiment. It was my first attempt and I'm not sure what went wrong; I think I used too many greens and too few carrots and onions. And maybe too much water? Regardless, it was very disheartening, as I've never had a problem making meat-based stocks. It convinced me for a while that vegetable stock should be left to the pros, and I've been buying it from Whole Foods ever since.
Recently, though, I wanted to make a soup that just uses a simple broth for the base (recipe coming tomorrow!), and I felt like I couldn't cop out and use store-bought stuff. If I'm going to use store-bought broth, I at least want it to be hidden, you know? So I gave the ol' veggie stock another shot, and this time I roasted the vegetables to make sure they would be flavorful enough. Success! If veggie stock should be left to the pros, well, consider me one of them… and you can be, too.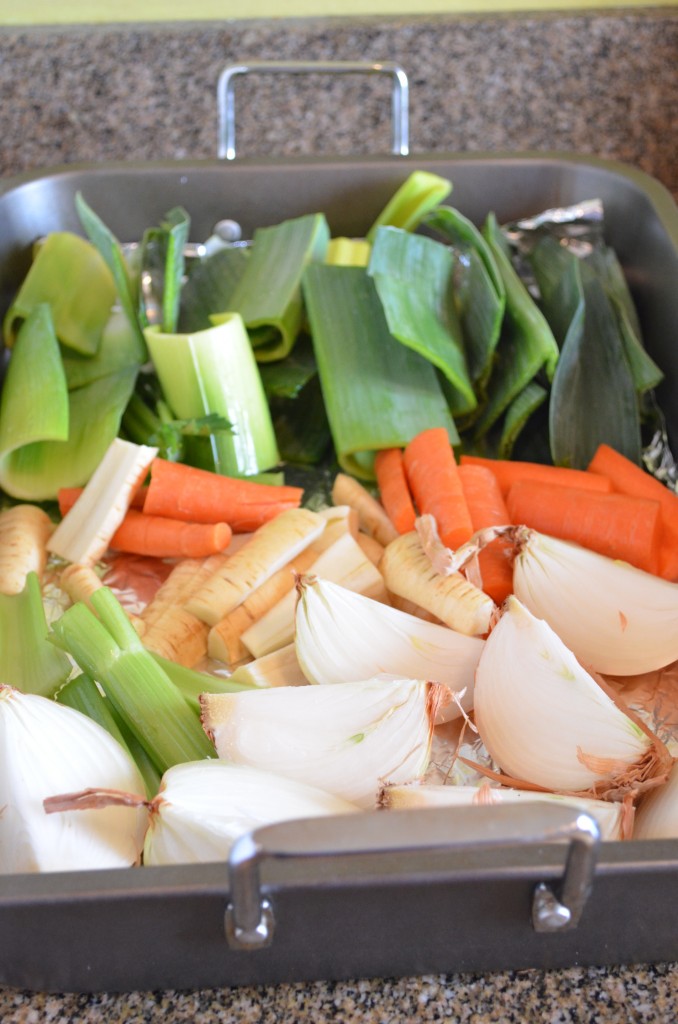 Making your own stock really isn't as scary as it sounds, and it's also cheaper than buying it. And I should point out that it's much quicker than making chicken stock. Unlike meat-based stocks, simmering vegetable stock for longer does not give it more flavor, so an hour is all you need. And as a bonus, you'll feel like Martha Stewart as your kitchen fills with the scent of your homemade stock bubbling on the stove. For some reason, this always makes me feel like I really have my life together. Ego boost in a soup pot? Sure, I'll take it!
Get crackin' on this homemade vegetable stock so you can be prepared for the soup recipe coming tomorrow!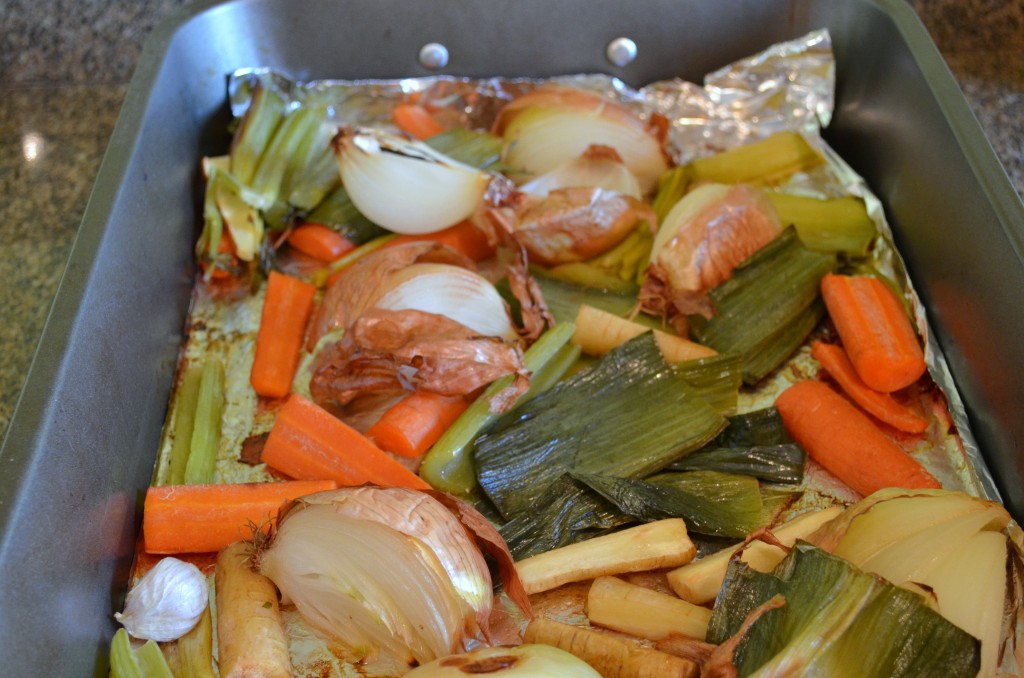 Simple Roasted Vegetable Stock
Ingredients
2 carrots, rinsed and roughly chopped
2 parsnips, rinsed and roughly chopped
2 stalks celery, rinsed and roughly chopped
greens of 1 leek, thoroughly cleaned and roughly chopped
2 yellow onions, skins left on, quartered
3 garlic cloves, peels left on
2 Tbsp olive oil (more or less)
1 small bunch parsley
4-5 sprigs of thyme
1 tsp black peppercorns
2 bay leaves
Instructions
Preheat oven to 400. Place vegetables (carrots through garlic) in a roasting pan. Drizzle with olive oil (I probably used about 2 Tbsp but you can use more or less) and toss to coat. Roast for 45 minutes, stirring about every 10-15 minutes to ensure that nothing burns. If you notice that any of the vegetables are starting to char before the time is up, remove them and continue cooking the rest. Some caramelization is fine, but not charring! The leek greens are especially prone to burn.
Remove from oven and place the vegetables in a large pot with the parsley, thyme, peppercorns, and bay leaves. Cover with cold water. (The more water you use, the less concentrated the flavor of your stock will be.) Bring to a boil and simmer for an hour. (A few minutes more or less is fine.)
Strain into storage containers. If not using in the next day or two, freeze until ready to use.