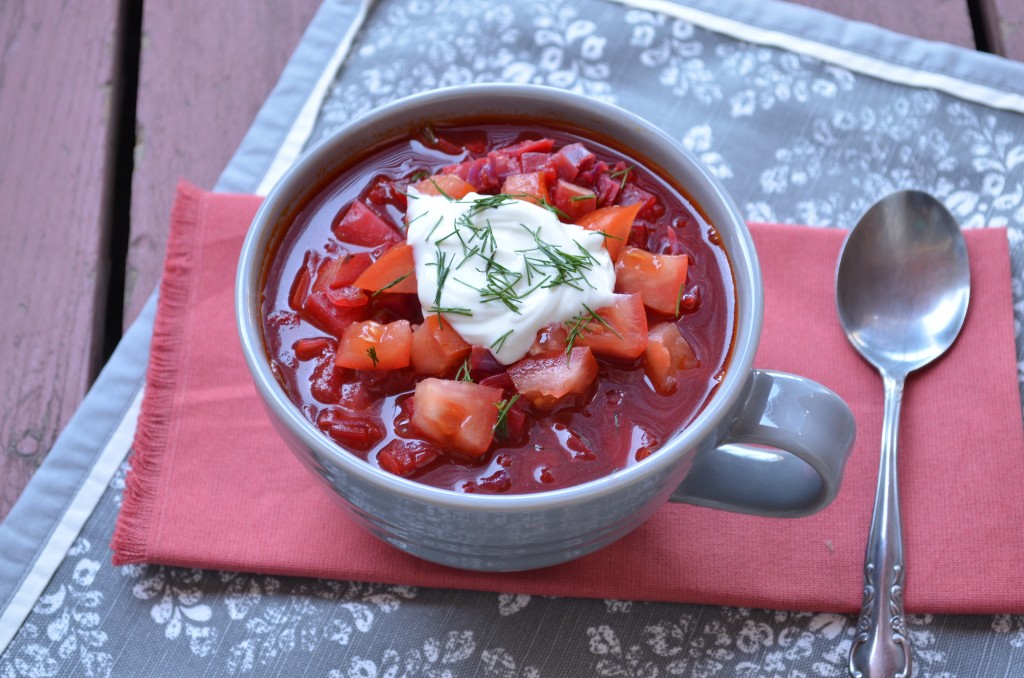 Wait, come back.
This is delicious, I promise.
For some people, there is probably no phrase in the English/Yiddish language more unwelcome than "Moosewood Cookbook borscht." You might be thinking, "Mushy cabbage without any meat to redeem it? No thanks!" But I think borscht gets a bad rap mostly because of its name; the word seems to conjure up images of a smelly old Russian lady standing over you until you finish your meal. It certainly sounds like something you'd have to be forced to eat.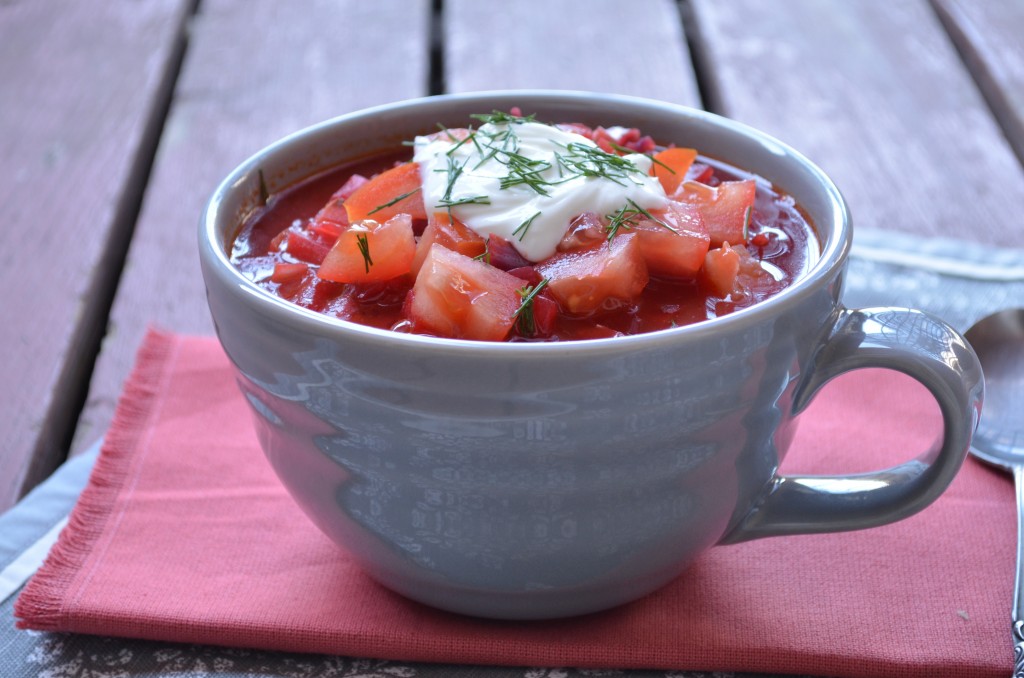 Luckily, I am not a smelly old Russian lady, and I'm probably several thousand miles away from you. (This is good for both of us, because I prefer to hide behind my computer screen.) I won't force you to make this or eat it. I will just strongly recommend it, since it's one of the best meals to come out of my kitchen in a while. Also, I'll show you pretty pictures of it in the hopes that that will convince you.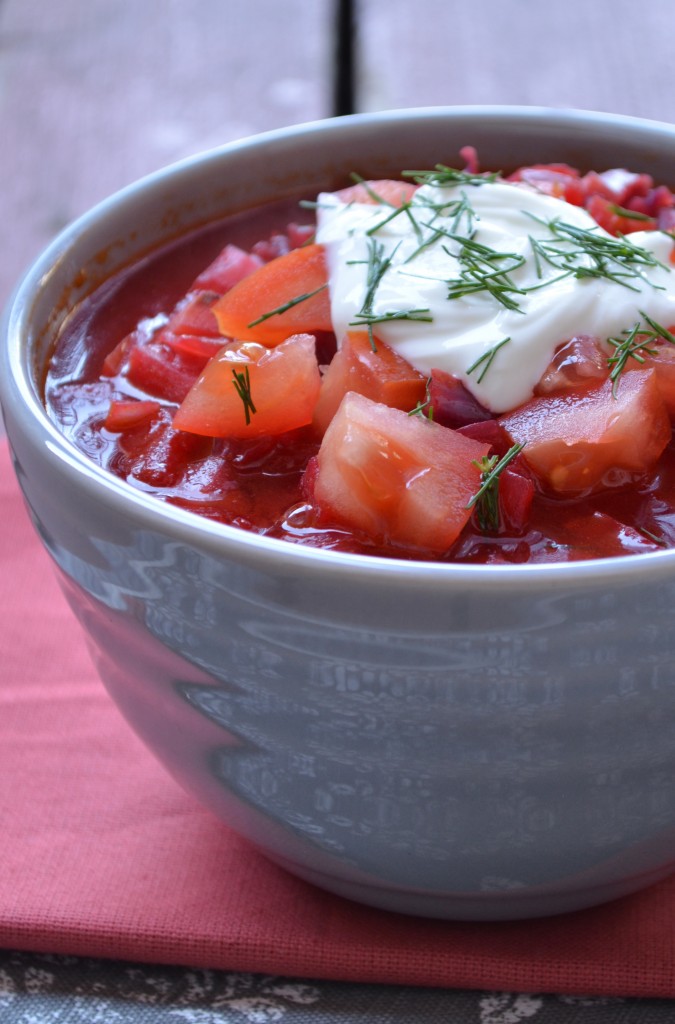 What would definitely convince you is if these pictures were scratch-n-sniff. Ohhh my goodness. My whole apartment smelled amazing while this was on the stove and for hours afterwards. There is really nothing better than the smell of onions being sauteed in butter wafting through your kitchen. I never thought a vegetarian dish of mostly cabbage and beets could smell or taste so incredibly rich, but this manages to. Can I bottle up a borscht scent to use as a perfume?
OK, maybe now we're getting into smelly old Russian lady territory.
In any case, I'm head-over-heels in love with this borscht, and I have my Grandma Jane to thank. (Hi Grandma!) For the record, my grandma is neither smelly nor Russian; she is Midwestern, super fit, and an amazing gardener and cook. A few years ago, she did her very own borscht cook-off, auditioning multiple borscht recipes until she found the best one, which she then cooked for my family at Christmastime. I was skeptical, I have to admit. Cabbage dishes did not make a regular appearance in my mom's cooking rotation. But it was love at first bite, and that was way before I ceased eating meat or started naming cabbage among my favorite foods.
Bottom line: You, too, may be skeptical. You may not like cabbage. Or beets. Or dill. But you will love this borscht.
It's so simple, and tastes so rich yet fresh at the same time… I really can't describe it. You will have to make it for yourself, unless you're lucky enough to have a grandma who will make it for you.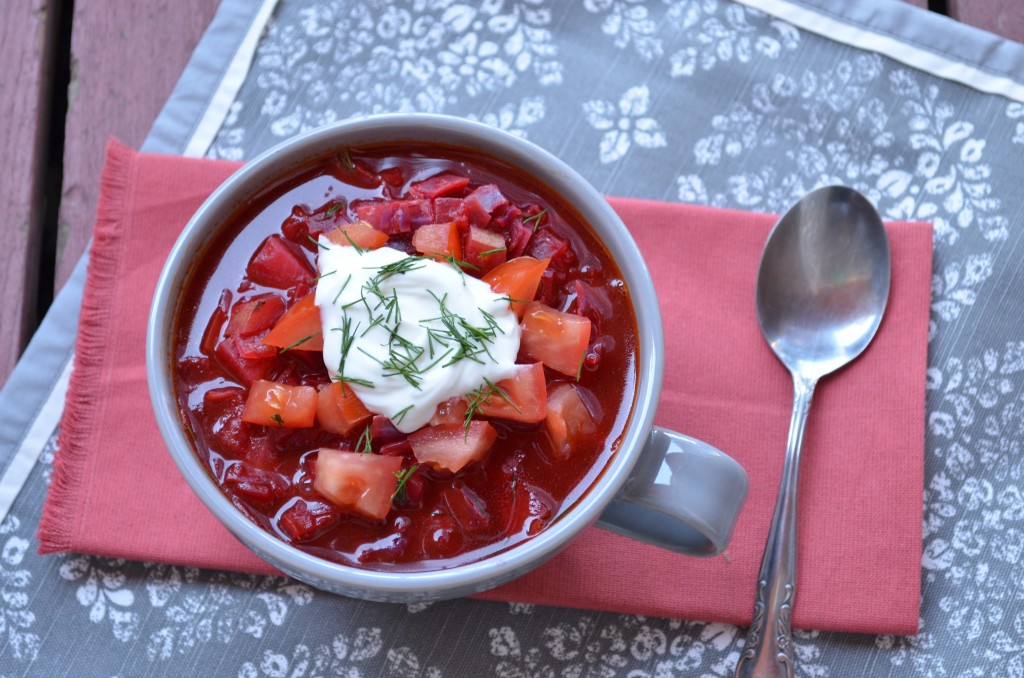 I made this dish with butter and topped it with Greek yogurt, but if you'd like to make it vegan, you could just as well start with Earth Balance and omit the yogurt/sour cream topping (or use a vegan substitute). It will be fabulous either way. What I would urge you not to leave out are the caraway seeds and dill. This dish is very simple and lightly seasoned – you'll notice most of the ingredients are veggies – and so leaving out either of those seasonings will hurt it, in my opinion.
This recipe scales very well, as long as you have a big enough pot! I should also note that the original recipe calls for 2 teaspoons of salt, but I found that to be a little much. I'd recommend starting with 1 teaspoon of salt, and then adding a bit more at the end to your liking.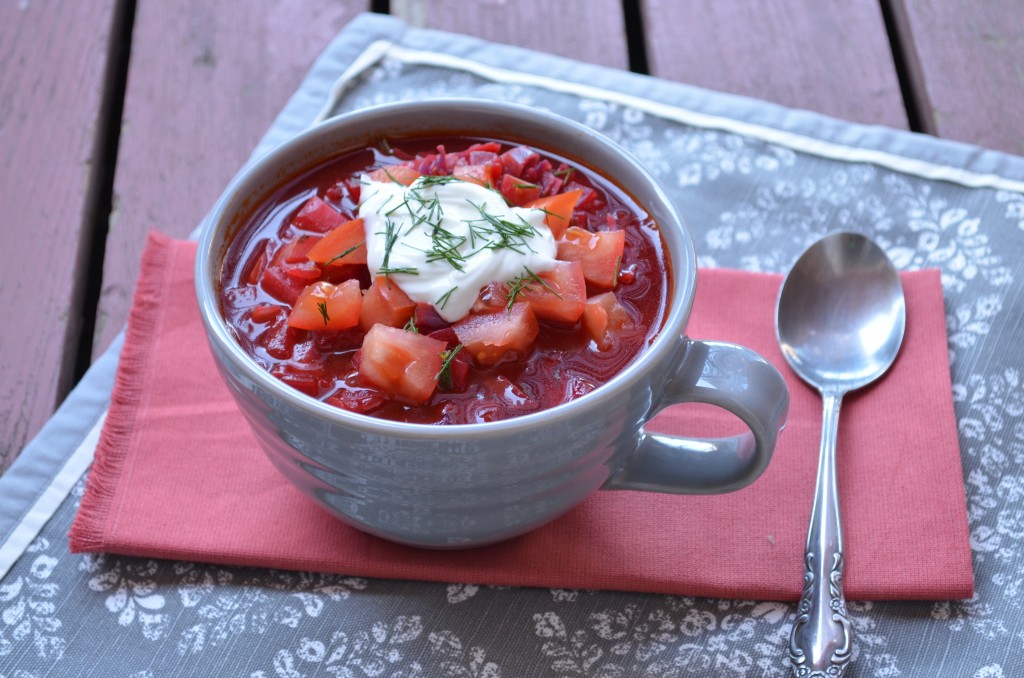 Moosewood Cookbook Borscht
This Russian cabbage stew will convert you from carnivore to cabbage-lover.
Ingredients
4 cups vegetable stock
1 cup diced beets (about 1 medium-sized beet, peeled)
1 1/2 cups diced potato (I used 1 Yukon gold potato)
2 Tbs butter or Earth Balance
1 1/2 cups chopped yellow onion (about 1 onion)
1-2 tsp salt
1 tsp caraway seeds
1 large carrot, peeled and thinly sliced
1 stalk celery, sliced
3 cups chopped red cabbage
1 cup tomato puree
1 Tbsp cider vinegar
1 Tbsp honey
1/4 tsp chopped fresh dill
black pepper to taste
To top:
fresh tomatoes, diced
sour cream or Greek yogurt
additional fresh dill
Instructions
In a large pot or Dutch oven, bring vegetable stock, beets, and potatoes to a boil. Cover, reduce heat, and simmer until tender, about 12-15 minutes. (It's OK if the potatoes are a bit more tender than the beets.) Drain, reserving the stock, and set aside.
In the same pot, heat butter over medium heat. Add onions, caraway seeds and 1 tsp salt, and saute until the onion is translucent, about 3-4 minutes. Add carrot, celery, cabbage, and reserved vegetable stock. Cover and simmer until all the vegetables are tender, about 10 minutes. Stir in potatoes, beets, and all remaining ingredients.
Cover and simmer on low heat for 30 minutes. Taste and add more salt if desired.
Serve immediately, topped with chopped fresh tomatoes, Greek yogurt or sour cream, and a sprinkle of fresh dill.