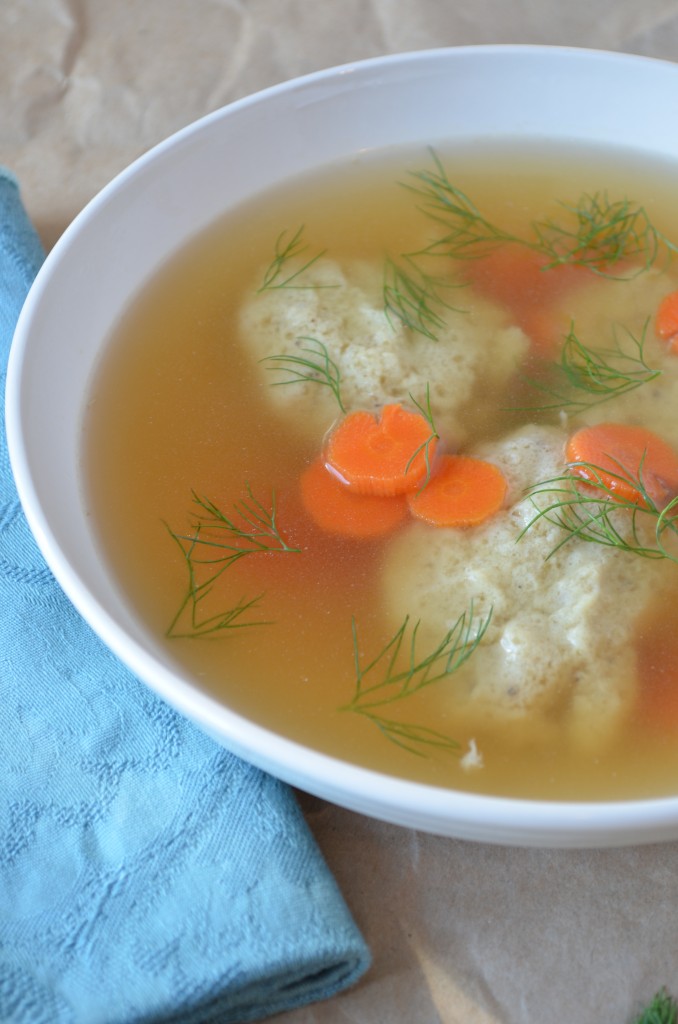 I may not be Jewish, but I still love a good matzo ball soup.
I think of it as the ultimate comfort food. Like chicken noodle soup, but no mushy bits of noodles floating around in it – just fluffy pillows of matzo ball bliss.
I have childhood memories of being comforted by matzo ball soup, specifically when I had a terrible cold on a drive down to my grandma's house in New York. We stopped at Rein's Deli in Connecticut and after slurping up a steaming bowl of matzo ball soup, I finally felt human again. It's really amazing what soup can do.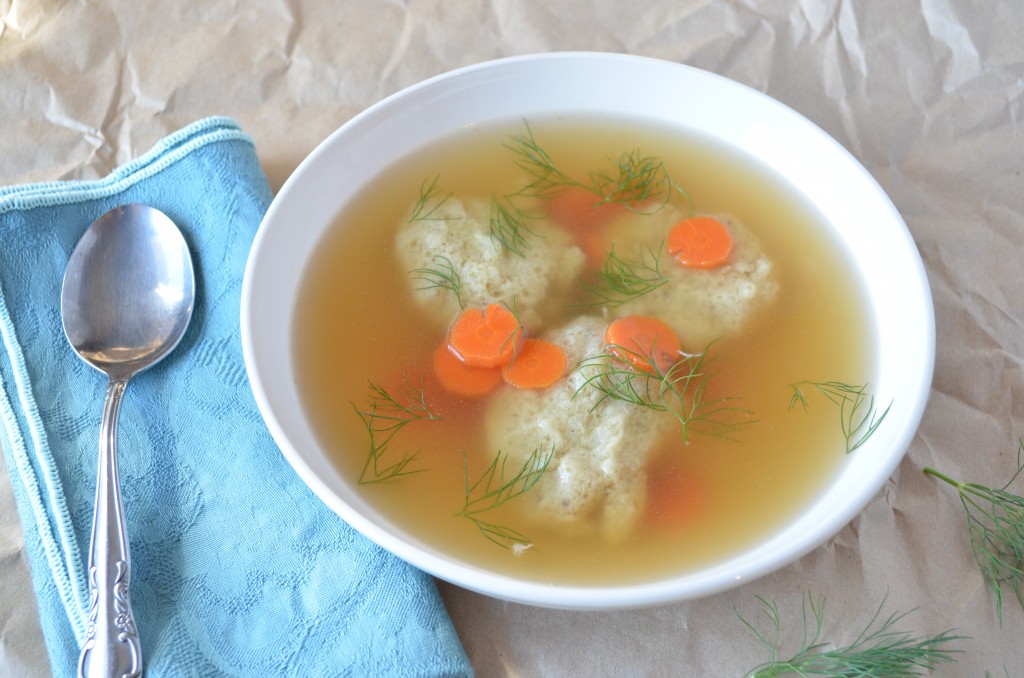 You may or may not be aware that the Jewish holiday of Passover started on Monday night, a.k.a. the only time of year that you can find matzo in Salt Lake City (and even then it was a struggle involving three grocery stores and a near breakdown in Whole Foods). Growing up outside of Boston, I had lots of Jewish friends and Passover food was always a special treat. Like any Gentile kid, I loved eating the matzo that my Jewish friends brought to school during Passover but were too perennially sick of to actually eat for lunch. Clearly I took the grocery store availability of matzo for granted! I never thought of my suburban hometown as an especially diverse place, so the state of Utah did not score any points during my mad matzo hunt this past weekend.
Although I no longer live within striking distance of Rein's Deli, my craving for matzo ball soup is as strong as ever. And it is soooo easy to make you won't believe it – a little matzo meal and you're in business. I personally plan on stocking up so I can make this year round!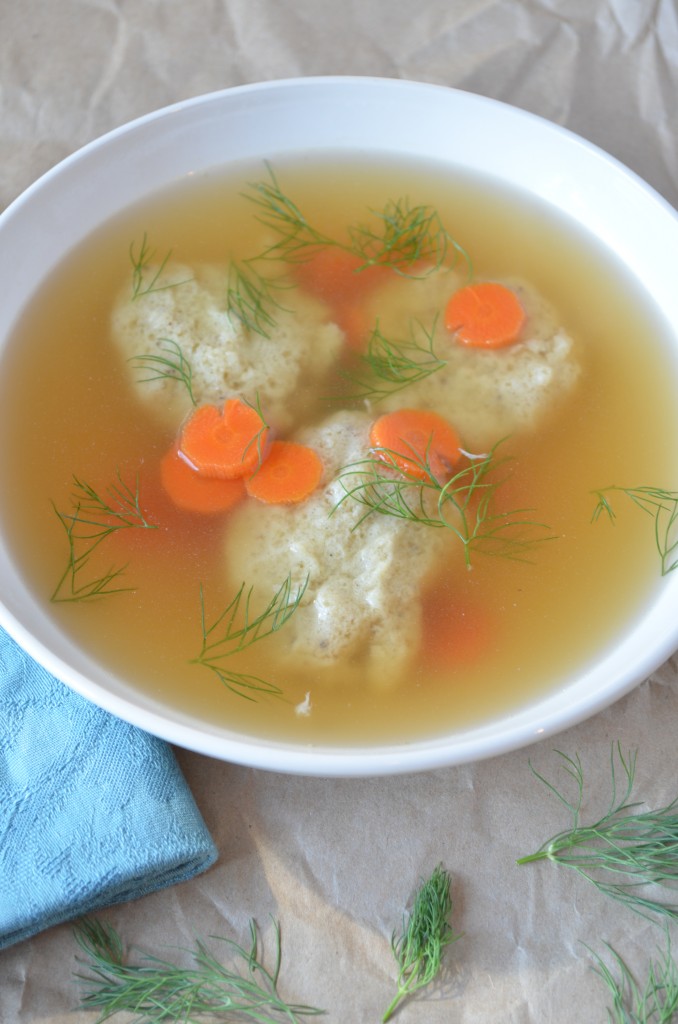 So let's put that vegetable stock from yesterday to good use. If you can't find matzo meal, just pulse a few pieces of matzo in a food processor until powdery. I have to emphasize that the finer you can grind up the matzo, the better the matzo balls will come out. I found out firsthand that a coarse crumb really will not do – you want a powder, which will take a few minutes in the food processor. And whatever you do, don't skip the dill!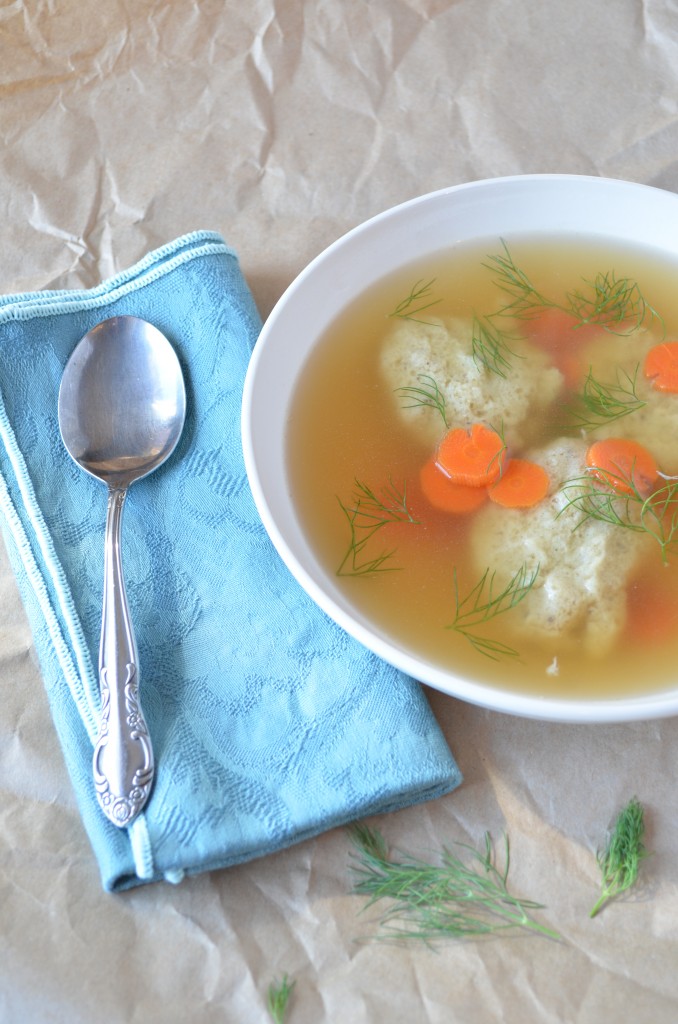 Vegetarian Matzo Ball Soup for Passover
Yields:
8-12 matzo balls, enough for 3-4 people
Ingredients
For the matzo balls:
2 eggs, lightly beaten
1/2 cup matzo meal (or matzo ground to a powder in a food processor)
2 Tbsp vegetable oil
1 tsp kosher salt (reduce to 1/2 tsp if using salted matzo)
1/4 tsp ground black pepper
2 Tbsp seltzer
For the soup:
2 to 3 quarts vegetable stock
2 carrots, peeled and thinly sliced
several sprigs fresh dill
Instructions
In a small bowl, mix all matzo ball ingredients together. Cover and refrigerate for half an hour.
Bring a large pot of salted water to a boil. Reduce heat. Wet hands and form matzo balls by dropping a small spoonful of batter onto your palm and rolling it into a loose ball. Drop into water one by one. Cover and simmer gently for 30-40 minutes. The matzo balls will grow considerably in size.
With about 10 minutes left on the matzo balls, bring your vegetable stock to a boil in a medium-sized pot and add the sliced carrot. If the stock is unsalted, salt to taste at this point. Once the matzo balls are finished, ladle them into bowls. Ladle broth and carrots over the top and garnish with a few pieces of dill. Serve immediately.
Enjoy!
Notes
Matzo balls can be stored for up to 48 hours in the refrigerator. To store, cool to room temperature, place in a single layer in an airtight container, and cover with room temperature cooking liquid. Store broth separately. Adapted from
Smitten Kitchen
.