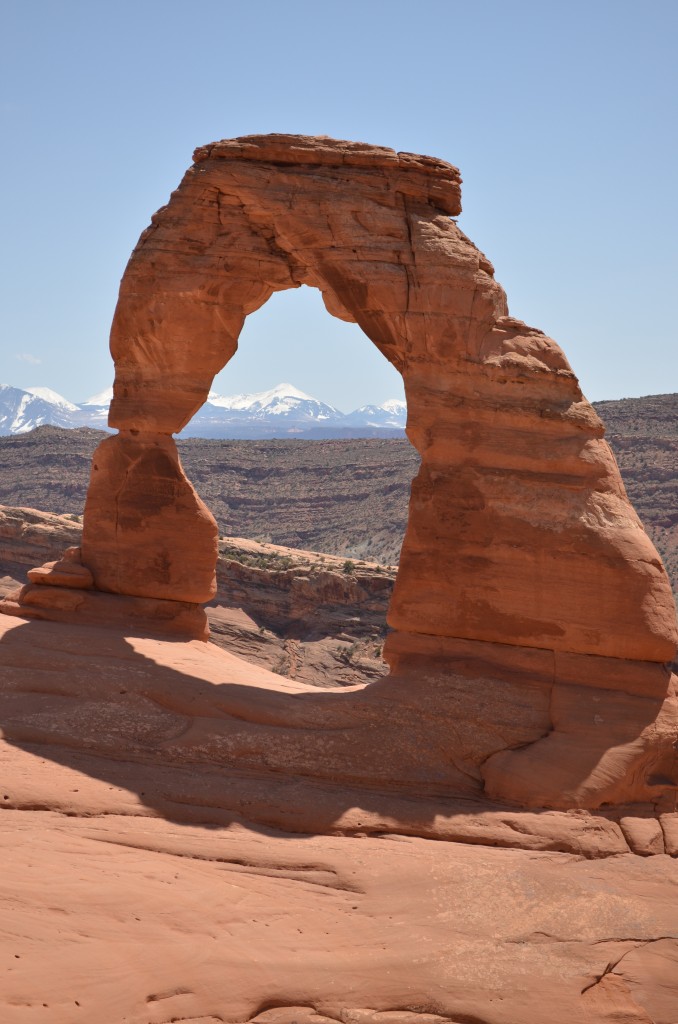 I promised you guys some pictures of my trip down to southern Utah this past weekend. And although I can never get my act together for a "weekend activities" post on Monday, Tuesday's not bad, right?!
Nate and I spent the weekend in Moab, which has quickly become one of my favorite places over the past year. Less than a four-hour drive from Salt Lake City, it is an adorable touristy town that is a mecca of hiking, biking, climbing and Jeeping. It is close to the Slickrock trail and Arches and Canyonlands National Parks, so it's a popular outdoorsy destination. Despite my childhood dreams of becoming a park ranger, I wouldn't necessarily consider myself outdoorsy… in fact, I made Nate stay in a hotel because I'm a huge wimp and the desert gets COLD at night! But I do like the hiking, running, and beautiful scenery down there. I have to say that these pictures, even with my nice camera, don't come anywhere CLOSE to doing it justice.
It was a popular weekend to go down to Southern Utah, since the weather is just starting to warm up. We ran into two different sets of friends while we were down there, which was lovely!
We got down there on Friday night and had a snack and some beers while we watched the news from Boston. Then it was early to bed to get ready for hiking the next day!
Saturday morning I woke up early and pestered Nate until he got up. We threw on our running clothes and headed outside for a run… only to find out it was RAINING. What?! It doesn't rain in the desert! Well, I guess in April it does, despite the sunny forecast. Thank goodness we didn't camp! We opted for breakfast instead – eggs, potatoes, and toast for him; banana walnut pancakes for me. (YUM!)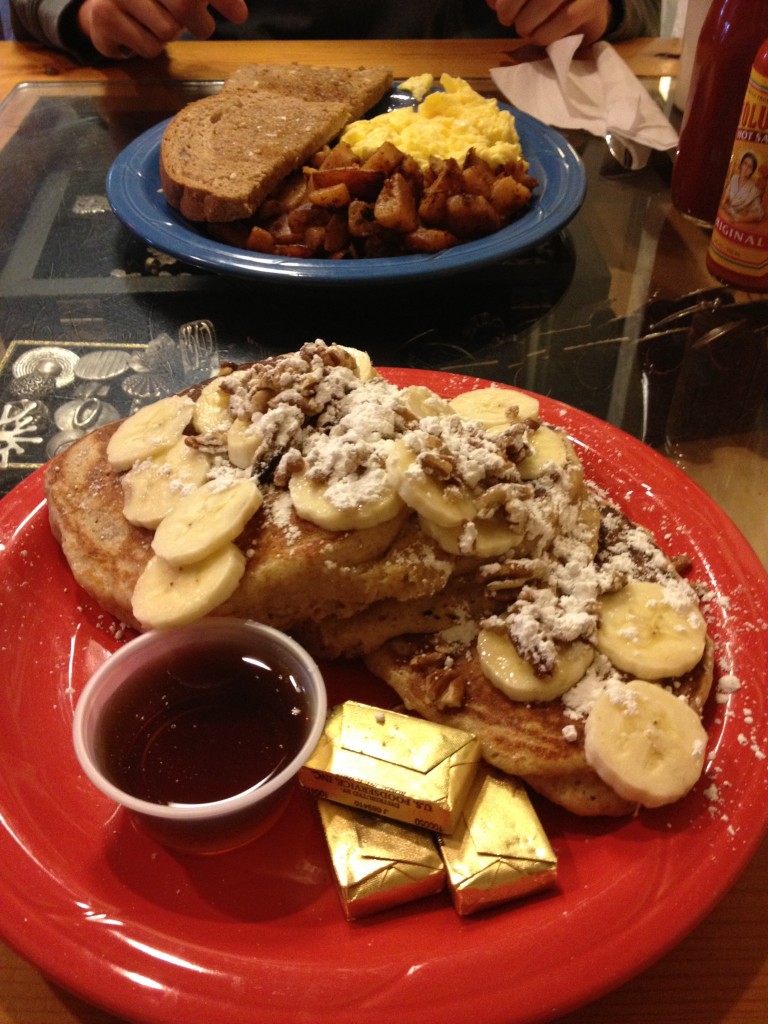 We scrapped our running plans and decided to drive down to the Needles district of Canyonlands National Park, which is about an hour and a half from Moab, in the hopes that the rain would clear up by the time we got down there. On our way out of town I made the rookie mistake of not stopping for gas (because it was cold and rainy), assuming we'd be fine. Oops. More than halfway down to Canyonlands, we realized that we might have enough gas to just complete the round trip. We pulled up Google Maps and of course, the closest gas stations were back in town. Between the rain, the gas gauge, and my poor stress management skills, it was somewhat of a tense drive. I consoled myself by remembering that we had friends in town who could bail us out if needed.
But as we pulled into the National Park, the sun come out.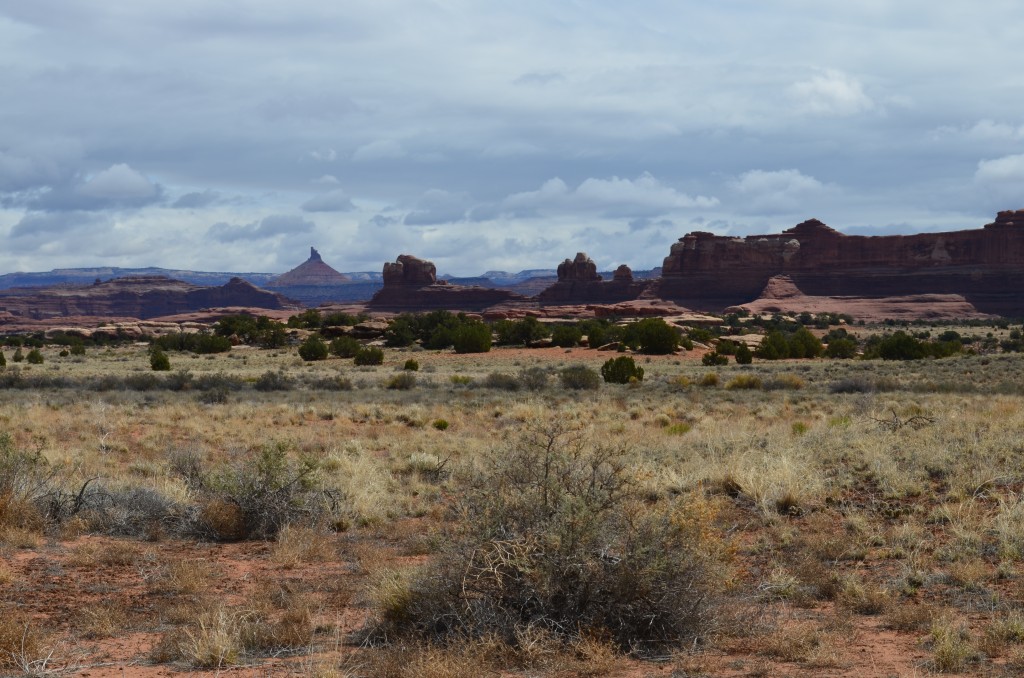 And not only that, but a gas station popped up! Well "gas station" is a loose term… this was the pump!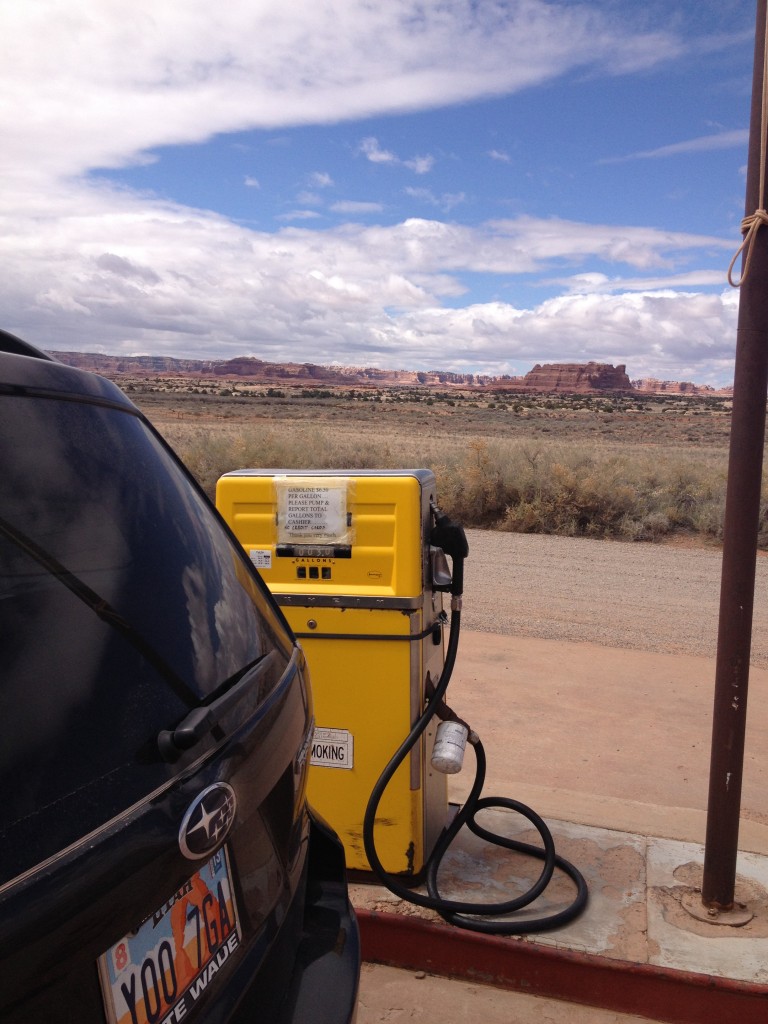 It was a total rip-off, of course (almost double what we would have paid back in Moab), but it was worth $20 for a few gallons and some peace of mind. We reached the trailhead feeling much better, and headed off on our hike. (Big Spring to Squaw Canyon, for anyone who is familiar.)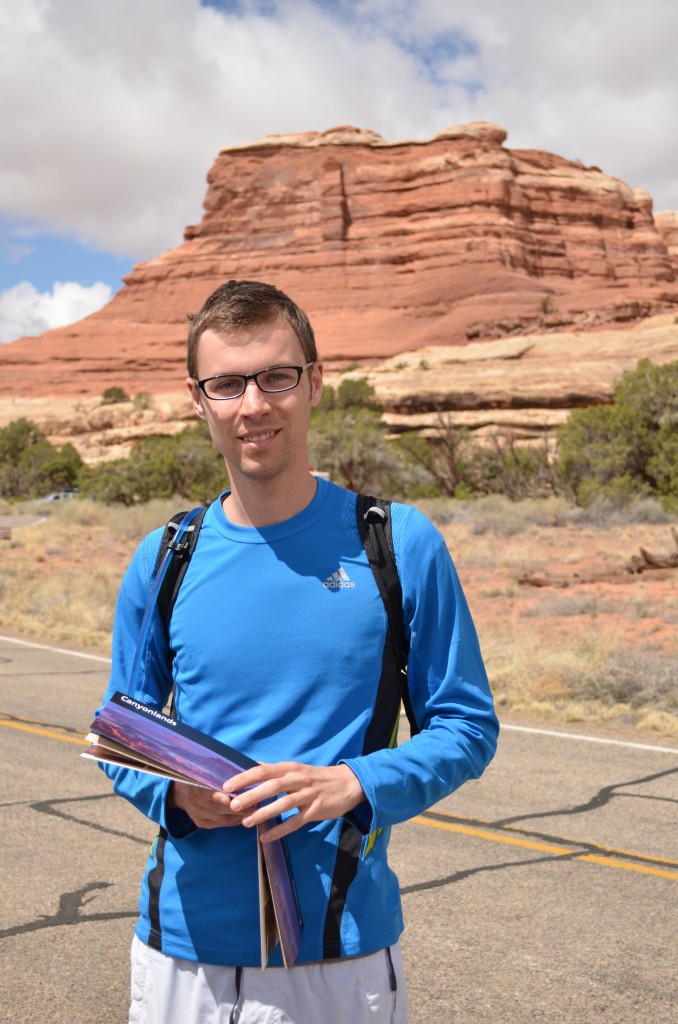 I didn't bring my DSLR on the 3-hour hike, but I think even with the iPhone photos, you can tell how spectacular the Needles are. (Instagram helps!)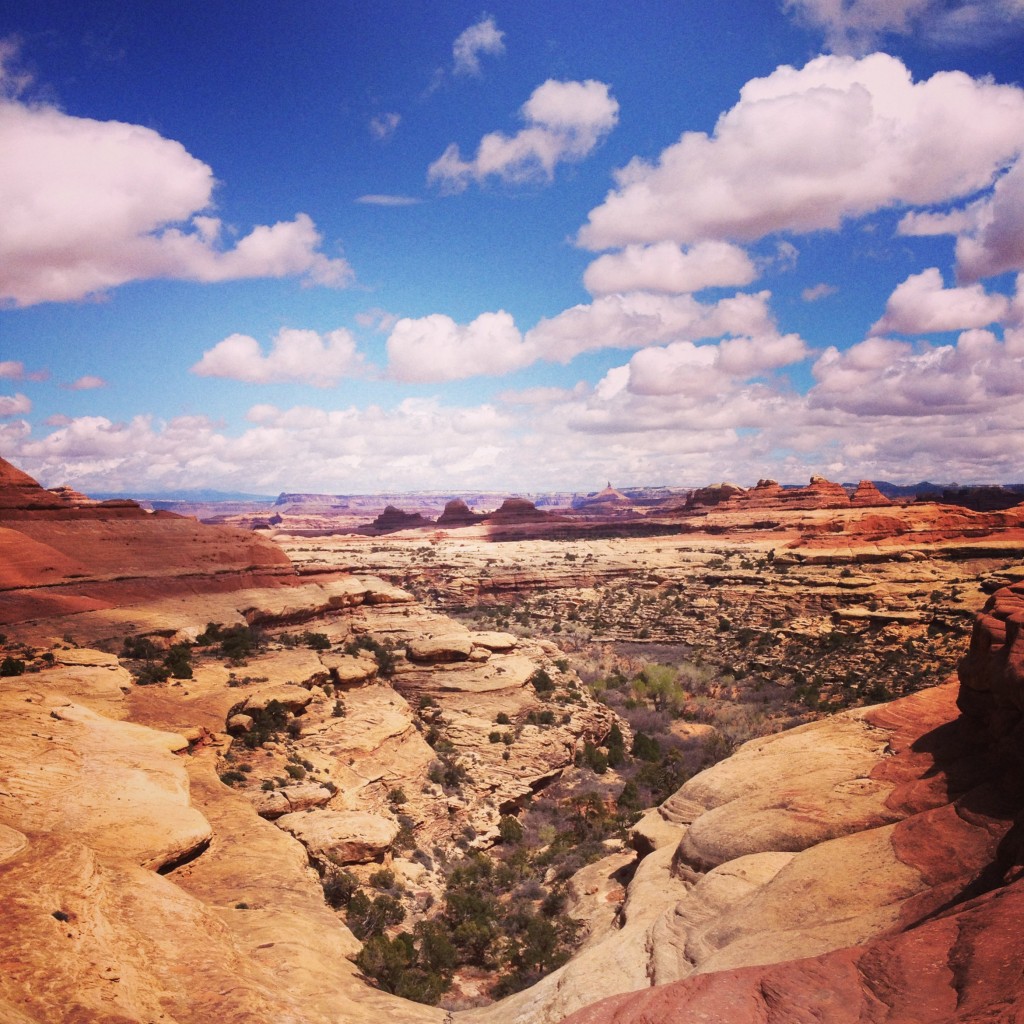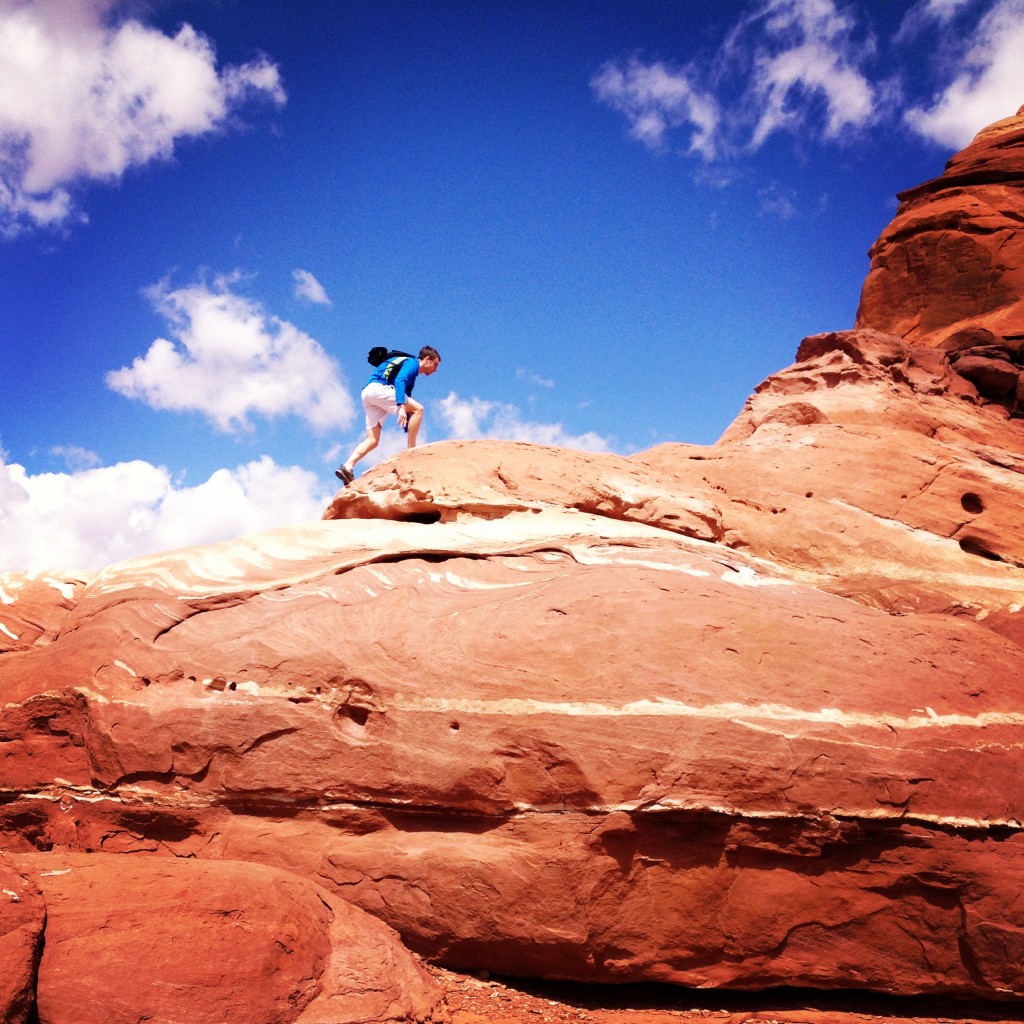 The views were indeed beautiful, but the "hike" turned out to be more of a walk. I always forget that I need to be aware of the type of visitors the national parks attract when I read their hiking descriptions. A translation of a few of the terms used to describe our hike in the Canyonlands brochure:
– "strenuous" = not suitable for the elderly or those in wheelchairs
– "dangerous" = don't bring children 3 and under
So our "strenuous," "dangerous" 7.5-mile hike turned out to be a mostly flat loop. On the upside, though, we didn't run into too many other hikers, which we liked – always nice to have some solitude. We were also veeeery glad not to get rained on!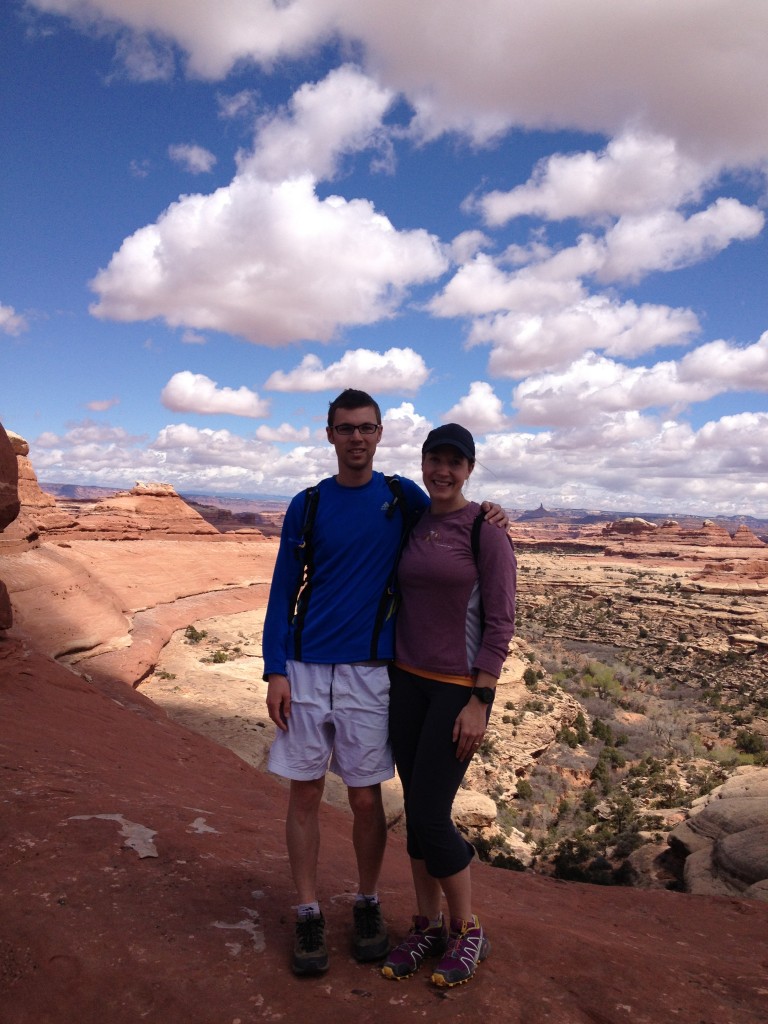 We stopped halfway through to eat some Larabar balls I had made as hiking snacks.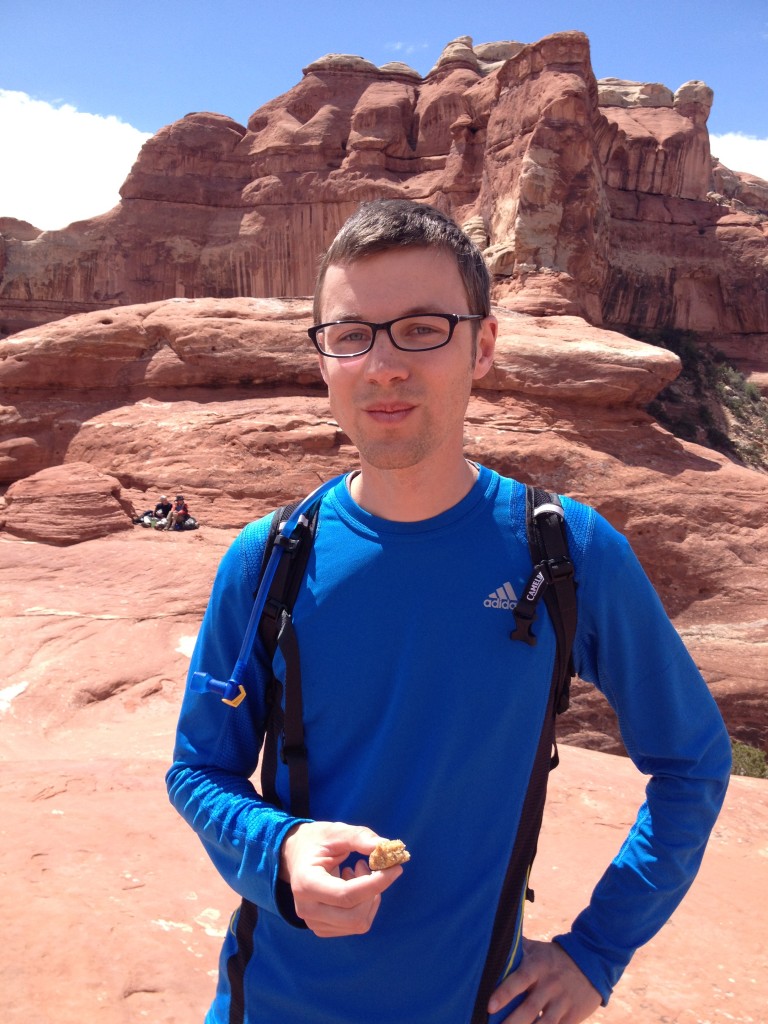 Yum! I will have to do a post on these soon.
Upon arriving back at the hotel, Nate went on a 12-mile run (crazy man) and we had dinner with some friends we'd run into. And enjoyed a few beers! In Salt Lake, we have to drive to and from the bars, so it was a nice change in Moab to just walk back across the street from the brewery to our hotel.
Sunday morning dawned bright and sunny – hallelujah! After a run, we headed to my other favorite Moab cafe for breakfast.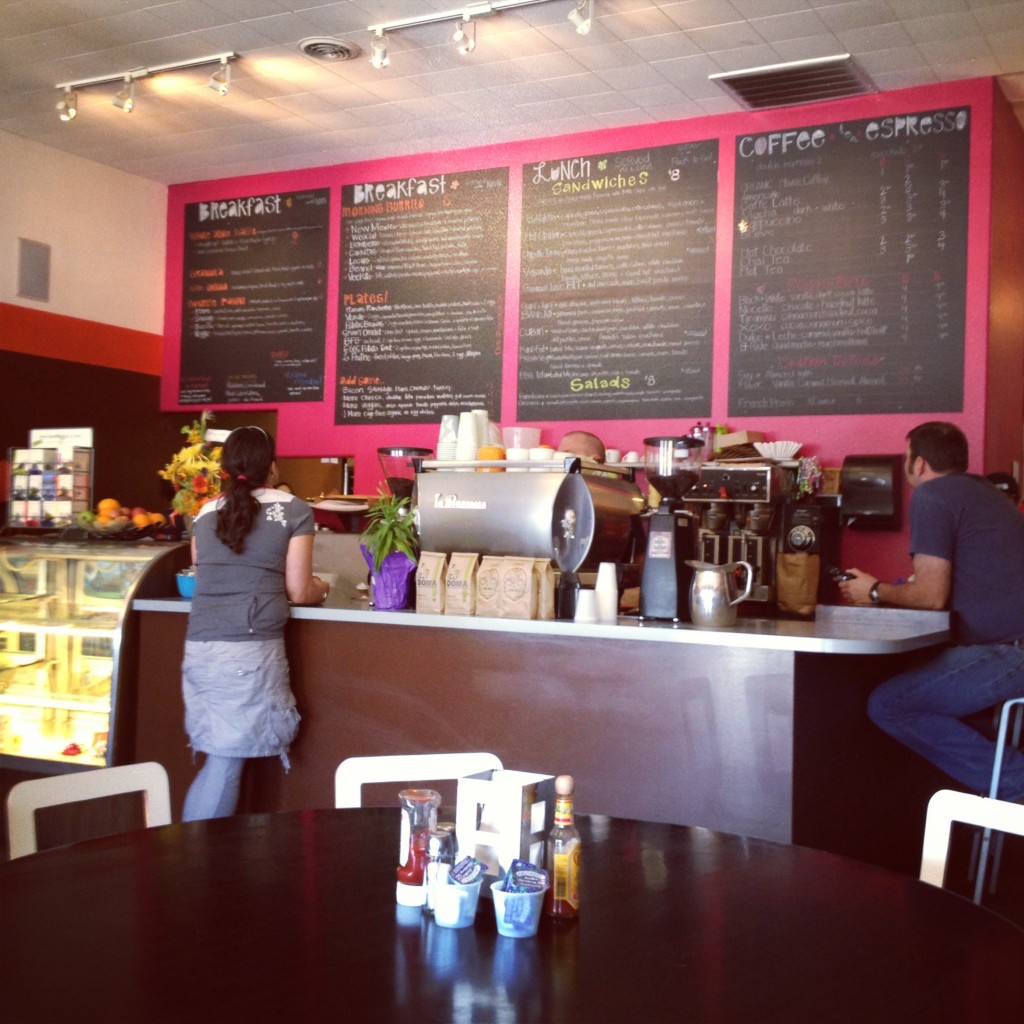 We got some sandwiches to go for lunch, and drove up to Arches National Park.
Arches is just a few miles outside of Moab and has to be one of THE most beautiful places in the world. It seriously feels like you're on Mars! This was my second time there, and I still can't believe that I live just a quick drive from these landscapes. This time we were doing shorter hikes, and I knew it would be worth it to lug the ol' DSLR along!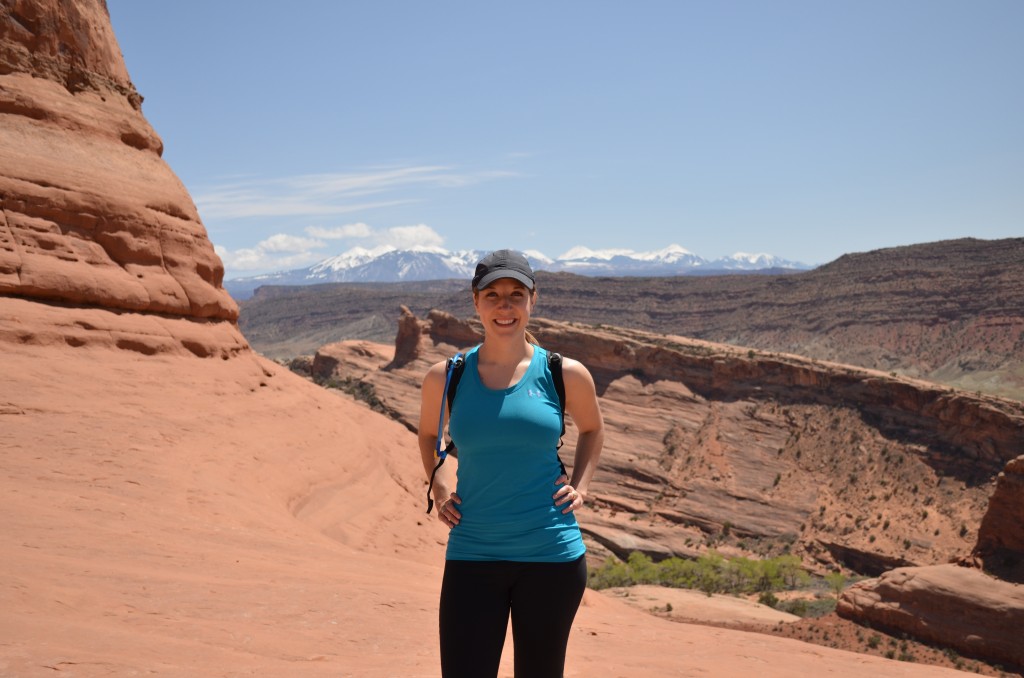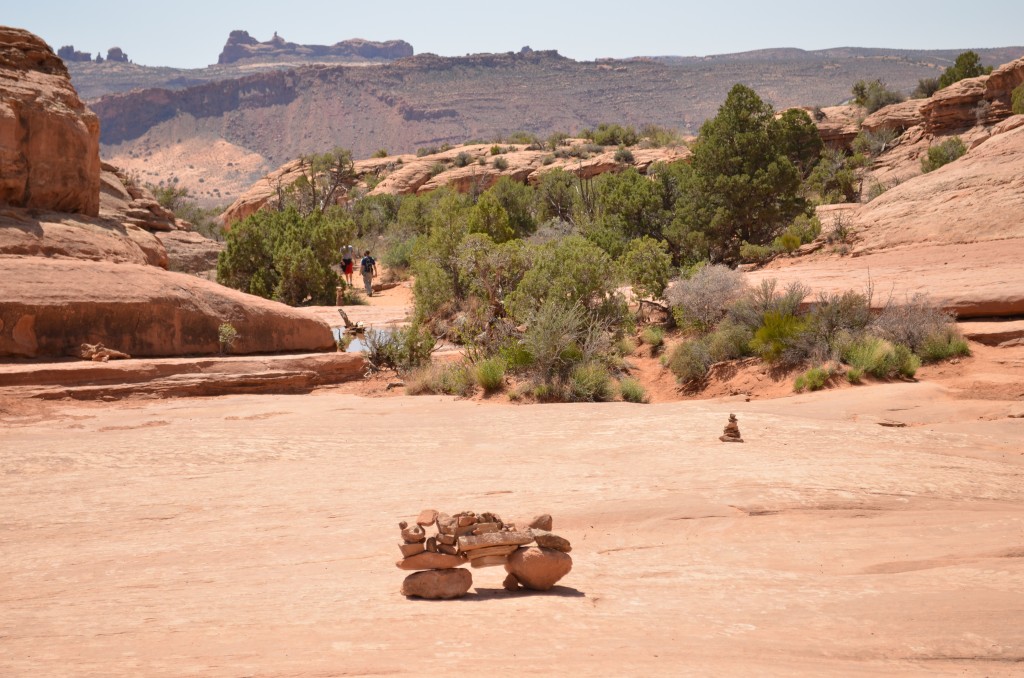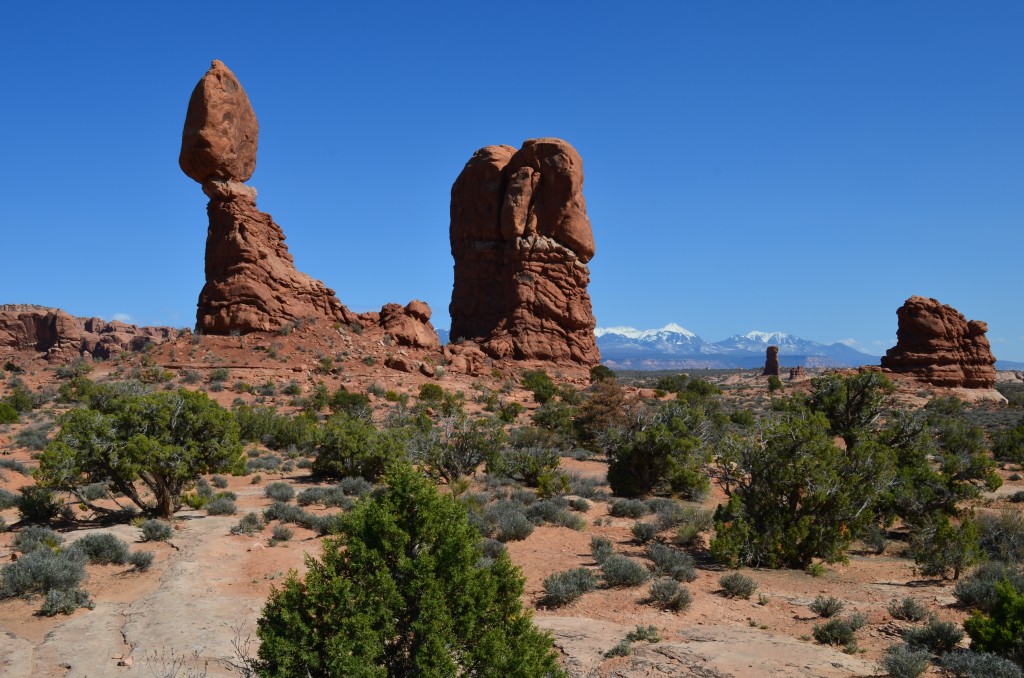 We spent a few hours doing the hike to Delicate Arch, which is a famous Utah landmark, and is even on my license plate. I hadn't realized how huge it was!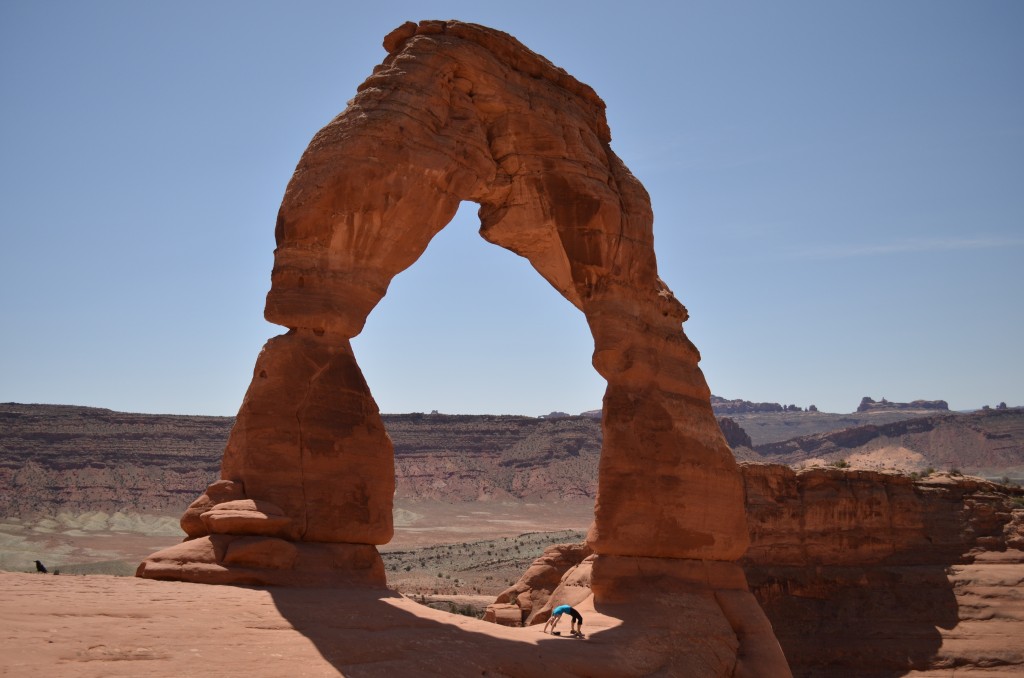 That's me doing wheel pose beneath it. Not my idea, I totally copied another hiker – but I love it!
So beautiful, especially with the La Sal mountains as a backdrop.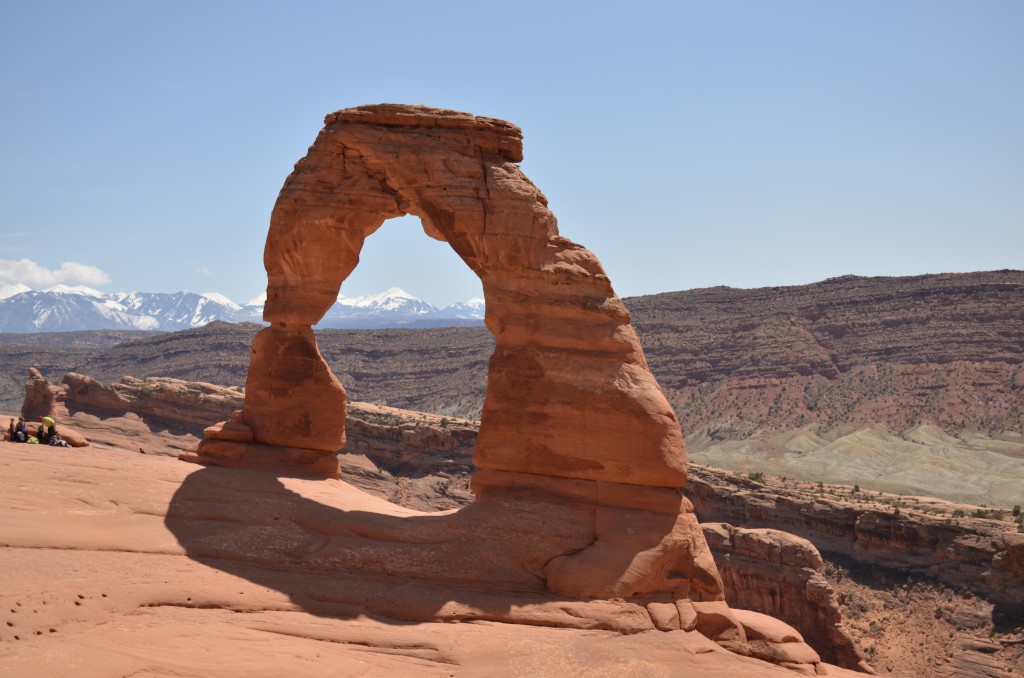 We also did the quick hike up to Landscape Arch, which is in the Devil's Garden area of the park. Devil's Garden is pretty crazy…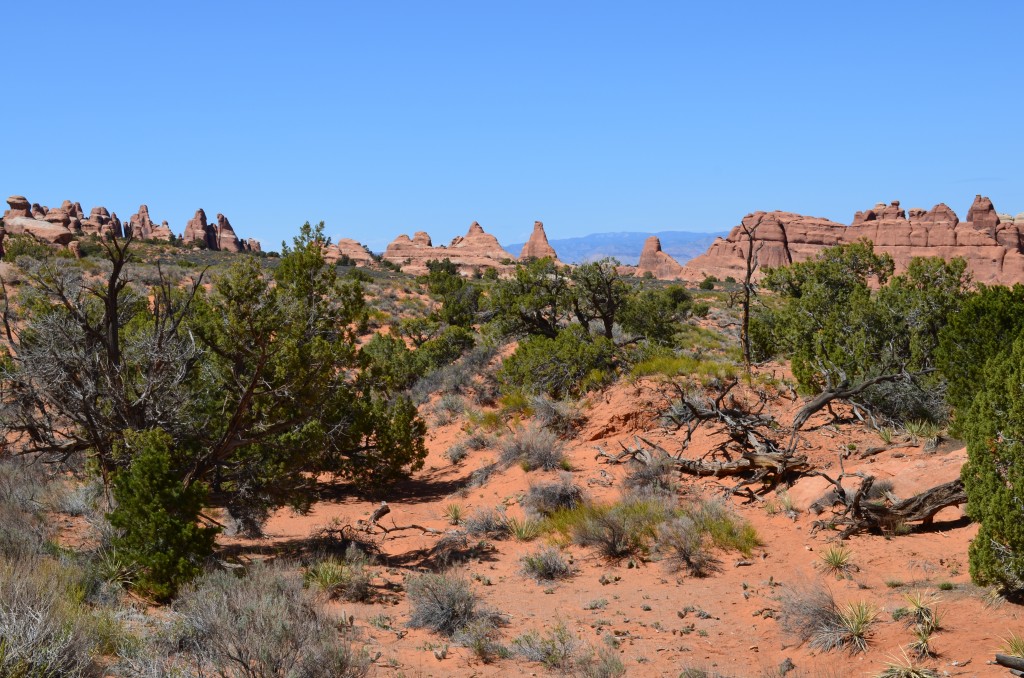 …and Landscape Arch is maybe the most impressive arch because of how thin and long it is. Just look at this thing – crazy that it's not man-made!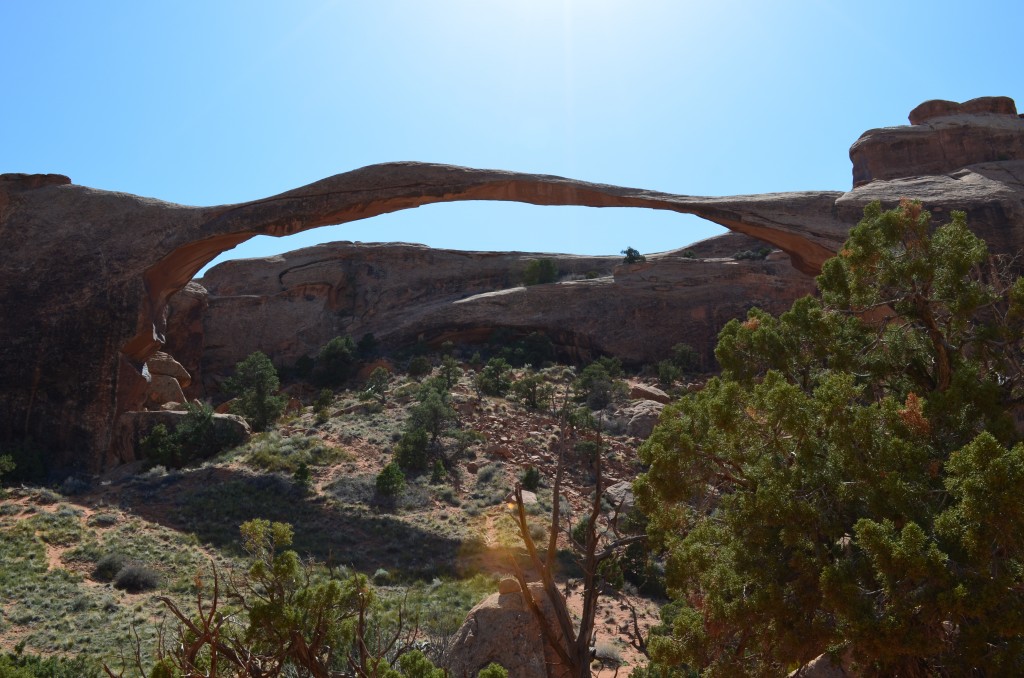 We were pretty sleepy after an afternoon walking around in the sun. We revived ourselves with a coffee and a "chocolate therapy cookie" back in town (OK, so maybe it was only me that needed the cookie) and hopped in the car for what felt like a loooong drive back to Salt Lake. My eyes felt fried after being in the sun all day and then staring at the road all evening. I don't feel like we did anything TOO strenuous (despite what the brochures would have you believe), but I was totally wiped out by the time we got home Sunday night. Not to mention in need of a detox after a weekend of brunches, beer, and cookies. This week's plan: sleep and lots of salads! I need it.
Quick recap of our activities in case you're planning a Moab trip yourself:
Where we stayed:
Where we visited:
– Needles section of Canyonlands National Park: Big Spring to Squaw Canyon hike
– Arches National Park: Delicate Arch, Landscape Arch
Where we ate (All have lots of veggie options):
– Eklecticafe (brunch)
– Love Muffin Cafe (breakfast/lunch)
– Moab Brewery (dinner/brewery)
– McStiff's (dinner/brewery)
It gets pretty hot in the summer, so this fall may be the next time I make it down there – for my second time running the Other Half half marathon! Eeeek.
We're doing pretty well on national parks in 2013 – three so far! We'll see how many we can add to the list this fall.