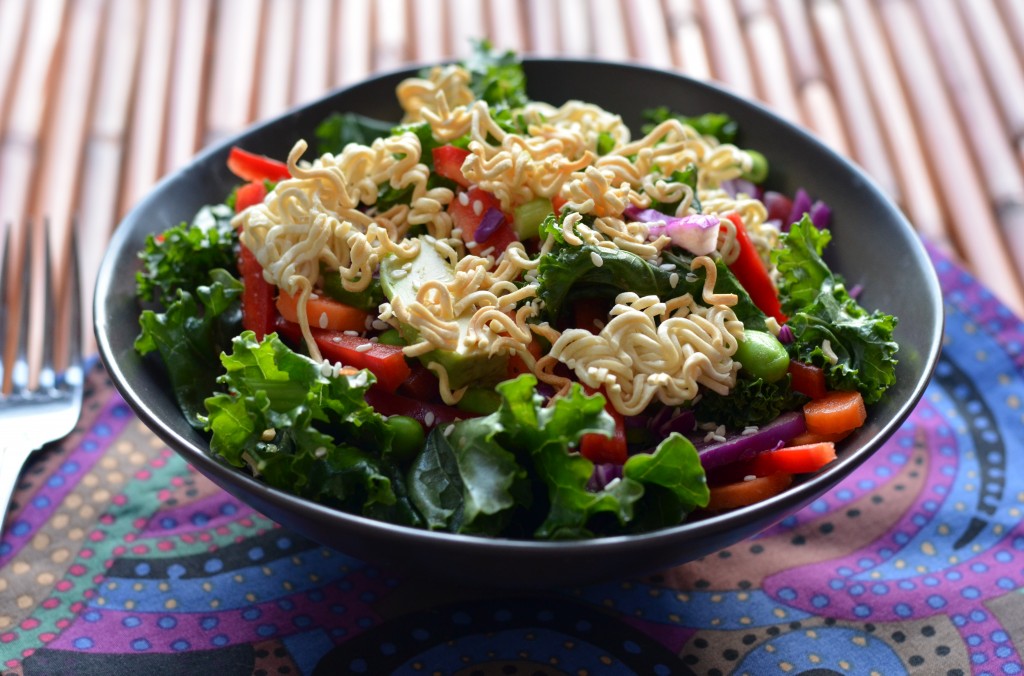 This was originally supposed to be a soba noodle salad.
The other day at work, I got really fixated on making one. I just knew it would be perfect with the various leftover veggies lurking in my crisper. I wouldn't even have to go to the store! Major success.
Then I got home and found we had no soba noodles. Major failure.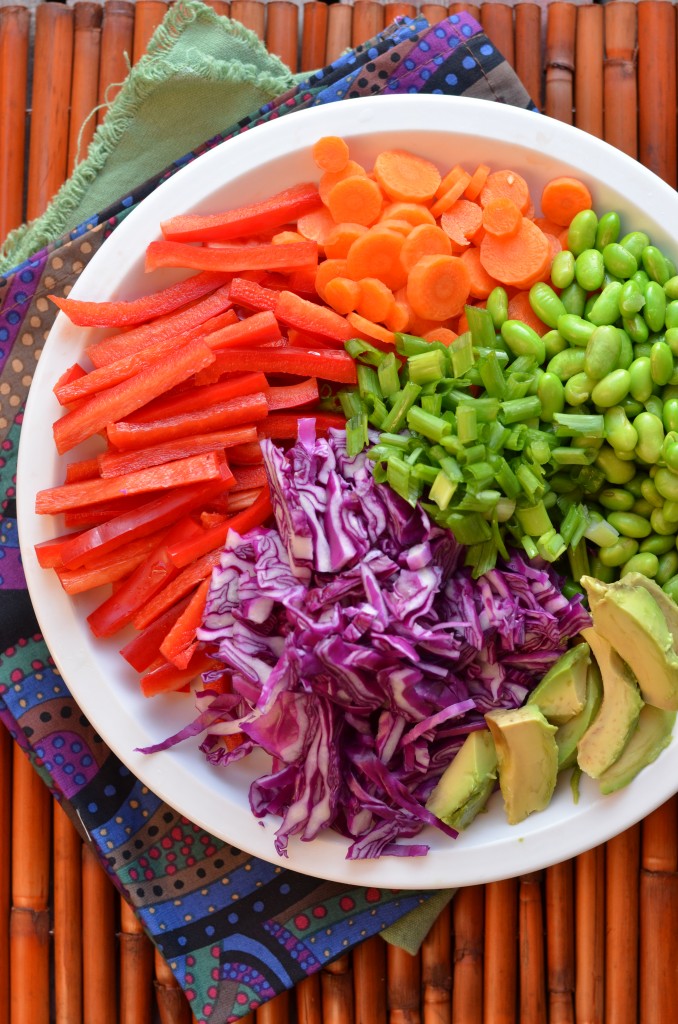 So I went to the grocery store. AND THEY ALSO HAD NO SOBA NOODLES.
What. The. Hell.
So back home I went, dug wayyyy to the back of my (very deep) cabinet, and pulled out some ramen noodles. Cha-ching! Salads with ramen noodles are totally a thing. I know because my mom and grandma make one, and that makes them official. And also delicious. A few minutes later, I was digging into this!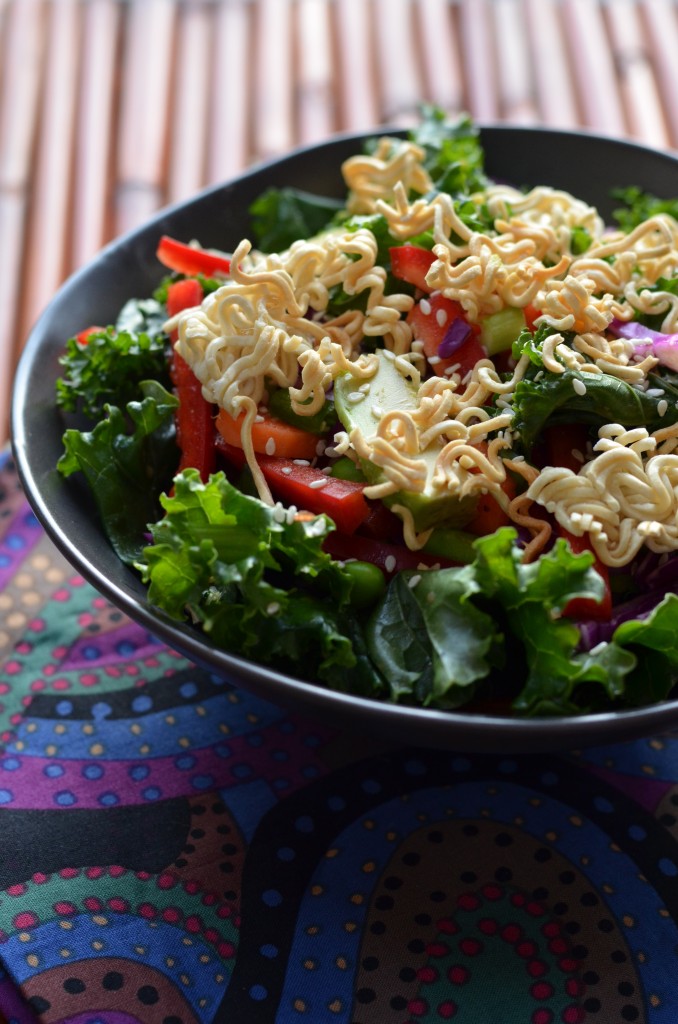 So now that I've taken you on the little journey of how this salad came to be, let me tell you about it! Ramen noodles, obviously. Toasted to crunchy perfection! And I officially massaged my kale for the second time ever, woo hoo! Getting to be a pro at this. Then some crunchy and colorful veggies to really make you feel like you got your nutrients for the day.
And the dressing I had actually made for the roasted carrot and chickpea salad last week, but didn't end up using it. I regretted the soy sauce as soon as I added it – it wasn't at all what I was going for with the carrots and chickpeas. But it was perfect with these veggies! And that, my friends, is how I came to post two salads with miso dressing on consecutive weeks.
Fascinating, I know.
Anyway, this salad was so crunchy, flavorful, and fun. I know you'll love it!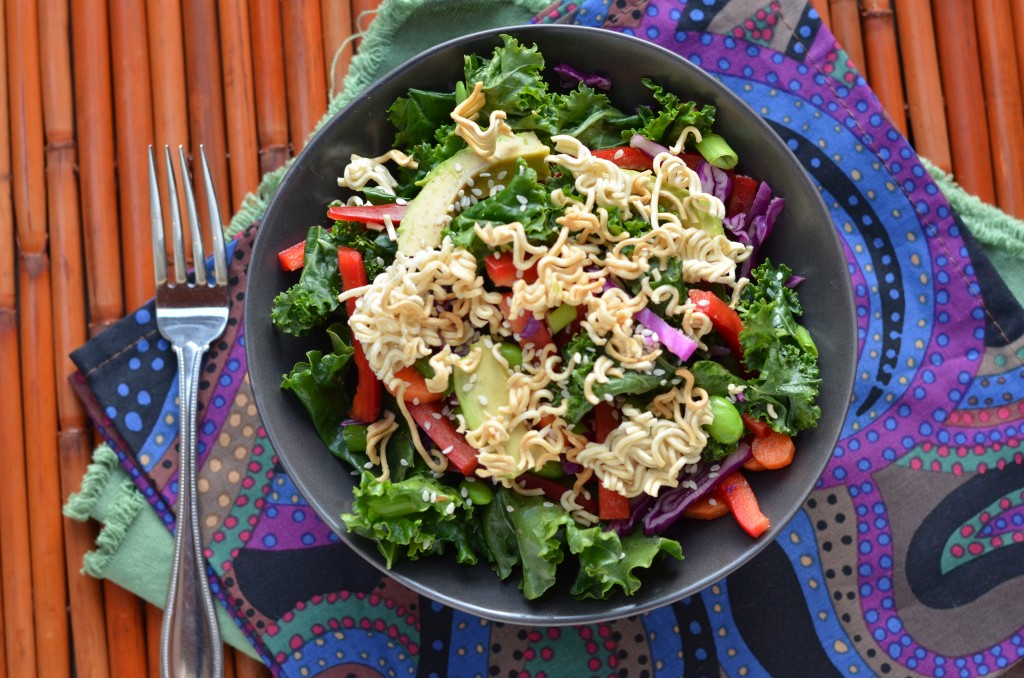 And finally, because I'm so happy it's Friday, here's what's in store for the weekend: Tonight is a costume party (lifeguard/surfer themed – not sure what I'm wearing!), and tomorrow night is a wedding. I'm excited to kick off the 2013 wedding season (and thankful that this one involves no travel)! I'm also looking forward to the wedding because it's my excuse to get my first pedicure since September, if you can believe that. I've been au naturale in the toe department all winter!
Anyway, in between parties and pedicures, I'm running a 5K race on Saturday morning. We'll see how that goes! It's my first race of the season and the first 5K road race I've run in a LONG time. (I did a 5K last summer, but it was a trail race – this should be easier!) I've been running 3 to 4 miles, 3 times a week, but no speed workouts or anything. If I can run the whole thing at about an 8:15 pace, I'll be pretty happy. Wish me luck!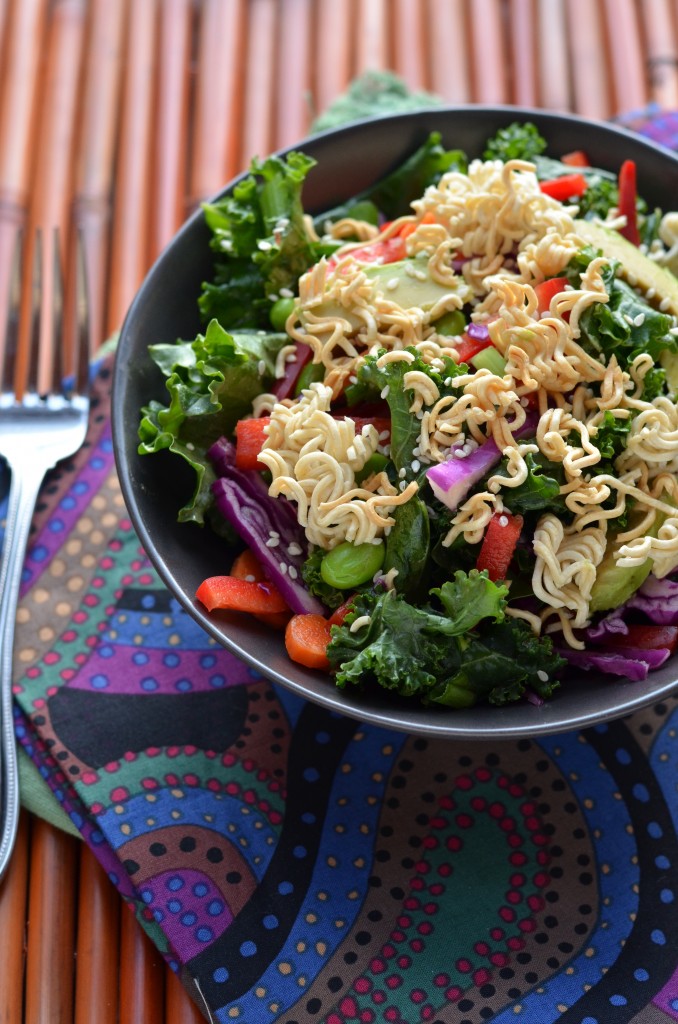 Massaged Kale and Veggie Salad with Toasted Ramen
Ingredients
For the dressing:
2-inch piece of fresh ginger, peeled and sliced
2 cloves garlic, roughly chopped
3 Tbsp white miso paste
1/4 cup rice wine vinegar
2 Tbsp low-sodium soy sauce
2 tsp toasted sesame oil
1/4 cup water
For the salad:
1 bunch curly kale, washed and torn into bite-sized pieces
1 red bell pepper, thinly sliced
1 large carrot, peeled and thinly sliced
1 cup shredded red cabbage
3-4 green onions, sliced
1 cup frozen edamame, thawed
2 3-oz packets ramen noodles, flavoring packet discarded
1 avocado, sliced
sesame seeds
Instructions
Prepare the dressing by blending all ingredients together.
In a large salad bowl, pour half of the dressing over the kale. With your hands, toss the kale leaves and massage the dressing into them for about 30 seconds. Set aside while you prepare the rest of the salad.
Break up the ramen noodles into chunks. Preheat a toaster oven or regular oven to 350. Spread crumbled ramen on a baking sheet and toast until golden, several minutes.
Toss veggies (pepper through edamame) with kale. Top with toasted ramen, avocado, and sesame seeds and serve alongside extra dressing. (You may have some dressing leftover.)
Enjoy!