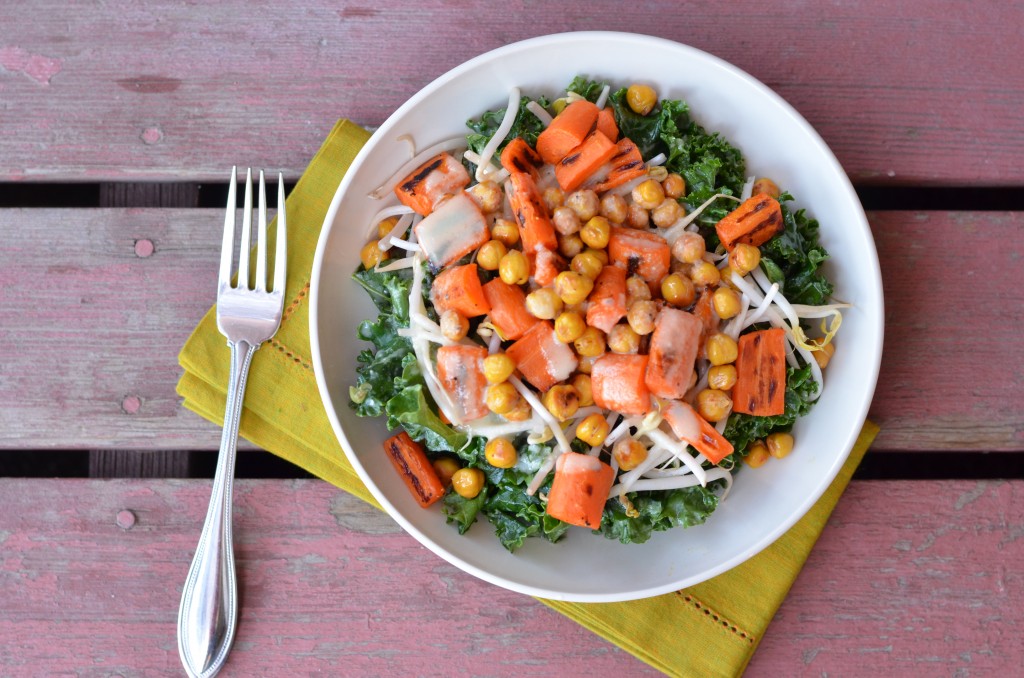 Sometimes doing the same thing over and over again is a bad thing. It's called getting stuck in a rut.
But sometimes doing the same thing over and over again is a good thing. You're hitting your stride. Perfecting the art. Getting it down to a science.
What I just learned from writing those sentences is that sports, art and science all involve doing the same thing over and over again. And I often feel like cooking is all three of those things! Definitely art. Definitely science. If you're skeptical about the sports bit, you should see the sweat I can work up trying to get three dishes ready at the same time. It probably counts as my workout for the day, right? I thought so.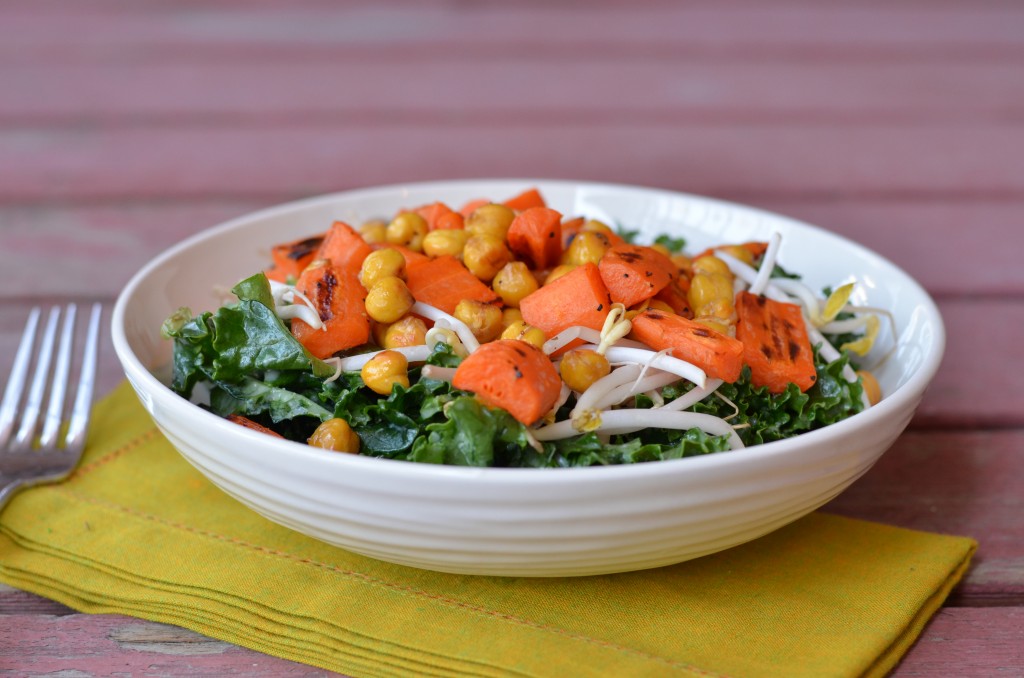 I guess what I'm trying to say is that I've been roasting a lot of vegetables lately. I've put them in tacos, I've had them on lentils, I've eaten them as sushi, I've called them poutine. April has kind of been The Month of the Roasted Vegetables around here. Stride = hit. Art = perfected. Science = …gotten down to? Sure. All of those things.
And so, just as the weather is getting warm enough here in Salt Lake that I'm not sure how much longer I'll be wanting to turn my oven on, here is another roasted vegetable recipe. And it's a really good one, too, this time over kale for Dole National Salad Day on Wednesday.
Carrots are one of my favorite vegetables to roast (and maybe I'll even show you my favorite way to roast them soon!). In fact, they're maybe one of my favorite vegetables period, which means I probably shouldn't have laughed at my dad so much for eating about two pounds of them a week while we were growing up. In any case, I love carrots, especially roasted, and I think "scarfed" is the appropriate verb for the manner in which I consumed this salad about 0.8 seconds after taking these pictures.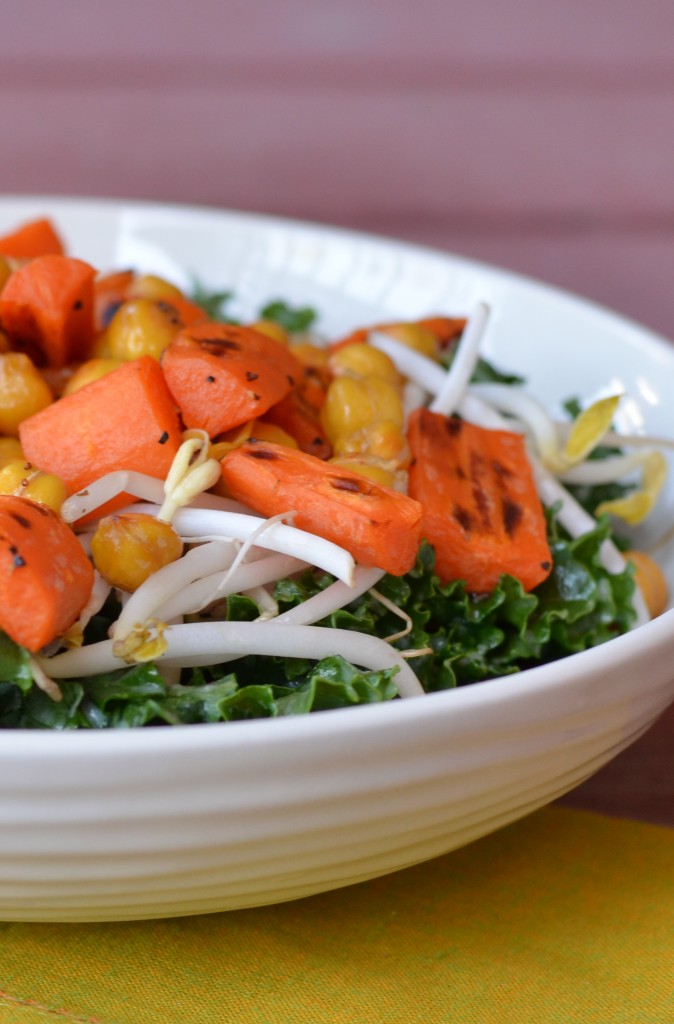 Can I confide something in you? This "massaged kale" salad is the first time that I have EVER massaged my kale. The whole "massaged kale" thing always kind of weirded me out, to tell you the truth. I mean, massage it, really? Am I supposed to give it a pedicure afterwards, too? Some recipes instruct you to get in there with your hands for an oddly long amount of time. But I found that just 30 seconds of tossing the kale leaves with my hands and kind of, well, massaging them really did break them down and improve the texture considerably. So I guess I am sold! Kale masseuse numero uno right here.
All right, I think that is all I have to say on the subject of this salad. Happy Monday, get your week off to a good start!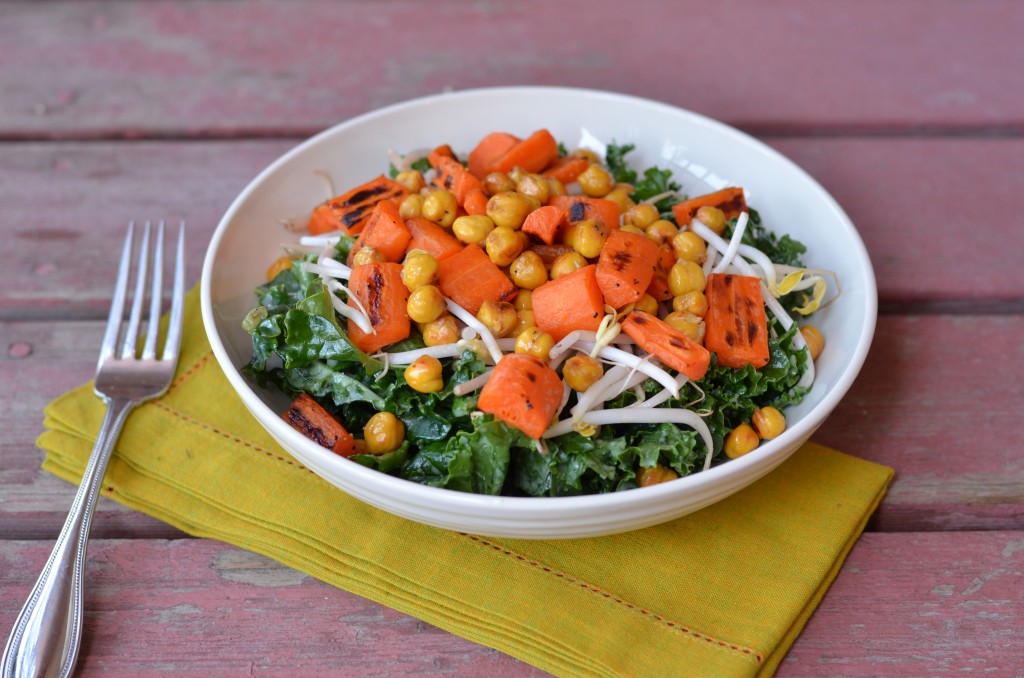 Roasted Carrot and Chickpea Salad with Miso Ginger Dressing
Ingredients
For the roasted carrots and chickpeas:
2 cups chopped carrots (bite-sized)
1 1/2 cups cooked chickpeas (1 14-oz can)
1 tsp olive oil
sprinkle of salt and pepper
For the dressing:
2 Tbsp white miso paste
juice of 1 lemon (3-4 Tbsp)
1/4 cup water
2 cloves garlic, peeled and roughly chopped
2-inch piece of ginger, peeled and sliced
1 Tbsp olive oil
1 tsp honey (optional, add if dressing is too sour for you)
For the salad:
1/2 bunch curly kale, washed and torn into bite-sized pieces
handful of bean sprouts (optional)
Instructions
First, roast the vegetables. Preheat oven to 450. Toss carrots and chickpeas with olive oil and sprinkle with salt and pepper. Spread on a lined baking sheet, taking care to spread the carrots in a single layer. Roast until carrots are beginning to brown and chickpeas are crispy, 20-25 minutes, stirring once halfway through.
Meanwhile, prepare the dressing by blending ingredients (miso through olive oil) together, or mincing finely and whisking. Taste and add in the honey if the dressing is too sour for you.
Pour half of the dressing over the kale and massage into the leaves with your hands to soften them.
To serve, layer kale, optional bean sprouts, and roasted carrots and chickpeas. Top with remaining dressing.
Enjoy!