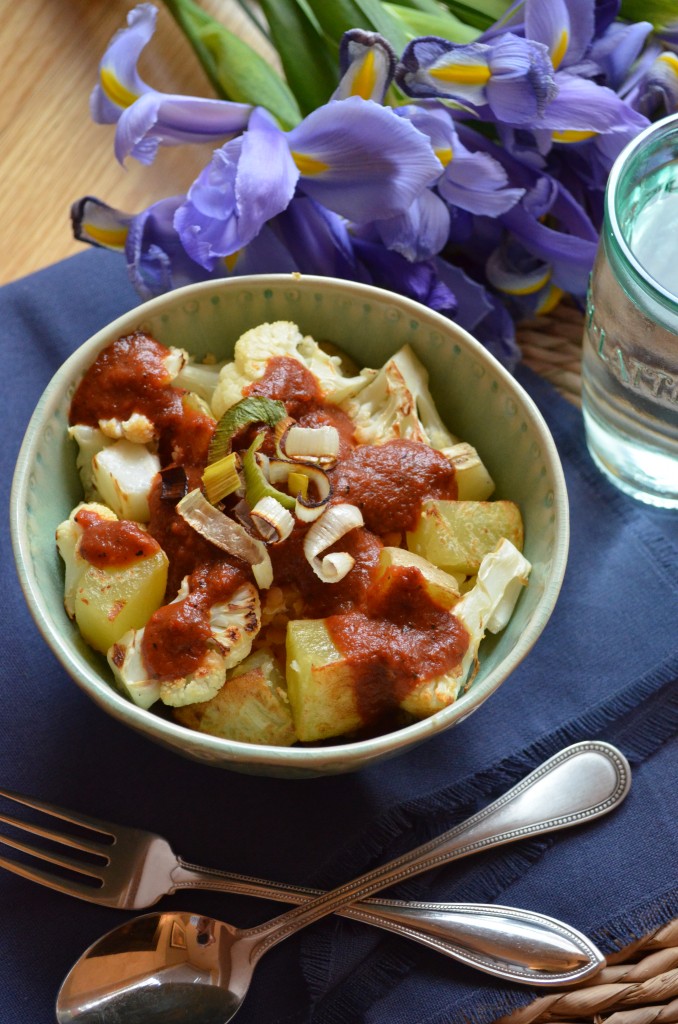 Well, I think I can say that I'm a changed woman.
After just a brief period of cooking with strictly what I have in the house, my creative juices are starting to flow. It really wasn't that difficult, either. Granted my "pantry cleanse" has turned into more of a fridge cleanse, but that's OK. I'm realizing that both are a great source of inspiration for new recipes, and I'm getting more comfortable throwing things together without knowing how they'll turn out. Not everything is blog worthy, that's for sure, but nothing has turned out too badly, either. I know it comes as second nature to some, but for this type A planner, this is a light bulb moment!
So I'll chalk up a win in the creativity column, but unfortunately, my cabinets still merit hoarder status. While I've used a lot of pantry items that had been languishing for a while, I haven't necessarily used up any of them. And so it continues…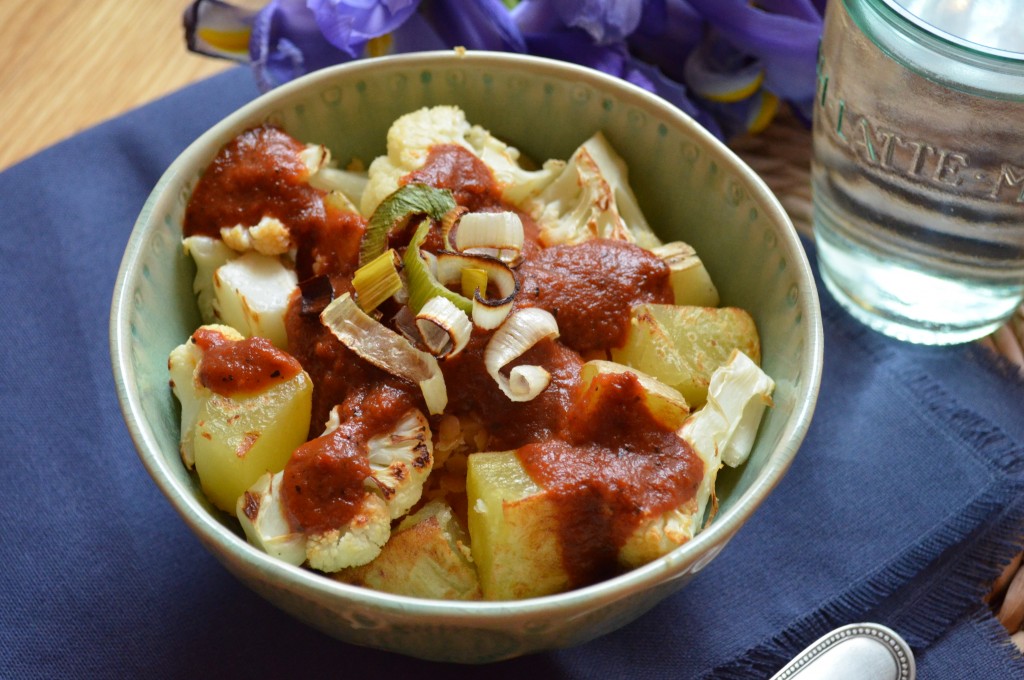 My go-to dish during this effort has been a big bowl of roasted veggie goodness, like Wednesday's sushi bowls: Some sort of grain + roasted veggies + sauce or dressing + a little extra flavor on top. Here I picked lentils instead of a grain for some extra protein, especially because I was already using starchy potatoes. Also, you saw in Monday's post that I have a ton of legumes, so I had to use at least one kind this week! I realized afterwards that this dish is actually pretty close to my cauliflower steaks with lentils and this same sauce. This time, though, I only had half a pepper to use in the sauce, and successfully resisted the urge to run to the grocery store to grab another one. I also had most of a big can of tomato puree that I wanted to use up, so I just threw it all in. Despite those changes, the sauce was just as good as I remembered; I honestly couldn't even tell the difference with less pepper and more tomato. Veeeeery flexible – I like it.
This dish has kind of a lot going on as you simmer the sauce, cook the lentils, and roast the veggies all at once. However, if you plan ahead enough to make one of those parts ahead of time (I would recommend it be the sauce), this can come together with almost no effort at all. You'll also have some sauce leftover, which would be great on pasta or with a grain and some different veggies, which is how we enjoyed it last night.
This is going to be the last post in my little pantry series, since I have some fun recipes for next week that I don't want to put off any longer. I'll continue to post meals like this one from time to time, and I'll tag them as "pantry." You can check out that tag if you ever want some inspiration for throwing together an unplanned weeknight meal yourself.
Have a great weekend, friends!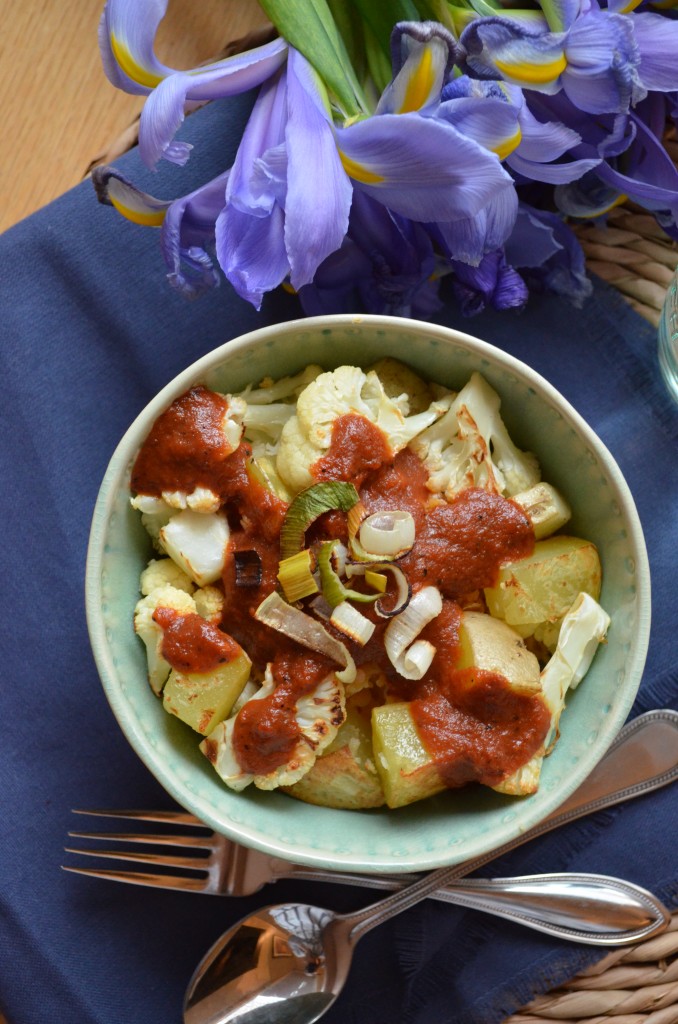 Roasted Veggie Lentil Bowl with Charred Red Pepper Sauce
Ingredients
For the lentil bowl:
1 cup dry red lentils
1/2 head cauliflower, chopped into bite-sized pieces
2 small Yukon gold potatoes, scrubbed and diced into 1-inch chunks (I left the skins on)
1 leek (white and light green parts only), halved, sliced, and well rinsed
2 tsp olive oil
For the charred red pepper sauce:
1/2 red bell pepper
2 cups canned tomato puree
juice of 1 lemon
2 Tbsp Worcestershire sauce
2 Tbsp olive oil
1 Tbsp balsamic vinegar
1 Tbsp molasses
1 tsp prepared mustard
1/2 tsp ground ginger
1/4 tsp ground black pepper
1/4 tsp onion powder
1/8 tsp ground allspice
Instructions
Preheat broiler and line 2 baking sheets. (I used tin foil; the veggies stick to it a bit, but I wouldn't recommend parchment paper for broiling!) Place the half a pepper skin side up on one of the baking sheets. Broil until skin is almost completely black, about 6-8 minutes depending on your broiler.
Place charred pepper (including skin!) in a small sauce pan with all other sauce ingredients. Use an immersion blender to puree until smooth. (If you don't have an immersion blender, simply blend in a regular blender or food processor and then pour into the sauce pan.) Simmer over medium-low heat for about 15 minutes, or until the rest of the meal is ready.
Preheat oven to 400. Toss potatoes with 1/2 tsp of olive oil and spread on half of one baking sheet. Toss leeks with another 1/2 tsp of olive oil and spread on the other baking sheet, but do not put them in the oven just yet.Toss cauliflower with remaining teaspoon olive oil and set aside. Put the potatoes in the oven and after 10 minutes, spread the cauliflower on the other half of the baking sheet with the potatoes, and put leeks in the oven, too. Roast until everything begins to brown (the leeks should be charring a bit), 20-25 more minutes, stirring once or twice.
Once the veggies are roasting, make the lentils by bringing them to a boil with 1 cup of water. Reduce heat and simmer until tender but not mushy, 10-15 minutes. Drain excess water.
Assemble the bowls by layering lentils, roasted potatoes and cauliflower, and pepper sauce, and topping with roasted leeks. Dive in fork first!