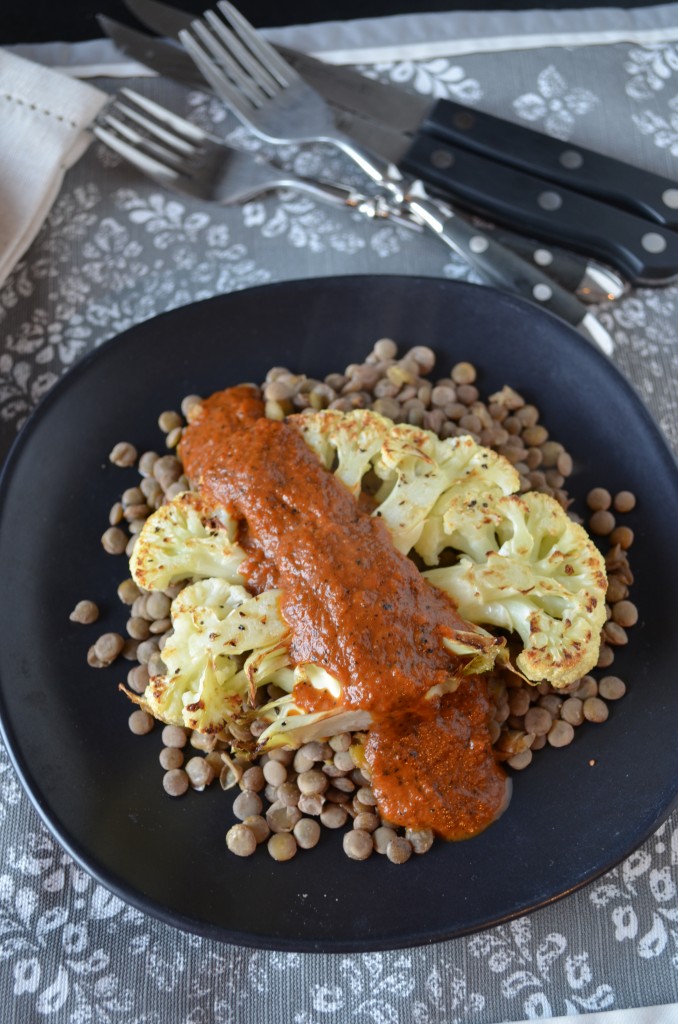 There was a time in the life of this blog – called December – when I felt like all I was posting were desserts and snacks. Crostini, popcorn, cake, hummus – I was posting some of my favorite recipes, but I wasn't posting the healthy meals that I actually cook when I come home from work at night.
Oh, how the times have changed.
I guess that's called January. And in January, I have posted a record number of healthy, savory recipes – noodle soup, chickpea tacos, even a salad. These are the things I really eat for dinner every night… at least in January. Give me a few more weeks and it'll be big bowls of pasta and cheese, I'm sure. Actually, I'm definitely going to make some desserts this weekend. But for now, my intentions are good, and my posts are healthy!
Exhibit A: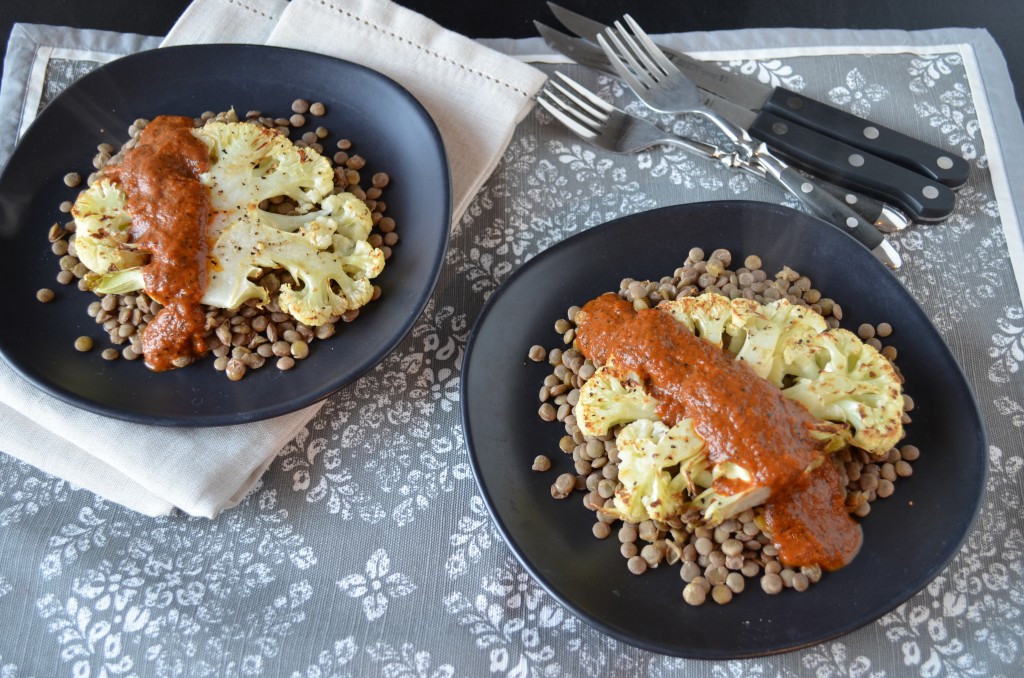 Roasted cauliflower "steaks" over lentils with an amazing charred red pepper "steak" sauce drizzled over the top. See the steam wafting up from those babies? I bet you'll be home in time for dinner.
Cauliflower seems to be the new vegetable that everyone is pretending is meat. First came portobellos, of course, which I can understand. Now Pinterest is filled with cauliflower steaks. Any guesses as to what we'll all be calling "steaks" in a few months? My bet is on the eggplant.
Today I'm hopping on the bandwagon, and as you can see, I really am pretending this is meat. I put steak sauce on it and ate it with a steak knife. These knives are like, the sharpest things in the world. They're awesome but totally unnecessary here. I've been using them to cut grapefruit lately. And cauliflower… the other white meat.
Whatever you do, don't skip this red pepper sauce! I don't even care what you put it on… fake steaks, pasta, real steaks, pizza, whatever you like. It is out-of-this-world delicious, as Deb will tell you, and it really makes this meal! I made a double batch to ensure leftovers, and I will almost certainly be adapting it to a hearty pasta sauce soon. (As it is, I adapted Deb's recipe to whatever I had in my pantry/fridge, which did not include Worcestershire sauce or orange juice. Feel free to check out the original recipe linked below.)
Have a fun and relaxing weekend, friends! I will be cooking and baking up a storm (typical) and attending one last Sundance film (my 4th of the week!). I already have another healthy entree lined up for you next week, and hopefully my experimenting this weekend will yield some yummy stuff, too!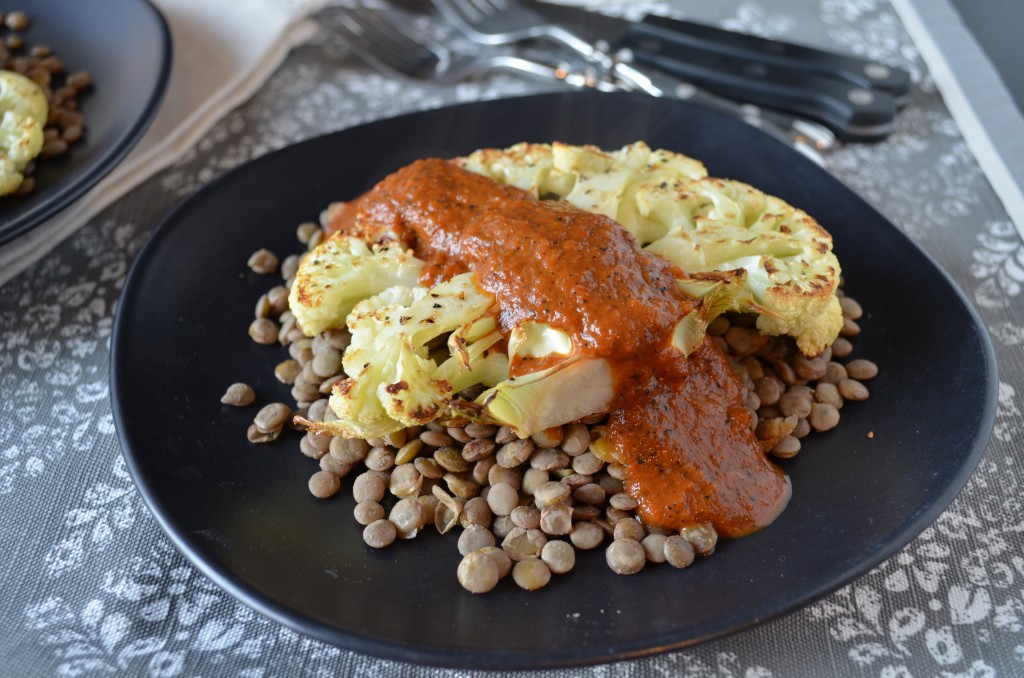 Cauliflower Steaks with Lentils and Charred Red Pepper Steak Sauce
Steak sauce adapted slightly from the Tasting Table via Smitten Kitchen
Serves 2
Ingredients:
3/4 cup dried lentils
For the cauliflower steaks:
1 head cauliflower
1/2 Tbsp olive oil
sprinkle of salt and pepper
For the charred red pepper steak sauce:
1 red bell pepper
2/3 cup canned diced or crushed tomatoes in their juice
1 Tbsp lemon juice
1 Tbsp low-sodium soy sauce
2 Tbsp olive oil
1 Tbsp balsamic vinegar
1 Tbsp molasses
1 tsp mustard
1/2 tsp ground ginger
1/4 tsp ground black pepper
1/4 tsp onion powder
1/8 tsp allspice
kosher salt to taste
Instructions:
First, prepare the lentils. (I usually opt to do this the night before or earlier in the week to save time, and then just microwave them right before serving.) Rinse lentils in a strainer. Add to a small pot with 1 1/4 cups water. Bring to a boil and simmer until tender, about 40 minutes. Drain any remaining liquid.
Next, char the peppers. Preheat your broiler, position a rack near the top of the oven, and line a baking sheet with foil. I like to de-stem my peppers, scrape out the seeds, and cut them into 2-4 pieces before broiling. Just place them skin-side up on the baking sheet. Alternatively, you could broil them whole, turning occasionally, and de-stem and de-seed them afterwards. It should take you about 6 minutes to broil them. Check on them occasionally – most broilers are uneven, and you will probably need to rotate your pan halfway through. Remove your peppers from the baking sheet after broiling; you'll need the baking sheet for the cauliflower. [Edit: Do not remove the pepper skins. You want to leave them on to get that nice charred flavor in your sauce.]
Preheat oven to 425. (If you have an oven thermometer, be sure to check it! Many ovens will say they are preheated after the broiler has been on, but the bottom of the oven is completely cold. If you don't have an oven thermometer, just let the oven warm up for a few extra minutes.) Trim the outside leaves from your head of cauliflower. Place it stem down on a cutting board, and cut 4 1/2-inch "steaks" from the center of the cauliflower, the part that connects to the stem. You can also chop up the remaining hunks of cauliflower and roast them too, or you can save them for another use. (May I suggest leek and cauliflower potato skins?) You will probably have 2 really good steaks from the center that won't fall apart at all, and two others that may fall apart a bit while cooking. That's OK! Each person gets one nice steak and one that's in pieces. :)
Place steaks on lined baking sheet. Brush each side with olive oil and sprinkle with salt and pepper. Roast until tender and golden on both sides, about 20 minutes, flipping once (gently!) around the 12-minute mark.
While the oven is preheating and the steaks are cooking, whip up the charred red pepper sauce. You've already charred the peppers, so you've got a head start. If you have an immersion blender, simply add all ingredients to a small pot and blend until smooth. If using a regular blender, add all ingredients and blend until smooth, then pour into a small pot. Simmer over low heat for 15 minutes, stirring occasionally. You can also let it go a little shorter or longer, basically until whenever the cauliflower is done. At this point, you can blend it again to get it extra smooth (easy if you have an immersion blender), or simply serve it as-is.
Serve immediately once cauliflower is done. Place the cauliflower steaks on top of a scoop of lentils, and ladle red pepper sauce over the top.
Enjoy!
Time:
45 minutes