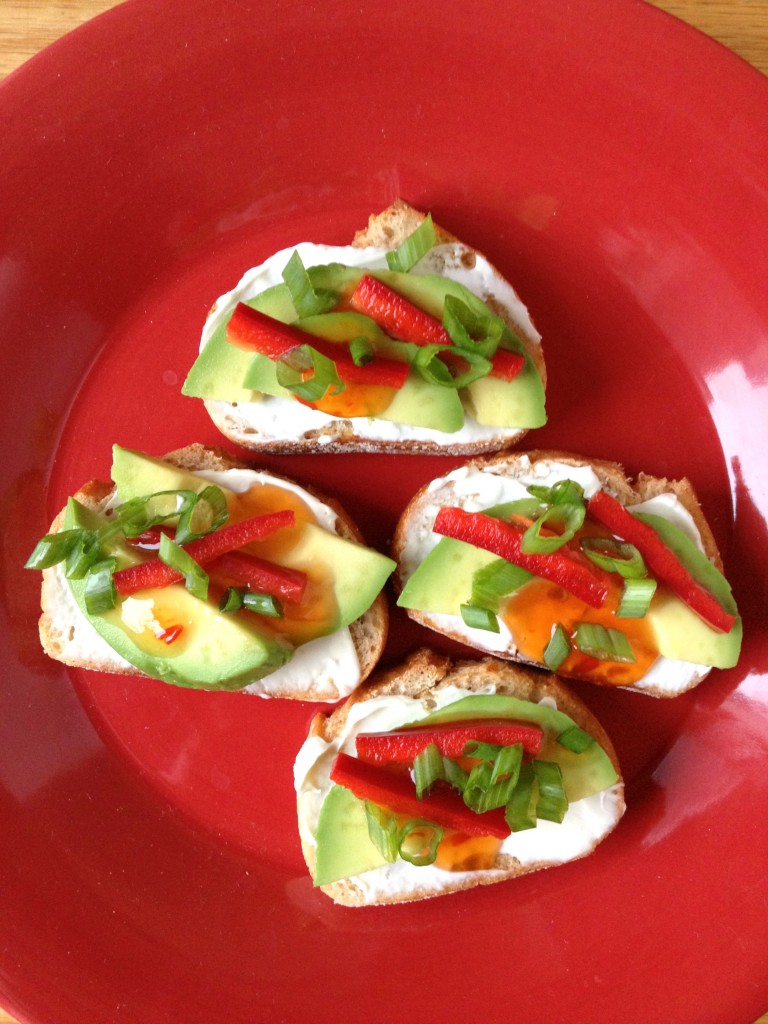 Bah humbug.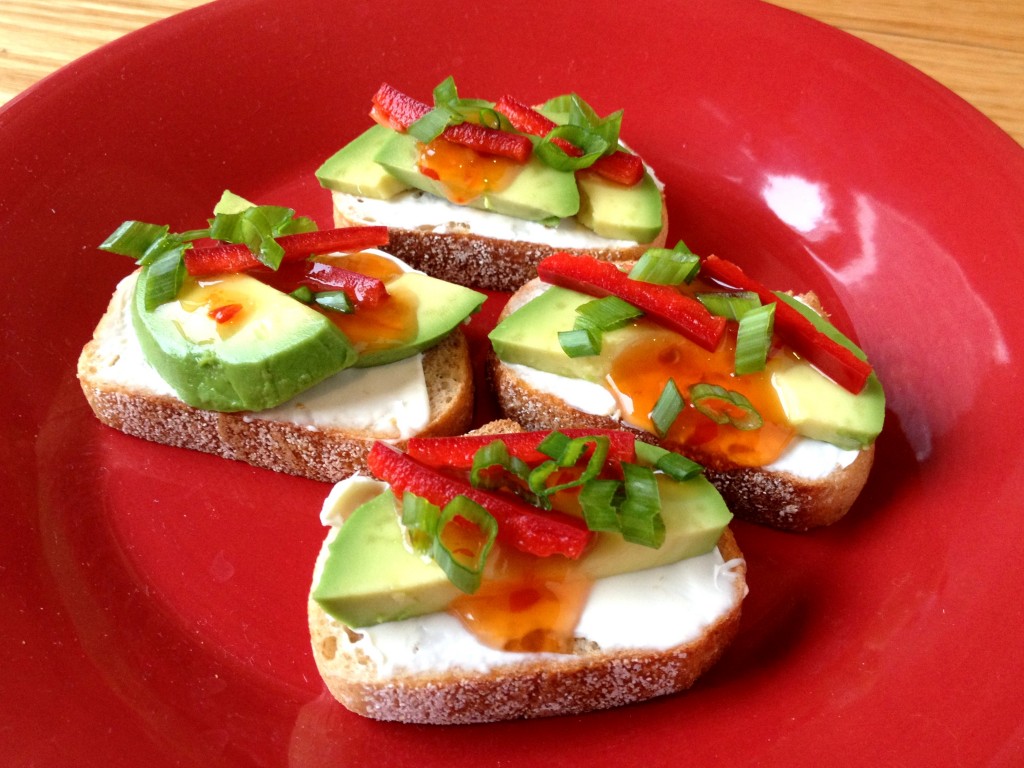 Just kidding. Red and green appetizers – they're pretty much the most festive thing EVER.
The truth is, I often feel Scrooge-like at this time of year. It starts the day after Thanksgiving, when stores have put up Christmas decorations and started playing Christmas music inappropriately early (if you ask me). Friends who are really into Christmas start getting excited, everyone makes a big deal of Black Friday, and I'm like LET'S RELISH THANKSGIVING. I love Christmas, but I'm not really into the commercial holiday thing as much as some people are, so it takes me a few weeks after Thanksgiving to warm up to the idea of it.
But I'm happy to say that time has arrived! I made these appetizers this weekend while ordering Christmas gifts and listening to my "All I Want For Christmas Is You" Pandora station with gingerbread in the oven. It was a lot of Christmas multi-tasking ('tis the season) and I'm now officially in the holiday spirit.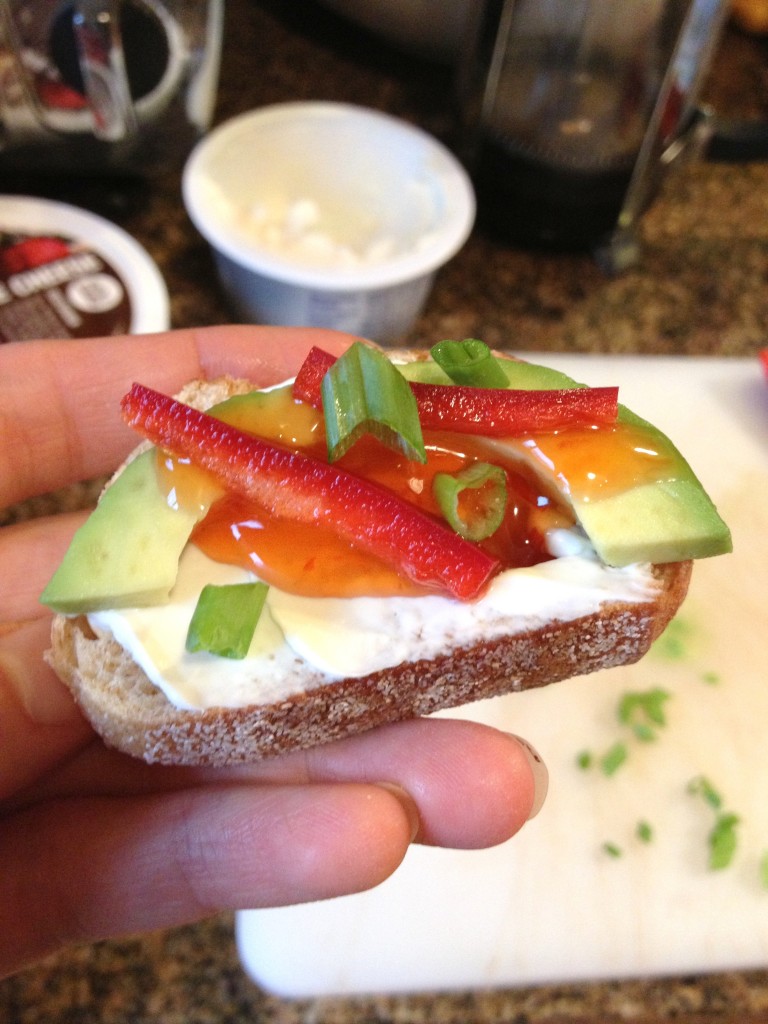 (Please excuse the avocado under my fingernails. Note to self: cooking + hand modeling = not a match made in heaven.)
So I ended up making these 4 times this weekend… suffice it to say we liked them! But what's not to like about some spice, avocado, and a schmear of cream cheese? (Not vegan.)
These are definitely my new go-to holiday appetizer. They would be perfect to bring to a friend's house for a holiday cocktail party, or to serve at your own party.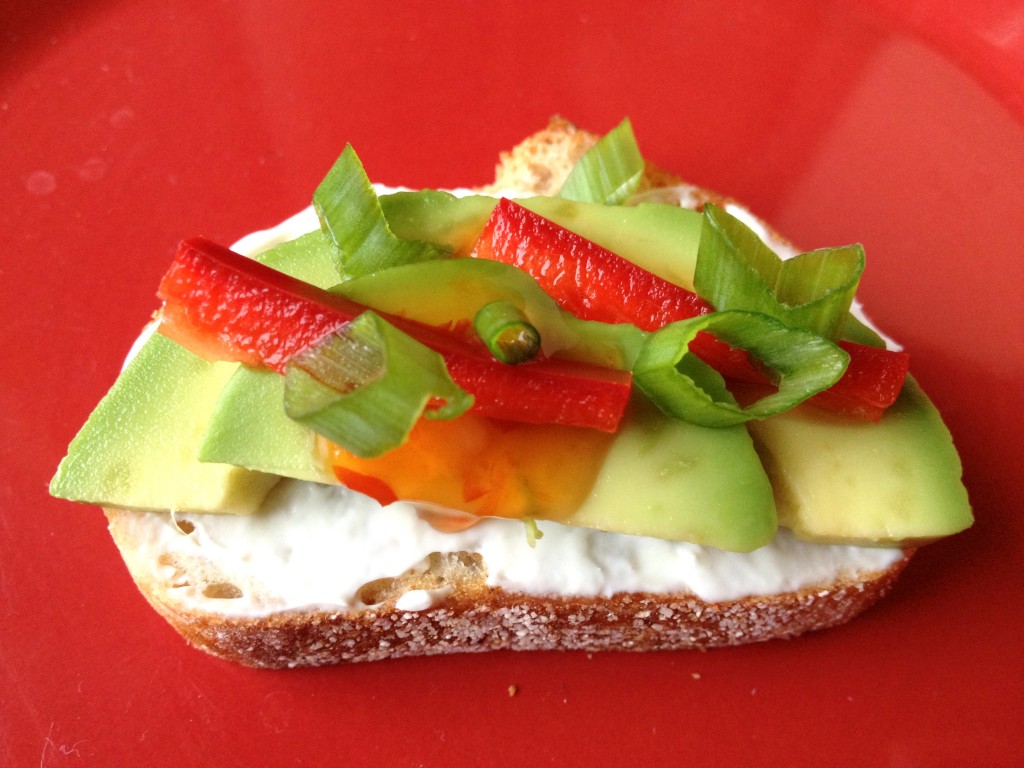 So crank up the Mariah Carey and get cookin'!
Christmas Chili Crostini
Adapted from Small Bites by Jennifer Joyce
Makes about 24
Time: about 15 minutes
Ingredients:
1 baguette, sliced (about 24 slices) –> I like to buy them pre-sliced from the grocery store to save time!
olive oil
1/4 cup cream cheese
2 large (or 3 small) avocados, halved and carefully sliced crosswise
1/4 cup sweet Thai chili sauce
2 red jalapeños, seeded and thinly sliced (sometimes called red Fresno peppers, or use green jalapeños if you can't find these)
6 green onions (green parts only), thinly sliced
Instructions:
Preheat oven to 400 degrees. Slice baguette (if not using pre-sliced!) and spread on a baking sheet. Brush the top of each slice with olive oil. Bake at 400 for 6 minutes. (You may be tempted to leave them in longer, but don't! They get crunchy quickly, and you don't want to serve little bricks to your guests.) Remove baguette slices from oven and set aside until cool enough to handle.
Spread a thin layer of cream cheese on each baguette slice. Lay a slice or 2 of avocado on top, followed by a quarter-sized dollop of Thai chili sauce (exact measurements here!). Garnish with a slice or two of jalapeño and a sprinkle of green onions.
Voila! Ready to serve!