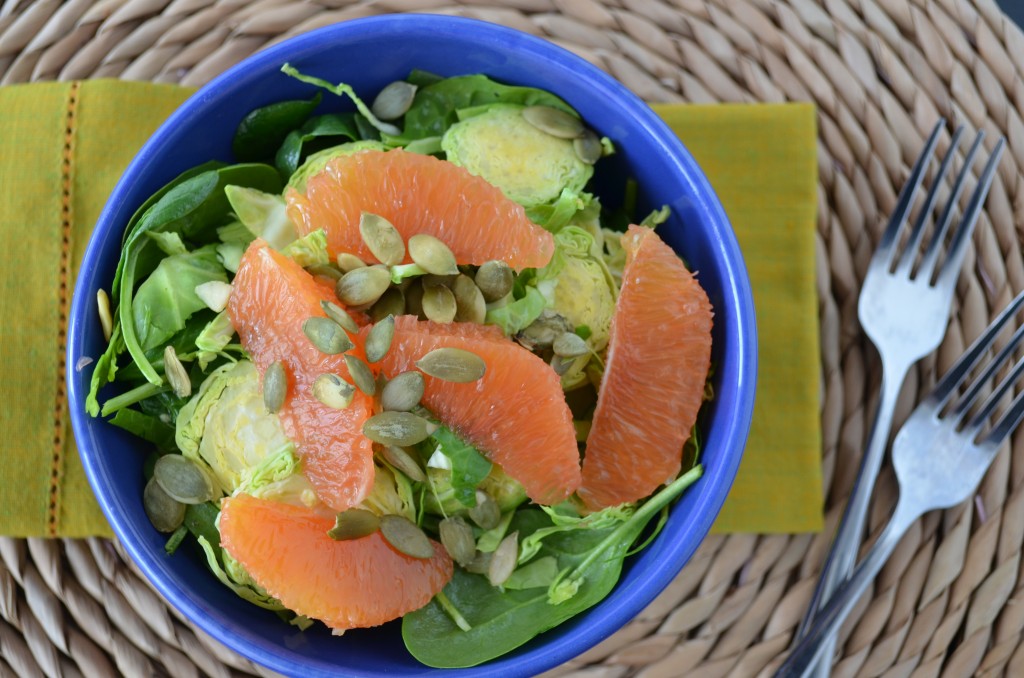 I'm feeling like my love of green things is slightly underrepresented on this blog.
It's also slightly underrepresented in my life lately, despite the fact that it's January.
But let's face it, it is January, and nothing about freezing temps (high of 17 today) makes me want to eat cold, crunchy vegetables.
And that's why this salad has a warm dressing poured over it, wilting the spinach and making me feel slightly happier about eating raw veggies in the dead of winter.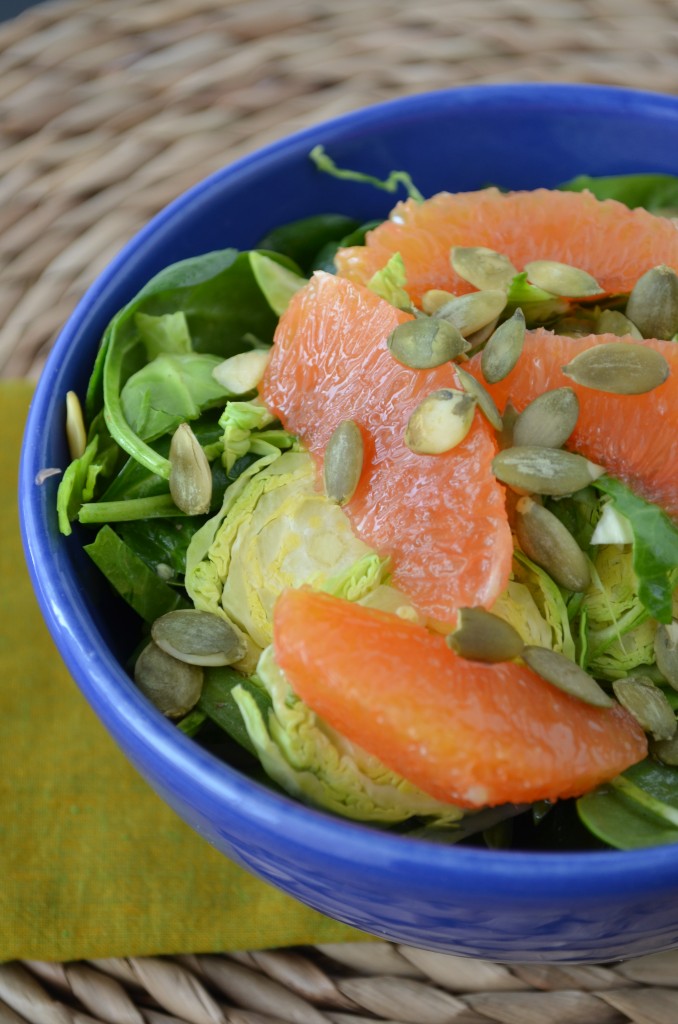 I came up with this salad the other morning before work, when I went to pack my lunch and realized that we had NO leftovers. That is not a common occurrence around here, because I'm pretty careful to make enormous dinners so that I can bring lunch all week.
So, boooooo, salad it was. Plus some frozen soup I found in the freezer. I was kind of bummed about it… until lunch kept me full all afternoon. That is definitely a rare occurrence.
I think it's the Brussels sprouts that added the fullness factor?  Whatever it was, it made me realize that this is a January salad I can handle.
If you are not a fan of Brussels sprouts… please give them a second chance?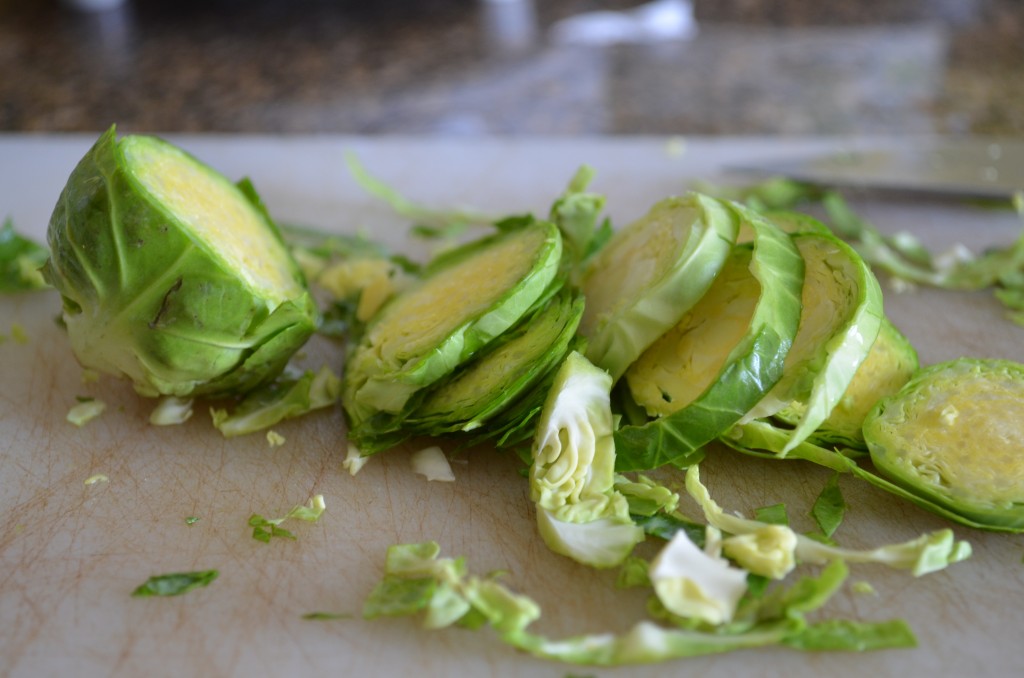 They are pretty delightful when sliced into thin ribbons like this. Plus there's none of that skunky flavor that you might associate with overcooked Brussels.
I used cara cara navel oranges in my salad, because I love their beautiful color and sweetness. But you could use regular navel oranges, grapefruit, or any other citrus.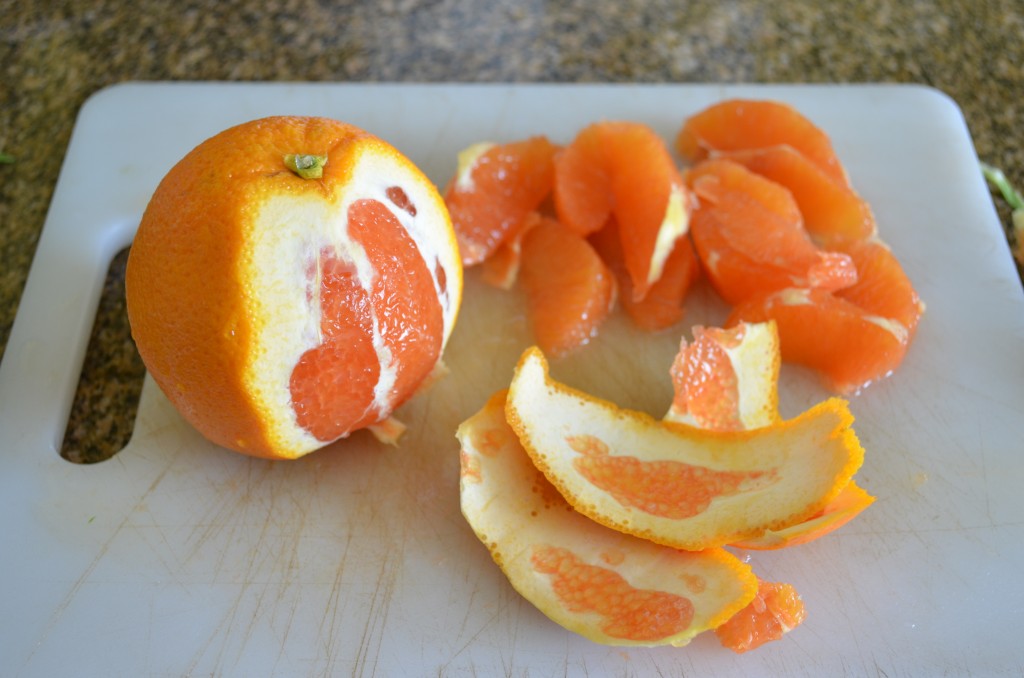 You do have to supreme it – sorry! I mean I guess you don't have to, but that's really the only way I like my citrus salads, because I can't stand the pith – yuck. But totally your choice, and if you'd like to supreme it but aren't sure how, just google it and you can find some great video tutorials.
You'll want to adjust the vinegar in the dressing for the sourness of the citrus you choose… I could have added another tablespoon of vinegar with these oranges, but if you use a grapefruit, you may not want any vinegar at all.
And sprinkle with some pepitas for a beautiful mid-winter salad. Enjoy!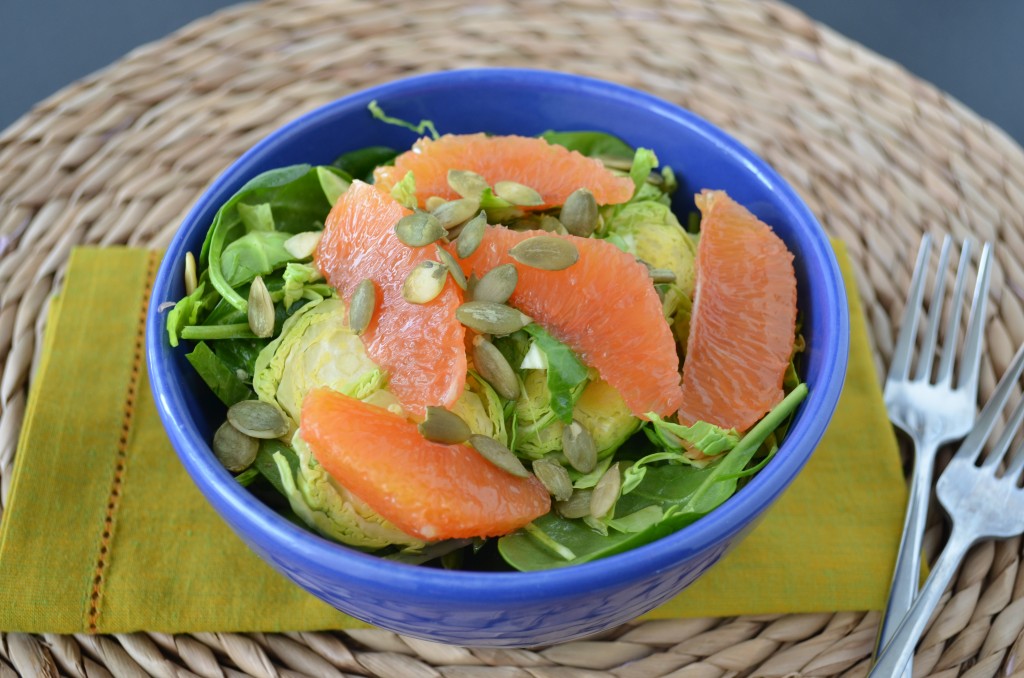 Wilted Spinach, Brussels Sprout and Citrus Salad
Serves 4
Ingredients:
5 oz baby spinach (about 8 loose cups)
12-15 Brussels sprouts, thinly sliced
2 oranges or other citrus fruit (I used cara cara navel oranges for their pretty color!)
2 Tbsp olive oil
1 Tbsp white wine vinegar
salt and pepper to taste
1/4 cup pepitas (pumpkin seeds)
Instructions:
Add spinach and sliced Brussels sprouts to a large bowl.
Supreme the oranges and set aside the segments. Squeeze the juice from the remaining parts of the oranges into a small heat-proof dish. (I got about 1/4 cup of juice out of mine.)
Add the oil, vinegar, and a sprinkle of salt and pepper to the orange juice. Adjust the vinegar to get the acidity that you like. Microwave until hot, about a minute.
Pour hot dressing over the spinach and Brussels sprouts and toss to coat. Top with orange segments (I like to add them after tossing so they don't get torn up after I've so carefully supremed them!) and pepitas.
This salad is best when served immediately. It will keep in the fridge up to 24 hours, although the spinach will become more wilted.
Time:
10 minutes