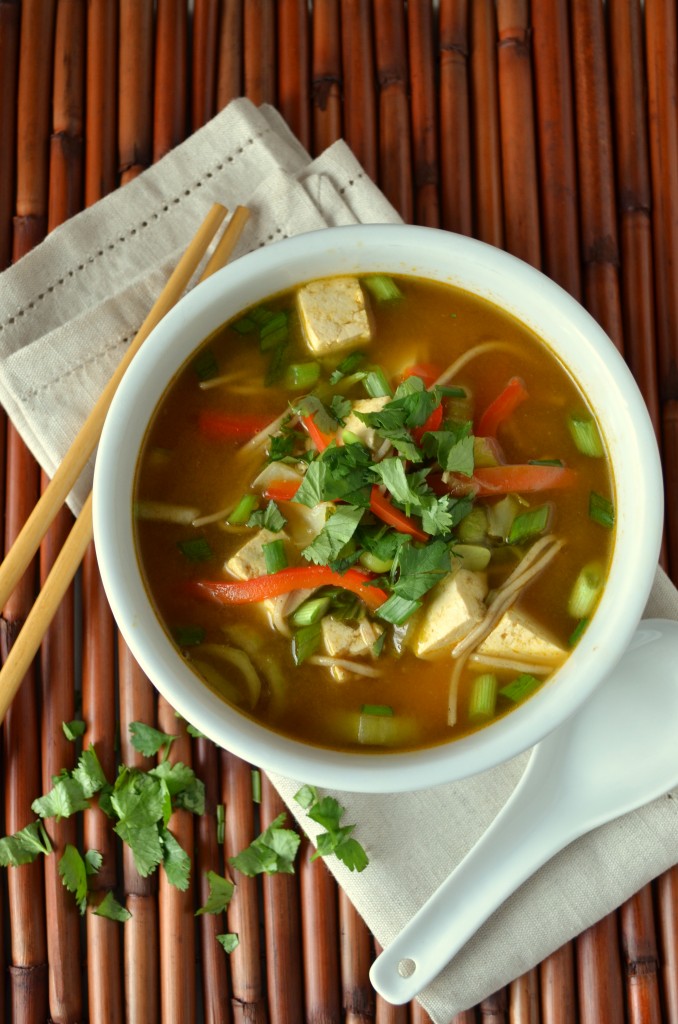 I guess I forgot to knock on wood last week when I said that I had a cold, but wasn't going to stay home from work.
On Friday morning, I woke up coughing and sneezing all over everything. Gross.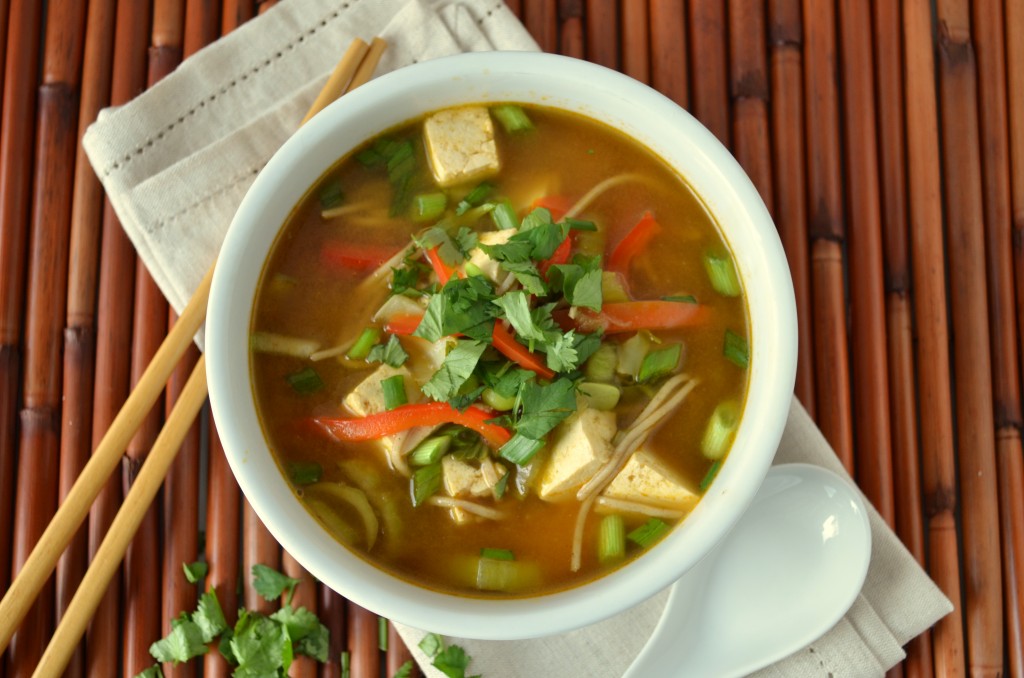 I thought I was done with colds this winter, after fighting one off just before the holidays, but it turns out that was wroooong. And based on my recollection of getting sick right around the Bachelor premier 2 years ago, apparently I get sick at this time every year.
It doesn't help that it's been absolutely freezing in Salt Lake for the past week – highs in the teens. Who wouldn't get sick?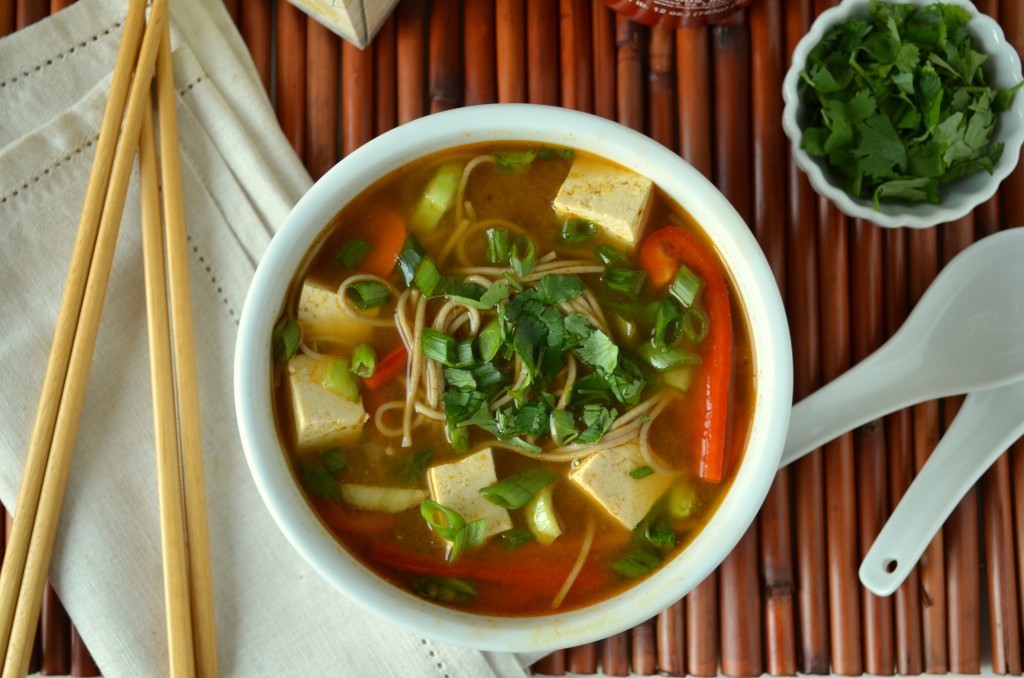 So on Friday morning, instead of going into work, I cuddled up on the couch with my laptop, a box of tissues and a cup of tea.
Tea is good… but soup is better.
Luckily, I also had the ingredients to make this soup.
Soup fixes everything. So I made it and proceeded to eat it for lunch and dinner all weekend.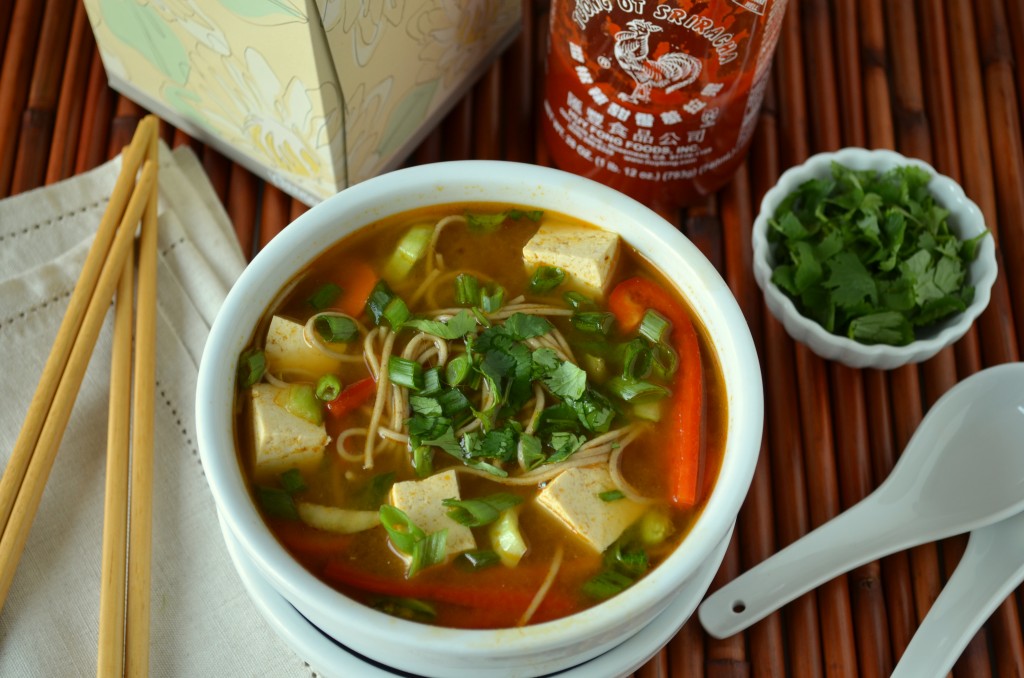 What is it about soup that makes me feel so much better – nature or nurture? It must be both… warm fragrant broth to warm you up from the inside out and clear the sinuses, plus the recollection of exactly the same sensation every time you've been sick since childhood.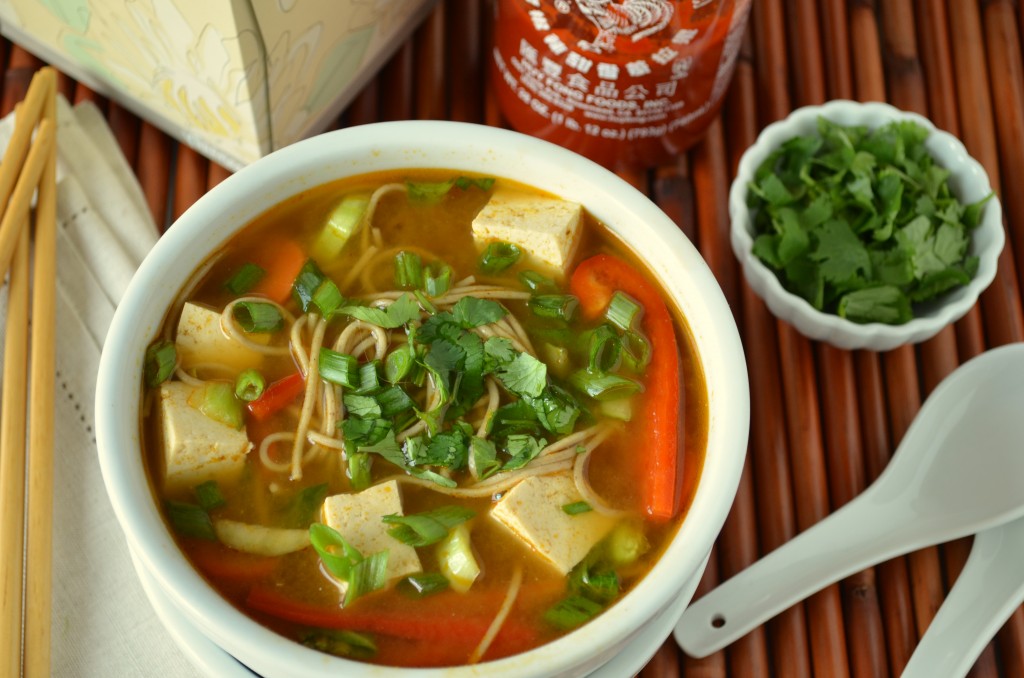 Mmmmm… yep, nothing better to cheer you up when you're sick than hot, noodley soup.
So can I recommend that you make this immediately? If it's cold where you live, if you're coming down the the sniffles, if your boyfriend or roommate or co-worker just sneezed… take action and cook up a big pot of (vegan!) soup. And don't forget the sriracha… or tissues!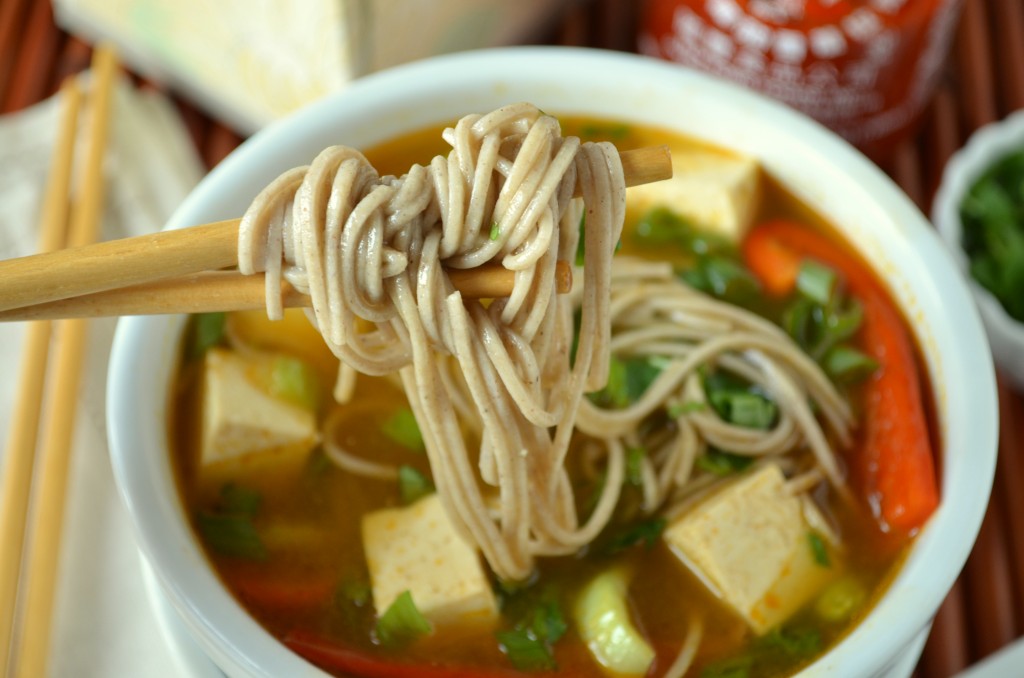 Asian Noodle Soup To Cure a Cold (Vegan)
This fragrant vegan soup will warm you to your toes. Recommended for times when you're sick and feeling sorry for yourself.
Yields:
3-4 bowls of soup
Ingredients
1 Tbsp sesame oil
1 heaping Tbsp chopped fresh ginger
2 cloves garlic, diced
1/2 a jalapeno, seeds removed and thinly sliced
6 cups low-sodium vegetable broth (preferably one without tomatoes, such as Whole Foods 365 Organic)
3 green onions plus extra for serving, sliced
3 Tbsp reduced sodium soy sauce
1 tsp rice vinegar
3 baby bok choy, chopped
1 red pepper, thinly sliced
1 carrot, peeled and sliced into very thin coins
7 oz extra-firm tofu, cubed
5 oz soba noodles
chopped cilantro, for serving
sriracha sauce, for serving
Instructions
In a large pot, heat sesame oil over medium high heat. Once hot, add ginger and garlic and saute until fragrant, 2-3 minutes. Add jalapeno, vegetable broth, and green onions. Cover and simmer 10-15 minutes.
While broth is simmering, cook soba noodles according to package directions. Drain and set aside. (These are cooked separately to keep your nice broth from getting murky!)
Strain broth into a large bowl. (This step is optional, but I prefer to remove the solids.) Once strained, pour broth back into pot. Add soy sauce, rice vinegar, vegetables, and tofu, and simmer until veggies are heated through, 1-2 minutes. Add soba noodles and heat for 1 more minute, until both noodles and broth are hot.
Remove soup from heat and ladle into bowls. Serve alongside sliced green onions, chopped cilantro, and sriracha.
Note: This soup is best eaten immediately, as it won't reheat well once the vegetables and noodles have been added. If you're planning to have leftovers, I recommend saving half the broth just after straining and before adding anything else. For leftovers, you can assemble the bowl of soup just before reheating, which will prevent mushy veggies and noodles.