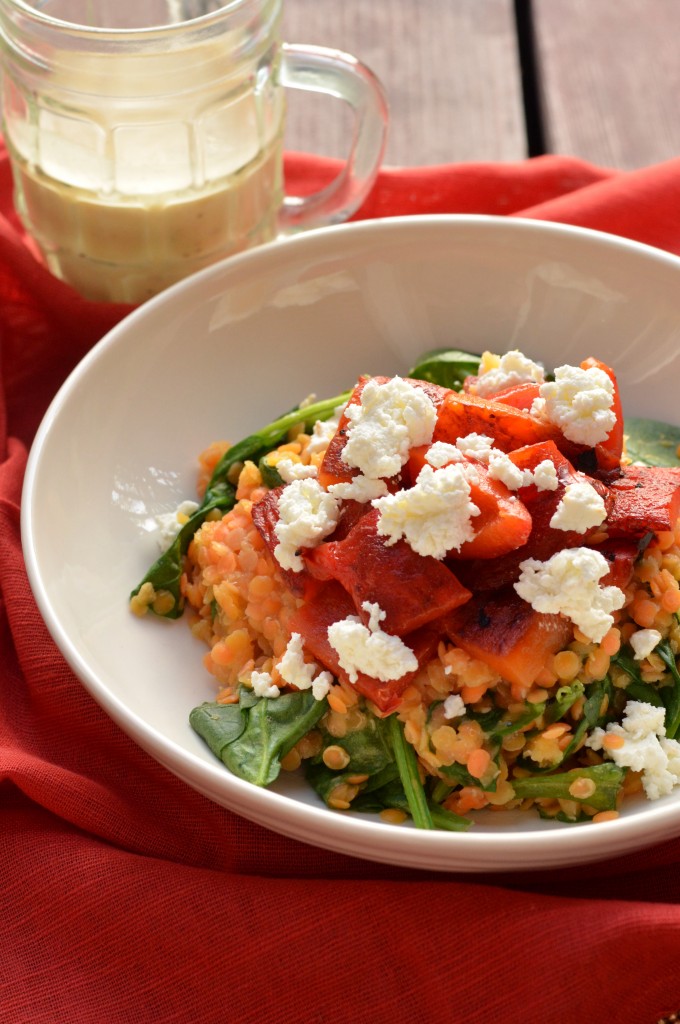 At first, I wasn't going to post about this meal. I started out following Grab a Plate's lentil salad recipe for dinner one night, but turned it into something slightly different when I didn't feel like making yet another roasted red pepper dressing. It came out amazing, but I still thought maybe I didn't need to blog about it.
Then Nate went back for seconds. And in case you didn't know, that is rare enough to qualify a recipe as blog-worthy 100% of the time.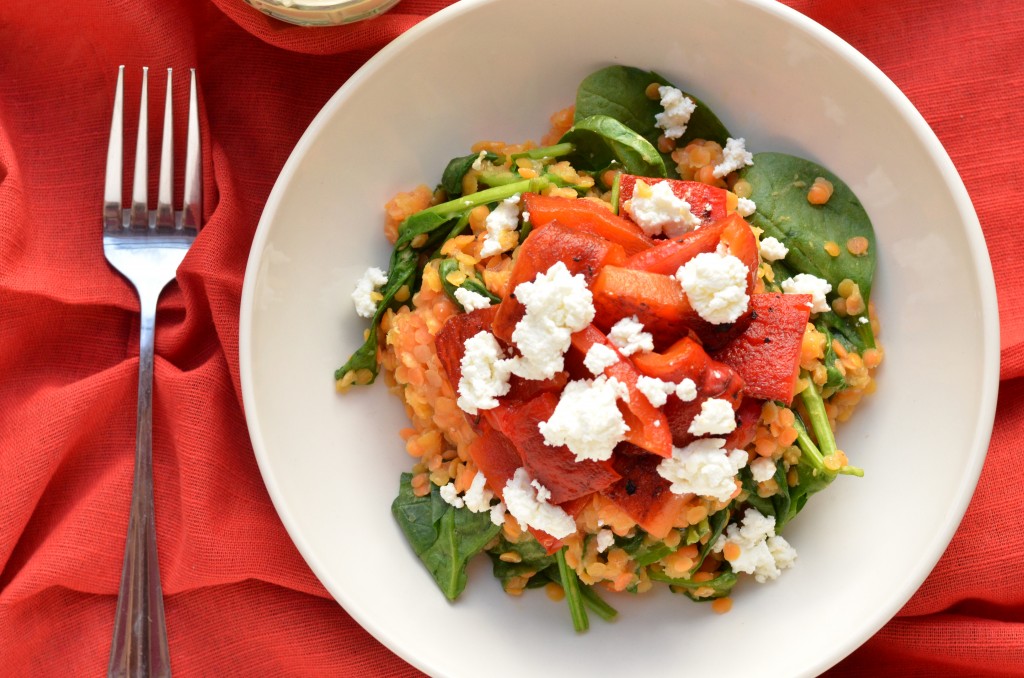 So here we are with this weeknight lentil salad. It fits the mold for what I've been making so often this spring (grain or green + roasted vegetables + sauce or dressing), but with one thing that sets it apart: To me this feels very much like a recipe rather than a loose set of suggestions (the opposite of my usual salad posts)… because I wouldn't change a single thing.
The sweet roasted peppers, the acidic dressing, the way the creamy goat cheese melts into the lentils… nope, it's perfect exactly the way it is.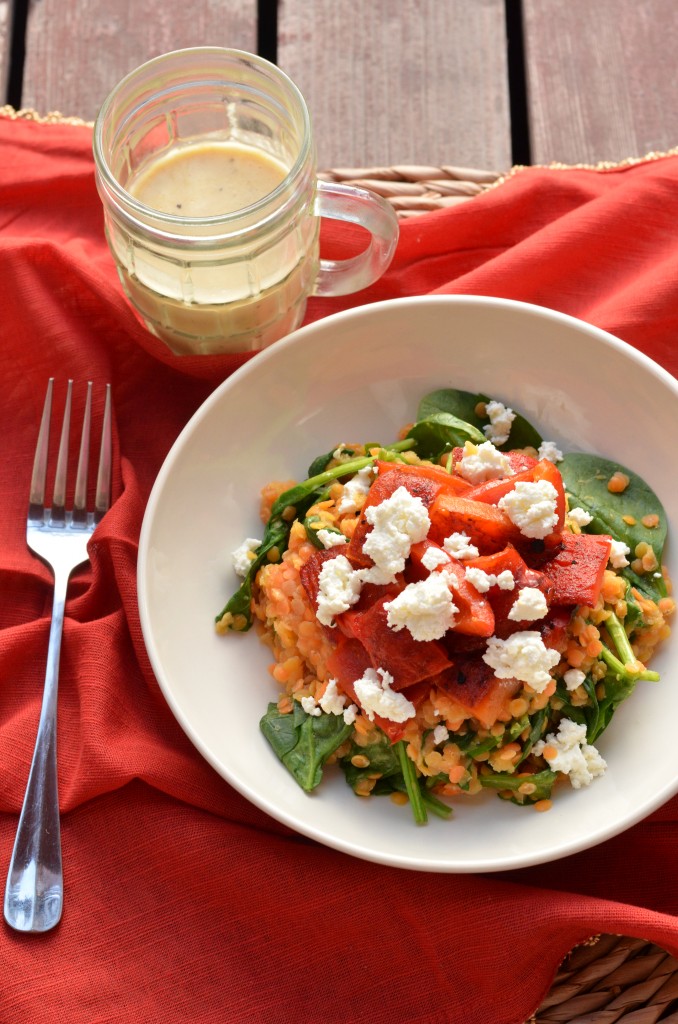 I love using red lentils here because of their quick cooking time. Dinner can be on the table in just over half an hour, start to finish! And even that time is reduced significantly if you buy jarred roasted red peppers or have the foresight to roast them ahead of time, which clearly I never do.
I can't decide whether I prefer this salad hot or cold, so I've been compromising by eating it hot for dinner, and then cold for lunch the next day. I recommend you do the same!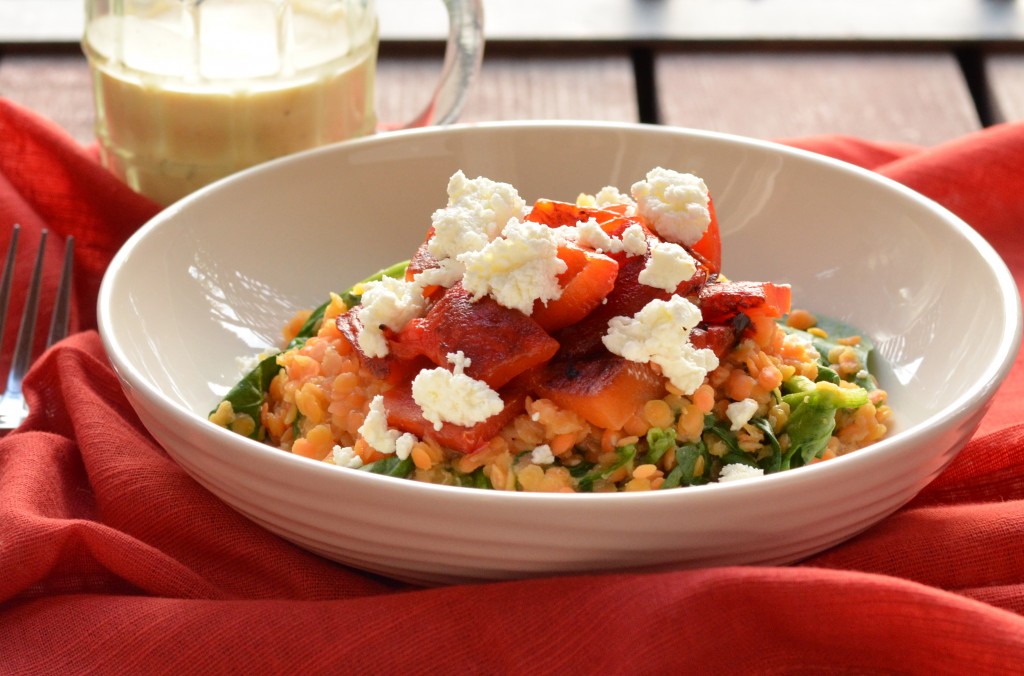 Warm Lentil Salad with Roasted Red Peppers and Spinach
Ingredients
For the salad:
3 red bell peppers, quartered (or jarred roasted red peppers)
1 cup dried red lentils
3 cups loosely packed spinach
3 oz. goat cheese, crumbled
For the dressing:
1/4 cup olive oil
1/4 cup red wine vinegar
1 tsp prepared mustard
1 tsp honey
2 small cloves garlic, roughly chopped
pepper to taste
Instructions
First, roast the peppers. (If you are using jarred roasted red peppers, skip to the next step!) Preheat your broiler. Lay quartered peppers, skin up, on a baking sheet. (I like to cover my baking sheet with foil for easier clean-up.) Broil until skin of peppers is completely charred, which will depend on your broiler, probably about 6-8 minutes. You want the skins to be totally black! Remove from oven and immediately place peppers in a large ziploc bag and seal. Set aside for 10 minutes to steam. (This can also be done ahead of time.)
Add lentils and 1 1/2 cups water to a small pot. Bring to a boil and simmer until tender but not mushy, 15-20 minutes. [Edit: Some readers have said the lentils were fully cooked by 10 minutes. Check them at 10 minutes!] Remove from heat, drain any excess water, and stir in spinach. Cover and set aside.
Meanwhile, prepare the dressing by blending all ingredients together.
After peppers have steamed for 10 minutes, remove from bag. Peel the charred skins off and discard. It's OK if some charred bits remain - we're not going for perfection! Chop into bite-sized pieces and stir into the spinach and lentils.
To serve, top spinach/lentil/pepper mixture with goat cheese and dressing. Enjoy hot! This also makes awesome cold leftovers.
Notes
For a heartier option, serve over short pasta such as fusilli. Adapted from
Grab A Plate
.