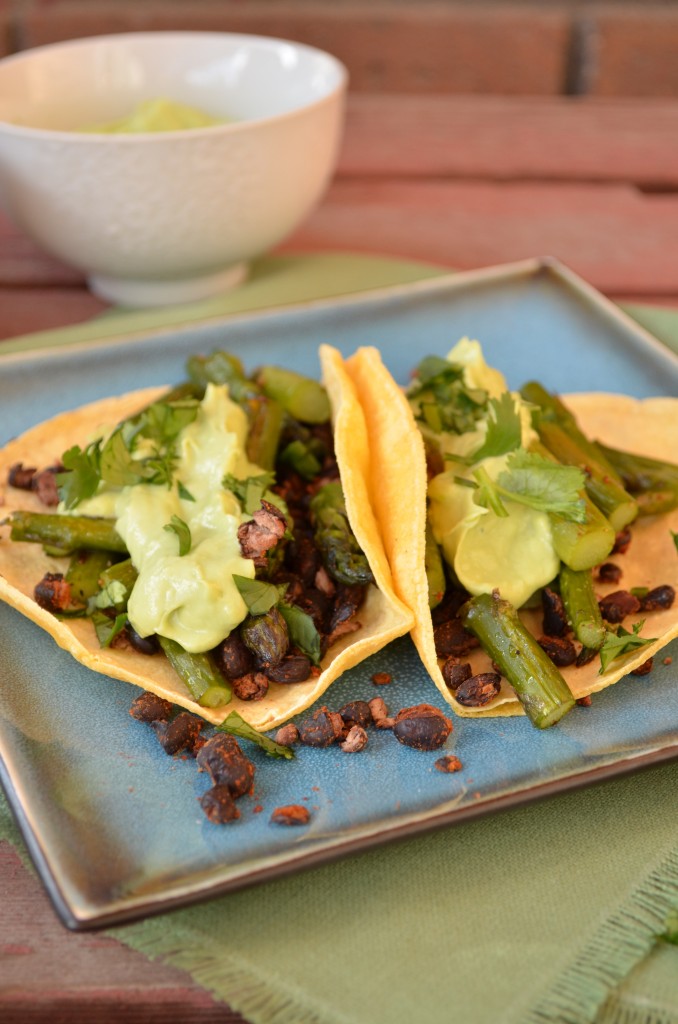 I couldn't let the spring pass by without posting at least one asparagus recipe.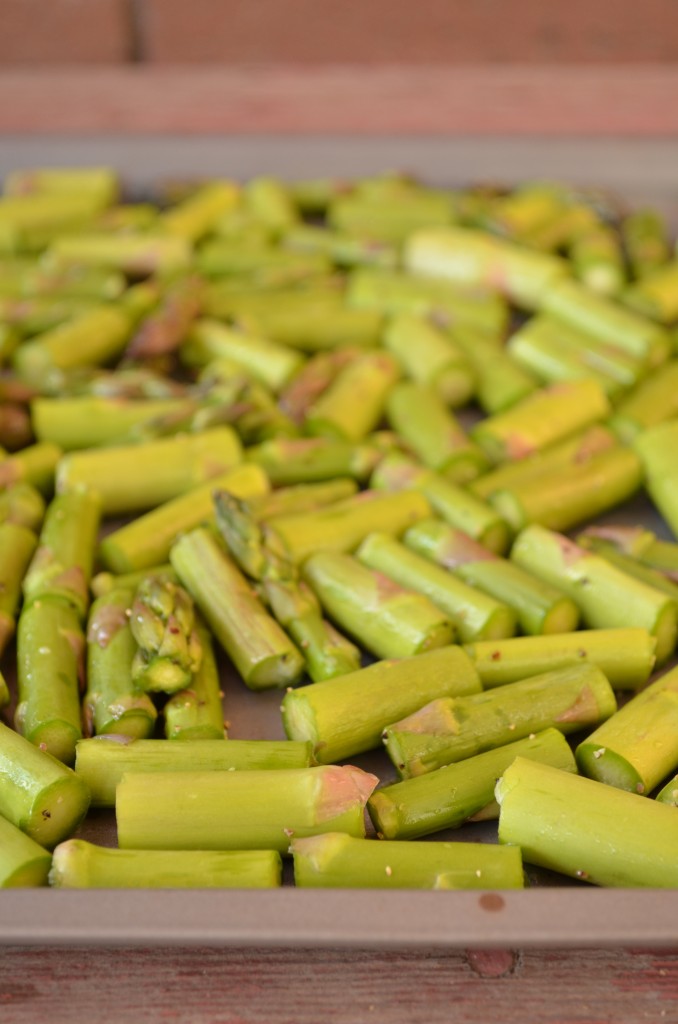 The blog world goes gaga for asparagus, but until recently, I wasn't the biggest fan. Then I discovered that when you grill or roast asparagus, it turns into an entirely different vegetable.
I should have known. I seriously don't think I've ever met a grilled vegetable I didn't like.
Sadly, we don't have a grill! Nate and I have to mooch off our friends with outdoor space for things like that. When we're at home, roasting it is.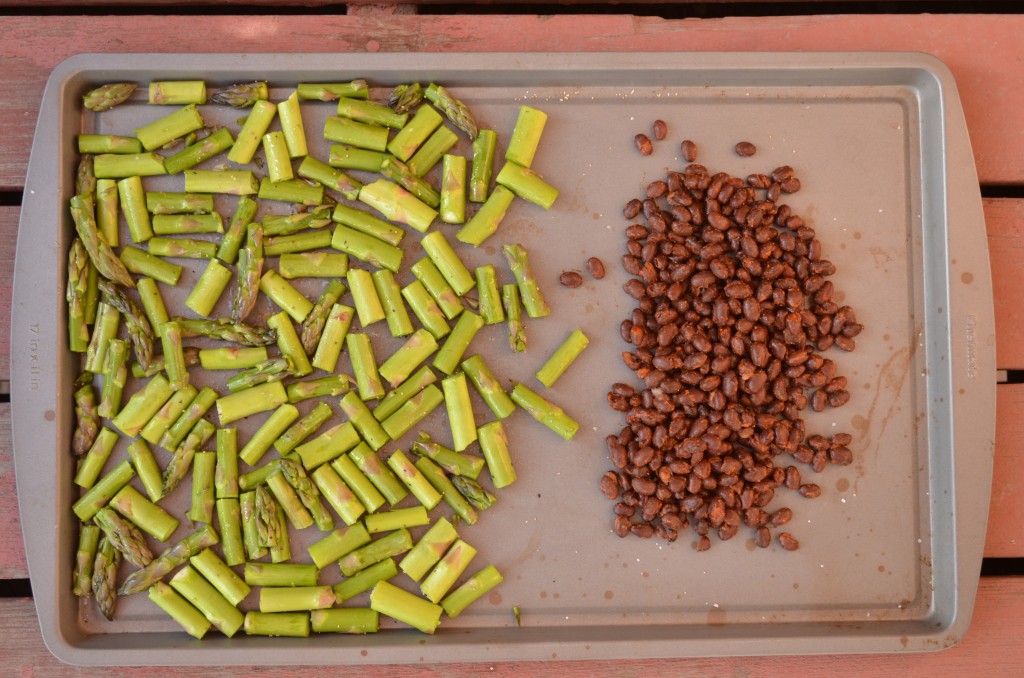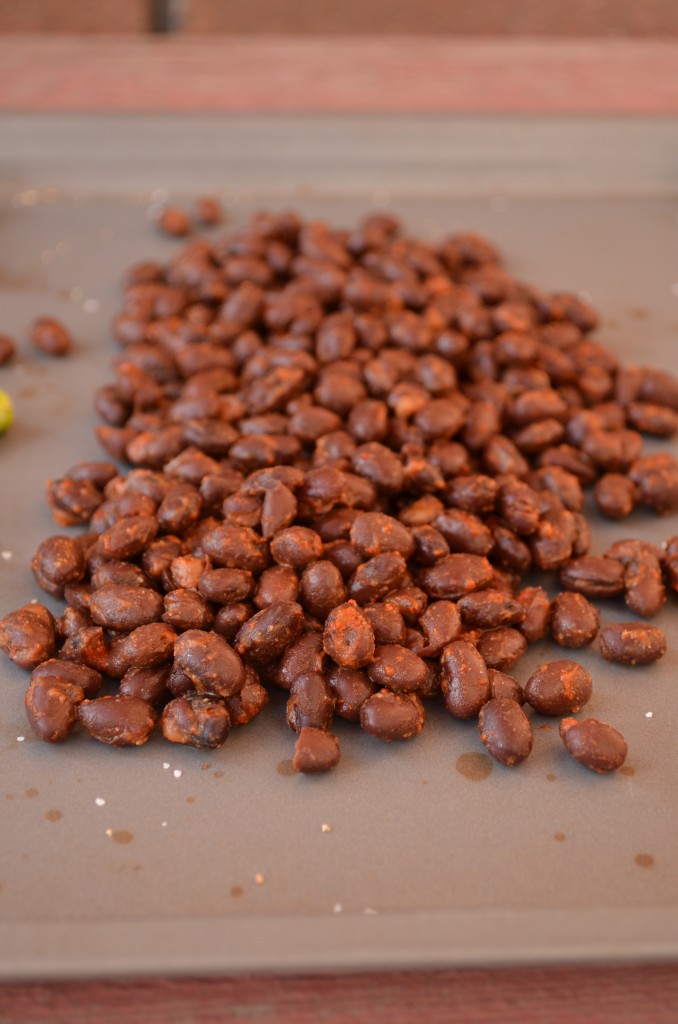 I like these tacos because they have so much green in them. Asparagus, avocado, cilantro… so healthy! Just the thing after my cookie-filled weekend.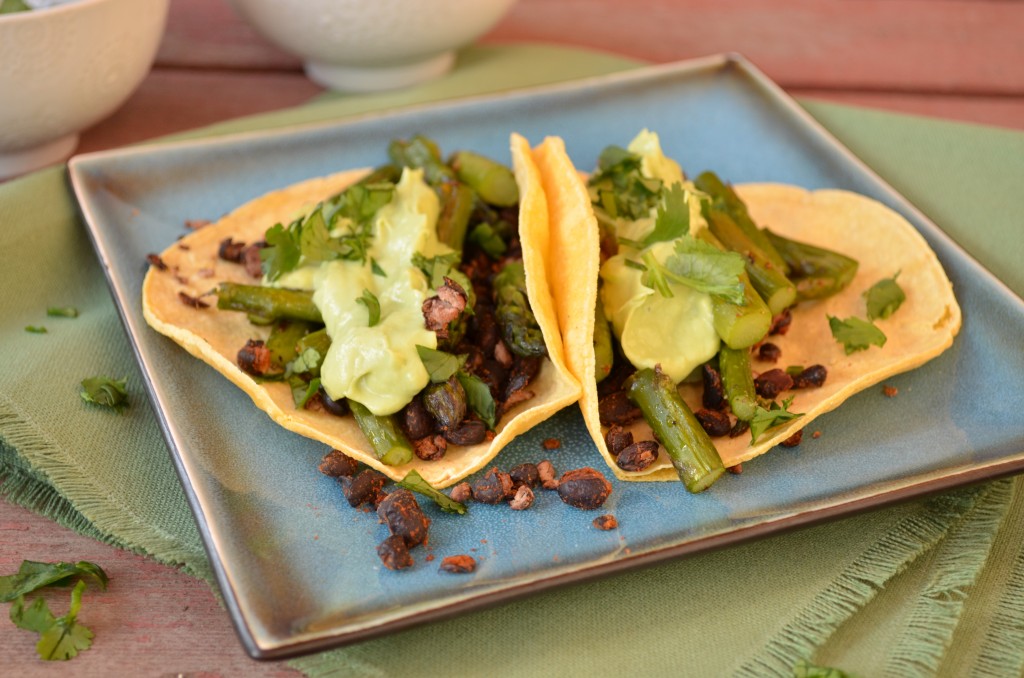 We enjoyed ours on Monday night with this amaaazing Argyle Nuthouse pinot noir.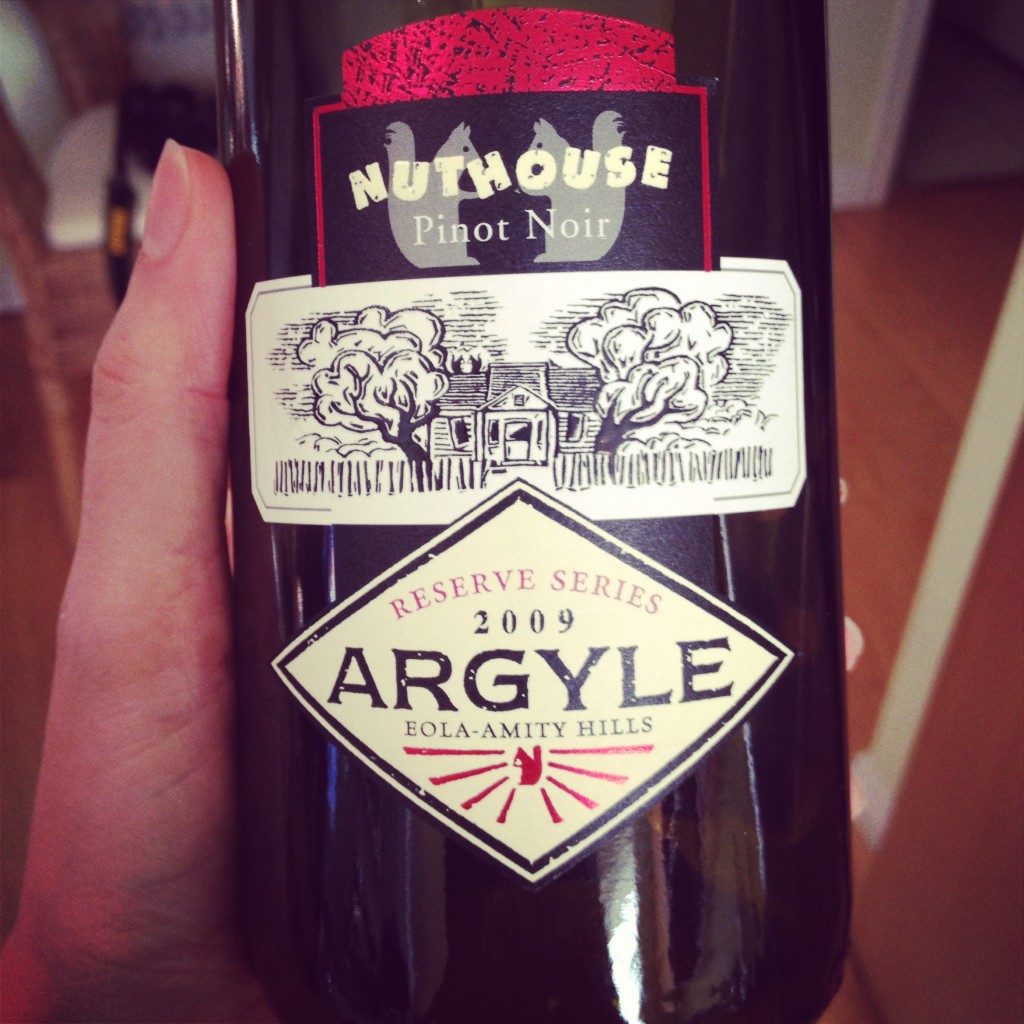 We visited Argyle's tasting room in October and drank lots of their yummy wines. Luckily our local wine store carries a few bottles of theirs… for when we're feeling fancy.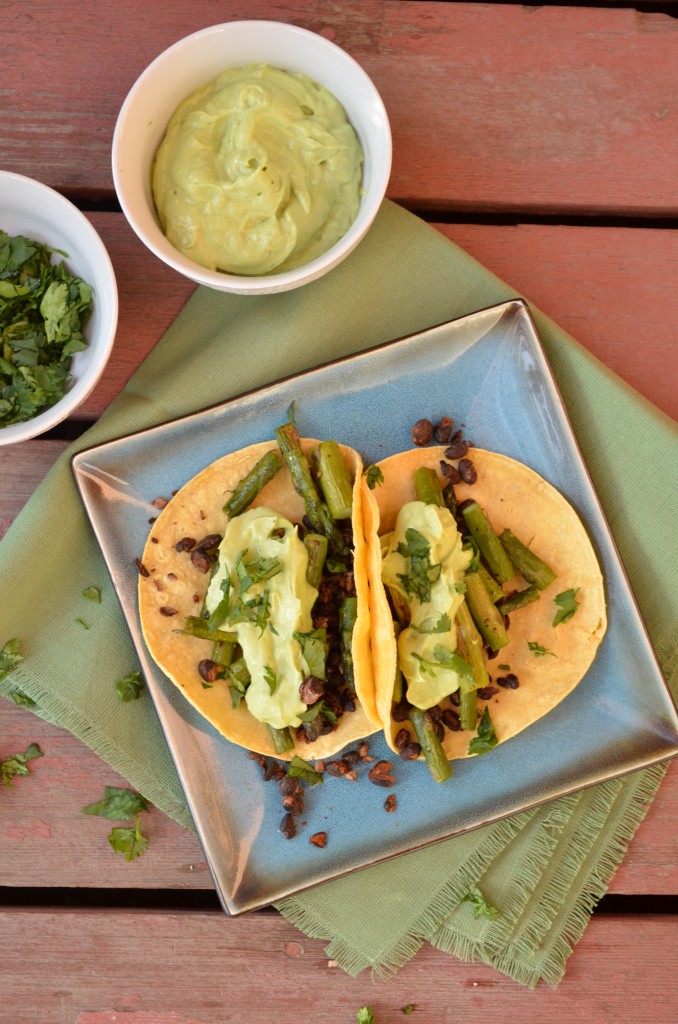 These tacos are simple and quick to throw together, and taste very fresh. They're light enough to eat on a warm spring day, but toasty enough to satisfy if it's still a bit cool where you live.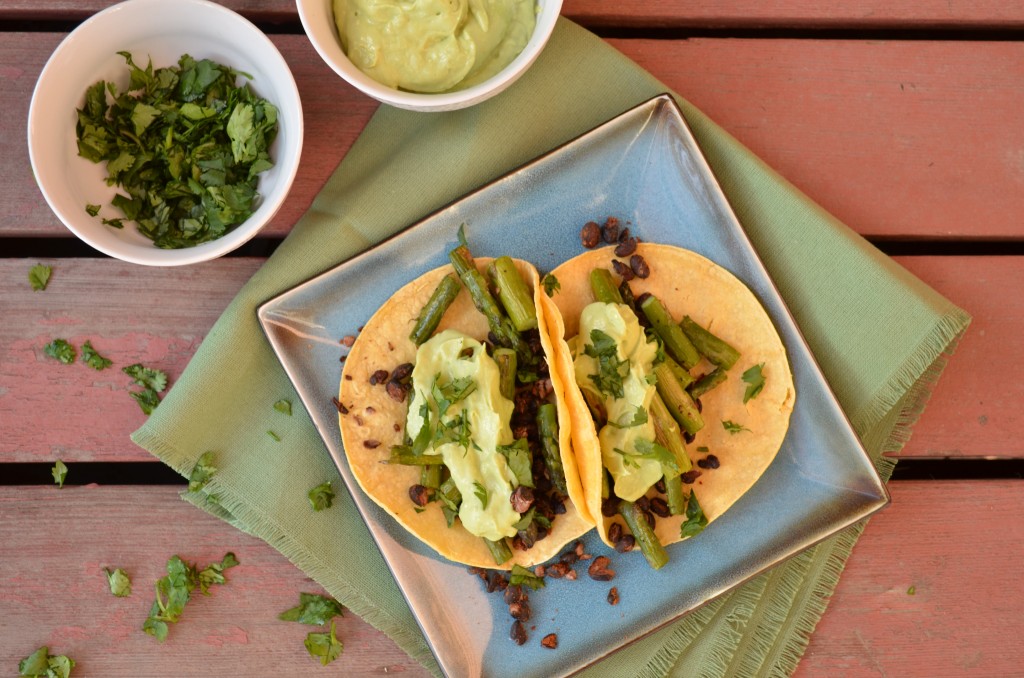 In the past I have also tossed a chipotle pepper in with the avocado crema. That makes it pretty spicy, though, so be warned! I didn't include it in the recipe below, because I like it just as well without. And the fewer ingredients the better, right?
My instructions are for roasting the asparagus. If you have a grill, feel free to fire it up! Whether grill or oven, enjoy these perfect springtime tacos.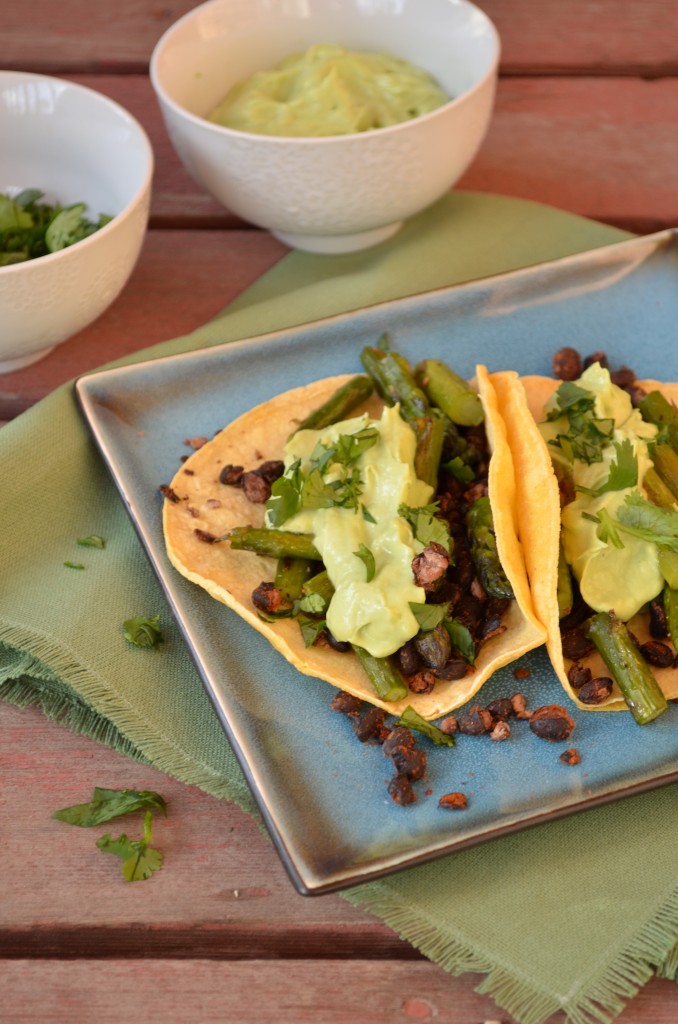 Grilled Asparagus and Crispy Black Bean Tacos
Yields:
2-3 (6 small tacos)
Ingredients
1 lb asparagus, rinsed
1 14-oz can black beans, drained and rinsed
1 tsp olive oil, divided
kosher salt
black pepper
1/2 tsp ground cumin
1/2 tsp paprika
1 avocado
juice of 1 lime
1/4 cup Greek yogurt (I use Fage 0%)
small corn tortillas
cilantro, chopped
Instructions
Preheat oven to 425. Trim asparagus by snapping off the tough ends. Chop trimmed asparagus into about 1 1/2 inch pieces. Toss with 1/2 tsp olive oil and a sprinkle of salt and pepper and spread on half of a baking sheet.
Toss black beans with remaining 1/2 tsp olive oil, cumin, paprika, and another sprinkle of salt and spread on the other half of the baking sheet.
Roast until asparagus are tender and beans are crispy, about 20 minutes, stirring once halfway through.
While the asparagus and beans roast, prepare the avocado crema. In a food processor or blender or with a fork, whip together the avocado, lime juice, and Greek yogurt until well combined and creamy.
To serve, heat corn tortillas and fill with beans and asparagus. Top with avocado crema and chopped cilantro.
Enjoy!