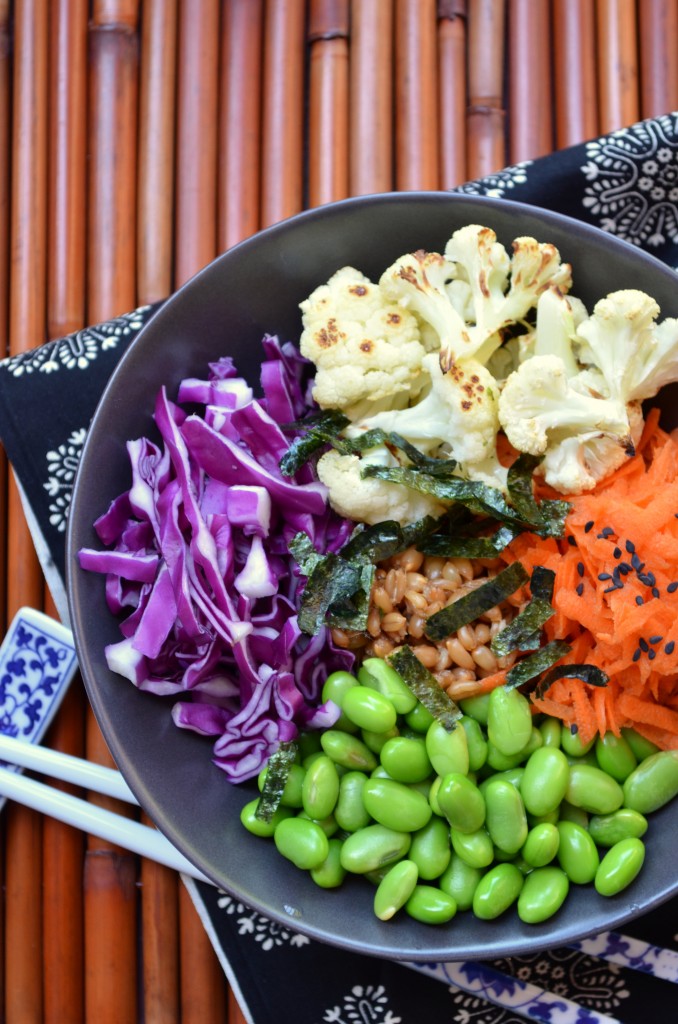 Good morning and happy Wednesday!
I wouldn't be so chipper (I feel morning chipperness is generally uncalled-for), but just look at all these colors. Food like this makes me happy to be alive.
(If you're still half asleep and don't feel like eating sushi yet… I apologize. I kind of have a thing for colorful food.)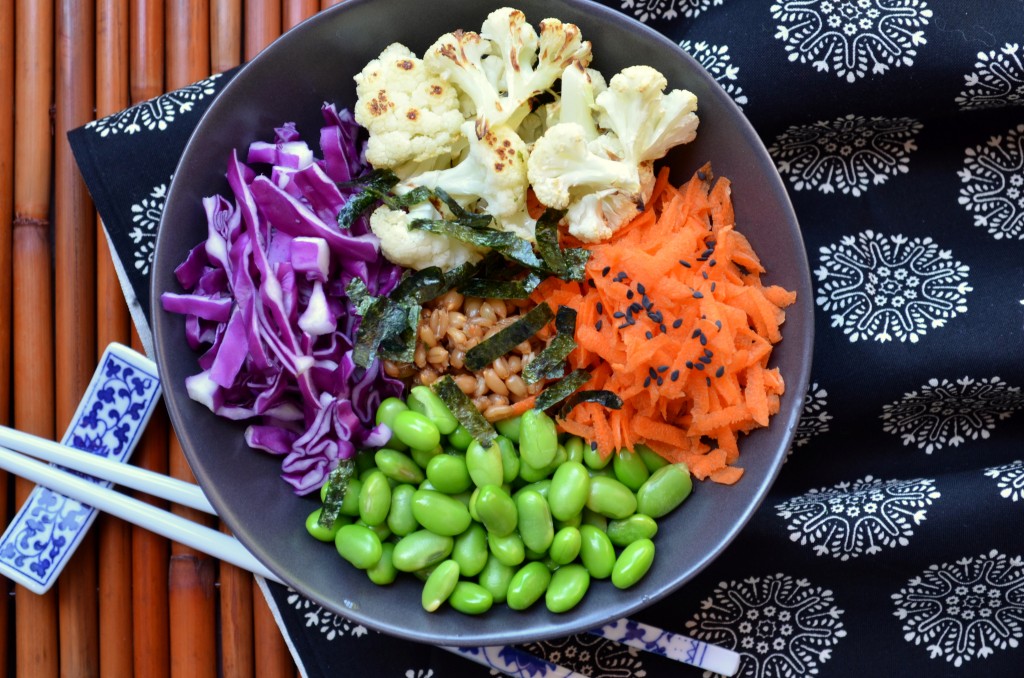 In case you missed it, this is Pantry Week here at Coffee & Quinoa: a week of me attempting to simultaneously clean out my cabinets and teach myself to put a meal together without a trip to the store.
This dish is a random weeknight creation that truly belongs in my pantry series. Pawing through the fridge after work one night, I found some leftover veggies and cooked spelt, plus some cauliflower with only a few more days of life left in it. For some reason my sweet potato sushi bowl came to mind. I decided to go for it, but was pretty doubtful as I whipped up the dressing… an Asian dish with cauliflower and spelt, really?
But I was pleasantly surprised – very much so! In fact, I may even like this version better than the original. The colors and textures are just so much fun, and the sushi-inspired flavors in the dressing and nori tie even the most random ingredients together. This is the meal that I think may have actually converted me to the "winging it" school of cooking.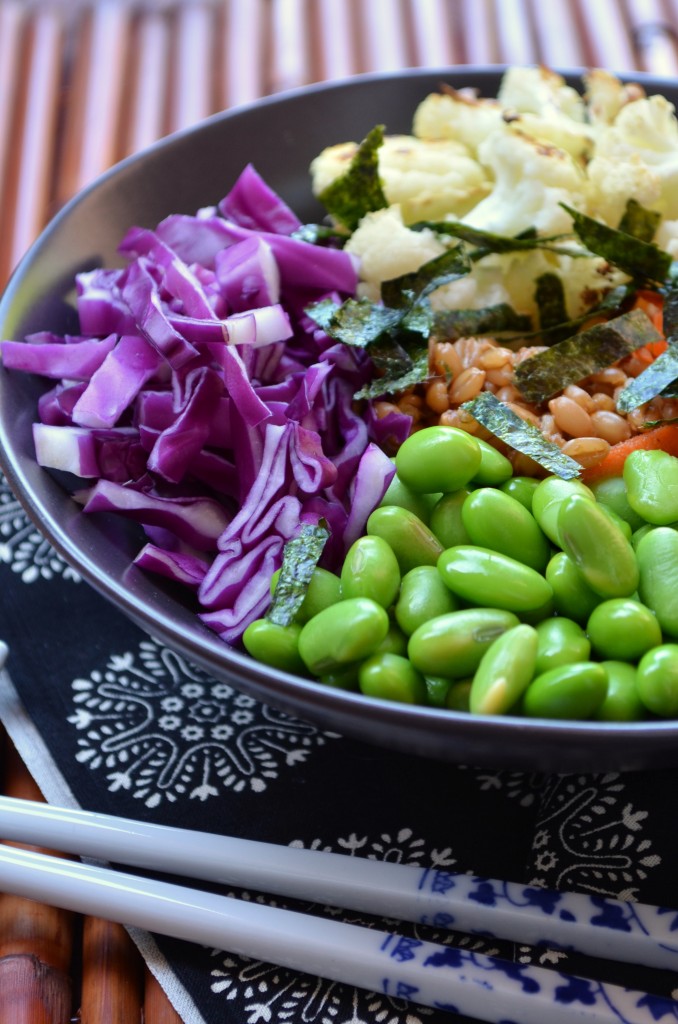 So, obviously, this recipe is pretty loose. I've since experimented with it, using different grains, beans, veggies and even fruits. I like this combination of flavors and textures best, but you can use whatever you have on hand. Just make sure to include a raw veggie with a little crunch, and definitely keep the nori and the dressing to make it taste like a sushi bowl. Half the fun of this recipe is getting creative and rescuing a few veggies from the abyss of your crisper.
Enjoy!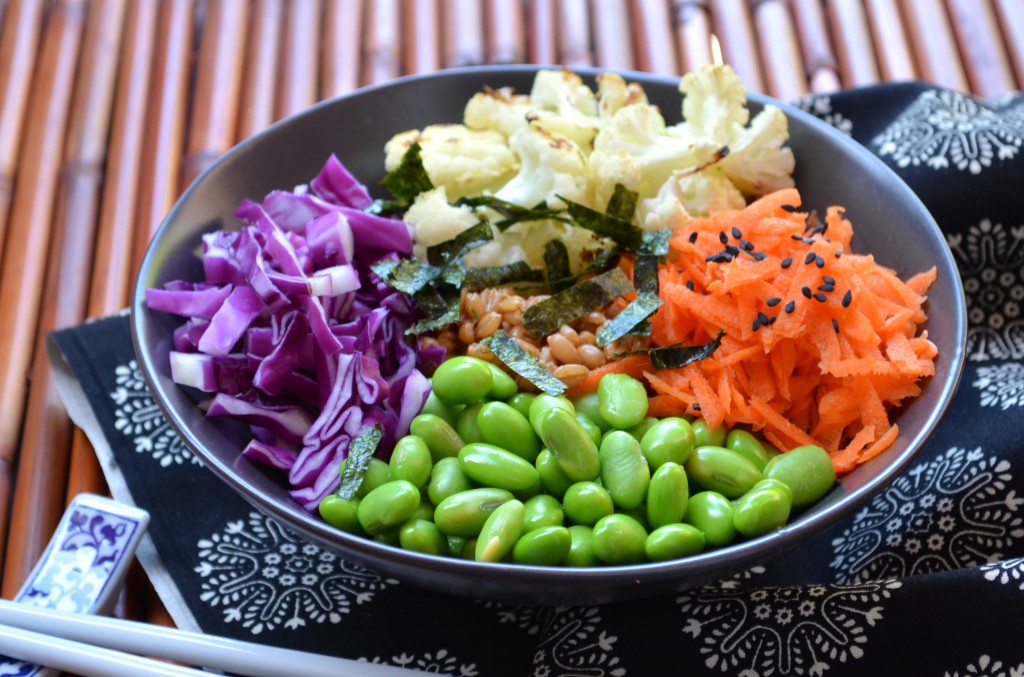 Spelt Berry Sushi Bowl with Roasted Cauliflower
This sushi-inspired vegan bowl is perfect for using up leftover vegetables and grains.
Ingredients
For the sushi bowl:
1/2 cup uncooked spelt
2 cups chopped cauliflower
1 tsp olive oil
sprinkle of salt and pepper
3/4 cup frozen edamame, thawed
1 large carrot, grated
1 cup shredded red cabbage
For the dressing:
1 Tbsp minced fresh ginger
juice of half an orange
3 Tbsp low-sodium tamari or soy sauce
2 Tbsp mirin (Japanese rice wine)
1 tsp toasted sesame oil
1/2 tsp Japanese rice vinegar
To top:
1 4x8 sheet of nori, lightly toasted and crumbled or chopped
sesame seeds (optional)
Instructions
To cook the spelt: Bring spelt and 1 cup water to a boil in a small pot. Reduce heat and simmer until spelt grains are tender but still chewy, about 50-55 minutes. This can be done ahead of time.
To roast the cauliflower: Preheat oven to 400. Toss cauliflower with olive oil, sprinkle with salt and pepper, and spread on a lined baking sheet. Roast for 20-25 minutes, until starting to brown, stirring once halfway through.
While the cauliflower roasts, prepare the rest of the vegetables. Make the dressing by blending all ingredients together. (I use my immersion blender.)
Once spelt and cauliflower are done, assemble the sushi bowls. Mix half of the dressing with the spelt. Scoop spelt into bowls and arrange cauliflower and other vegetables on top. Pour remaining dressing over the bowls and sprinkle with nori and sesame seeds.
Serve! This dish also tastes good cold or at room temperature.