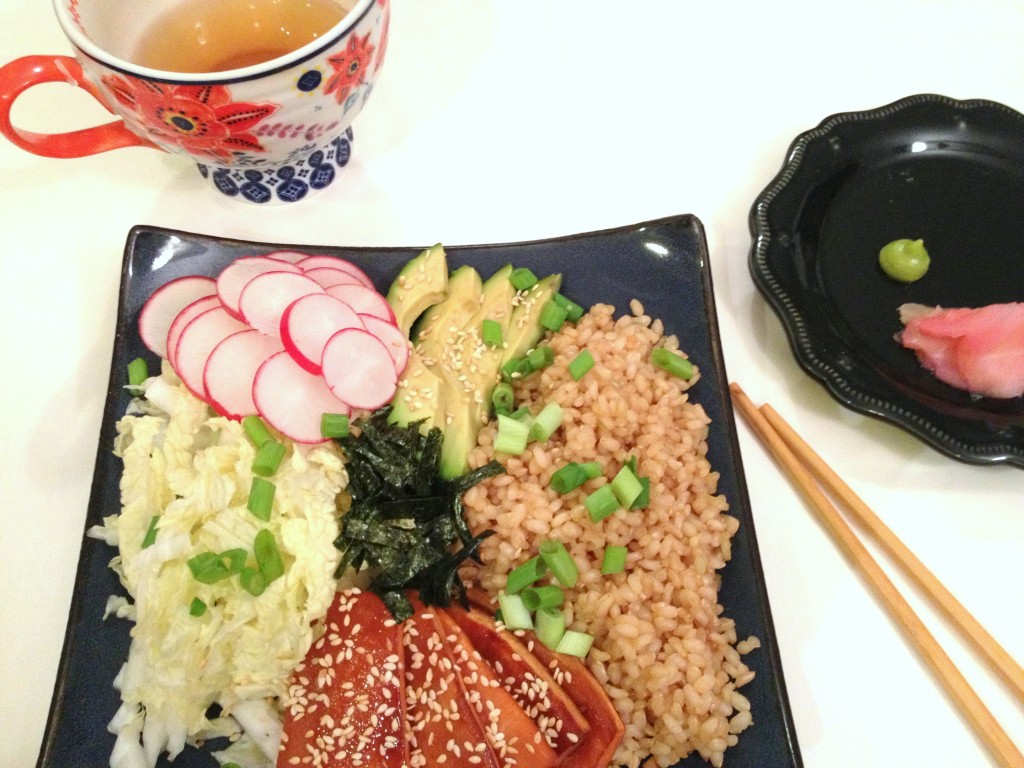 Introducing my new favorite dinner, the sweet potato sushi bowl. That boring rice post yesterday was just a way to make sure you were prepared for this.
Make. It. Tonight. (!!!)
This weekend was officially deemed Asian Cooking Weekend in my apartment. I actually didn't get through all the dishes I wanted to, but luckily I made this sushi bowl a priority. After we ate it, I couldn't stop smiling. It is just SO GOOD that I couldn't believe it had come out of my kitchen! It tastes like high-end sushi and really requires minimal effort.
So what's in this little beauty?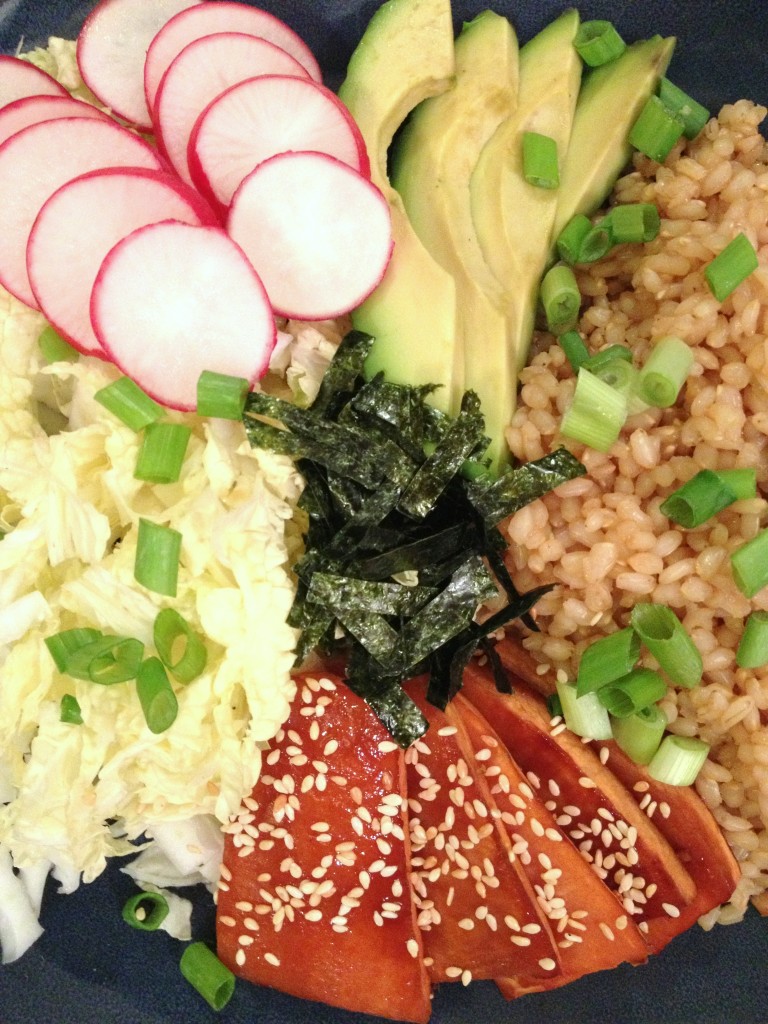 Seasoned rice, roasted sweet potato, avocado, sliced veggies, seaweed, sesame seeds, and green onions, all topped with a gingery sauce. Just tell me that doesn't look like salmon! And it's just sweet potato, chopped up like this: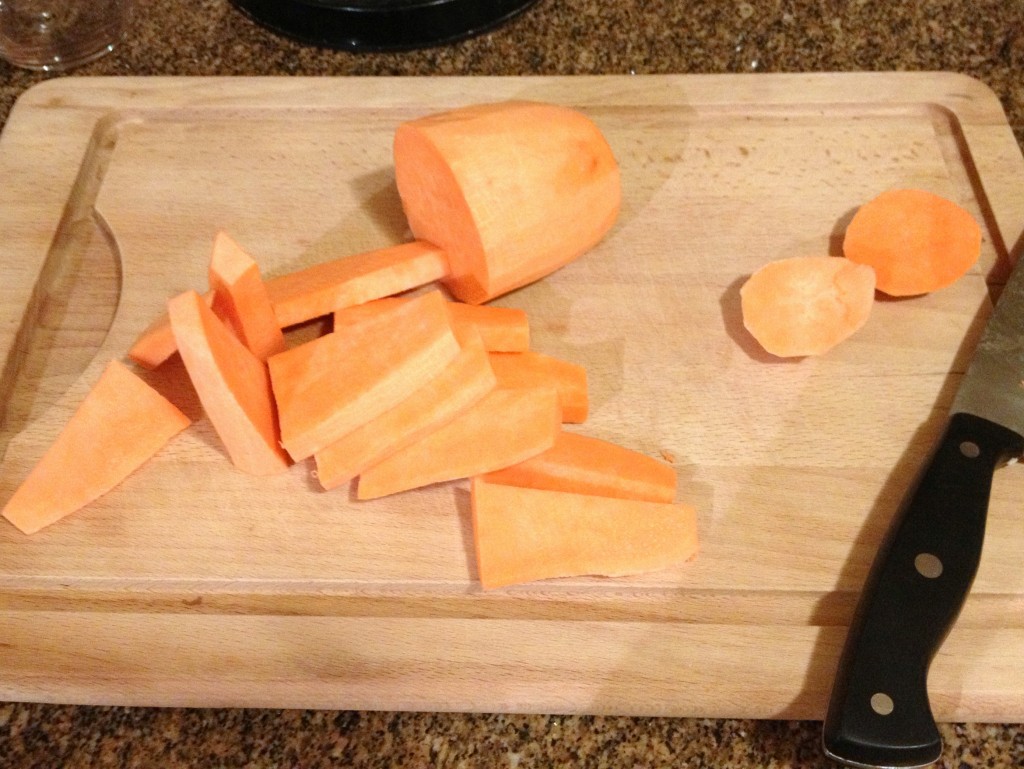 … and then marinated and roasted.
If you like sushi, seriously make this tonight. If don't have an Asian market nearby, you are excused until tomorrow night. There are a few things in here (sesame oil, nori, and mirin) that you probably can't find in your grocery store, but I can't emphasize enough how worth it the extra trip will be. (Don't skip the nori whatever you do – it's what makes it taste like sushi!)
If you're like me, this is also an excellent chance to use those Asian-looking dishes you bought for absolutely no reason and have been occupying shelf space ever since :)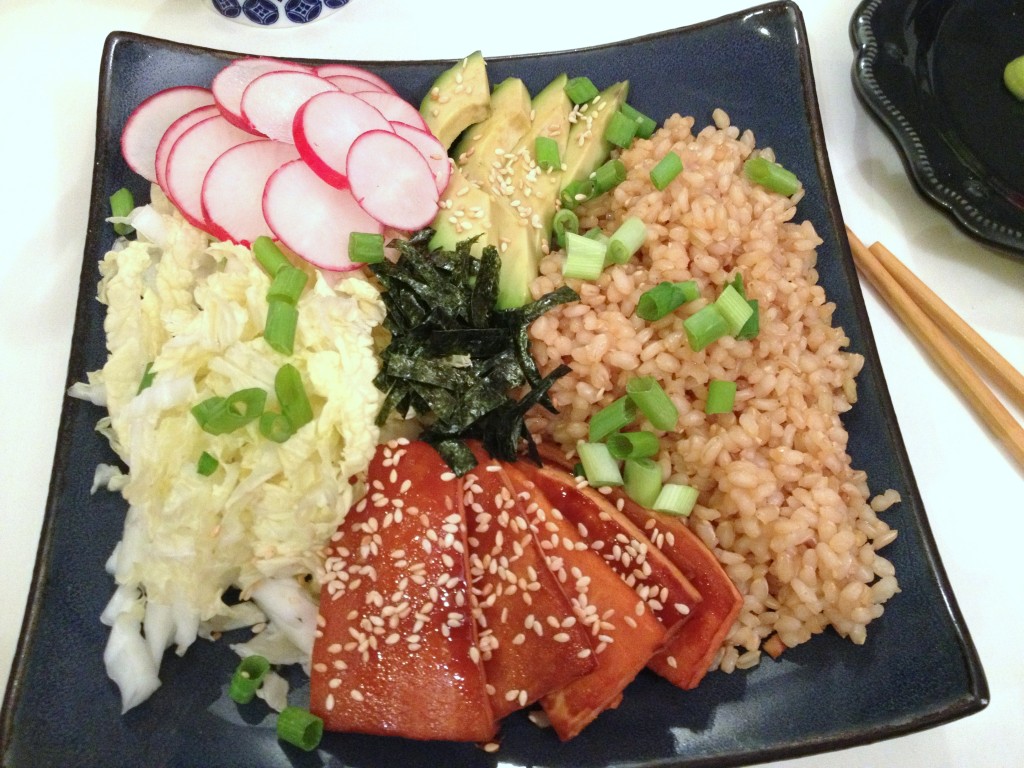 Sweet Potato Sushi Bowl
Serves 4
Time: about 1 hour (less if rice is cooked ahead of time)
Ingredients:
For the sushi bowl:
1 ½ cups dry brown rice
1 large sweet potato
2 Tbsp low-sodium tamari or soy sauce
1 avocado, sliced
8 radishes, sliced
4 cups shredded napa cabbage
6-8 green onions (light and dark green parts), thinly sliced
2 4×8 in sheets nori (seaweed)
2 Tbsp sesame seeds, toasted
For the sauce:
1 Tbsp fresh ginger, minced
juice of 1 orange
¼ cup + 2 Tbsp low-sodium tamari or soy sauce
¼ cup mirin (Japanese rice wine)
2 tsp sesame oil
Instructions:
Cook rice according to these instructions. (This could also be done ahead of time and then reheated.)
Preheat oven to 375 and line a baking sheet with tin foil or parchment paper.
Peel sweet potato and slice into pieces 1/4 to 1/2 inch thick (see photo above). Toss in a ziploc bag with 2 Tbsp soy sauce. Lay flat and let marinate 5-10 minutes, turning once or twice to get the soy sauce all over. Spread out on the baking sheet, pouring any soy sauce left in the ziploc over top, and bake for 15 minutes, until tender.
While the sweet potato is roasting, blend or whisk together all sauce ingredients. (I used an immersion blender.)
Toast sheets of nori at 350 degrees for a few minutes, until fragrant. (I like to do this in my toaster oven, but you could also do it just before or after the sweet potato.) Chop or crumble into small pieces. Still at 350, toast sesame seeds for several minutes until golden brown and fragrant.
When rice is done, mix it with about half the sauce, a quarter of the nori, and a quarter of the green onions.
In bowls, layer the rice and napa cabbage and arrange the avocado, radishes, and sweet potato on top. Top with additional nori, green onions, sesame seeds and sauce.
Enjoy with green tea!
Tastes best on the first day made.