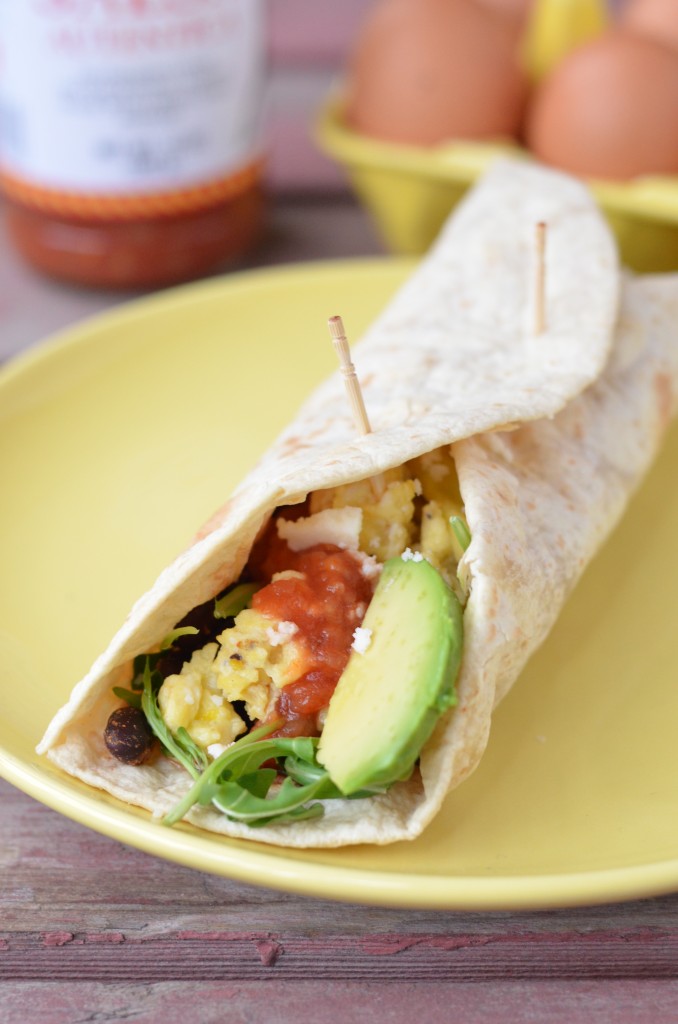 Could these be breakfast? Yes. But I like to eat them for dinner.
Before Nate and I lived together, I prepared a lot fewer meals. Dinner was often Thai takeout or a "salad" (a.k.a. a big pile of raw veggies, no dressing, that I ate with my fingers). I'm not entirely ruling that out as a dinner option as the weather gets warmer, but things are a bit more civilized around here these days. However, there is one of my "single" dinners I've been missing lately: Scrambled eggs.
Scrambled eggs with goat cheese, avocado and salsa was my favorite weeknight dinner for a while last year. It eventually slipped off my radar – there was the vegan thing, and then the fact that Nate expresses zero enthusiasm for scrambled eggs – and before a few weeks ago, I hadn't made it in quite some time. I've since welcomed it back into my life, however – this time for good. And in my efforts to make it into more of a cohesive meal (one that I could actually serve to others rather than just eat by myself standing up at the counter), I turned it into a burrito.
And Nate, who I thought wasn't a fan of scrambled eggs, always goes back for seconds of this. That is saying a lot!
This meal is super simple and is ready in 10 minutes flat, so it would be great for any time of day. The flavors are awesome together, especially with the peppery arugula, zesty salsa, and creamy cheese. Single people food for the win!
In other news, Nate and I are off to Mexico tomorrow! I'm super excited for our trip, but I'm also a little bummed because it means I am missing Blend. The Mexico trip is for work (although I don't have to do any work while I'm there, yay), so I couldn't really skip it for a blogging retreat. Sad face. I'm hoping to attend Blend next year, or maybe a different retreat or conference? Let me know if you have suggestions. And everyone who is attending Blend, have a BLAST and enjoy Utah!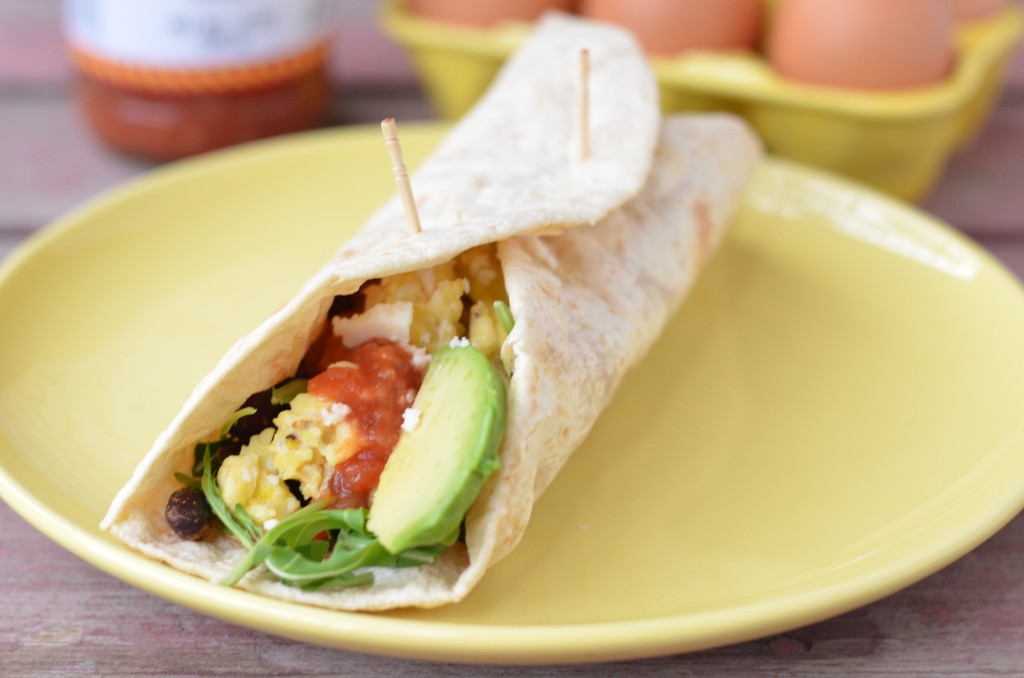 Vegetarian Breakfast Burritos
These egg and bean burritos are great for breakfast, lunch or dinner.
Yields:
2 (2 small burritos each)
Ingredients
1 cup cooked black beans
juice of 1/2 lime (or 1/4 lemon, in a pinch)
1/2 tsp cumin
1/4 tsp paprika
4 eggs
2 Tbsp milk
sprinkle of salt and pepper
1/2 tsp olive oil
4 medium-sized tortillas
arugula
1/2 avocado, sliced
goat cheese or cotija cheese, crumbled
salsa
Instructions
First, get your beans ready. Sprinkle beans with lime juice, cumin, and paprika and stir to combine. Set aside.
Next, scramble your eggs. In a medium-sized bowl, whisk together the eggs and milk with a sprinkle of salt and pepper. Heat a non-stick pan or skillet over medium heat, add olive oil, and pour in egg mixture. Cook, stirring frequently, until no longer runny, 2-4 minutes.
While the eggs are cooking, heat tortillas, either in a microwave or toaster. Keep covered until ready to serve.
Just before serving, heat beans for 30 seconds to a minute in the microwave.
To assemble the burritos, layer tortillas with arugula, bean mixture, scrambled eggs, avocado, cheese, and salsa. I like to have each person assemble their own burrito. Enjoy immediately!