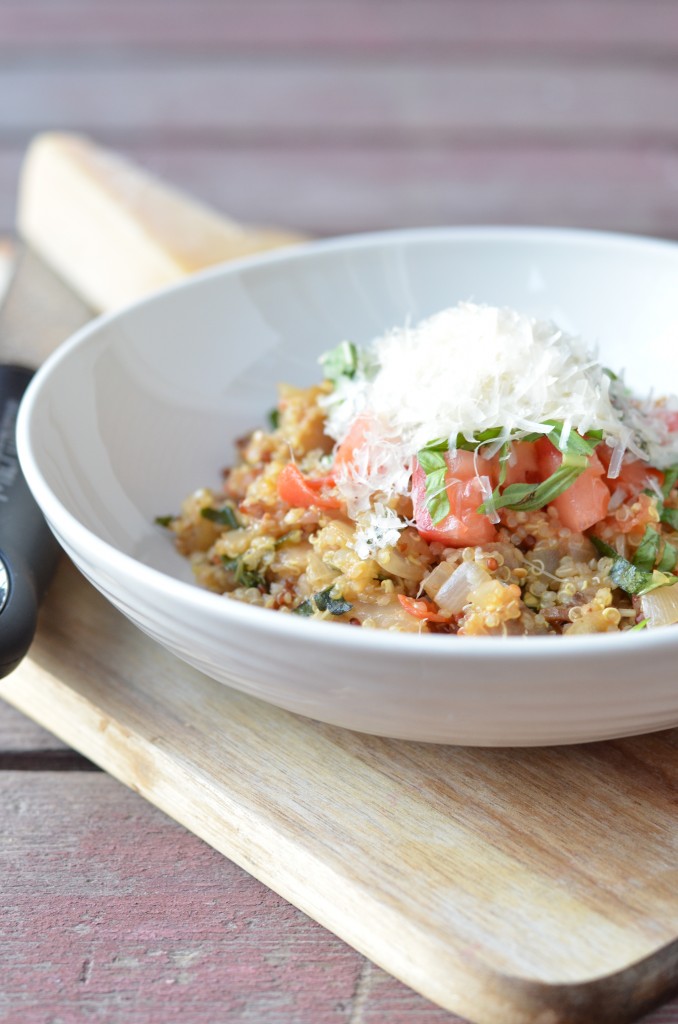 For me, risotto is one of those foods: the kind I love, but would rather pay someone else to make for me. Right up there with croissants, fresh bread, and pad Thai. There are some exceptions, but usually… $18 instead of stirring for an hour? Yes please!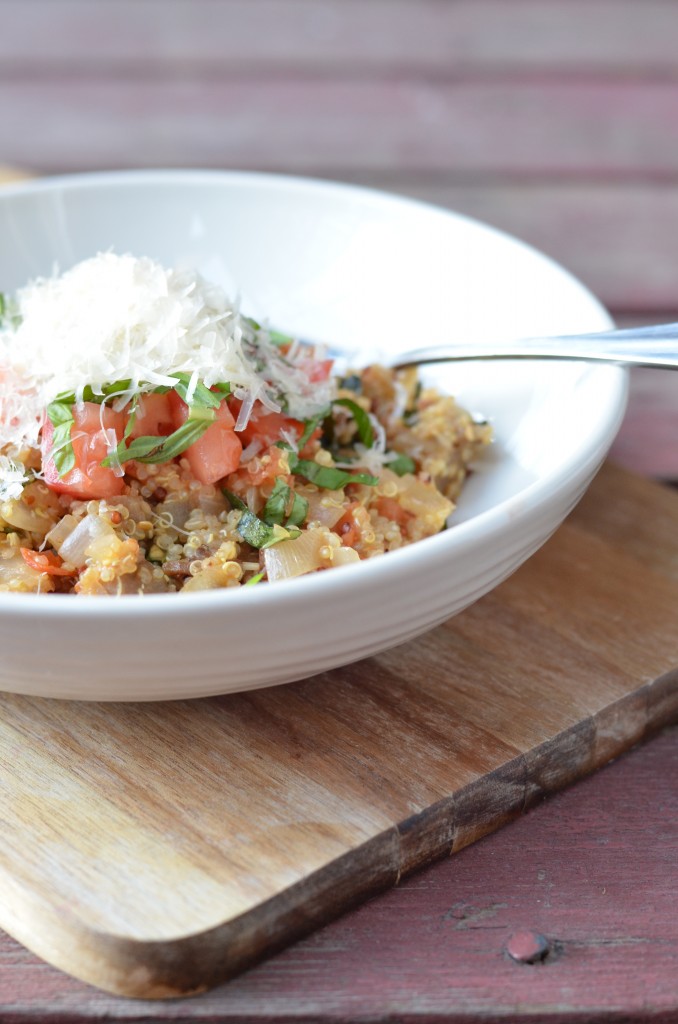 I actually have no idea how they prepare risotto in restaurants. What poor underpaid soul gets stuck stirring that stuff full-time?!
Luckily, this risotto is different. And that's because we're subbing quinoa for the usual risotto rice!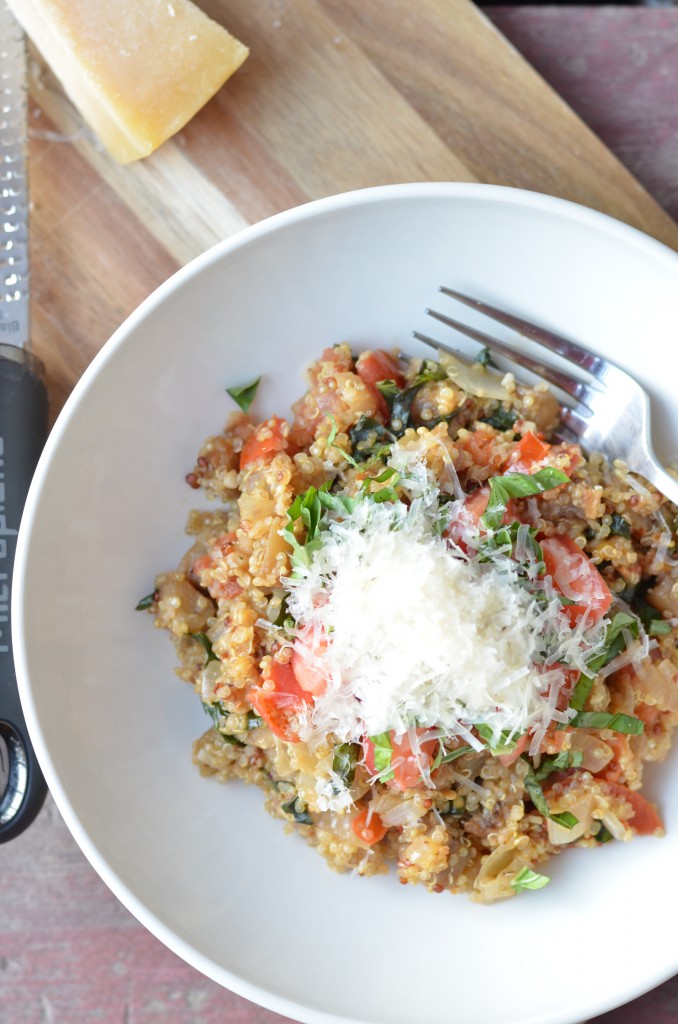 Unlike arborio rice, which is usually used in risotto, quinoa doesn't get creamy when it's cooked slowly. On the one hand, that means that this isn't your typical creamy risotto. On the other hand, it means you can cook the quinoa separately, then just dump it into the pan with the veggies. Plus you get all the health benefits of quinoa! Deal?
So, naturally, this risotto is a little different from the norm. It tastes more like a cheesy quinoa dish… and how could that be bad? (Rhetorical question.) It's perfect with fresh summer produce like eggplant, tomatoes, and basil. And the smell of that white wine cooking down? Pure heaven! Enjoying with some extra wine on the side is highly recommended. (I mean, you had to open the bottle…)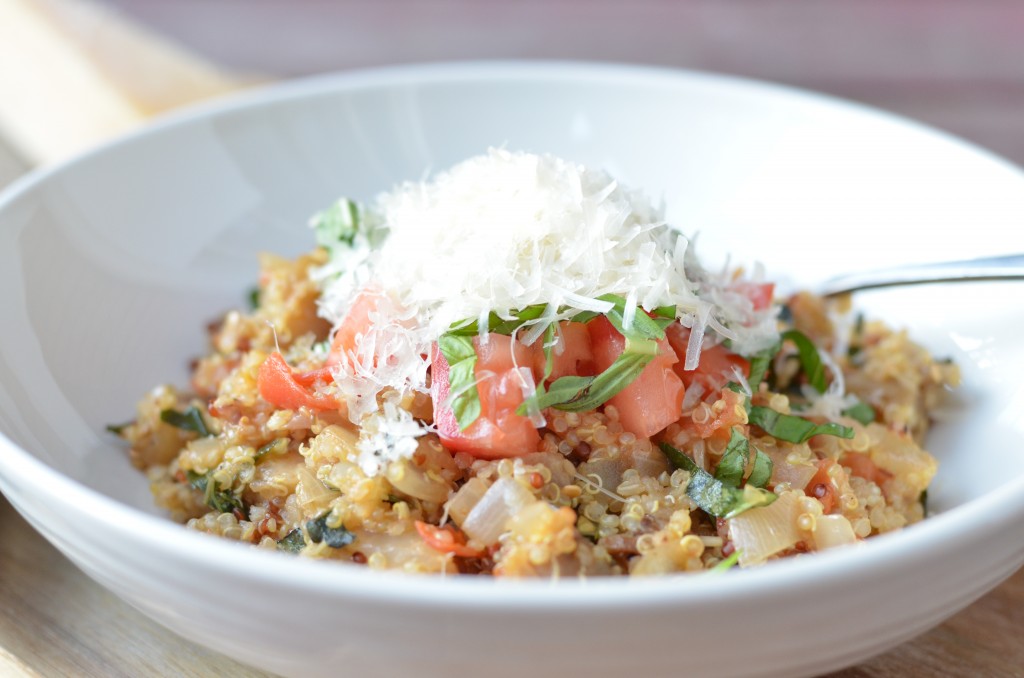 While you're enjoying your wine, let me take a second for some housekeeping. Google Reader. Do you use it? If so, you've probably heard that it's going away at the end of this month, which is – shockingly – this weekend. Come Monday, we will have no more Google Reader. Sad face.
If you do use Google Reader, I'd urge you to switch to an alternative so that you can keep subscribing to this and other blogs! Feedly and Bloglovin' are the most popular services, and both are so beautiful you'll wonder why you ever used the old Reader in the first place. I've been using Feedly and loving it! It's super easy to migrate your old subscriptions – they do all the work for you. Make sure to switch over this weekend so you don't lose your old subscriptions.
And if you don't use Google Reader… well, just enjoy that glass of wine!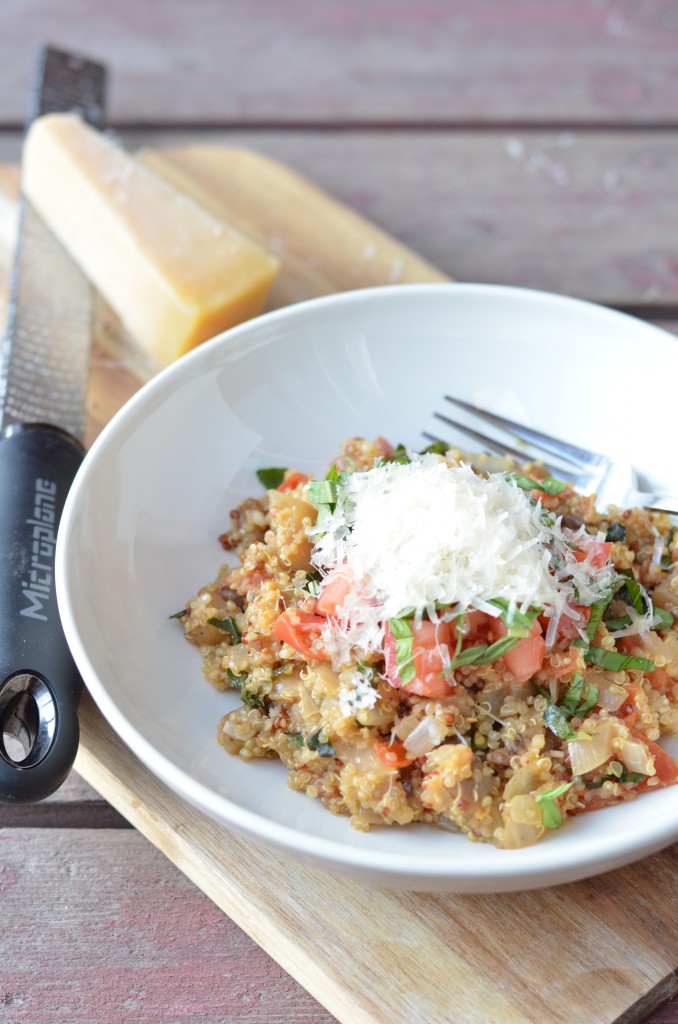 Eggplant Parmesan Quinoa Risotto
Ingredients
2 Tbsp olive oil
1 lb eggplant, peeled and chopped into 1/2-inch cubes
3 garlic cloves, minced
sprinkle of salt and pepper
1 cup dry quinoa, rinsed and drained
1 1/2 cups vegetable stock
3 Tbsp butter, divided
1 yellow onion, diced
1/2 cup dry white wine (I use sauvignon blanc)
1 lb vine-ripened tomatoes, diced
1/4 cup grated parmesan cheese + extra for serving
1/2 cup thinly sliced basil + extra for serving
Instructions
First, saute the eggplant. Heat the olive oil in a large saute pan over medium-high heat. Once hot, add eggplant and saute, stirring occasionally, until browned all over. Add garlic, along with a sprinkle of salt and pepper, and saute until garlic is fragrant, about 1 more minute. Scoop eggplant into a bowl and set aside.
Meanwhile, cook the quinoa. Bring quinoa and vegetable stock to a boil in a small pot. Simmer until quinoa is tender and chewy, about 12-15 minutes. Drain any remaining liquid.
In the same saute pan you used for the eggplant, melt 2 Tbsp of the butter over medium heat. Add the onion and saute until soft, about 5 minutes.Add the wine and chopped tomatoes, reserving a handful for garnish. Simmer until the wine is syrupy, about 3 minutes. Stir in cooked quinoa.
Remove from heat and stir in remaining Tbsp butter. Stir in the parmesan cheese and basil. Serve immediately, with additional chopped tomatoes, parmesan, basil, and salt and pepper.