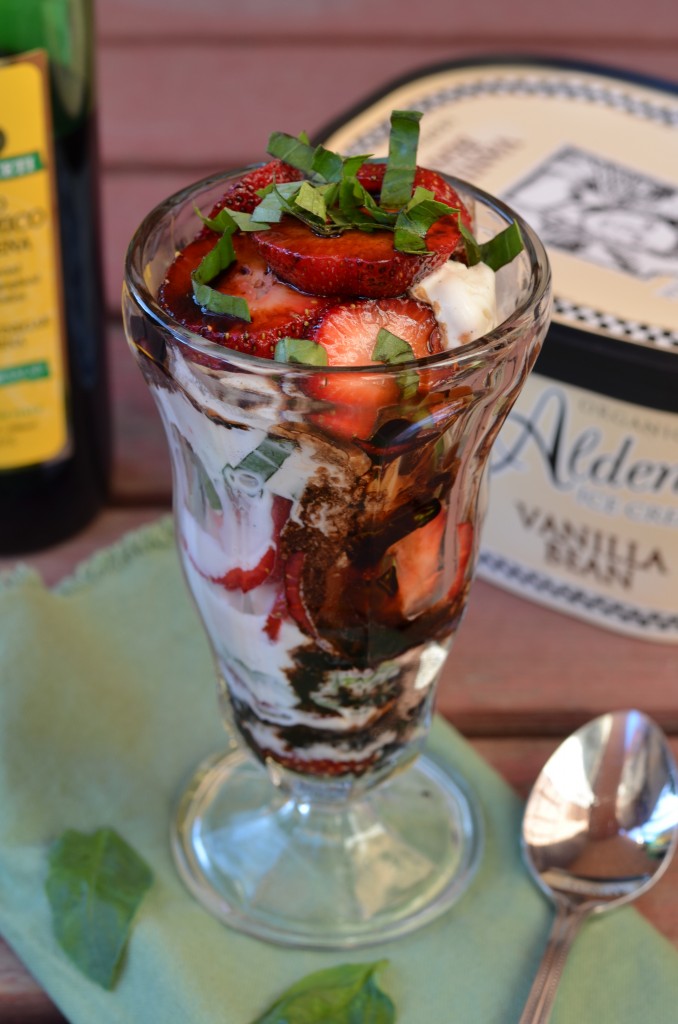 I don't mean to alarm you, but that's not chocolate I poured on my ice cream.
It's vinegar.
A balsamic vinegar reduction, to be exact.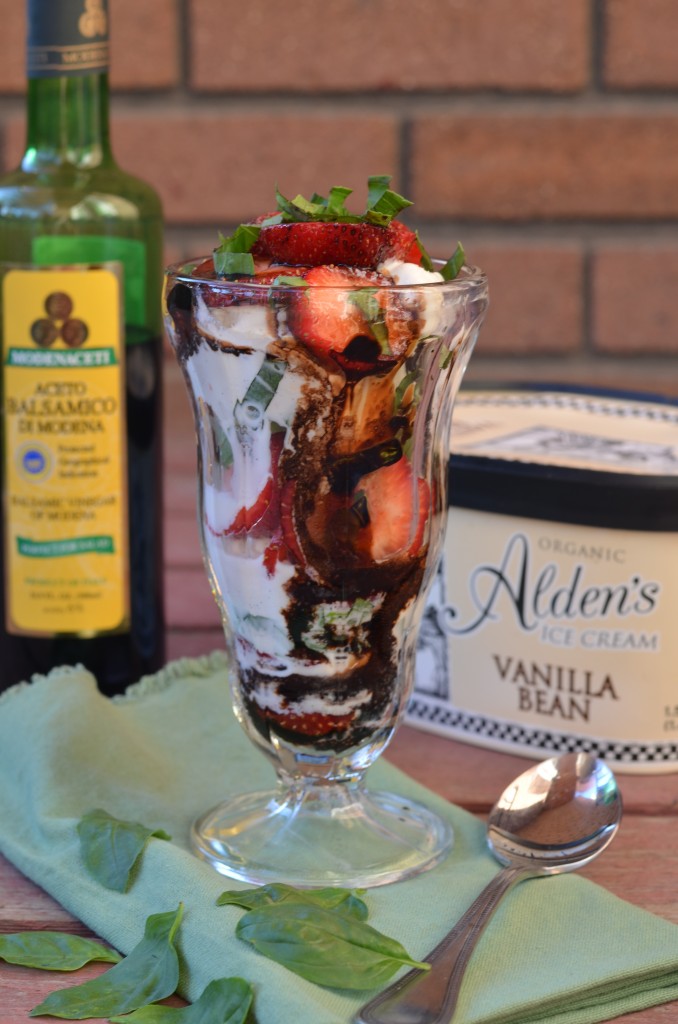 And you know what? It tastes way better than chocolate with this sundae.
And that's me saying that. This girl.
Strawberries + basil + balsamic vinegar is one of my faaaavorite summertime combinations. I've gushed about the individual components before, and already given you both a strawberry recipe and a basil recipe in the past week alone. Even so, it's taking all my self-restraint not to bombard you with all the different ways you can combine strawberries, basil, and balsamic now that the first two are finally in season. Pizza! Quesadillas! Smoothies! There, I did it anyway. But I'll keep it to this one recipe for now, because this sundae… it's my favorite.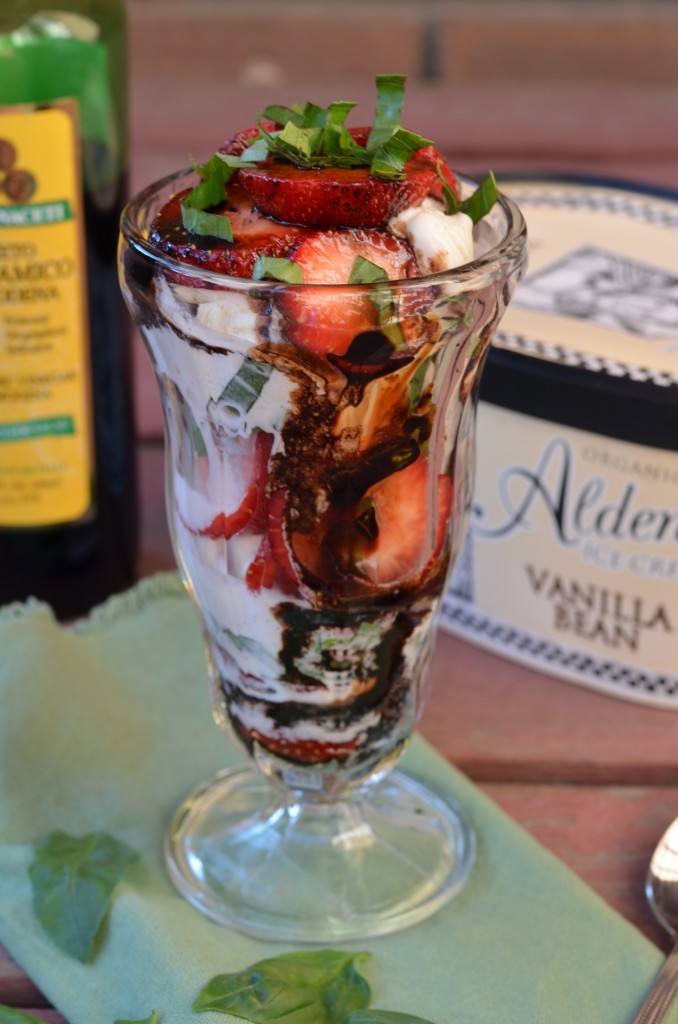 This is by far the most adult ice cream sundae you've ever eaten. You might be a little skeptical before you dig in – I've been there – but once you do, there is no going back. Juicy strawberries, tangy balsamic, fresh basil, creamy vanilla ice cream… it may sound like the weirdest possible thing to call dessert, but trust me: It's a good idea.
Don't be put off by the fact that this calls for a balsamic reduction. A balsamic reduction is simply balsamic vinegar that has been simmered until a lot of the liquid has cooked off. It is sweeter and almost syrupy, while still a bit tangy. You can buy it by the bottle (I've seen it at Whole Foods and Trader Joe's), but you can also make it with almost zero effort.  Just simmer 1/4 cup balsamic vinegar on low heat until it is syrupy and reduced to about 1/3 of its original volume. Easily multiplied if you're making more than one sundae!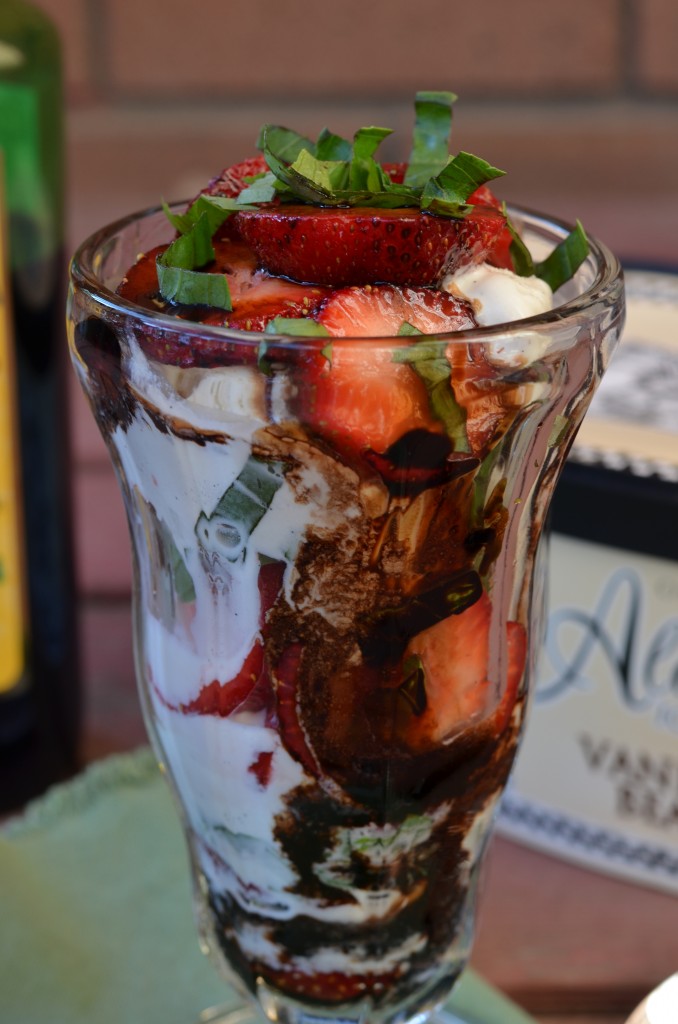 I recommend serving this for dessert the next time you have dinner guests. First of all, your friends will be impressed with your creativity and mature tastes. Second, everyone likes strawberries and ice cream, and those who aren't willing to take the balsamic leap with you can enjoy theirs plain. And last but never least by my standards, it is incredibly easy. All the parts can be prepared ahead of time and then assembled by each person into their own sundae.
So… would you care for some vinegar on your ice cream?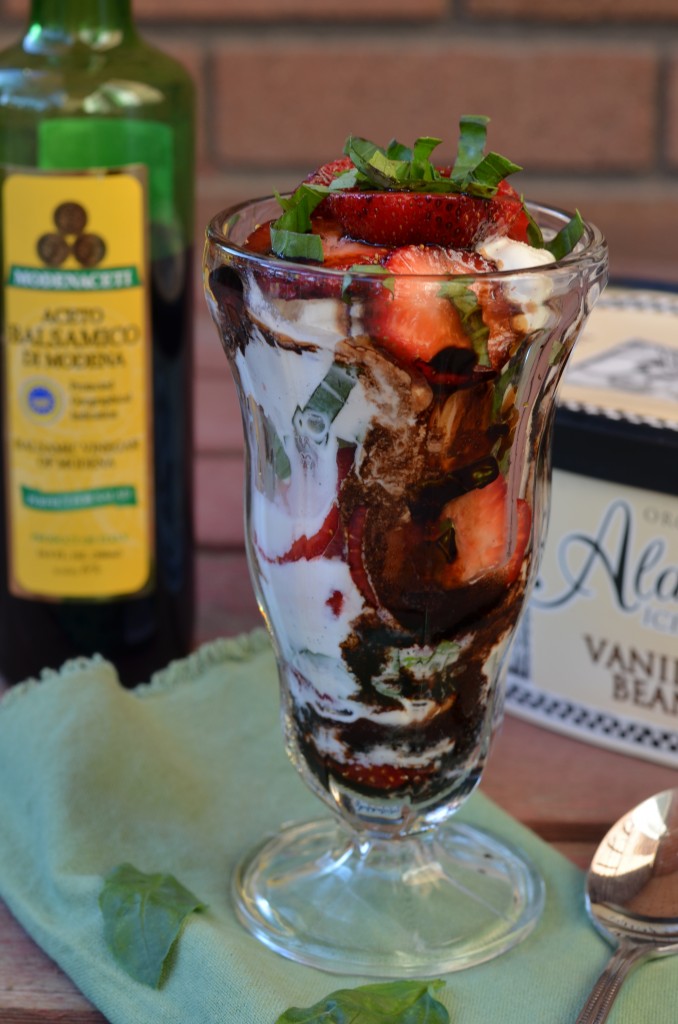 Strawberry Basil Balsamic Ice Cream Sundaes
This sophisticated ice cream sundae is worthy of serving to dinner guests. Juicy strawberries, tangy balsamic, and fresh basil pair perfectly with creamy vanilla ice cream.
Ingredients
3/4 cup hulled and sliced strawberries
1 tsp sugar
4-5 large basil leaves, sliced into thin ribbons
vanilla ice cream
1-2 Tbsp balsamic reduction (storebought, or lightly simmer 1/4 cup balsamic vinegar uncovered until reduced to 1/3 of original volume, about 20 minutes)
Instructions
First, make the balsamic reduction if you don't have any pre-made - see notes above.
Mix strawberries with sugar and set aside for about 5 minutes to macerate.
Once strawberries are nice and juicy, layer then in an ice cream dish with the basil and vanilla ice cream. Top with balsamic reduction.
Enjoy!