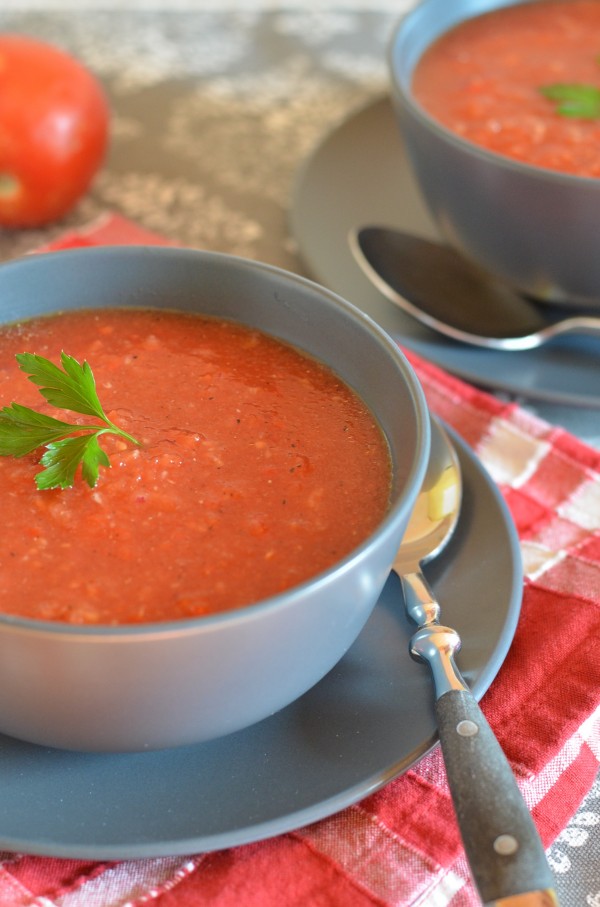 Can we all take a moment to celebrate tomato season?
There's not much that can top a fresh-picked tomato. If I didn't kill everything I ever tried to grow, tomatoes would be on my short list for a garden – tomatoes and basil! As it is, I don't seem to have any sort of green thumb, so I'll let someone else grow them for me. I think everyone's happier that way, especially my would-be tomato plants.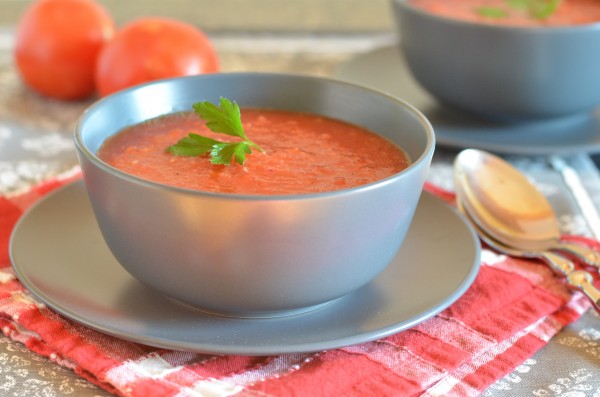 The tomatoes we've been getting recently have been amazing, and I love dishes that really highlight them. Caprese salad is always a favorite, and when I'm in the mood for a hydrating tomato-y dish, I looove gazpacho.
There are a lot of gazpacho recipes out there, it's true – everything from strawberry peach to yellow tomato and corn (yum!). But this here isn't as fancy as all that. It's just the classic gazpacho recipe I've been making for the past few summers.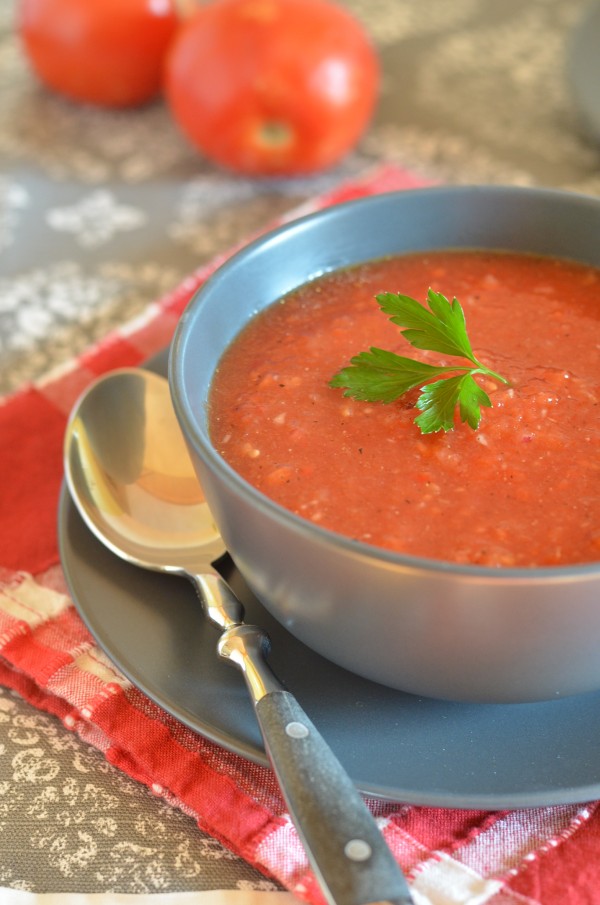 Now not everyone likes gazpacho, just like not everyone likes tomatoes. (My conclusion: there will always be crazy people.) I also didn't like gazpacho as a kid when my mom made it, so I think it may be an acquired taste. But if you've never tried it before, I urge you to. I promise it doesn't taste like salsa. I promise the idea of a chilled soup is not gross, just summery. And I also promise that if you're going to become a gazpacho lover, this classic version is the place to start.
This gazpacho is about 95% vegetables, with just some olive oil, vinegar, salt and pepper for added flavor. Oh and tomato juice… can we count that as a vegetable? I keep tomato juice in my fridge especially for making this gazpacho. It's not something I would ever drink plain (do you ever understand the people who order tomato juice on planes?), but it gives this gazpacho just the right texture.
So what do you say – are you a gazpacho lover or hater? Does your favorite gazpacho contain any unexpected ingredients, like fruit?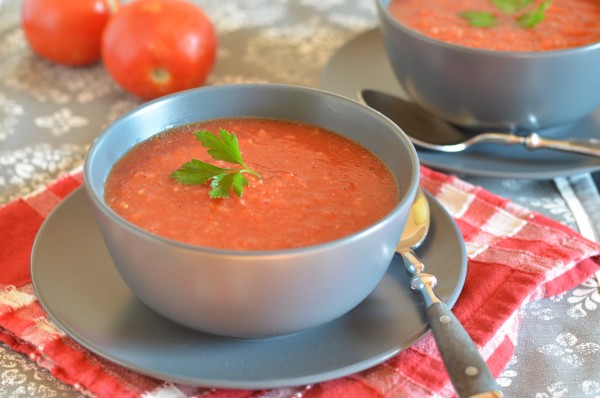 Classic Gazpacho
Ingredients
1 cucumber, peeled
2 red bell peppers, seeds and membrane removed
4 vine-ripened tomatoes
1 red onion
3 garlic cloves, minced
3 cups tomato juice (23 oz), low-sodium if possible
1/4 cup white wine vinegar
1/4 cup olive oil
1 tsp kosher salt
1 tsp ground black pepper
Instructions
Roughly chop the vegetables. Puree them separately, one type of vegetable at at time, in a food processor or blender. Process until they reach your desired texture - some prefer their gazpacho chunkier than others. (I like a somewhat smooth gazpacho.)
After each vegetable is pureed, combine them in a large bowl. Stir in the remaining ingredients. Adjust salt and pepper to taste.
Cover and chill in the refrigerator before serving. The gazpacho is best after the flavors have had a day to combine; I recommend preparing it the day beforehand.
Serve and enjoy!