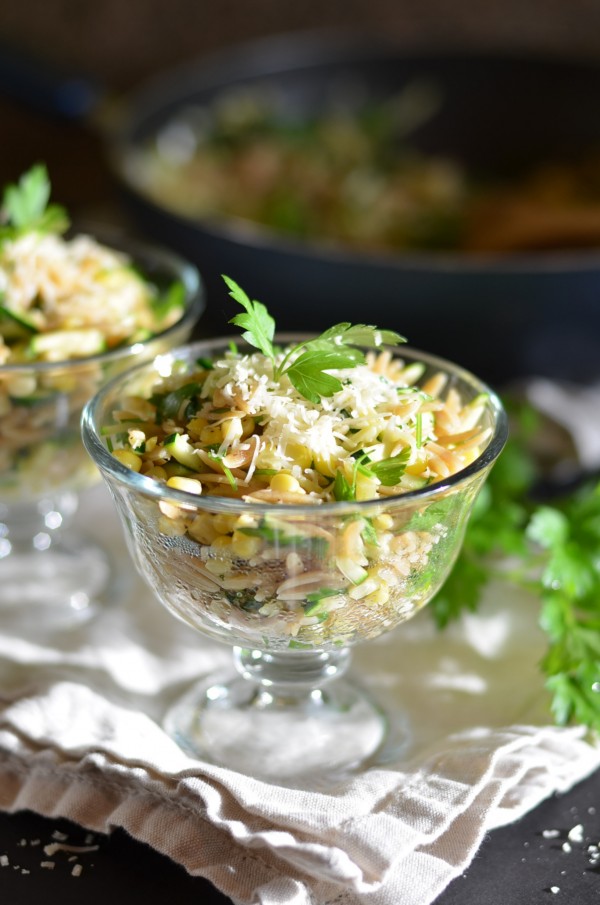 I'm just going to say it: I am nowhere near ready for fall.
You might think it's jumping the gun to start thinking about cooler temperatures when it's still August (and I couldn't agree with you more). But if you live in Utah, you know that anticipation for ski season – forget fall altogether – is already mounting by August. (This I will never understand.) And even the non-ski bums around me are starting to mention looking forward to fall boots, colorful leaves, etc.
Stop it! It's just wrong.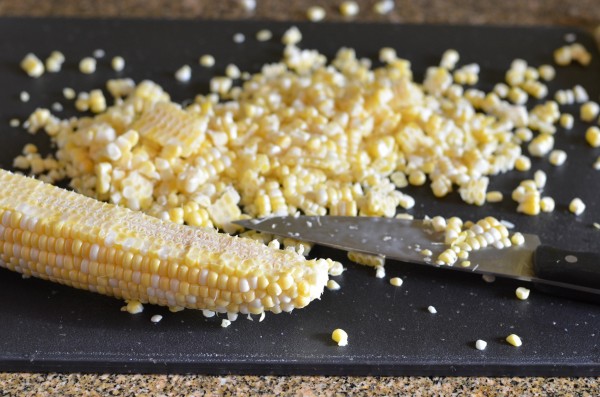 Though I've never been a fan of the very hot weather, I do love all the things that come with summer – most notably sundresses, summer produce, walking out of the house without bundling up, and the lack of impending winter doom. I intend to cling to all of those things for as long as possible and hope I don't get hypothermia.
So let's embrace that summer produce while we still can with this orzo recipe: a warm pasta salad-y dish with lots of yummy texture from zucchini matchsticks and corn kernels, not to mention the orzo. It's all just barely heated up together, so it's full of bright, fresh flavor in addition to all those great textures.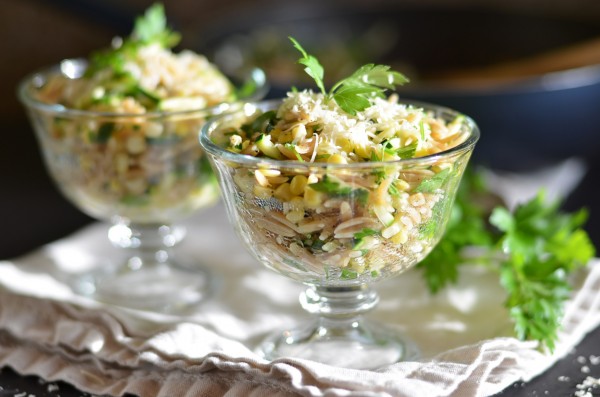 In between yogurts this week (because that's also what's coming on Friday, shhhh), I thought I'd bring you something green. Well, it started out as something green… and then somehow pasta and cheese got added to it. Whaaaat?! And now I spy only a hint of green in this dish. But that's OK, because it's the parsley, which is super green-tasting. So even if this maaaybe doesn't count as your vegetable, I consider it a well-balanced dish. Veggies + pasta + cheese is the epitome of balance, right?
Speaking of the balance in this dish, you can definitely up the zucchini if you'd like. I used only one, because I tend to do this thing with dishes like this where I double or triple the quantities I'd intended to use of everything, and all the sudden, not only does it not fit in the pan, but I'm embarrassed to tell you about it. Yields: 27 servings. What? Unless we're talking about party prep, I totally cannot publish a recipe like that. So I held back on the zucchini and ended up feeling like I could have used 2 of them. (I used 1 zucchini and 3 ears of corn, but would try out 2 zucchinis and 2 ears of corn next time.) This is definitely a whatever-you-have-in-your-crisper type of dish, so adjust as you see fit!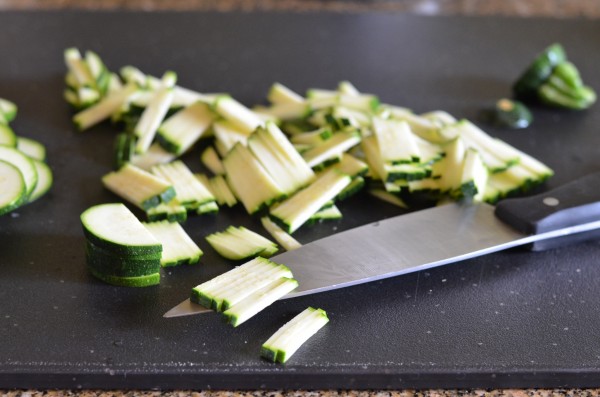 Well, maybe not whatever you have in your crisper. Because THIS little guy ended up in mine, courtesy of Whole Foods: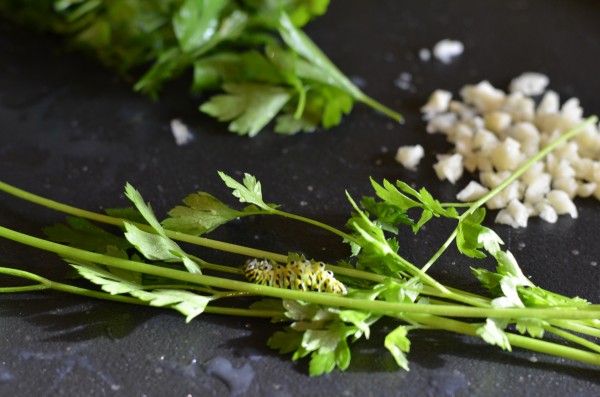 They say the parsley is organic… but how can I really tell unless there are bugs to prove it?
You better believe I checked the rest of the bunch preeeetty thoroughly after finding my new little friend here! Orzo with a side of caterpillar, anyone?
Don't think about that too much.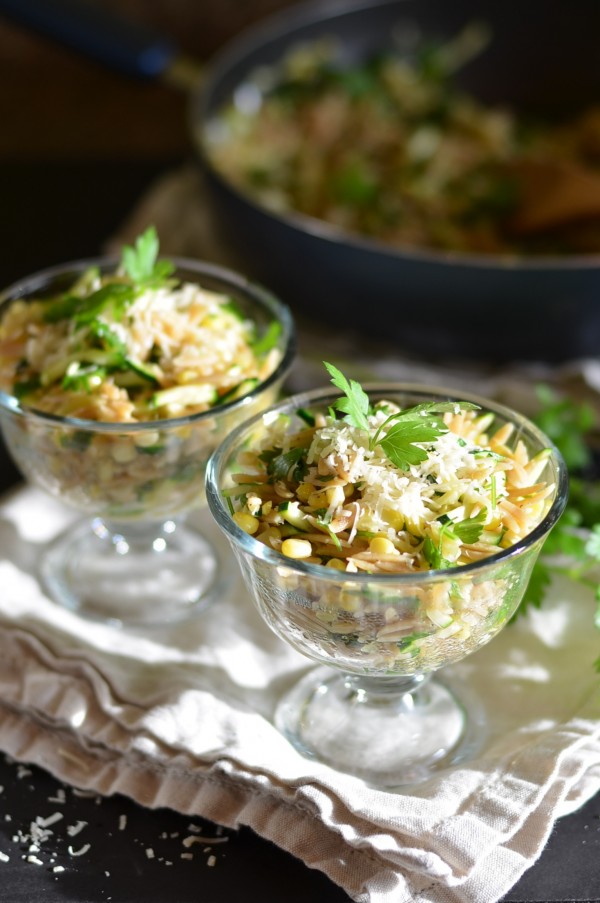 So what do you say: Ready for fall? Or clinging to corn and zucchini for dear life?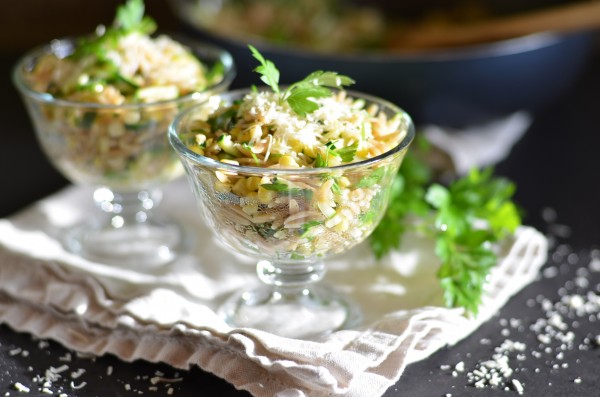 Orzo with Zucchini and Sweet Corn
Ingredients
1 cup uncooked orzo (found in the pasta section)
1-2 tsp olive oil
2 cloves garlic, minced
1-2 medium zucchini, julienned with a mandolin or sharp knife (about 2 cups)
kernels from 2-3 ears of corn
1/2 bunch Italian parsley, chopped
salt and pepper
grated romano cheese for serving
Instructions
Cook orzo according to package directions. Drain and set aside.
In the meantime, heat oil in a pan over medium heat. Add garlic and saute until fragrant, about a minute. Add zucchini and corn and saute until zucchini is tender and bright green, 4-5 minutes. (This can be adjusted down to just a minute or 2, depending on your preferred zucchini texture.)
Remove from heat and stir in orzo and parsley. Season to taste with salt and pepper.
Serve immediately with grated romano cheese (the more the merrier!).