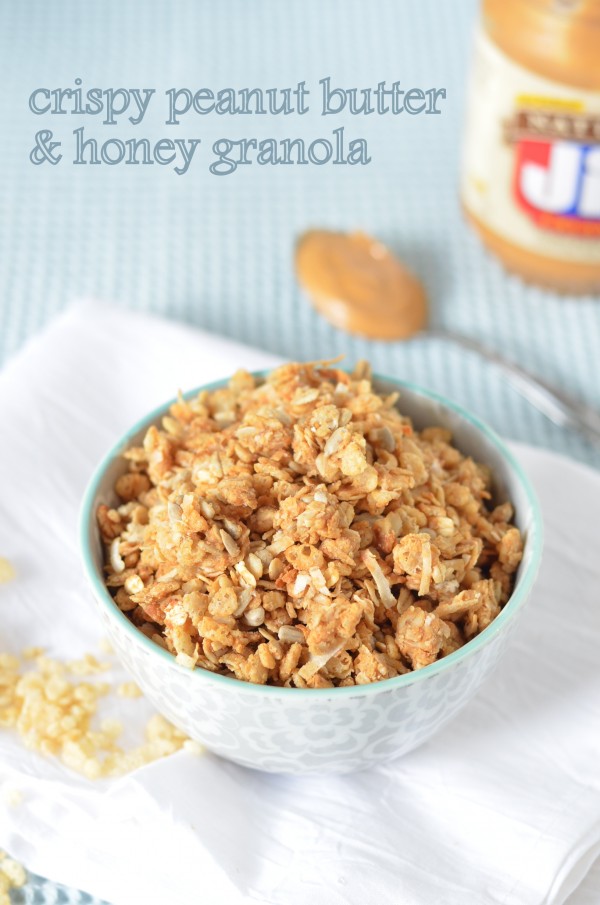 We are on a biiiit of a granola kick lately. First there was my Quinoa Crunch Granola, then there were the MixMyOwn custom mixes I mentioned yesterday, and now this delicious Crispy Peanut Butter and Honey Granola. What can I say? When I find a breakfast that my non-breakfast-eating boyfriend adores, I will knock myself out trying new combinations.
My lovely mother had the pleasure of developing this recipe with me in her kitchen, where I am definitely not used to cooking. Is it just me, or is cooking in an unfamiliar kitchen always a recipe for disaster? Not knowing where everything is makes me so frazzled. We added, we mixed, we tasted, we added and mixed and tasted some more, and still weren't quite happy with the results… and then I burned two batches. Whyyyy. Somehow 30 minutes seemed like a totally acceptable amount of time to bake the granola without checking on it. Hmm. As you can see by the 15-minute cooking time in the recipe below, that was definitely not the case.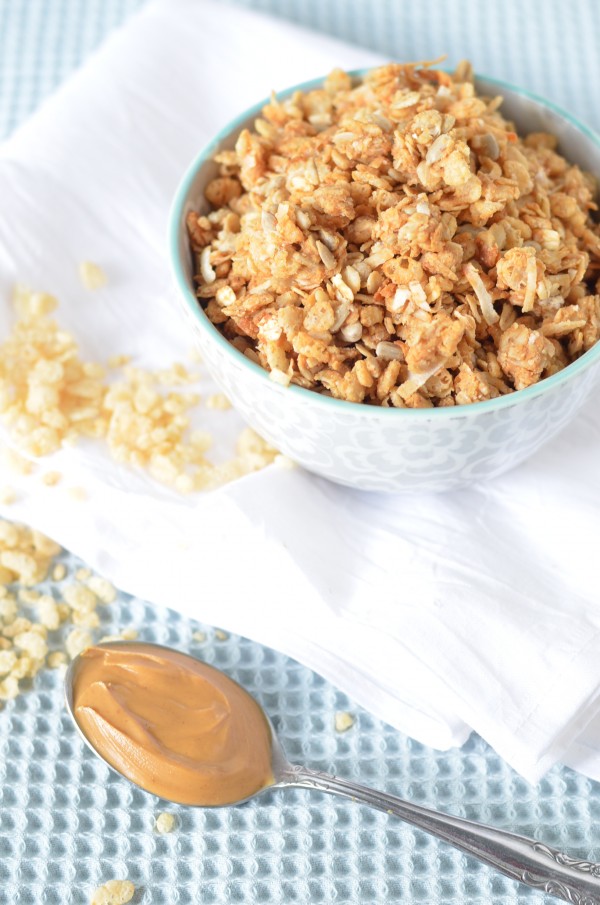 Back at home in Salt Lake, my kitchen is still somewhat unfamiliar, too, as we have yet to spend a weekend in our new apartment. The counter space, small to begin with, is still covered with dishes I haven't found a place for yet, and all my dry goods (ahem, everything used to make granola) are in bins on the floor. Sigh. I am determined to get my kitchen ship-shape this weekend!
So yes, even during a third trial of this recipe at home, I was feeling frazzled. Luckily I kept my wits about me enough to try the addition of Rice Krispies – the ingredient that ended up totally making the recipe! They lighten up what is otherwise a very dense granola – mostly peanut butter and oats – and add a great crunchy texture. I will say that I'm not usually a fan of Rice Krispies in granola… I feel like they're just a filler that is cheating me out of the other good stuff in there! But here, because everything is coated in a layer of gooey peanut butter and honey, that is definitely not the case. The peanut butter-drenched Rice Krispies stay a little chewy even after they're baked, making this into a cross between granola and puppy chow, texture-wise. And the taste – yum. Peanut butter and honey is one of my favorite combinations (I eat it on my oatmeal practically every day!), and it provides the perfect balance of salty and sweet for this granola. You have to try it! It is totally addicting for breakfast, a snack, or even dessert.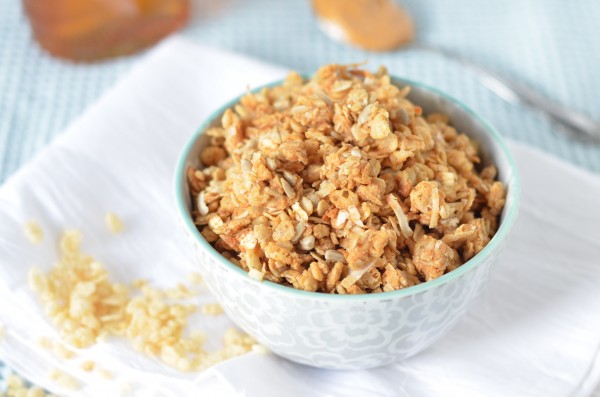 Well, based on this post, you can tell I have exciting plans for the weekend… a whole lotta apartment organization! And hopefully becoming less frazzled in my own kitchen and creating some yummy new recipes for you. I hope you have more exciting (or more relaxing) plans! Have a great weekend, everyone.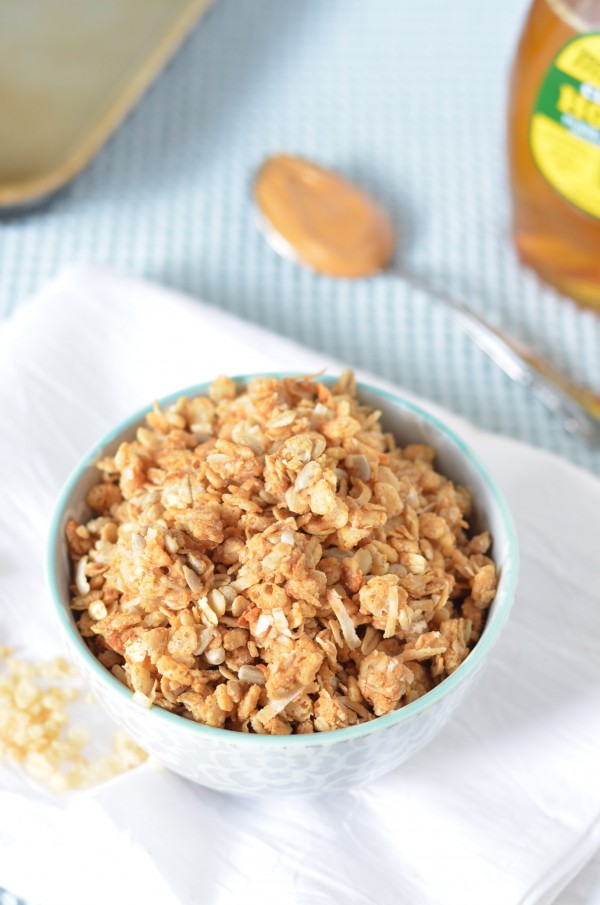 Crispy Peanut Butter and Honey Granola
Yields:
about 6 cups granola
Ingredients
Dry ingredients:
2 cups old-fashioned oats
2 cups crispy rice cereal (like Rice Krispies)
1 cup sweetened shredded coconut
1/2 cup raw unsalted sunflower seeds
1/4 cup wheat germ
1/2 tsp cinnamon
1/4 tsp kosher salt (plus or minus depending on the pb you use and personal preference)
Wet ingredients:
3/4 cup smooth peanut butter
6 Tbsp (1/4 cup + 2 Tbsp) honey
1/2 Tbsp vanilla extract
Instructions
Preheat oven to 325.
In a large bowl, stir together the dry ingredients (oats through salt).
Microwave the peanut butter and honey together until warm (30-60 seconds). Add vanilla and stir together. Pour over the dry ingredients and stir until thoroughly combined.
Spread mixture onto a baking sheet. Bake until golden, about 15 minutes, stirring once halfway through. Remove from oven and let cool completely.
Serve with milk, atop yogurt, or any way you'd like! Enjoy.